The Main Gallery at Providence City Hall was created to showcase the work of local artists. It is open to the public during City Hall business hours: Monday to Friday, 8:30am to 4:30pm and is located on the second floor.
Offering space to artists and organizations that might not have a permanent gallery, the Main Gallery at City Hall exhibits an eclectic array of work that highlights the artistic and cultural diversity found in the Providence community.
---
NOW ON VIEW:
PVDFest Public Art Alumni Show
Square Knots and Tightropes: collaborations and multi-genre work by Keri King and Michael Gabrielle
May 17, 2018 – August 13, 2018
Opening Reception Thursday, May 17, 2018, 4:30pm – 6:30pm
EXHIBITION STATEMENT:
Michael Gabrielle's macrame tapestries are optical illusions. Three-dimensional sculptures, they often feel like they exist in two-dimensions when they lay flat or mark a threshold. King's illustrations on paper, each lovingly extracted from an esoteric primary source, similarly conflate perceptions of depth; they are flattened by analogue and digital tools, but are enlivened when brought into conversation with an audience. Gabrielle and King say that PVDFest public art commissions enabled them to face new conceptual and formal challenges with their work. Indeed, the festival's multi-genre format invites a special kind of engagement from audiences, but so too do the walls of the Gallery at City Hall. With its staid mayoral portraits and elaborate gold filigrees, City Hall's second floor gallery becomes a stage for a series of magical encounters between Gabrielle and King, perhaps even a portal to another world. Square Knots and Tightropes is an occasion for both of them to look back at their experiences prior to, and during, PVDFest while pushing each other to reach for astounding new heights.
Michael Gabrielle BIO:
BIO: Michael Gabrielle is an artist based in Providence, Rhode Island. After studying visual arts and psychology at Brown University, he now works as the Program Director for PeaceLove, an expressive arts organization focused on mental health and wellness. Gabrielle helps people to use creative means to express themselves authentically and heal emotionally. In his personal art practice, he uses tools and techniques derived from macrame and fiber arts, drawing and illustration, woodworking, and painting.
Michael Gabrielle ARTIST STATEMENT:
Macrame is the art of knotting rope in detailed patterns to create elaborate designs. For me, making these designs is a meditative process, an exercise in patience and passion that can be seen in the hundreds of knots required to create a piece. In both the process and the product, this art is intricate and complex while also place of calmness and simplicity. My practice lives somewhere in between, using technical macrame skills to create gentle textures and delicate detailing. The resulting work is striking from afar yet draws viewers in; these pieces invite on-lookers to stand back to see them in their entirety but also to come close to appreciate their details. The hope is to make the viewing more than a passive experience; to create an opportunity for audiences to have active relationships with each piece. The longer you look, the more you are rewarded.
Keri King BIO:
Keri King is a cross-disciplinary artist based in Providence, Rhode Island. An adventurous and adaptable visual storyteller, King's work spans the worlds of public art, illustration, and design for theater. In the studio, King generates her imagery through an integrated process of collage, research, and drawing. In the community, King's recent projects have included work with Providence Public Library, the Pawtucket Arts Festival and the Wilbury Theatre Group. King teaches integrated arts to students K-8 at the Wolf School, where her lessons help students to build cognitive and sensory bridges between classroom curricula and the arts.
Keri King ARTIST STATEMENT:
When an illustration is presented in a book or a picture frame, it is a world encapsulated, as though trapped by a wonderful kind of magic. Through collage and drawing exploration, I incorporate the aesthetics of media from the past into my visual storytelling to create a sense of space, time, and humor that is simultaneously familiar and other. With public art, I give my characters license to step off the page out of their own imagined, fantastical world into ours. Suddenly, they are life-sized performers, thrust into conversation with people and a concrete environment. They are still paper, but they are animated through their experiences in our world. They endure the weather, pose for selfies, form relationships with passersby, are worn and torn, and then, one day, they are gone. Increasingly, my public art practice mirrors that of my classroom teaching, where I like to give space to each spectator to play and come to their own conclusions. I hope that interactions with my work will inspire fresh curiosity in audiences about their surroundings, turning walls into open doors, dead ends into invitations.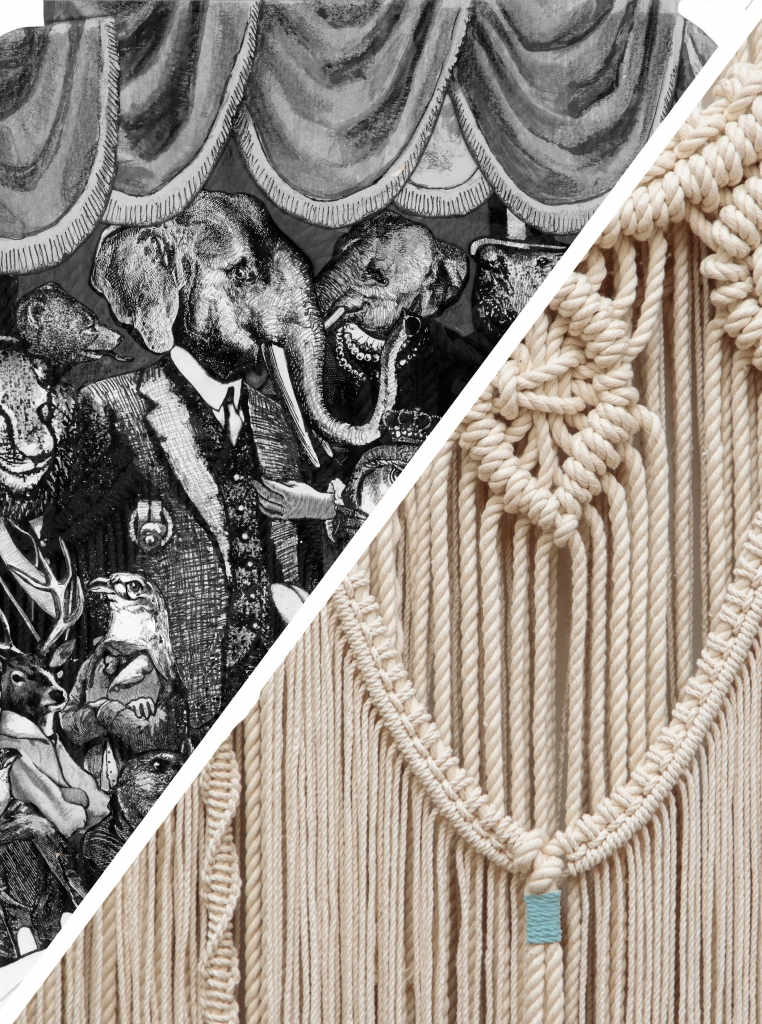 ---
PREVIOUSLY on view:
'GLÁS' (GREEN): A contemporary view of the Emerald Isle
Siobhan Cox-Carlos
March 15, 2018 – May 14, 2018
Opening Reception Thursday, March 15, 2018, 4:30pm – 6:30pm
EXHIBITION STATEMENT:
"The word 'Glás' is the gaelic word for 'Green', a word I believe is symbolic of Ireland, often know as the Emerald Isle because of it's patchwork of green fields. A farmer's daughter, my love of the land is deep.I have been painting the Irish landscape for 30 years. Glás is a representative selection of the elements that I love most about Ireland – landscape, gardens, interiors … In recent years my attention has turned to the often abandoned barns and cottages dotted across the Irish countryside. My own studio, depicted in my painting, "Wild Rose Studio," was one such cottage. It measures 23' x 15' inside and would have been a two room home to a farmer. I am intrigued by the shapes that these buildings cut into the surrounding landscape. They represent a sadness, emigration, loss, of which there has been much in Irish history. I wanted, through colour and paint, to bring them back to life again, even if only on canvas, let them live, breathe and dance!"
ARTIST STATEMENT:
"I am a painter, known for my use of vibrant colour and love of texture and pattern. My work is an explosion of colourful and emotional responses to the world I live in, inspired by nature, fashion and indeed, life itself. I aim to interpret my subject matter by fusing my more figurative initial sketches in a looser but still structured method instilling the energy, emotion and freedom found through the painterly expressionist sentiment. My intention is that viewing my work should be an uplifting experience, providing the viewer, with a flight of fanciful imaginings…of escapism and pure joy, even for a moment. My work goes from a semi-abstract form right through to abstraction but is always based on the figurative elements that I am working from. I have a strong affinity with America as my formative artistic influences are from the American Abstract Expressionists movement, in particular Willem De Kooning and also Hans Hoffman, Wolf Kahn and Joan Mitchell. ( Also my great-grandfather came out to the Gold Rush in California in the early 20th century where he unfortunately died tragically.)"
ABOUT SIOBHAN COX-CARLOS:
Siobhan Cox-Carlos is a contemporary artist from the West of Ireland. She is an honours graduate in Fine Art from the Limerick College of Art & Design and a passionate painter. Inspired by the vibrancy and the energy of the abstract expressionists, her work has a 'joie de vivre' that she lives and wants to express through her colourful paintings, which vary from semi-abstract to abstract. She has exhibited nationally in Ireland and internationally in America in many selected group shows and has also had a number of solo exhibitions. She has had numerous residencies in Cill Riallaig, Co. Kerry and in the Tyrone Guthrie Centre in Monaghan. She has also exhibited in juried shows in Florida and had a 3 month residency in the Las Olas Art Centre, Fort Lauderdale in 2004. Her work is represented in private collections worldwide, including ones in Ireland, Europe, America, Bermuda, Mexico and Australia. It is also represented in the Office of Public Works State Art Collection, Roscommon County Council Civic Collection, National Cancer Screen Service (for which she was awarded a % for Art Scheme in 2010) Galway and Cork clinics, and the Department of Taoiseach. In her spare time Siobhan likes to salsa, hike, golf, read and enjoys a glass of wine and a chat with friends (though not all at the same time!)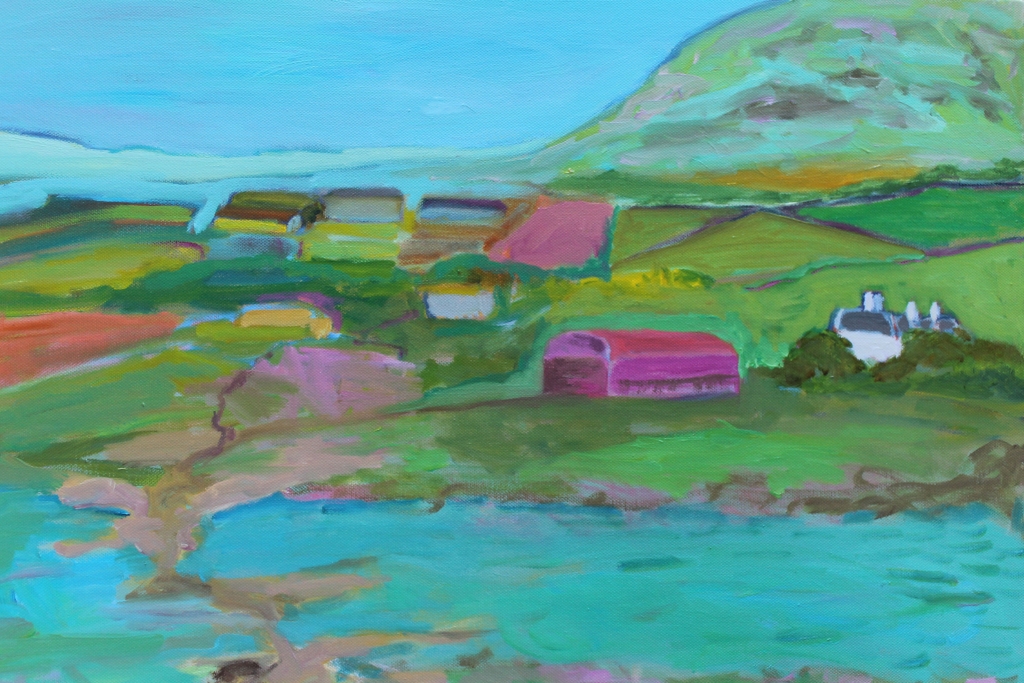 ---
Faces and Characters by Vera Leon
(a journey towards the freedom of immediacy)
January 12, 2018 – March 12, 2018
Opening Reception Thursday, February 15, 2018, 4:30pm – 6:30pm
EXHIBITION STATEMENT:
"Exhibition "Faces and Characters" represents my concentration on portraiture over an extended period of time. My work represents different phases and interpretations of my artistic journey. I endeavor to express the complexity of the human psyche through infinite
possibilities of visual interplay.
My background in psychology inspires my interest in portraiture. Facial expression as a reflection of the inner life fascinates me, especially when minor changes in drawing affect the expression of emotion it represents. We humans are very sensitive and are capable of perceiving many emotional variations of humankind. This ability contributes to our adequate response and to our survival.
The evolution of facial expressions in my drawings and paintings is more about the transformation of an idea of my own thought process then the elaborative and illustrative part of it. My goal is to become a deeper and freer authentic artist. My art becomes expression of my personal spiritual journey and any new approach mirrors my present inner state.
ARTIST STATEMENT:
"As an artist, I am constantly changing, using new forms, compositions, techniques, materials, and colors. Although my art reflects personal experiences, feelings, and perceptions, there is no conscious intention of maintaining continuity within the style or subject matter. The element that is the most persistent is the prevailing motif of the human figure. This motif expresses my interpretation of human existence through symbols that can be recognized as universal archetypes, free from cultural and societal limits.
Art is an endless journey, adventure. I try to discover new forms because I believe that dealing with the unknown brings forth true creativity. Inspiration comes from within the subconscious mind with its chaotic and unformed visual images. In the process of creation my paradigm evolves continually. Therefore the finished piece expands and affects my inner sensibility, thus revealing itself as expressive and also transformative. In the dialectical struggle between undefined form and empty space, I find images using a method of "scribbling" which allows me to discover order and meaning in chaos. I see something that intrigues me, I connect to it emotionally and intellectually, and then I give myself the freedom to go either in the direction of figuration or abstraction. This approach leads to the intentional ambiguity in my work, which offers many different interpretations.
I do not have answers. I am looking for them as much as the viewer is. During the creative process I enter an unknown world of images, forms, and colors where I go
beyond self to a larger less define realm of subconsciousness. This melting of boundaries allows new insights into my uniqueness and also into the connection that I have with other human beings and the world in general. My art enriches my life and becomes the means of fulfilling my potential."
ABOUT VERA LEON:
Vera Leon is an artist born in Yugoslavia. She graduated from the Academy of Applied Arts in Painting and Costume Design and pursued her carrier in apparel design before moving to America. She also holds a degree in Clinical Psychology from the Faculty of Philosophy in Belgrade, Serbia.
In the USA, after receiving an MFA degree in drawing at the University of North Dakota, she continued working in the field of visual arts. Vera's art ranges from figurative and abstract to costume illustration and theatre masks. Although her approach and expression are constantly changing, her passion for the human form remains. Her paintings and drawings are interpretations and expressions of her inner world. That's why her art reveals a dream-like quality, a feeling of mystery, of something unresolved. It conveys a continuous evolving complexity of the human experience.
Vera is very interested in creativity and the psychology of creativity. She is constantly looking for new approaches that alined with her personal life journey. Her most recent work is based on being present and surrendering to the Now during the creative process. This approach, where control of our analytical mind is minimized or suppressed, leads to new discoveries, unexpected creativity and further artistic growth.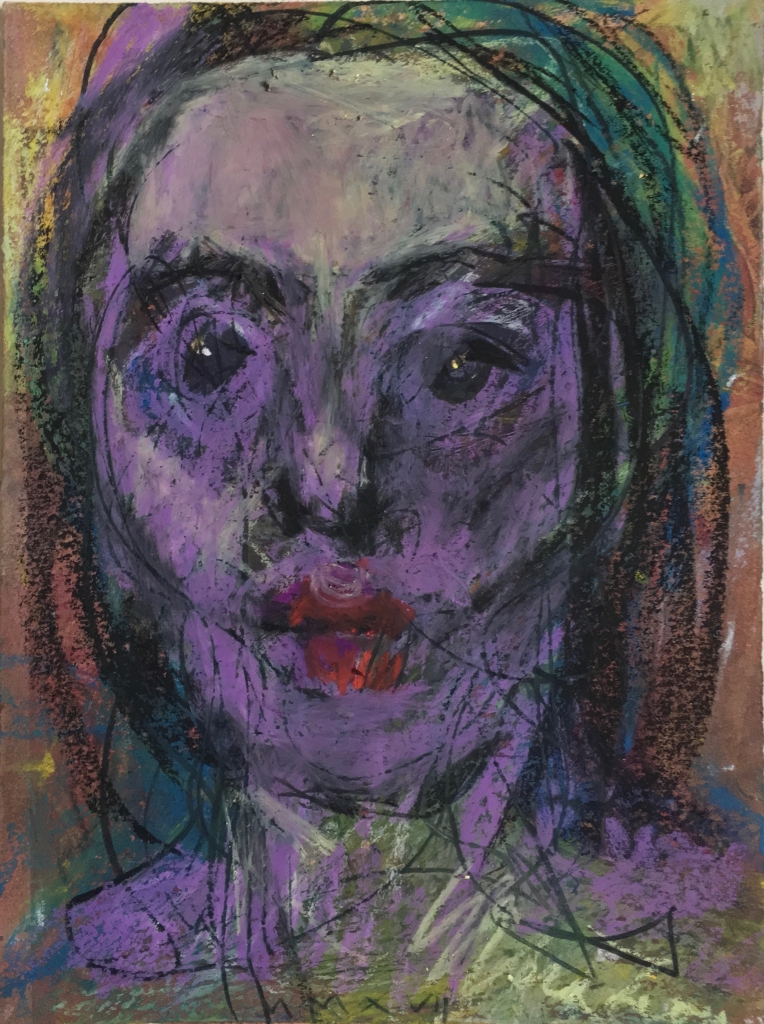 ---
The Illustrations of Gail Hampton
October 30, 2017 – January 12, 2018
The pieces on view are a compilation of Gail's illustrations from her imagination and for various commissions and themed projects. Gail often uses ball-point pen or permanent marker to create her images. She draws with quick, bold, confident strokes and the results have a pleasing, playful immediacy. Gail has provided illustrations for many Resources for Human Development-RI (RHD-RI) shows and events and is one of RHD's most popular, best-selling artists.
ABOUT GAIL:
Gail Hampton lives in Cranston, Rhode Island and attends RHD-RI in Pawtucket, an arts based day program for adults with disabilities. Her favorite subject matter includes babies, animals and beach goers. Gail will do word searches for hours on end and fill up the books with doodles and drawings. She also has a great fondness for red socks; she has an entire drawer full at home. Gail has shown her drawings and paintings widely in Rhode Island and has exhibited at the St. Louis and New York Outsider Art Fairs.
ABOUT RHD-RI:
Since 2004, Resources for Human Development-RI has helped adults with developmental disabilities reach their goals. With a strong focus on the arts, RHD works with our Participants to develop new skills, become more integrated in the local community and explore a variety of employment opportunities. RHD also contracts directly with a number of school departments around the state to provide supports for students too young for adult services.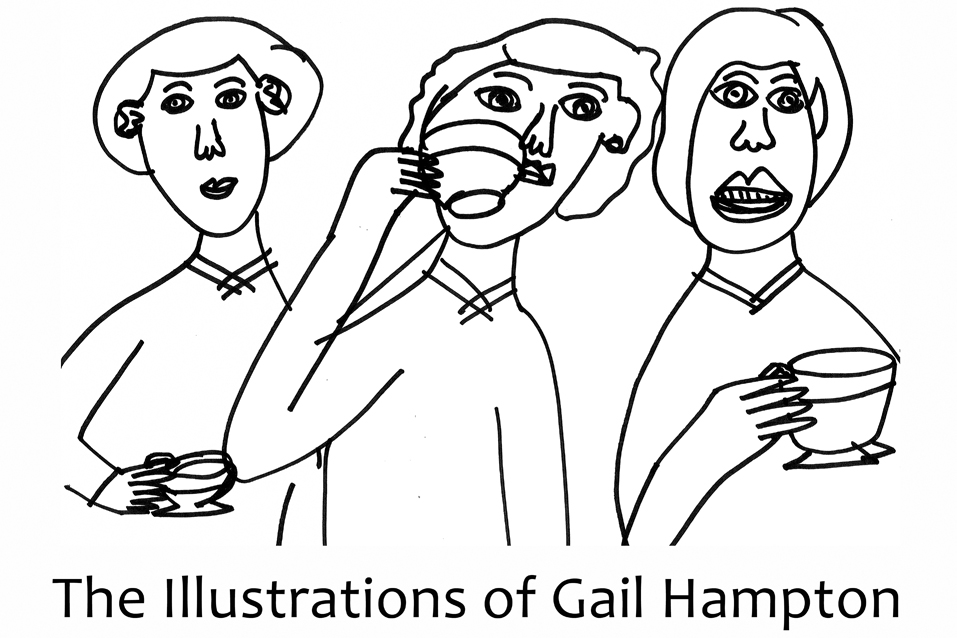 Illustration by Gail Hampton