The Main Gallery at Providence City Hall was created to showcase the work of local artists. It is open to the public during City Hall business hours: Monday to Friday, 8:30am to 4:30pm and is located on the second floor.
Offering space to artists and organizations that might not have a permanent gallery, the Main Gallery at City Hall exhibits an eclectic array of work that highlights the artistic and cultural diversity found in the Providence community.
---
NOW ON VIEW:
Faces and Characters by Vera Leon
(a journey towards the freedom of immediacy)
January 12, 2018 – March 12, 2018
Opening Reception Thursday, February 15, 2018, 4:30pm – 6:30pm
EXHIBITION STATEMENT:
"Exhibition "Faces and Characters" represents my concentration on portraiture over an extended period of time. My work represents different phases and interpretations of my artistic journey. I endeavor to express the complexity of the human psyche through infinite
possibilities of visual interplay.
My background in psychology inspires my interest in portraiture. Facial expression as a reflection of the inner life fascinates me, especially when minor changes in drawing affect the expression of emotion it represents. We humans are very sensitive and are capable of perceiving many emotional variations of humankind. This ability contributes to our adequate response and to our survival.
The evolution of facial expressions in my drawings and paintings is more about the transformation of an idea of my own thought process then the elaborative and illustrative part of it. My goal is to become a deeper and freer authentic artist. My art becomes expression of my personal spiritual journey and any new approach mirrors my present inner state.
ARTIST STATEMENT:
"As an artist, I am constantly changing, using new forms, compositions, techniques, materials, and colors. Although my art reflects personal experiences, feelings, and perceptions, there is no conscious intention of maintaining continuity within the style or subject matter. The element that is the most persistent is the prevailing motif of the human figure. This motif expresses my interpretation of human existence through symbols that can be recognized as universal archetypes, free from cultural and societal limits.
Art is an endless journey, adventure. I try to discover new forms because I believe that dealing with the unknown brings forth true creativity. Inspiration comes from within the subconscious mind with its chaotic and unformed visual images. In the process of creation my paradigm evolves continually. Therefore the finished piece expands and affects my inner sensibility, thus revealing itself as expressive and also transformative. In the dialectical struggle between undefined form and empty space, I find images using a method of "scribbling" which allows me to discover order and meaning in chaos. I see something that intrigues me, I connect to it emotionally and intellectually, and then I give myself the freedom to go either in the direction of figuration or abstraction. This approach leads to the intentional ambiguity in my work, which offers many different interpretations.
I do not have answers. I am looking for them as much as the viewer is. During the creative process I enter an unknown world of images, forms, and colors where I go
beyond self to a larger less define realm of subconsciousness. This melting of boundaries allows new insights into my uniqueness and also into the connection that I have with other human beings and the world in general. My art enriches my life and becomes the means of fulfilling my potential."
ABOUT VERA LEON:
Vera Leon is an artist born in Yugoslavia. She graduated from the Academy of Applied Arts in Painting and Costume Design and pursued her carrier in apparel design before moving to America. She also holds a degree in Clinical Psychology from the Faculty of Philosophy in Belgrade, Serbia.
In the USA, after receiving an MFA degree in drawing at the University of North Dakota, she continued working in the field of visual arts. Vera's art ranges from figurative and abstract to costume illustration and theatre masks. Although her approach and expression are constantly changing, her passion for the human form remains. Her paintings and drawings are interpretations and expressions of her inner world. That's why her art reveals a dream-like quality, a feeling of mystery, of something unresolved. It conveys a continuous evolving complexity of the human experience.
Vera is very interested in creativity and the psychology of creativity. She is constantly looking for new approaches that alined with her personal life journey. Her most recent work is based on being present and surrendering to the Now during the creative process. This approach, where control of our analytical mind is minimized or suppressed, leads to new discoveries, unexpected creativity and further artistic growth.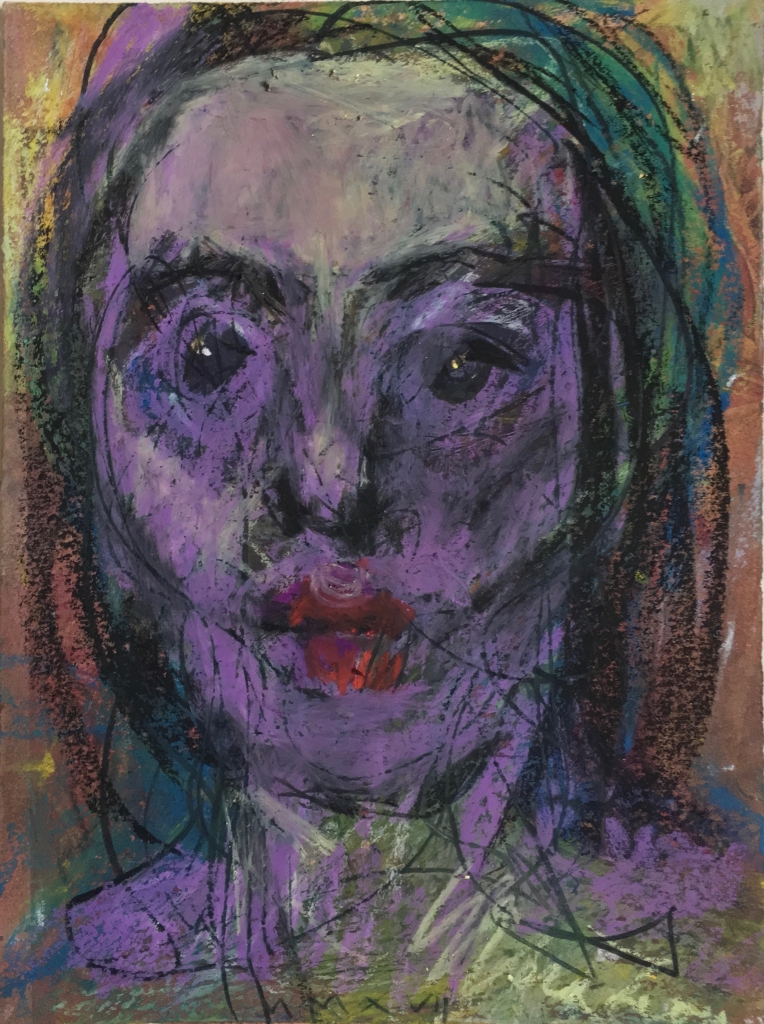 ---
PREVIOUSLY on view:
The Illustrations of Gail Hampton
October 30, 2017 – January 12, 2018
The pieces on view are a compilation of Gail's illustrations from her imagination and for various commissions and themed projects. Gail often uses ball-point pen or permanent marker to create her images. She draws with quick, bold, confident strokes and the results have a pleasing, playful immediacy. Gail has provided illustrations for many Resources for Human Development-RI (RHD-RI) shows and events and is one of RHD's most popular, best-selling artists.
ABOUT GAIL:
Gail Hampton lives in Cranston, Rhode Island and attends RHD-RI in Pawtucket, an arts based day program for adults with disabilities. Her favorite subject matter includes babies, animals and beach goers. Gail will do word searches for hours on end and fill up the books with doodles and drawings. She also has a great fondness for red socks; she has an entire drawer full at home. Gail has shown her drawings and paintings widely in Rhode Island and has exhibited at the St. Louis and New York Outsider Art Fairs.
ABOUT RHD-RI:
Since 2004, Resources for Human Development-RI has helped adults with developmental disabilities reach their goals. With a strong focus on the arts, RHD works with our Participants to develop new skills, become more integrated in the local community and explore a variety of employment opportunities. RHD also contracts directly with a number of school departments around the state to provide supports for students too young for adult services.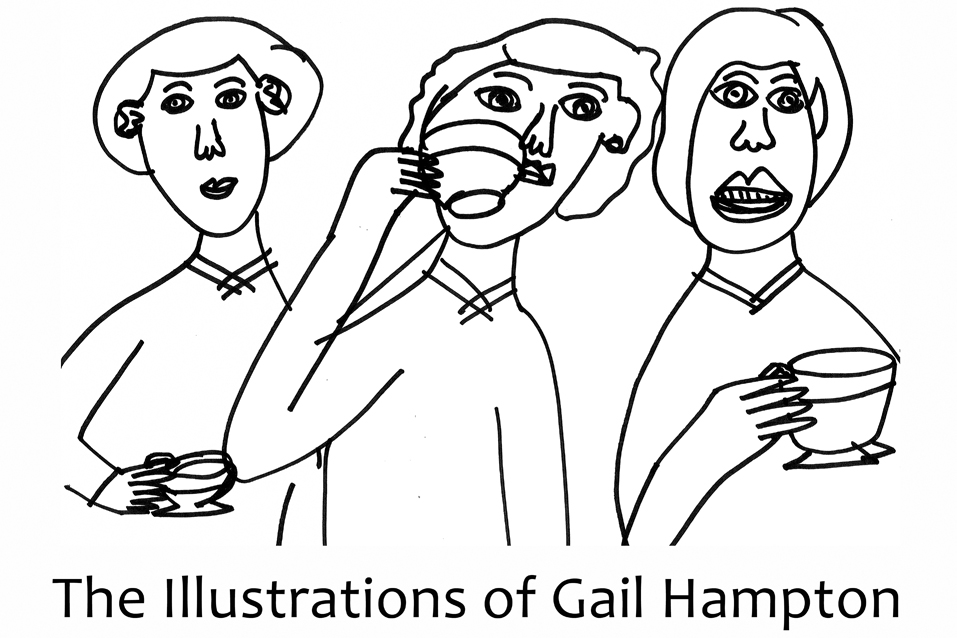 Illustration by Gail Hampton