Call for Design: ACT Van Wrap
Summary
The City of Providence Department of Art, Culture + Tourism invites graphic designers to submit an original design to be wrapped around our Chevy Express 3500. 
The ACT events staff uses the van to bring materials and supplies to public spaces throughout the year. The awarded design will reflect ACT's departmental values and serve as a visible marker of our presence within the city landscape. We encourage color and being extra! 
Up to three artists will be chosen to submit a concept design. The awarded artist will receive $3500.
Artists with a home or studio address in Providence, RI are eligible to apply. The deadline to submit qualifications is January 17, 2023.
---
Project Goals
The awarded design will imagine ACT's vehicle as a public art canvas, increase visibility of our department in public space, foster public curiosity and engagement, and reflect our department's values through design. ACT's values are:
Belonging

– An inclusive sense of place makes Providence special. We value intergenerational, participatory, and collaborative work that strengthens intercultural connections. We celebrate new rituals and time-honored traditions that acknowledge our unique historic and present-day contexts. We recognize that identities are complex and value the ways that race, sexuality, gender identity, ability, and class, among other differences, influence the unique perspectives of our communities.

Experimentation

– Our work is a nimble, curiosity-driven conversation with artists and creative practitioners who often take risks. We stay flexible as we learn with our thought partners and this helps us grow at our edges.

Transparent Processes

– We create scalable, transparent, responsive, and reliable processes that facilitate cultural participation. We strive to communicate clearly, share resources equitably, and act as an accessible entry point to the City.

Anti-Racism

– Racism and anti-Blackness are antithetical to our work. We value our team's diversity, and strive to achieve cultural equity in all we do by amplifying the voices of Black and Indigenous folks, and people of color.

Radical Joy

– Love, kindness, empathy, optimism, and acceptance are central to our process. We practice radical joy by elevating work that shamelessly sustains communal pleasure.
---
Site and Location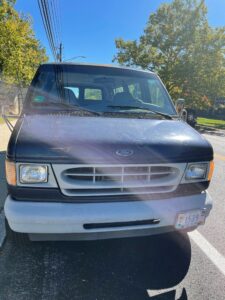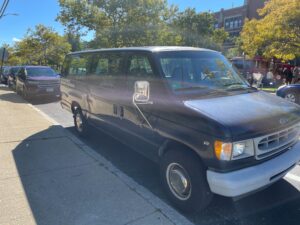 Vehicle Description 
2002 Ford E-350 EL SD EXT Wagon

ACT is everywhere during the summer: neighborhood block parties, large scale festivals, recreation center BBQs, you name it.  The van is usually packed to the brim with tables, chairs, lollipops, bubbles, sandbags and other event necessities. ACT staff enjoys listening to fuzzy old school radio and winding the windows down as they move from event to event, making fond memories and drinking lots of iced coffee.  We want Providence community members to be excited when our van shows up.  
---
Project Budget
The total project budget for this installation is $10,000, inclusive of design stipends, artist fees, and fabrication and install. The awarded artist or artist team will receive a total of $3,500 for their design. The following breakdown serves as a guide:
| | | |
| --- | --- | --- |
| Design Stipends | $1500  | $500x 3 finalists |
| Artist Fees | $3500  | Awarded Artist |
| Full Wrap  | $5000  | Direct pay to vendor  |
---
Eligibility
Applicant must be 18 years or older and hold a current Providence home or studio address to be eligible to apply.  

Applicants must be able to demonstrate their experience with a portfolio consisting of at least 3 graphic artworks.

Applicants must be able to demonstrate experience with Illustrator or other graphic software. 

Preference will be given to PPSD graduates and/or currently enrolled students.

Artists from traditionally underrepresented backgrounds / members of the global majority (self-identified as BIPOC, member of the LGBTQIA+ community, women,  member of the disabled community, non-mono English speakers) are highly encouraged to apply.
---
Art Selection Method
Art Selection Process:  ACT will follow the Standard Art Commissioning Process with a two-tiered competitive, design-based selection. ACT staff will serve as pannelists. 
The Art Selection Panel will have  7 members including:
Art in City Life Commissioner

 

ACT Director 

ACT Director of Turnaround Arts:Providence 

ACT Special Projects Manager 

ACT Cultural Affairs Manager

ACT Production Coordinator 

ACT Coordinator 
(ACT Deputy Director will facilitate the panel) 
---
Selection Criteria
Selection Criteria 
Finalists will be selected based on the following criteria:
Artistic excellence and innovation, as evidenced by previous work.

Excitement for the opportunity demonstrated in their artist statement 

Members of underrepresented backgrounds will be prioritized (self-identified as BIPOC, LGBTQIA+, women, non-mono English Speakers, members of the disability community) 
Awarded artist Concept Design will be selected based on the following criteria: Feasibility and strength of proposed budget and installation plan 
Quality of the artist's design rendering 

The degree the design rendering represents ACT's values 

The degree the design clearly marks the van as the property of the City of Providence Department of Art, Culture + Tourism
---
To Submit
:
Please submit your contact information, a resume, and three examples of previous work using the form below. We are not looking for proposed designs at this time. ACT will review applications and select up to three finalists who will then receive a stipend to develop an original design.
---
Project Schedule
| | |
| --- | --- |
| Call to artists opens | December 16, 2022 |
| Application Deadline | January 17, 2023 |
| Finalists informed |  January 19, 2023 |
| Full design proposals due | February 13, 2023 |
| Art in City Life Commission approval | February 2023 meeting |
| Design announced | March 2023 |
| Install | March 2023 |