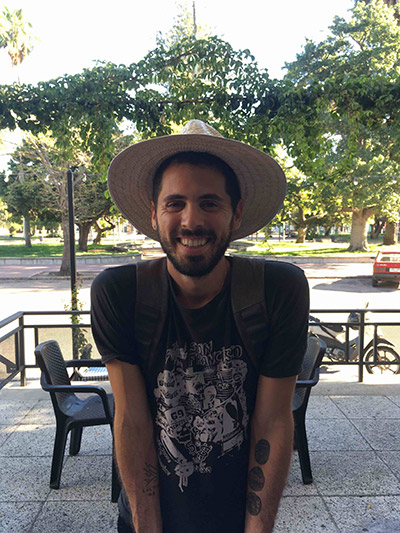 TIME HAS TOLD ME is a video interview series with some Providence's most beloved artists and cultural practitioners.
In honor of October 20201 Arts and Humanities month, Hernán Darío and the Department of Art, Culture + Tourism will release videos that highlight cultural workers, taking a closer look at how their legacy weaves Providence's creative fabric. The stories of these cultural giants take us from community centers to theaters, arts organizations artist studios. Bridging past, present and future, each segment connects to distinct themes and goals outlined in the PVDx2031: A Cultural Plan for Culture Shift.
Hernan Dario explores the potential of art making to respond to immediate surroundings and prompt healing and awareness through video, performance and writing. He is currently activating the Ministry of Future Access –a platform devised to share creative practices and learning processes in collective settings. He's a scholarship recipient of the Japanese Ministry of Education, RISCA, and a fellow of the Jupiter Performance Studio/Double Edge Theater's "Art & Survival" cohort for the years 2021-2023. His work has been shared in Argentina, Japan, France, Canada and the United States. He lives and practices in Providence RI and South America.
It has been such a profound honor to sit in conversation with the fellows you will get to meet soon –if you haven't already. So take a moment to relax and take in the wisdom they so generously offered."
Check out the most recent films on our YouTube channel.
We launch Time has Told Me, and Arts and Humanities Month 2021 activities by paying special attention to Bert Crenca and Lydia Perez. Over the years, both artists have built homes for their practices, and their homes became home for many other artists as well. Having spaces dedicated to art-making, where people can turn their inner landscapes out, is akin to the idea of a sanctuary ("a place of refuge or safety" according to the New Oxford American Dictionary). The connections fostered and nurtured inside these spaces have led both guests of "Time Has Told Me" to the creation of PRIAA and AS220. If you know either of these organizations, you might understand why "place-keeping" has its own vision within the AC+T Cultural Plan for @City of Providence 2031. In these conversations Bert and Lydia reflect on what "community" means to them, and other important insights.
Time Has Told Me with Bert Crenca
Time Has Told Me with Lydia Perez
Bridging people with access to opportunities to lead sustainable, nurturing lives begins with palpable support: actual space to materialize visions and experiment directions, as well as avenues for expanding growing communities are both at the core of these two interviews. Susan Clausen speaks to the deep importance of considering the housing landscape in Providence — to look at this from her experience and lens as former @AS220 property's manager provides rich insight to take our sight forward. Julie Yang speaks of a different type of home building: ensuring living cultures today can have pathways for envisioning their futures on their own terms. This type of work is necessarily cross-departmental — it needs many arms and many views to take into account the many different needs of artists living in providence today, and to act accordingly. Consider reviewing the Creative Workforce section of ACT's Cultural Plan as you share your attention with these two thoughtful, magical, and generous individuals.
Time Has Told Me with Julie Yang
Time Has Told Me with Susan Clausen
Both of this week's interviewees have dedicated many of their efforts towards sharing resources and honing spaces for collective growth. In sharing time with both of them, I felt a deep generosity running through all of their responses; thoughtful and honest engagements that i received as gifts. We knew each other very little before sitting down together, but both Karen Allen Baxter and Elmo Terry-Morgan cherished our gatherings with precious trust.
We talked a lot about their experiences in pedagogical centers, and on this regard i want to circle towards the Arts Teaching and Learning component of the Cultural Plan. Devising ways of sharing artistic work and passing down the questions we ask of ourselves and others today are critical endeavors for giving continuity to our cultures in the long term. I am convinced the type of education most important to exercise is the one that extends participation for crafting ways forward and yields opportunities for seeing the world from different sides with compassion and commitment. This was palpable in my time together with both Karen and Elmo –after both interviews I felt changed. I hope you do too.
Time Has Told Me with Elmo Terry-Morgan
Time Has Told Me with Karen Allen Baxter
The next two (and last) posts of the "Time Has Told Me" series touch on both of these subjects highlighted in the Cultural Plan draft. Francis Parra from the ECAS Theater speaks to the importance of language representation in serving people with cultural events that reflect their identities. Her lifelong work and her words in this interview offer a vision into how diversity is a key component to think "creative economies". On another hand, Sylvia Ann Soares' approach to art making is a clear example of the connection between creative practice and the wellbeing of individuals and communities.
Francis Parra
Sylvia Ann Soares
This last post brings interviews to Rose Weaver and Ramona Bass Kolobe and continues addressing the importance of a creative economy and the community's well-being. Rose gives a strong testimony about how artists' compensation has changed through time, and the shortcomings on this regard to build sustainable lives with a long term vision. Her hard work outlines challenges and victories still relevant to this day. On the other hand, Ramona embodies an ever-active creative practice that offers opportunities to connect and heal through every-day interactions. She made this palpable throughout the interview in a way that's impossible to divorce from her person –her words and actions are embedded with deep grace.
I want to take this moment to thank every person who agreed to share their time for this very special series. It has been an honor to sit down –or move– in conversation with each one of them. I also want to thank the Department of Art, Culture and Tourism for acting upon the relevance of this type of work. I believe these videos are invaluable resources for our local communities to learn from ourselves, and look forward with ever more wisdom.
Rose Weaver
Ramona Bass Kolobe