---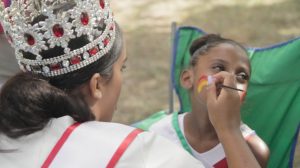 Summary
The City of Providence invites artists with a social practice to participate in a new pilot training in Artist Facilitation and Community Health Work followed by a three-month residency in a community-based organization. Co-led by Providence's Department of Art, Culture + Tourism (ACT) and Healthy Communities Office, the Creative Community Health Worker Fellowship will provide a cohort of five  Providence-based artists 70 hours of training under Dr. Dannie Ritchie, Director of Community Health Innovations of Rhode Island and three Artist-Facilitators, Laura Brown-Lavoie, Vatic Kuumba and Valerie Tutson. This pilot program is designed to support artists to become RI certified Community Health Workers, expanding the impact of the arts on addressing social determinants of health. This fellowship is an extension of the City's Sowing Place Initiative, generously funded by the Kresge Foundation.
Awarded fellows will begin weekly classes in core competencies on February 12, 2020, through the first week of July.   ACT will then place each fellow as an artist-in-residence in community-based organizations in Providence's West End and Upper Southside from July through October 2020.
Awardees will be provided a $1000 stipend for their participation in the training and up to $5000 for their summer 2020 residency (this all-inclusive budget shall include an artist fee and materials, pending budget approval).
The deadline to apply is January 23, 2020.
---
---
Background & Context
Sowing Place is a creative placemaking initiative organized by the Department of Art, Culture + Tourism in partnership with the Providence Healthy Communities Office, the African Alliance of Rhode Island, West Elmwood Housing Development Corporation's Sankofa Initiative, and Southside Cultural Center of Rhode Island.  Facilitated by Providence-based poets Vatic Kuumba and Laura Brown-Lavoie, together Sowing Place partners have supported a unique set of food and arts events to promote an expansive perspective of health and well-being since 2016.  Our collaboration centers communities, vendors, and artists of color to build a strong, inclusive local cultural economy and a resilient local food system. Laura Brown-Lavoie (also a farmer) and Vatic Kuumba, both local award-winning poets with strong ties to the project neighborhoods, utilized literary and visual arts to grow the creative spirit and support project managers to think in new and exciting ways throughout the entirety of the partnership.
ACT's  Public Art Program includes a portfolio of Public Art Residencies in Civic Agencies. Through these residencies, artists develop projects that infuse artistic practices and artists' creative problem solving into residents' lives and the everyday operations of the City. Through its work developing Creative Providence 2020: A Cultural Plan for the Creative Sector, ACT will lead conversations about art and wellbeing, engaging the City's creative sector to address art at the intersection of social determinants of health and climate resiliency. Providence's Healthy Communities Office is committed to partnering with agencies based in communities most impacted by racial, gender-based, economic, and other inequities, and to programming public spaces to positively benefit community health.
Rhode Island is at the forefront of developing the field of community health work and has a certification program. The certification names nine domains of community health work: Engagement Methods and Strategies; Individual and Community Assessment; Culturally and Linguistically Appropriate Responsiveness; Promotion of Health and Well-Being; Care Coordination and System Navigation; Public Health Concepts and Approaches; Advocacy and Community Capacity Building; Safety and Self-Care; and Ethical Responsibilities and Professional Skills.
Community Health Innovations of Rhode Island (CHI-RI) believes that the best way to improve population health is to address the social determinants of health, where we live, learn, work and play and increase equity. Established in 2011, by Dr. Dannie Ritchie,  CHI-RI works to create platforms for community-directed decision making in how to address the challenges of their communities and sees community health workers (CHW) as a key to this process. CHI-RI delivers CHW core skills training designed using a participatory pedagogical framework that includes socio drama, public art, and storytelling. In 2015 CHI-RI participated as a subject matter expert for the establishment of the state certification process for CHWs and has trained over fifty new community health workers across the state.
Program Goals
The City of Providence believes the Creative Community Health Worker Fellowship will expand the City's direct reach to neighborhood residents and test a new pathway towards employment in both creative and community health worker fields. In this spirit:
Fellows will receive training in core competencies of community health work along with applicable strategies for using the arts (across disciplines) to address social determinants of health in community settings;
Fellows will receive mentorship in developing their portfolios towards CHW Certification;
Fellows will be provided a paid opportunity to implement newly learned skills and gain field hours necessary for CHW certification;
Host sites will benefit from co-developed arts-integrated programming designed for their constituencies;
Artist Facilitators and CHI-RI will expand their training modules and pedagogical strategies;
The City will gain insights as to how and whether to further develop a pipeline for artist facilitators and community health workers as a method of creative workforce development;
Providence residents will experience and participate in arts and cultural activities led by the Creative Community Health Worker Fellows.
---
Location and Siting
The training will occur at the West Elmwood Housing Community Room, located at 224 Dexter St, Providence, RI 02907.
 Classes will generally meet on Wednesday evenings and occasionally on Saturday mornings.  The schedule is subject to change.
 Course Schedule
| | | | | | |
| --- | --- | --- | --- | --- | --- |
| Week | Wednesday | Saturday | Week | Wednesday | Saturday |
| Week 1 | February 12 | February 15 | Week 12 | April 29 | |
| Week 2 | February 19 | February 22 | Week 13 | May 6 *3hr review* | |
| Week 3 | February 26 | February 29 | Week 14 | May 13 | May 16 |
| Week 4 | March 4 | | Week 15 | May 20 | |
| Week 5 | March 11 | | Week 16 | May 27 | |
| Week 6 | March 18 | | Week 17 | June 3 | June 6 |
| Week 7 | March 25 | | Week 18 | June 10 | |
| Week 8 | April 1 | | Week 19 | June 17 | June 20 |
| Week 9 | April 8 | | Week 20 | June 24 | |
| Week 10 | April 15 | | Week 21 | July 1 *3hr review* | |
| Week 11 | April 22 | | | | |
---
Eligibility
This call is open to individual artists 21 years or older who hold a current Rhode Island home or studio address. Providence residents and/or artists and cultural workers based in Providence will be preferred.
This call is open to artists working across disciplines who can demonstrate their social practice, understood as having worked in the public realm and/or in community-based settings. The applicant must provide examples of at least three successful community-based installations, gallery exhibitions, public performances, publications or programs.
The ideal candidate will already be asking questions in their work related to public health concerns and have rooted relationships within Providence neighborhoods and / or with Providence community organizations and family networks.
The ideal candidate will have a paid or volunteer work history that includes more than 500 hours of community-based work in the past five years.
Preference will be given to artists who demonstrate cultural competency and previous experience working in intercultural modalities that foster innovation, diversity, and relevance with new audiences.
People of color, women, and LGBTQ+ artists are highly encouraged to apply.
---
Art Selection Method
Artists will be selected through a competitive, two-tiered process. Eligible artists may submit their Artist Statement, Cover Letter, Resume/CV, and three to five examples of relevant projects by January 23, 2020.
The Art Selection Panel will review complete applications and score the submitted qualifications, limiting the selection pool to no more than eight artists. Those on the shortlist will be notified by end of day on January 27, 2020.
The eight shortlisted artists will then be invited to a phone/video interview with the art selection panel between January 28 – 30 2020.
Awardees will be notified of their participation on January 31, 2020, and must confirm their participation in the cohort no later than February 3, 2020.
Classes will begin on February 12, 2020.
---
Art Selection Panel
The Art Selection Panel will be comprised of seven members including:
Providence Department of Art, Culture + Tourism, Cultural Affairs Manager, Gina Rodríguez-Drix
Providence Department of Art, Culture + Tourism Special Projects Manager, Dr. Micah Salkind
Providence Healthy Communities Office, Deputy Director Rachel Newman Greene
Project Artist Facilitator, Vatic Kuumba
Project Artist Facilitator, Laura Brown-Lavoie
Project Artist Facilitator, Valerie Tutson
Community Health Innovations of Rhode Island Director, Dr. Dannie Ritchie
---
Selection Criteria
Finalists will be selected based on the following criteria:
Demonstrated experience as an artist with social practice.
Expressed eagerness to learn about and/or prior and passionate experience in addressing social determinants of health.
Demonstrated capacity to engage in rigorous training.
Flexible and experimental mindset.
Ability to commit to a summer residency.
---
Interviews
If selected for an interview, applicants should be prepared to speak about their interest in the training, their capacity to engage in weekly classes (see the class schedule above), and their desire to work 10-15 hours per week for three months during the summer at a pre-selected community-based organization.
---
Scope of Work
Upon award notification and acceptance, the fellow shall sign a contract with the City for the activities outlined below:
Attend weekly classes from February through July (see class schedule above). No more than three unexcused absences will be accepted.
Attend a minimum of three self-organized review sessions with cohort participants.
Develop a portfolio towards CHW certification with mentorship from training facilitators and City staff.
Commit to a host site pre-selected through ACT for 10-15 hours per week from July – September 2020. The project schedule and scope will be decided in late spring. This residency is pending FY21 budget approval in June 2020.
Design and implement an art and CHW integrated project at host site, determined by the host organizations programming needs and capacity.
Write a post that documents your experience in the training and residency for ACT's blog, artculturetourism.com.
---
To Submit
Applicants must apply online in the form below. Applications will be due at 11:59 pm EST on January 23, 2020.  Late or incomplete applications will not be reviewed.
Please provide a brief Artist Statement to introduce the Art Selection Panel to who you are as an artist and some of the themes and ideas you explore in your artwork. Please do not insert a resume or list of accomplishments here. We are interested in your media, discipline, and community engagement practices. (300 words maximum)
Submit a cover letter that answers the following questions:

Who would say that you are the "go-to person" in your community? Why would they say that?
Tell us about your work in the community (an organization, school, neighborhood, cultural space, etc.).
Why are you interested in this opportunity?
What life experiences would make you a good candidate for this type of work?
Attach:
a resume of no more than 3 pages that includes the name and contact information for three references
up to 5 examples of past work (may include a mix of JPEGs, websites, audio clips and/or videos of up to 60-seconds each, and literary works of no longer than 1000 words of prose or 2 pages of poetry.)
the following description for each work sample submitted: artist's name, artwork title, a brief description of artwork or project (100 words or less), medium, completion date, dimensions (if applicable). Please include the commissioning entity, if applicable, and state your role in the creation of the artwork/ project if other artists or design professionals were involved in its creation.
---