Connecting art, food, health,and economic prosperity in Southside and the West End
Sowing Place is a creative placemaking initiative organized by the Department of Art, Culture + Tourism in partnership with the Providence Healthy Communities Office, the African Alliance of Rhode Island, West Elmwood Housing Development Corporation's Sankofa Initiative, and Southside Cultural Center of Rhode Island.  Facilitated by Providence-based poets Vatic Kuumba and Laura Brown-Lavoie, together we support a unique set of food and arts events to promote an expansive perspective of health and well-being. Our collaboration centers communities, vendors, and artists of color to build a strong, inclusive local cultural economy and a resilient local food system. Working as a team of municipal workers, artists, and farmers, we share bread, poetry, and consensus organizing with the aim of lovingly challenging the way the City works in relationship with community partners, one project at a time.
#ProvidenceArtCultureTourism
#artfoodculture
#SowingPlace
#wellfed
#KresgeFreshLo
#communitymatters
The City of Providence invites artists with a social practice to participate in a new pilot training in Artist Facilitation and Community Health Work followed by a three-month residency in a community-based organization. Co-led by Providence's Department of Art, Culture + Tourism (ACT) and Healthy Communities Office, the Creative Community Health Worker Fellowship will provide a cohort of five Providence-based artists 70 hours of training under Dr. Dannie Ritchie, Director of Community Health Innovations of Rhode Island and three Artist-Facilitators, Laura Brown-Lavoie, Vatic Kuumba and Valerie Tutson. This pilot program is designed to support artists to become RI certified Community Health Workers, expanding the impact of the arts on addressing social determinants of health. This fellowship is an extension of the City's Sowing Place Initiative, generously funded by the Kresge Foundation.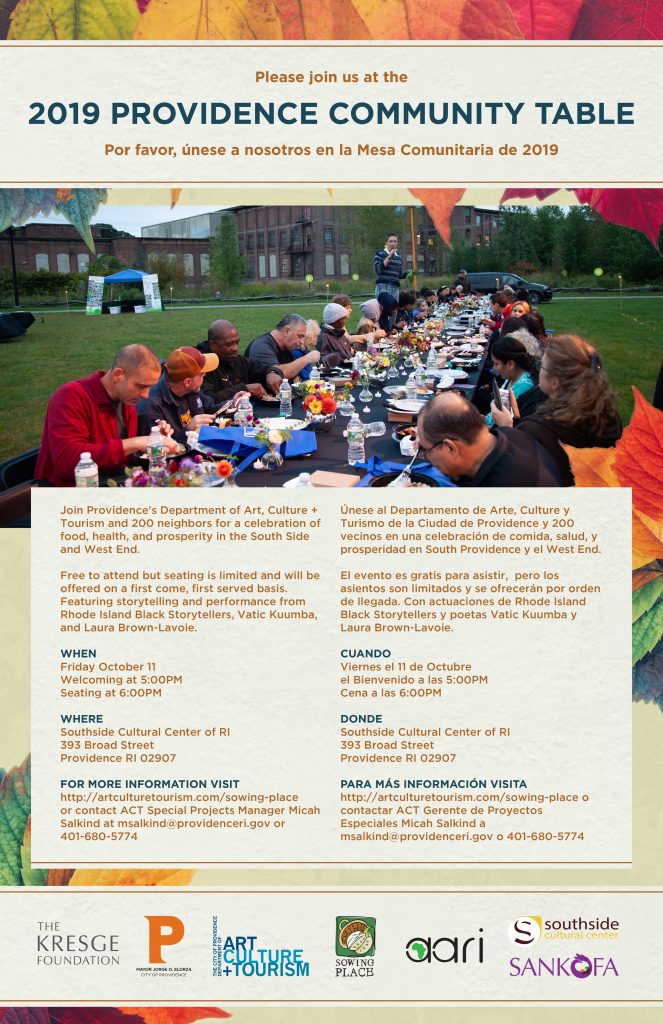 2019 Providence Community Table
Friday October 11, 2019
5:00PM Welcoming
6:00PM Seating
Southside Cultural Center of Rhode Island
393 Broad St. Providence, RI
On October 11, 2019 the Department of Art, Culture + Tourism and Sowing Place Initiative project partners produced the Community Table, serving over one hundred and fifty meals to our community members. The night featured storytelling and performance from Valerie Tutson and the Rhode Island Black Storytellers, Sidy Maiga, Vatic Kuumba and Laura Brown-Lavoie, temporary installations from Shey Rivera Rios and Kei Soares Cobb, and a delicious meal prepared by four neighborhood chefs: René Sanchez, Jazandra Barros, and Jessica M Zeon, featured plant based, Mexican, and African cuisine while desserts were made by local chef, CJ Jimenez. Produce was grown locally at Southside Community Land Trust and flowers were brought to us by Osamequien and Hocus Pocus farms. It was held at the Southside Cultural Center of Rhode Island, and the meal was cooked in the West Elmwood Housing Sankofa Community Kitchen. Read more here.
September 2019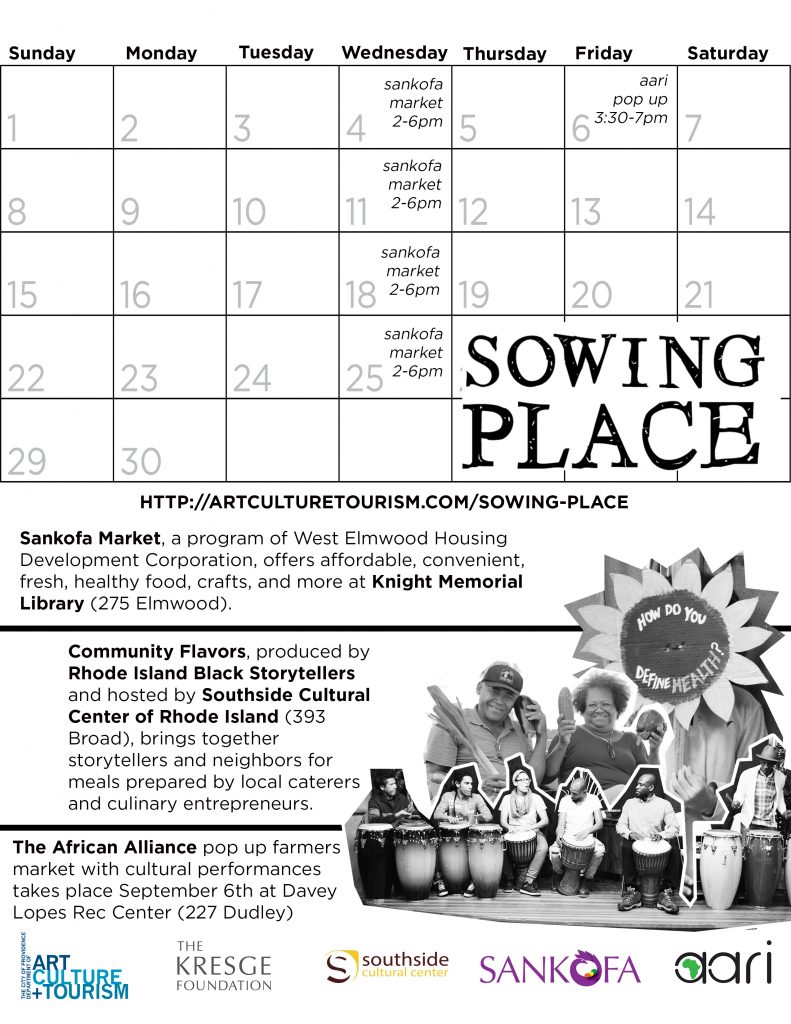 Sankofa Market – Wednesdays, 2:00PM-6:00PM at Knight Memorial Library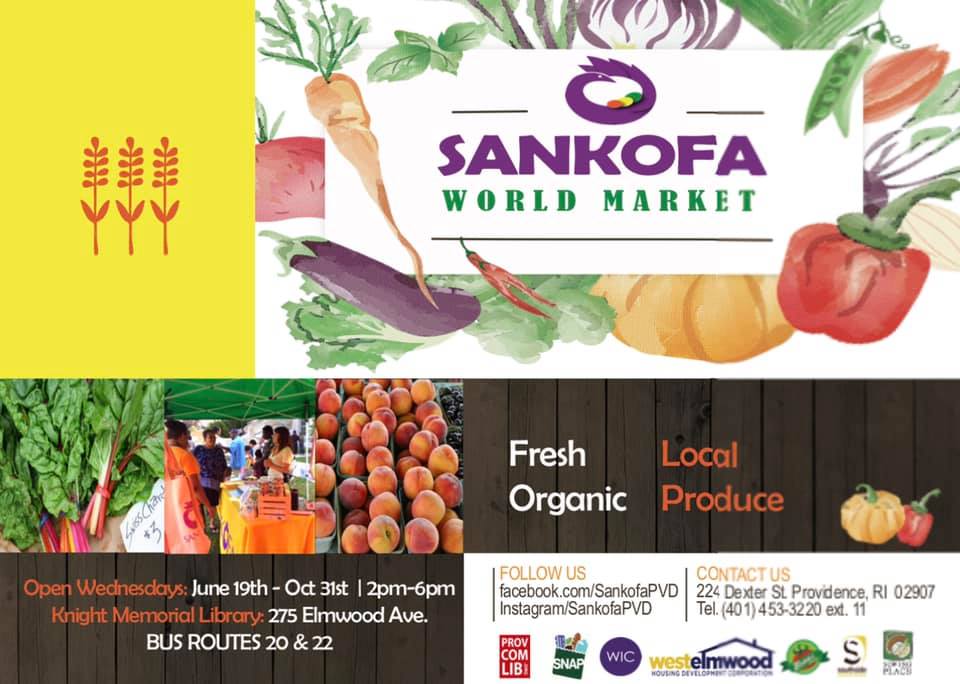 Sankofa World Market (WEHDC's farmer's market) is a weekly celebration of food, community and culture of the West End. Sankofa World Market offers fresh, locally grown produce, prepared food, hand-made goods, weekly live music, cooking demonstrations, and more. Sankofa Market highlights specialty crops from our diverse mix of growers such as; bitter ball, bitter melon, sweet potato greens, bitter leaf, luffa, Asian corn, am aranth, water spinach, long beans, melons, and much more. Shoppers at Sankofa World Market can use their SNAP/EBT and WIC to purchase fresh produce. The Sowing Place Arts Curator, housed at SCCRI, will curate art and performance at this season's markets. The Sankofa Market happens every Wednesday from June 19 2019 – October 31st 2019 from 2-6pm at the Knight Memorial Library.
AARI Pop-Up Markets – Monthly, locations vary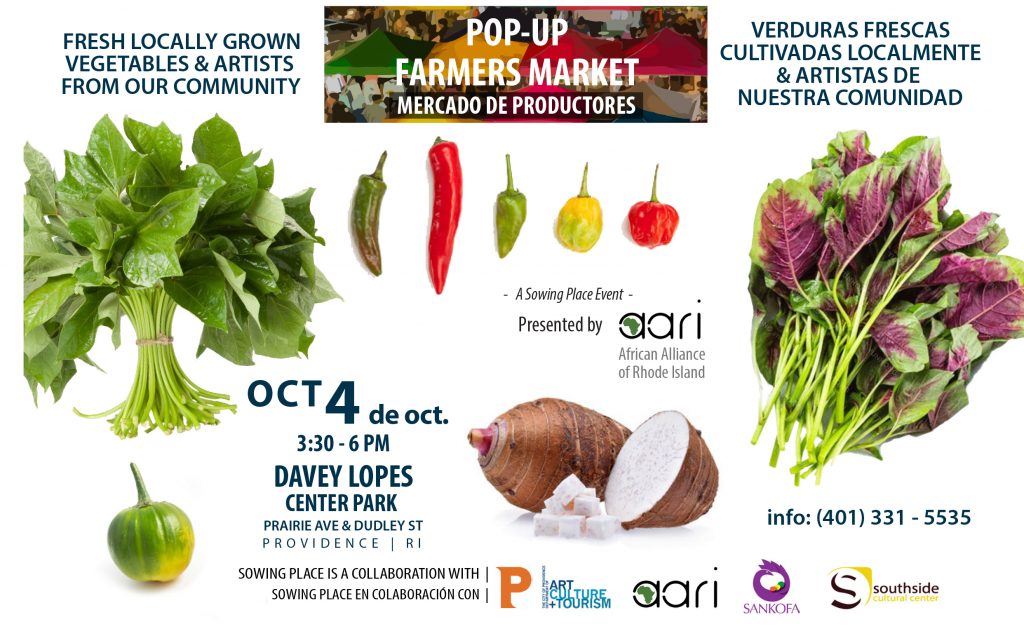 The African Alliance of Rhode Island is celebrating food, art, and culture through their Pop-Up Farmers Markets throughout South Providence. They are providing local, healthy, and culturally appropriate foods to the community while also connecting culture and people together through music and art. The Sowing Place Arts Curator, housed at SCCRI, will curate art and performance at the pop-up markets.
AARI Pop-Up Markets will happen on:
Monday July 1 2019 in Columbus Square
Friday August 2 2019 at Miller Ave/Broad/Roger Williams Park entrance
Friday October 4 2019 at Davy Lopes (Prairie Ave & Dudley St)
Community Flavors – June, August, September and October at SCCRI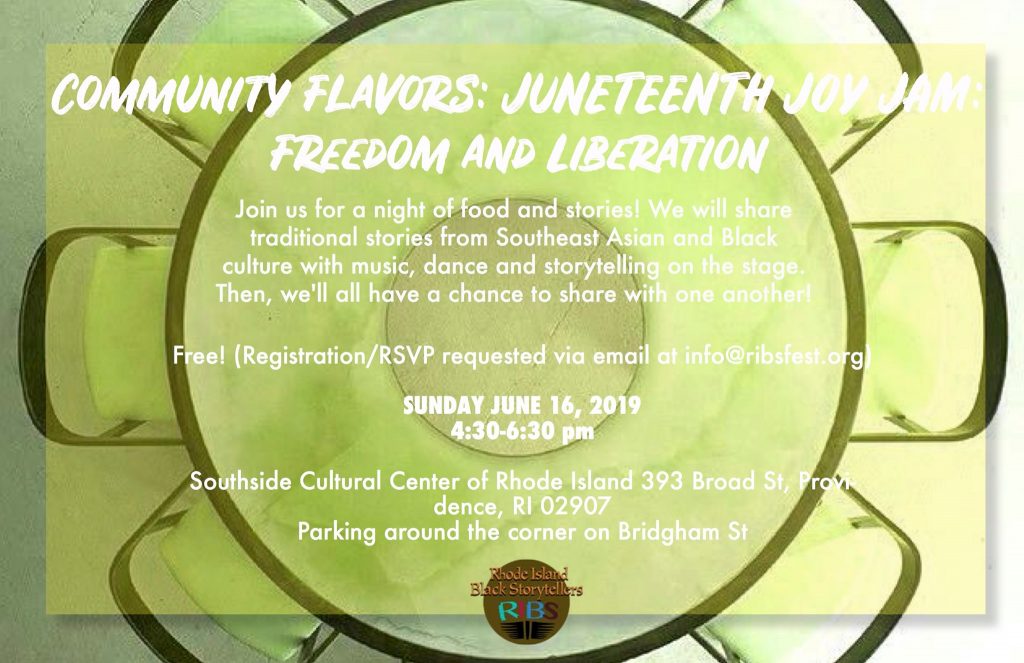 Community Flavors produced by Rhode Island Black Storytellers and hosted by Southside Cultural Center of Rhode Island brings together storytellers and neighbors to for meals prepared by local caterers and culinary entrepreneurs.
Sunday June 16 2019 at Southside Cultural Center of Rhode Island
Sunday August 18 2019 at Southside Cultural Center of Rhode Island
Community Table – Sowing Place Sunset Celebration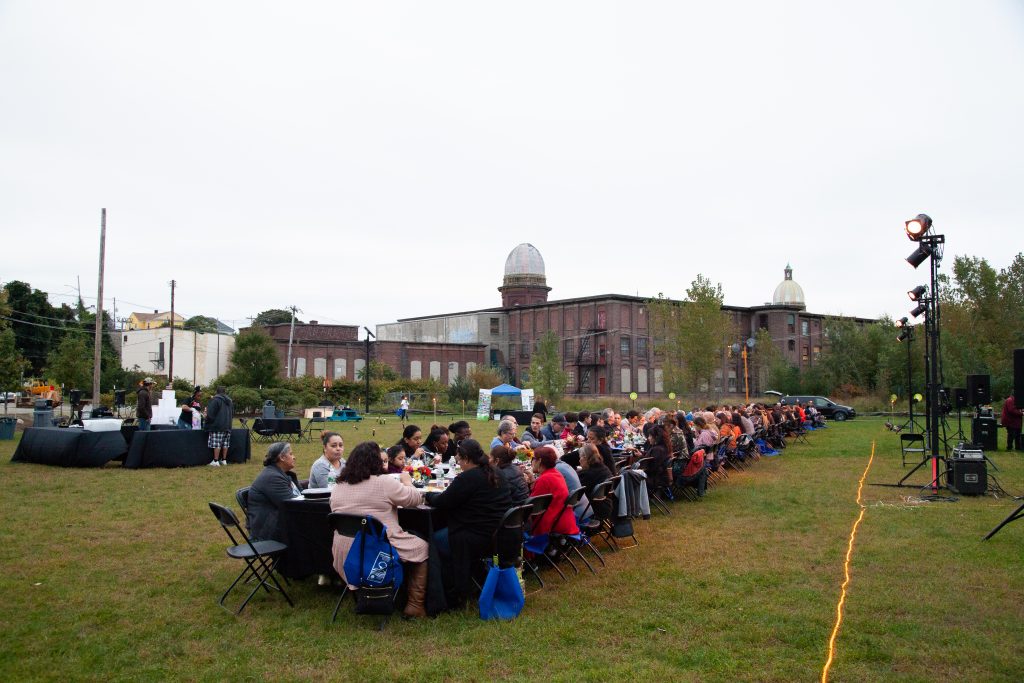 The Department of Art, Culture + Tourism has organized a Community Table at PVDFest 2017 and in  fall 2018. These events provide a meal for up to 200 attendees in public space. Facilitated by artists, we share conversations across the table and across cultural, linguistic, and class divides. This year's Community Table event on Friday October 11th will celebrate the closing of our Sowing Place project, and the birth of new opportunities to connect art, food, health, and prosperity in our neighborhoods.
---
Project Timeline
Planning Year: 2016-2017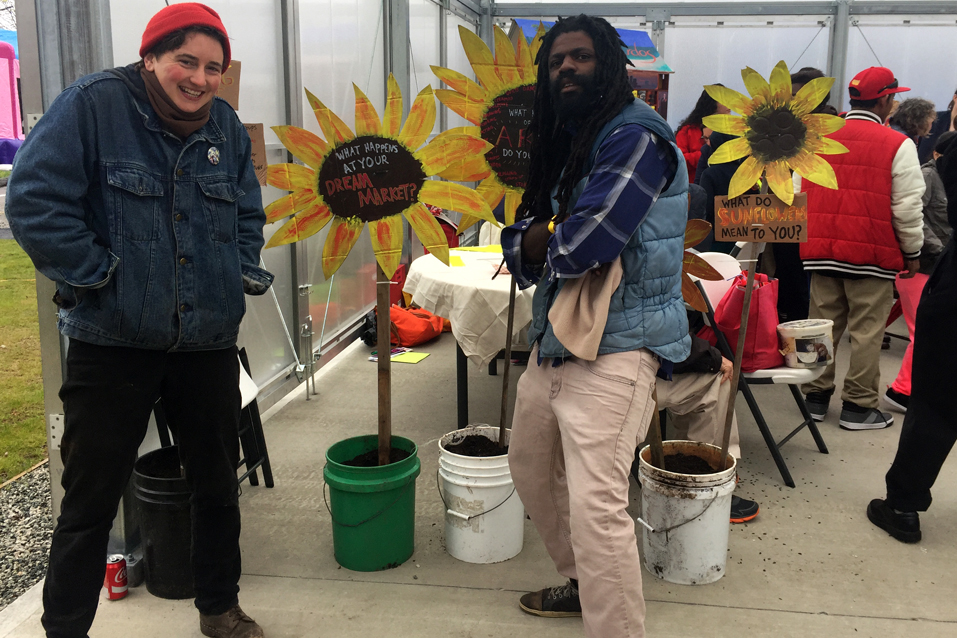 In spring 2016 the Kresge Foundation awarded the City of Providence and its partners $75,000 through Fresh, Local & Equitable: Food as a Creative Platform for Neighborhood Revitalization (FreshLo) to design neighborhood-scale projects demonstrating creative, cross-sector visions of food-oriented development.
As a first order of business the City and its community partners worked together to hire a team of Artist-Facilitators, to guide our planning process. Laura Brown-Lavoie (also a farmer) and Vatic Kuumba, both local award winning poets with strong ties to the project neighborhoods came on board to use the literary and visual arts to grow the creative spirit and support project managers to think in new and exciting ways.
Laura and Vatic were sure to start all of our meetings with poetry and fresh bread (made by Laura herself, often adorned with flowers from her farm). Well fed by verse and food, we collaboratively imagined our future project(s), and came up with a list of values for the work we would soon undertake.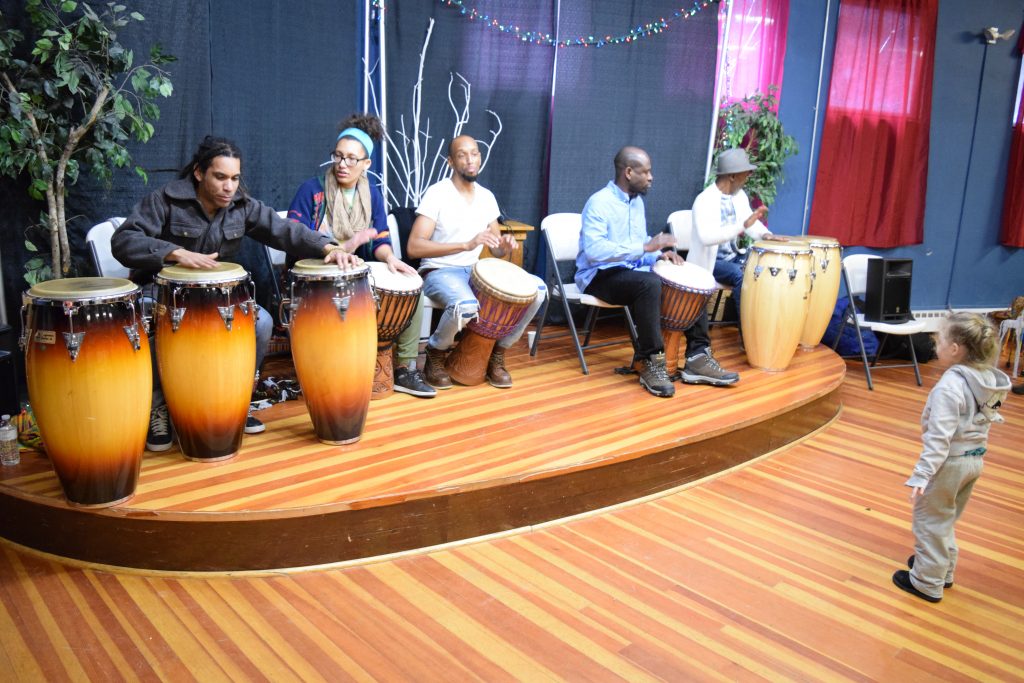 Our first collaborative event, the Cultural Extravaganza, brought a hundred community residents to SCCRI during a snowstorm to purchase art and gifts from local vendors, hear African and Latin drummers, and have a visit with Black Santa. Our second collaborative event brought vendors again to SCCRI, this time in the spring in honor of Earth Day. At each, our Artist-Facilitators engaged neighborhood residents about their ideas for combining art, food, health, and economic development in a place-based project. These ideas influenced our application for implementation funds – one that would include a flagship market and a way to integrate artists across all of our food-oriented events.
---
Year One: 2017-2018
The City of Providence was awarded Implementation Funds from the Kresge Foundation in the fall of 2017. The Sowing Place collaborative moved forward with plans to develop a signature market event at SCCRI's Southlight Pavillion, which ran monthly May – October. In addition, artists cross-pollinated throughout Sankofa's weekly market and AARI's monthly pop-up events. Now in its third year, the Cultural Extravaganza continued to be a well-attended community event, bridging opportunities for local residents and local vendors.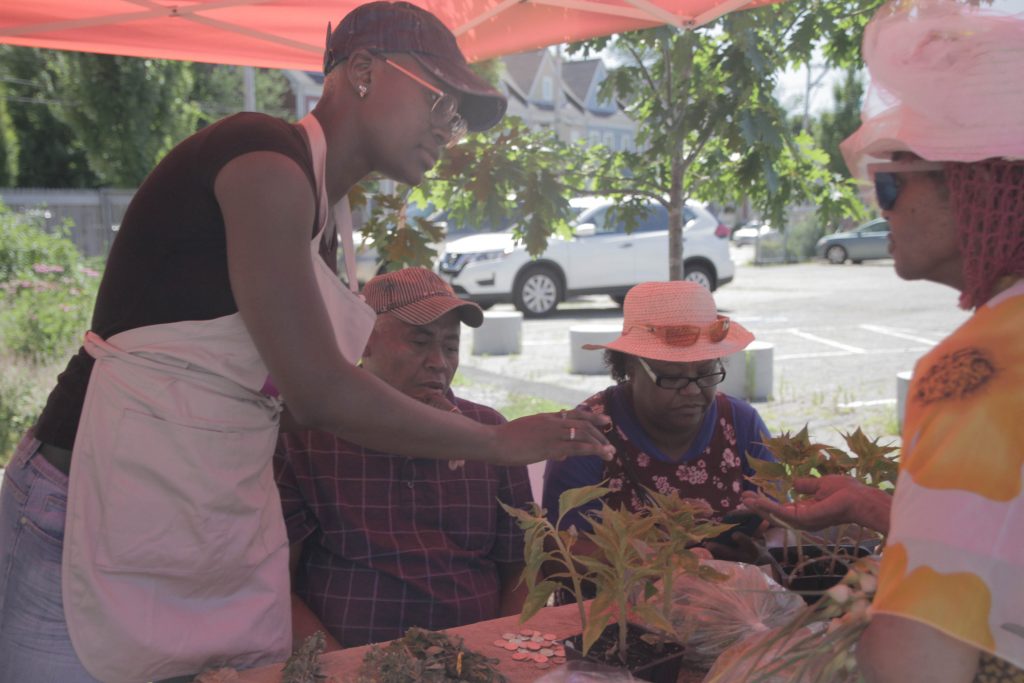 ---
Sowing Place Artist-Facilitators regularly met with vendors and organizational liaisons to plan the market events, infuse artists, and bridge connections to residents.  Laura and Vatic also continued to meet with the project partners and the City in order to facilitate our participatory budgeting process and maintain communication. The Sowing Place collaborative developed a marketing strategy for our collaborative work with help from Design Agency and hosted a visit from our support team over at Daisa Enterprise and Learning for Action (courtesy of the Kresge Foundation's FreshLo grant). 
Check out our Year One video, developed by our documentation team at Atomic Clock by clicking here.
---
Year Two: 2018-2019
Now well into our second implementation year, Sowing Place partners are working to bridge opportunities for vendors to expand their small operations. Providence growers interested in cooking, catering opportunities, or developing value-add products are encouraged to use the newly opened Sankofa commercial kitchen. Caterers providing meals at Community Flavors will have a change to experiment in the newly finished space and share their goods with event participants. AARI officially opened their Bami Farm in Johnston, providing additional support for local growers to expand their growspace. Artists continue to gain opportunities to perform at markets, curated by the Arts Curator housed at SCCRI. 
As this project prepares to sunset in October 2019, project partners and Artist-Facilitators are in conversation with the city as to how to continue to support support networks such as Sowing Place, and create pathways for our ways of working to influence policy and opportunity City wide.