Call for Artists: Broad Street Cultural Corridor Plaza Ground Mural at Daboll and Public streets
Summary
The City of Providence Department of Art, Culture + Tourism (ACT), Rhode Island Latino Arts (RILA), The Partnership for Providence Parks, Rec Centers, and Streetscapes (P3), and the Providence Streets Coalition (PSC) invite RI-based muralists to install an original ground mural at the intersections of Daboll and Public Streets, and Public and Broad Streets. This ACT Public Art Civic Infrastructure project is funded in part by a grant from Bloomberg Philanthropies through its Asphalt Art initiative.
The awarded artist or artist team will be engaged in Spring 2022 and will work during Summer 2022 to install the mural.
Applicants must be 18 years or older and hold a current Rhode Island home or studio address to be eligible to apply. Providence residents and/or artists with previous lived experience in Providence, as well as artists with ground mural experience, will be preferred.
The total project budget is $33,800 of which $11,000 will be directly allocated to the artist or artist team. Please see budget section below for more information.
To apply: This call is administered through Call for Entry and artists must set up a profile in the online system to complete the application successfully. Eligible artists may submit their artist statement, resume/CV, and three to five examples of relevant projects through CallforEntry.org. To apply, click here.
The application deadline was April 11, 2022. THIS CALL IS NOW CLOSED.
Questions about this call to artists must be submitted in writing by March 21, 2022. Write to Gina Rodriguez-Drix, ACT Deputy Director at grodriguez@providenceri.gov with the subject line "Broad Street Cultural Corridor Plaza."
An FAQ has been made available on March 25, 2022 here.
---
---
Program Goals
ACT Public Art's Civic Infrastructure projects infuse art and creativity into everyday spaces used by all and reflect the creative culture of Providence in the City's civic facilities, infrastructure, and systems.
The goals of the Broad Street Cultural Corridor Plaza are:
To attract people to Providence's urban trail network by conveying a feeling of safety, comfort and ease;
To enhance safety at the intersections of Daboll Street and Public Street, and Broad Street and Public Street by reducing car speeds, and shortening crossing distances; and
To increase the number of artists engaged in the public realm along Broad Street, and increase the square footage of art installed there.
---
Site and Location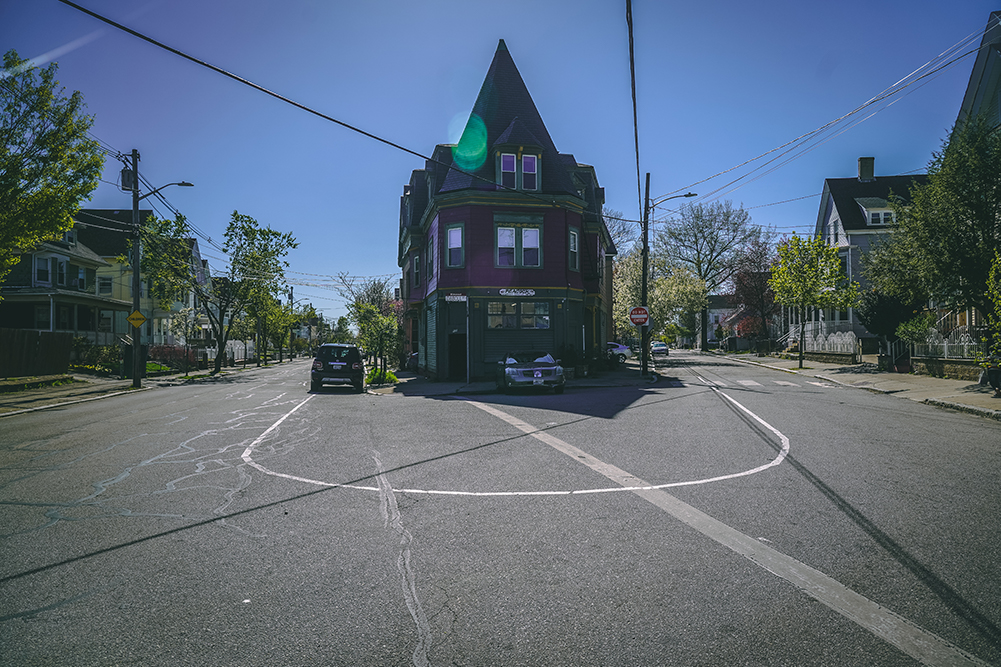 The proposed ground mural will cover an approximately 30' x 60' plaza where Public Street meets Daboll Street.
The project team chose the site at Daboll Square based on its proximity to a number of cultural amenities and social services, and because of the fact that it is a particularly dangerous intersection that benefited greatly from temporary amenities during a June 2018 project demonstration day.
The ground mural will draw attention to new bike and pedestrian infrastructure and protections designed to ensure that local home-owners and renters, as well as proprietors, employees and patrons of local businesses and faith-based communities clustered around the intersection, can safely travel to schools, jobs, and other important destinations like parks, libraries, houses of worship and community centers.
---
Project Budget
The total project budget for this installation is $33,800, inclusive of the artist fee, design costs, materials, equipment, installation, engagement and activation. A materials budget will be made available through P3, acting as fiscal agent for the project, and RILA will retain an additional sum to engage neighbors and activate the site with programming. The remaining funds will be allocated to the artist based upon the contractual payment schedule. The artist may choose to allocate funds to supporting artists, assistants, interpreters, and/or to stipend community members in addition to the cost of doing business. The following breakdown serves as a guide:
| | | |
| --- | --- | --- |
| Artist Fees, including design and install: 33% of total budget | $11,000.00 | Provided directly to the artist |
| | | |
| Materials | $9,000.00 | Retained by P3 |
| Misc. supplies and labor | $8,800.00 | Retained by ACT |
| Public engagement and site activation | $5,000.00 | Provided by fiscal partner to RILA |
---
Eligibility
Applicant must be 18 years or older and hold a current Rhode Island home or studio address to be eligible to apply. Providence residents and/or artists and cultural workers with previous lived experience in Providence will be preferred.
This call is open to muralists only. Artists that can demonstrate an interdisciplinary or multidisciplinary arts practice, traditional and indigenous artforms or intercultural modalities as a means of an engagement strategy will be preferred.
This call is open to individual artists or artist teams.
Applicant must have demonstrated experience with a portfolio consisting of at least one and up to five outdoor murals. Preference will be given for artists with experience in painting ground murals.
Preference will be given to artists who demonstrate cultural competency and previous experience working in intercultural modalities that foster innovation, diversity, and relevance with new and inter-generational audiences.
Spanish speakers preferred.
---
Art Selection Method
Artists will be selected through a competitive, two-tiered process. Qualified artists may submit their Artist Statement, Resume/CV, and three to five examples of relevant projects by April 11, 2022. Applicants must apply online through Call for Entry  here.
Round One: Selecting Finalists
The Art Selection Panel will review complete applications and score qualifications, limiting the selection pool to no more than five artists.
Round Two: Concept Design-Based Selection

Finalists will be invited to develop a site-specific Concept Design for the project. For this method of selection, each finalist will be paid a proposal fee to develop and present a physical representation of the work (a rendering or three-dimensional model), a written project description, a description of materials and fabrication techniques, expectations regarding site preparation and infrastructure needs, and a detailed budget and timeline.
Recommendation
After the interviews, the Art Selection Panel will recommend an awarded Artist to the Art in City Life Commission for approval.
The Department of Art, Culture + Tourism will publicly announce the commissioned artist in residence no later than August 1, 2022.
---
Art Selection Panel
The Art Selection Panel will be comprised of five members including:
Art in City Life Commissioner
Rhode Island Latino Arts, staff or designee
Partnership for Providence Parks, Recreation Centers, and Streetscapes, staff or designee
Providence Streets Coalition, staff or designee
A neighborhood stakeholder from the immediate area on Broad Street
---
Selection Criteria
Finalists will be selected based on the following criteria:
Artistic excellence and innovation, as evidenced by previous work.
Ability to manage budgets and complete projects on time, as evidenced by previous work.
Interest and excitement in working with members of the Project Team to realize and activate the work.
---
Artist Scope of Work
Upon award notification and acceptance, the artist shall sign a contract with the City for the activities outlined below:
Participate in regularly scheduled check-ins with staff from the Department of Art Culture + Tourism, and other relevant stakeholders.
Within one week of signing the contract, the artist shall submit for approval a project proposal and budget.

The proposal must outline the artist's plan for final design approval and installation.
The project budget must be organized by line item within the allowed expenses listed in the Budget section above. The artist may list materials to be procured by the partnering agency and Providence Art, Culture, + Tourism.

Install and execute the mural, which may include necessary site preparation.

To the extent possible, the installation should be inclusive, interactive, and intergenerationally accessible so that neighbors may participate safely.

Participate in an unveiling and dedication ceremony with the community.
Provide the City with a maintenance plan.
Following the installation the artist is required to gift the ground mural to the City. The City will reserve the right to maintain, restore, and de-commission the work within the stipulations of the contract with the artist.
---
To Submit
To apply, go online to the CaFÉ homepage at CallForEntry.org and create a free artist account. CaFÉ is free to use and there is no entry fee for this call. Under "Find Calls" search "Broad Street Cultural Corridor Plaza at Daboll and Public streets" or click here to go directly to the call.
Follow the instructions for submission, upload the required images and files, and submit. For technical questions about CaFÉ, please click on "Help" on the CaFÉ website.
In the CaFÉ system, you will be required to answer the following questions:
Please provide a brief Artist Statement to introduce the Art Selection Panel to who you are as an artist and some of the themes and ideas you explore in your artwork. Please do not insert a resume or list of accomplishments here. We look forward to learning more about you and your practice.  (2000 words maximum)
You will also be required to attach the following files and information in your online submission:

a resume/CV of no more than 3 pages length that includes the name and contact information for three references;
up to 5 images of past work (may include videos of up to 60 seconds only). If more content is available on the applicant's website or social media the applicant shall include this information in their resume/CV;
the following for each work sample submitted: artist's name, artwork title, brief description of artwork (100 words or less), medium, completion date, dimensions, total budget/cost (please use the Price/Value field in CaFE). In the description field, please include commissioning entity, if applicable, and state your role in the creation of the artwork if other artists or design professionals were involved in its creation.
---
Project Schedule
| | |
| --- | --- |
| Call to artists opens | March 4, 2022 |
| Application Deadline | April 11, 2022 |
| Finalists informed | May, 2022 |
| Full design proposals due | June, 2022 |
| Art in City Life Commission approval | June, 2022 |
| Design finalized | July, 2022 |
| Mural installation | August, 2022 |