Cranston Street Armory Animated by Art
The Cranston Street Armory Animated by Art was made possible by generous support from an NEA Our Town grant. AC+T and FirstWorks are working closely with cultural cartographer, and Creative Capital Grassroots Poet Laureate Christopher Johnson, as well as six community cultural organizations and civic partners to open up new conversations about the past, present, and potential future uses for the famous castle in Providence's West End. Partners included The West Broadway Neighborhood Association (WBNA), Providence Preservation Society (PPS), RI Department of Administration (DOA), RISD Museum, Community MusicWorks and City of Providence's Department of Planning and Development.
June 4, 2017 – Animated by Art PVDFest Finale
Programming began at 1pm when the RISD Art Circle's  (RAC) fleet of Armory-themed trucks open their doors along Hollywood Road. Providence artists will create immersive art experiences in five re-purposed box trucks, each skinned to exaggerate and highlight the iconic architectural features of the Cranston Street Armory.  These interactive "mini-Armories" were on display and open for engagement throughout the afternoon while food trucks along Parade Street offered up their culinary wares. Featured artists and projects included: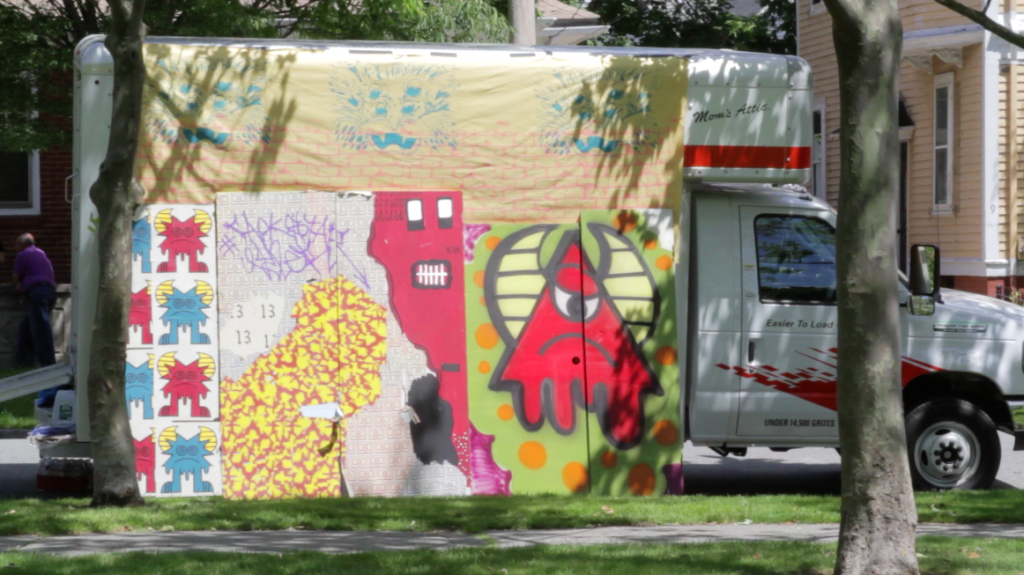 Mini-Armory by Walker Mettling and Friends. Photograph by Kathleen McAreavey.
Rachel Blumberg is an interdisciplinary artist and educator from Portland, OR now living in Rhode Island. She makes stop motion films, visual art, composes, performs and records music, is a drummer/percussionist and an educator. The Percussion Garden was Blumberg's interactive, community focused sonic installation made from found objects and existing percussion instruments,  where people of all ages were encouraged to engage with each other through the act of playing and exploring tones and rhythms together, in a magical, transformative environment.
Kylie Why is a multi-media artist living and loving in Providence Rhode Island. Their most active focus is primarily in performance and video art drawing inspiration from interpersonal relationships and theatrical background. Their PVDFest mini-armory installation was a galaxy twist on Joanett'e nail salon. Guests were pampered and styled with some out of the world personality!
García Sinclair and Nafis White are a multidisciplinary artist duo who have been making work together for 15 years. Their collaborative works explore themes of identity, visibility, trauma and humor, and use multiple mediums to communicate including installation, sculpture, technology, and even food. White and Sinclair both graduated from the Rhode Island School of Design with a BFA in Sculpture. Currently MFA candidates at RISD, Sinclair and White's mini-armory, Every Exit is an Entrance, was a menu karaoke extravaganza.
Unknown Studios is a young collective of friends out of Providence that shares a common interest in art and clothing. With no degrees in art, members taught themselves how to create dynamic pieces of clothing, art, and much more. Unknown Studios' goal is to reach out to its community, help its peers connect with their inner children, and spread the love of art throughout the world. The collective chose the name Unknown Studios because its art is unpredictable and has no direction. Audiences will never know what it will come out with next. "Unknown Studios Live" was an installation and live screen printing party produced by Unknown Studios.
The RISD Art Circle teens and Walker Mettling created a pop up gallery of new works generated at the PVDFest and gave out nearly 150 RISD Museum memberships to Rhode Island artists of all levels and stripes. The RISD Art Circle (RAC) is a group of twelve young artists and art enthusiasts from all over Rhode Island who explore the RISD Museum collection and activate the museum galleries through events, interpretative projects, community collaborations, and hands-on learning activities. Mettling is a Providence printmaker, cartoonist, and educator. He is the recipient of the 2017 RISD Museum Artist Fellowship.
---
Storytelling took center stage on June 4th, with the Rhode Island Council for the Humanities and its partners joining the Animated by Art team on site to share the newly published West Side of Providence tour, curated by historian and writer Taylor M. Polites. The Cranston Street Armory (formerly the Providence Armory) plays a pivotal role in Polites' research for the West Side Rhode Tour, of the West End and Federal Hill neighborhoods, as well as in the on-site tours that he and WBNA have developed for the public to experience beginning on Sunday the 4th. The organization's Executive Director, Kari Lang, has her own family connections to the building, recalling that her father told her stories about competing in high school track meets there: "The cultural energy of this event will reflect that same energy which surrounds our 'castle for the people,' and will give voice and expression to the significance of this building in a way that traditional advocacy cannot. WBNA applauds this celebration as the start of making this special civic space accessible once again to the community." Lang and neighbors affiliated with the WBNA led over 1000 people on timed tours in English and Spanish through the Armory Drill hall and basement on a first-come-first-serve signup basis between 1pm and 5:30pm, with a break between 3pm and 3:30pm.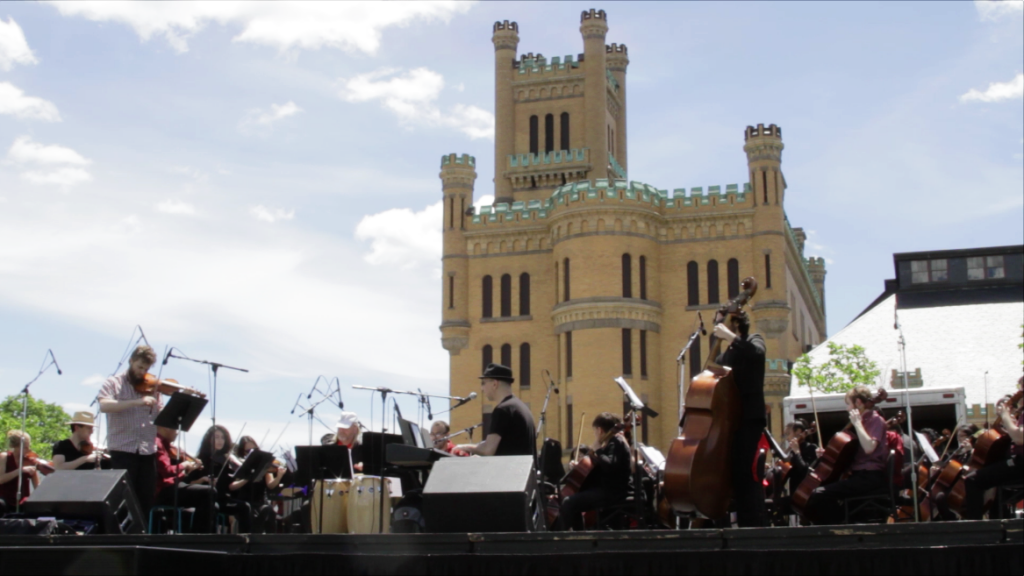 Johnny Gandelsman and Gonzalo Grau perform with CMW faculty and students. Photo by Atomic Clock.
At 1pm, Community MusicWorks students, alumni, and faculty joined composer Gonzalo Grau, and his salsa band La Clave Secreta, along with Johnny Gandelsman and other special guests, for a 20th anniversary season reprise of "Fantasia con Guyaba Habanera," a piece that CMW and Gandelsman premiered at John Hope Settlement House in May 2013. The CMW program concludes with a salsa set by Grau and ensemble. Sebastian Ruth, Artistic Director of the organization, says Community MusicWorks is thrilled to close its 20th season with a finale performance at PVDFest 2017 at the Cranston Street Armory: "For 20 years we have made it our mission to have dynamic musical experiences bring together children, families, and musicians in our communities. What better way to commemorate that mission than with a performance that speaks to the Latin American musical traditions of many of our students' families, alongside the classical music forms like a violin concerto, all in an historic park with the city coming together!"
At 3pm AC+T and PVDFest partners FirstWorks presented Harlem-based composer/violinist Daniel Bernard Roumain, aka DBR, who created a Providence-specific version of his En Masse project. This collective musical celebration – a cross between a flash mob and a processional – featured marching bands, street musicians, and music students from across Rhode Island.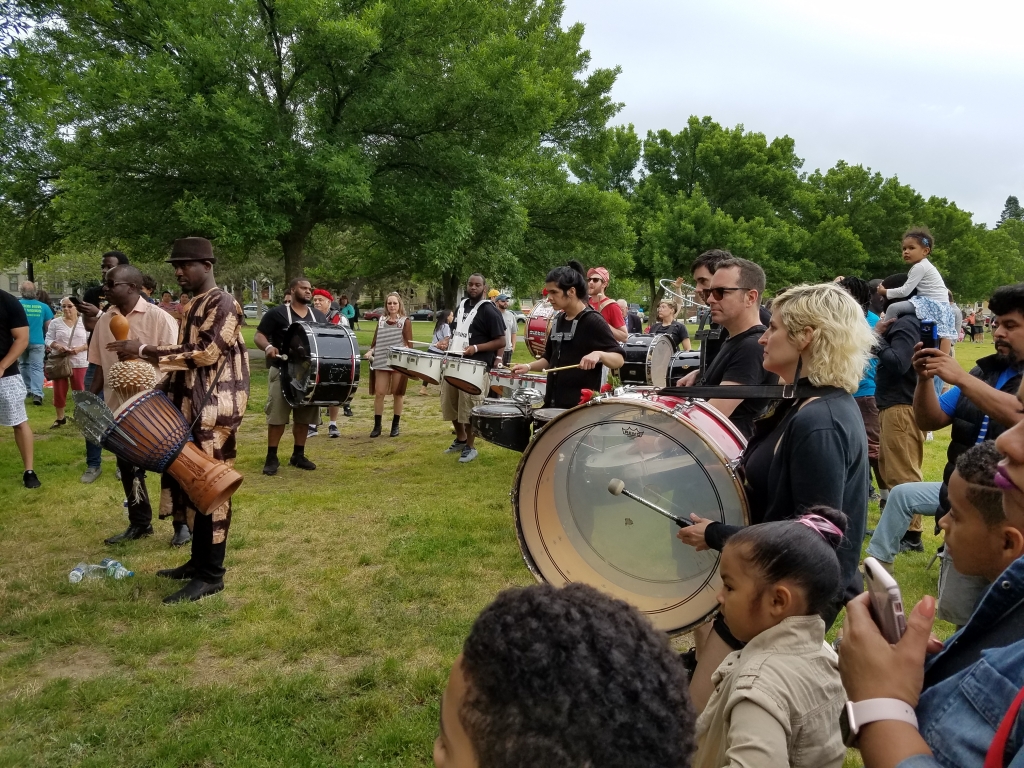 Drummer Sidy Maïga, Blackout Drum Squad and What Cheer? Brigade perform in En Masse. Photograph by Kathleen McAreavey.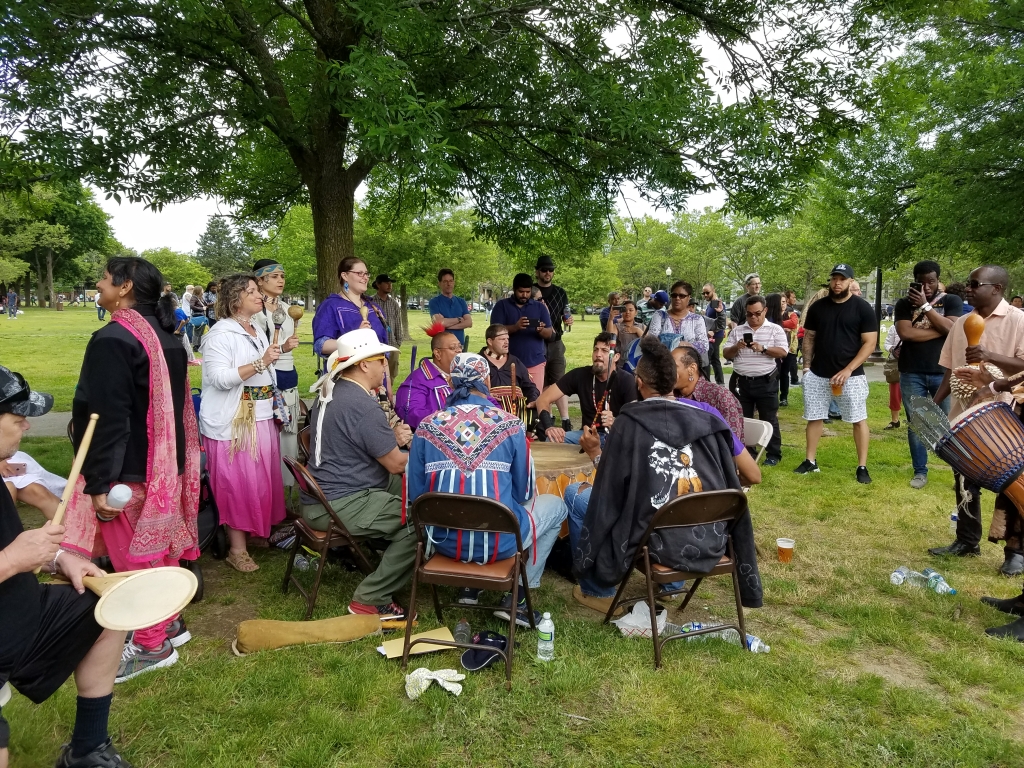 Eastern Medicine Singers perform in En Masse. Photograph by Kathleen McAreavey.
Following En Masse, there was a final encore singalong of "Amazing Grace." Audiences joined vocalist Becky Bass in song with their neighbors from the West End, Elmwood, Upper South Providence, Federal Hill, and across the city and state, to celebrate 110 years of history, creativity, and community engagement at The Cranston Street Armory.
other outreach activities included:
#PVDPublicCanvas Community Dinner at Southside Cultural Center of Rhode Island hosted by Rhode Island Black Storytellers and FirstWorks, 6pm – 8pm, Wednesday, May 10, 2017.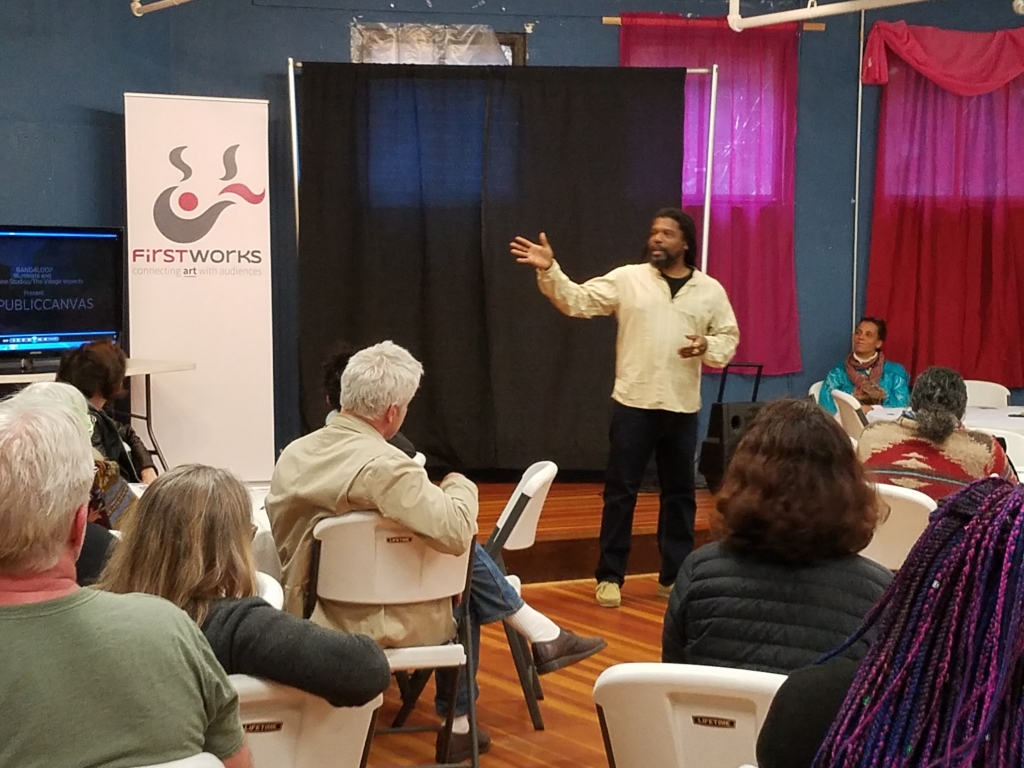 Christopher Johnson and Val Tutson at the #PVDPublicCanvas Community Dinner. Photograph by Kathleen McAreavey.
Mask-making and visioning in the Armory Park (Dexter St. Training Grounds) during Farm Fresh RI Farmers Markets with Christopher Johnson and RISD Museum's Artist Circle; for ages 7+ 3:30pm – 6:30pm, Thursdays May 25, June 1, June 8, June 15, and June 22, 2017. On the May 25th date, community artists rehearsed at the Providence Career and Technical Academy with PVDFest artist DBR for En Masse (See below) during the 3:30pm – 6:30pm window too!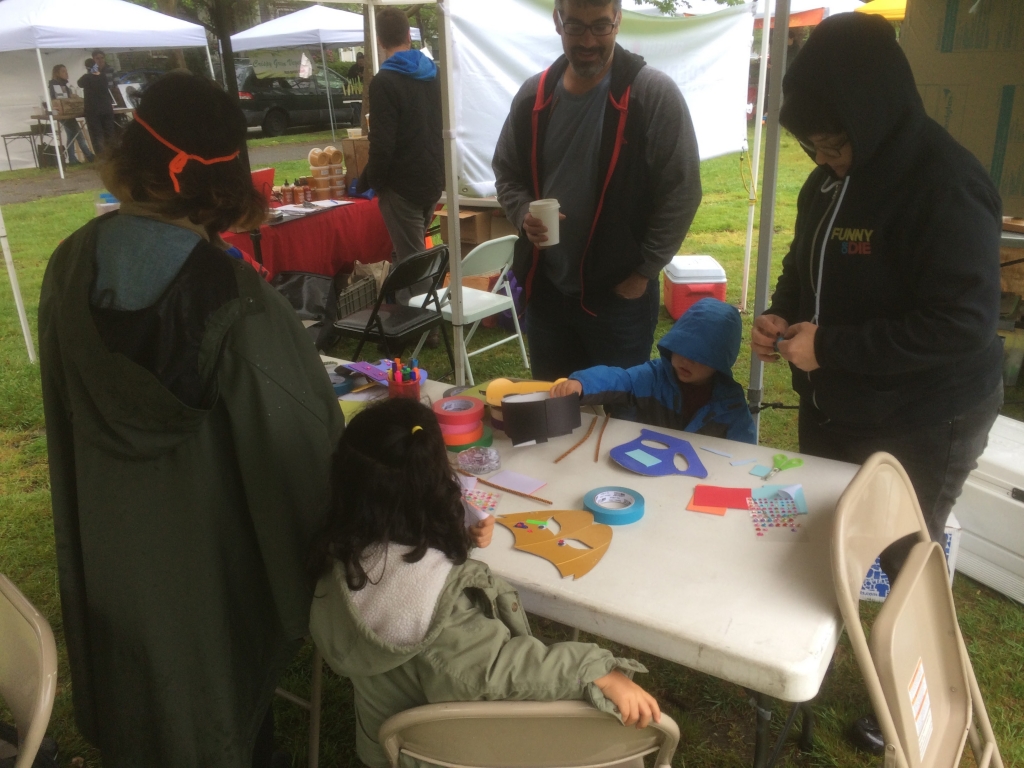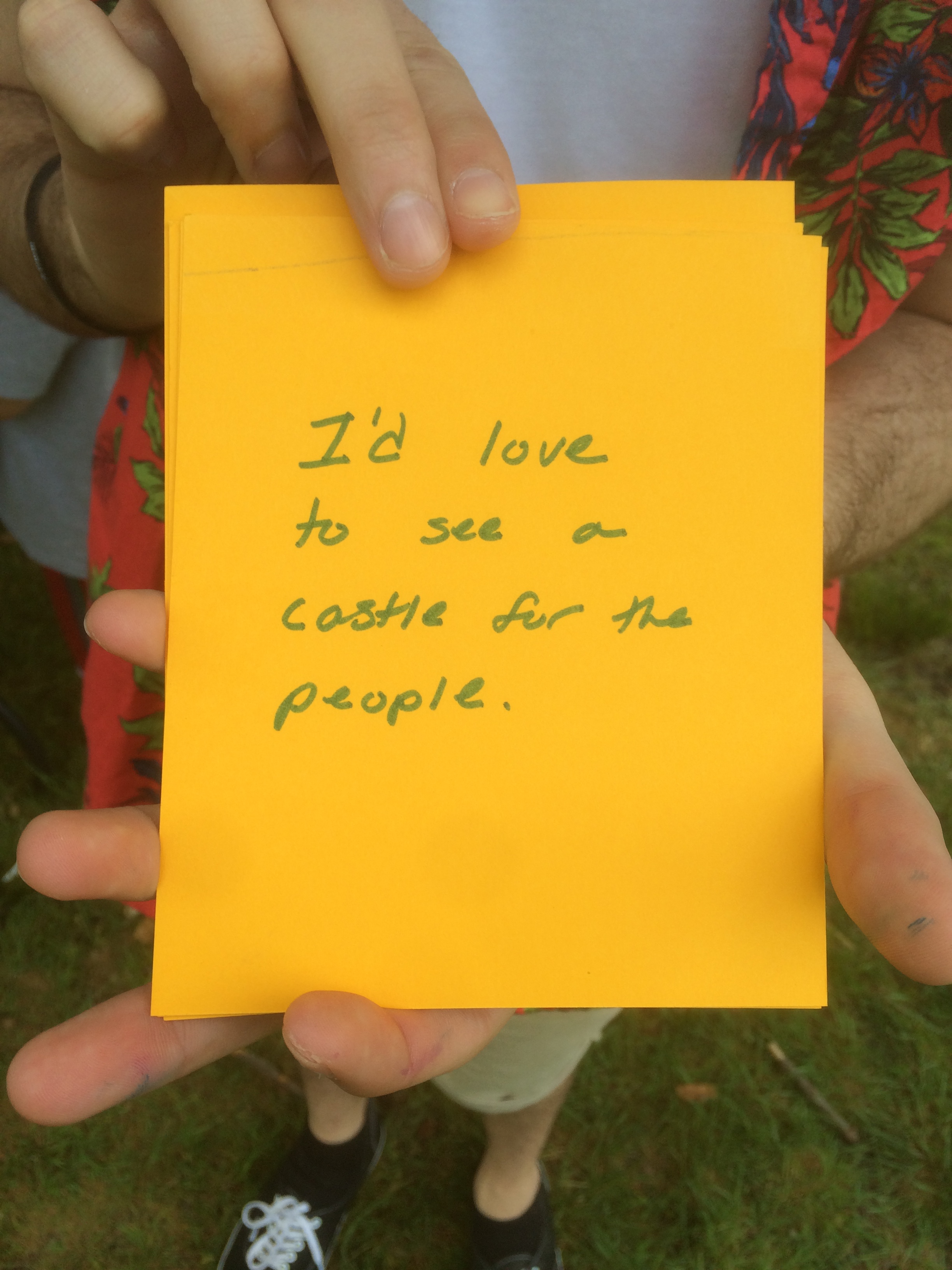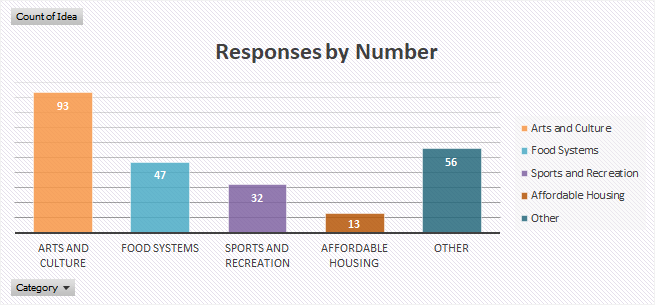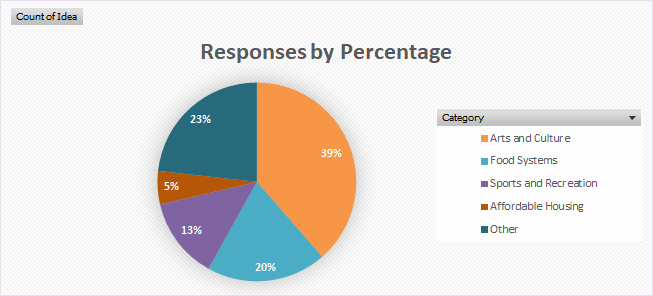 ---
Data from our respondents at the Dexter Street Training Ground:

For more on "the people's castle," head over to John Taraborelli's PVDFestival blog.