Creative Providence 2020: A Cultural Plan For The Creative Sector
The City of Providence Department of Art, Culture + Tourism (ACT) is facilitating the  planning process for Creative Providence 2020: A Cultural Plan for the Creative Sector.
The City's first Cultural Plan was published in 2009 after an 18-month long community planning process which brought together arts and culture nonprofits, individual artists, arts educators, producers, and investors to create a sector wide agreed upon vision, goals, and strategies. Since then Creative Providence has served as a dynamic blueprint for strengthening the creative sector and as a community-wide guide to public policy, public initiatives and private investments in the arts. Now at the ten year mark, ACT and creative partners are reassessing our sector's goals and strategies with plans to release the second Cultural Plan in summer 2020.
Earlier this year the National Endowment for the Arts awarded $40,000 to ACT to steward the Creative Providence planning process. Planning activities will include public meetings, creative studios, in-person interviews and surveys to explore the current strengths and weaknesses of the capital city's creative community.
Creative Providence Online Survey
Take the Creative Providence Online Survey to help shape the design of upcoming community meetings and planning efforts that will begin later this fall into the new year. The survey should take about 20 minutes to complete:
CLICK HERE!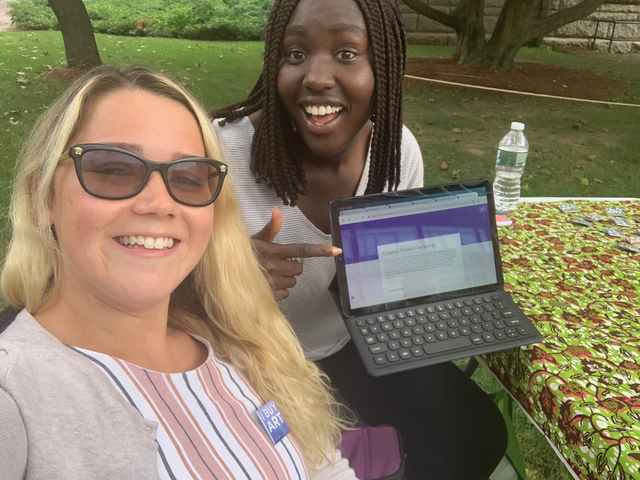 ACT staffers Alexis and Africia have been out and about doing intercept surveying at events. If you would like us to come to an event you are hosting, contact grodriguez@providenceri.gov.
---
Visit this page for updates on the Creative Providence Cultural Plan or follow us on social to learn more and find ways to get involved.
#PVDCreativeCapital
#ACTPVD
@ProvidenceACT
facebook.com/provact