Seen/Unseen by Mary Beth Meehan
In Seen/Unseen, photographer Mary Beth Meehan has transformed downtown Providence with eight billboard-scale portraits of city residents. Up to forty feet in height, the photographs draw on the power of portraiture to inspire connection and mirror the city back to itself. The work has prompted conversations city-wide about urban identities, socioeconomic invisibility, the modern role of physical media, and the segregated nature of a multi-ethnic city such as Providence.
In April 2017, Meehan refreshed the project by adding a new portrait that replaced "Rosaleen." Bidur is a Syrian refugee who moved to Rhode Island after fleeing her homeland.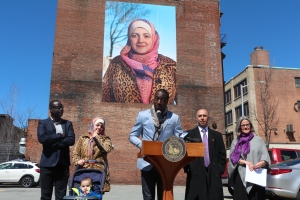 ---
Launched in conjunction with the Providence International Arts Festival in June 2015, and funded in part by an NEA "Our Town" grant, Seen/Unseen still adorns the downtown Providence cityscape in early 2017, even though it was originally planned to be taken down in 2016. "Our goal in working with Mary Beth on this project was to set the table for a conversation about race that comes from a place of dignity and grace," said Lynne McCormack, former Director of the City of Providence Department of Art, Culture + Tourism. "These portraits reflect Mary Beth's thoughtful and deep connections with her subjects, the trust she was able to build, and the beauty and resonance of each individual's character. The sheer size of the photographs in the downtown cityscape is enough to provoke responses about who lives in the city, and about how, while the downtown power brokers, employers, workers and residents are mostly white, the rest of the city looks very different. We need to reshape our dialogue about race and cultural equity nationally, and this work opens a door to that."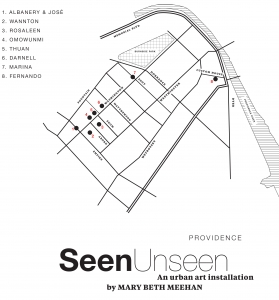 In an Artist Talk at the RISD Museum of Art, city residents, members of the arts community, and several of the subjects of Meehan's photographs came together to talk about what it means to be seen — and unseen. Shebna St. Louis, whose father is a Haitian immigrant and appears in one Providence banner, said: "It's not only an honor for him, but it is an honor for our community. When one person is lifted up, everyone's lifted up. And that's how our community felt when they saw his portrait. They are taking pictures of it, telling people in Haiti about it. It's huge. It's huge."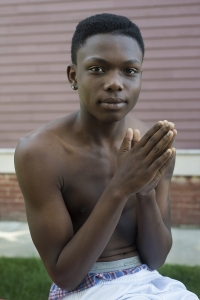 ---
Jan Howard, Chief Curator of Prints, Drawings and Photographs at the Rhode Island School of Design Museum of Art, said: "What I really love about Mary Beth's photographs, in addition to their sheer beauty, is how she connects with her subject, how engaged she is. I see people whose experiences and circumstances might be quite different from my own, but I feel like I can recognize something of myself and connect to them in some way."
In the wake of race-based civic upheaval in such cities as Ferguson and Baltimore, it is vital for the conversations like the ones taking place in Providence to continue. How can we examine the filters that prevent us from seeing one another clearly? What is the impact of using art to make intimate and deep connections with our neighbors, and of using our daily human cityscape, rather than a traditional gallery setting, to present this work? Viewers are invited to interact with the work in the urban landscape, to investigate the presumptions and reactions it raises, and to read more about the people photographed and the process of making the work at Meehan's Seen/Unseen blog.
In addition to being funded by an NEA "Our Town" grant, Meehan's work has received generous financial support from the Rhode Island State Council on the Arts, The Rhode Island Council for the Humanities, and PopUp Providence, and was installed by FirstWorks and the City of Providence Department of Art, Culture + Tourism.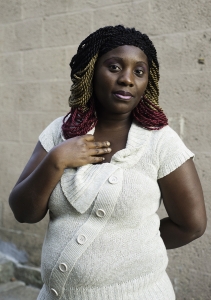 ---
Meehan not only created the downtwon exhibition, she also worked with third grade students at the International Charter School of Rhode Island, a dual-language elementary public school in Pawtucket, to create a photography exhibition of their own cultures and narratives.
In the weeks between her first visit and the exhibition of student work, Meehan introduced students to photography as a means of observing and documenting the cultural life all around them.  She asked them the question "What makes a good photograph?"  teaching them to use the cameras that they then took home to record their worlds.  Each week Meehan downloaded and projects each student's pictures so that the entire class could see and discuss the best of them.  Over and over she asked students, "What makes a good photograph?" and "How does this illustrate your culture?"
Ten weeks after Meehan's first visit to the school, ICS held an evening reception and celebration during which third graders gave their parents, teachers and other visitors a very personal demonstration of what it means to be part of a culture.  In one hallway, a giant hand-drawn map itemized the categories the students identified as components of their cultures.  Beside each category, clusters of photographic thumbnails taken by the students were pasted on as tiny illustrations: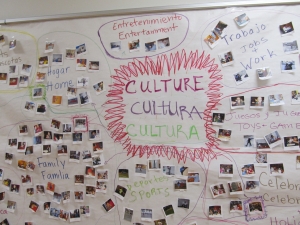 ---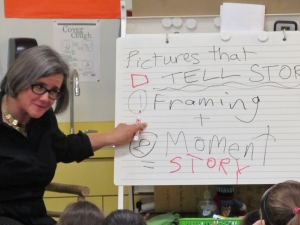 ---
Thanks to Eileen Landy for her photographs and documentation from ICS.
---
About the artist: Mary Beth Meehan is a New England-based photographer and educator committed to meaningful, in-depth coverage of her own communities. Her first public installation of photographs took place in 2011 in her hometown of Brockton, Massachusetts, with a series entitled "City of Champions." Her work has appeared in The New York Times, The Washington Post, The Boston Globe, she has exhibited her photographs nationally and internationally, and has lectured nationwide on the subject of long-term, community-based documentary projects. A former staff photographer for the Providence Journal, her honors include awards from Pictures of the Year International and the National Conference for Community and Justice. She was nominated twice for the Pulitzer Prize. Born in Brockton, Massachusetts, Meehan earned a degree in English from Amherst College and a Master of Arts in photojournalism from the University of Missouri. She lives in Providence.