WHO WE ARE NOW
Downtown Providence
Through November, 2023
An elder in Rhode Island's Narragansett tribe looks out in full regalia, claiming his place in the present day of this state. The grandson of a migrant to Providence from Montgomery, Alabama, commands the city's skyline in massive self-portrait. An accomplished doctor of Khmer heritage sits nestled among the people she serves. A woman who raised her grandson from Liberia in Providence's West End is presented in traditional regalia. And a young man of Cape Verdean descent cradles his young son in his arms, concerned for the safety of their black bodies in these United States.
This is Who We Are Now, a temporary public art installation that monumentalizes our beautiful, complex, and multi-layered Rhode Island identities, though the eyes of emerging Rhode Island artists. With this work, produced in collaboration with the City of Providence Department of Art, Culture + Tourism and on display through November 2023, Rhode Islanders are invited to reflect on who we are as a community of beings, how we live and work and play with each other inside the boundaries of our small state, and how we regard the people with whom we share a world. Through public art installation, programming, and celebration, we invite you to reach across differences, to seek connection with your neighbors, and to consider one another anew.
CURATORS
Mary Beth Meehan
José Ramirez
David Santilli
AWARDED ARTISTS AND PHOTOGRAPHS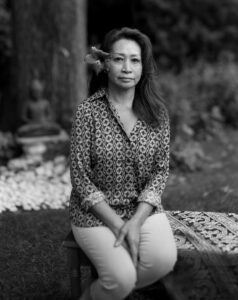 Sara Socheata Brown
From the series "The Americans"
2022                                                                                                                                                                                       
Awarded Artist: Kannetha Brown
Artist Bio: Kannetha Brown is a Cambodian-American photographer based in Providence, Rhode Island. Her artwork contemplates the relationship between social justice and photography, and considers how representation shapes self-identity and the perception of others. Brown is currently working on a monograph titled "The Americans"; an oral and photographic history project celebrating Asian American stories in Rhode Island. She is a senior in the B.F.A. Photography program at the Massachusetts College of Art and Design. There, the Liberal Arts Department awarded her the Global Competence and Intercultural Understanding Award for her contributions to the Asian American community as an artist and scholar. She was also included on The Phoblographer's list of The Six Best Asian American Photographers in 2022, and has additionally been supported with scholarships and awards from the Anderson Ranch Arts Center, the MassArt Photo Department, and the Womxn Project.                                                                                                                               
Arist Statement: When you're a child of an immigrant, there is a tangible weight to the question: "Who We Are Now". You can feel it in the sound of your Mother speaking in her first language, the scent of the food that transports you home, or the family photographs that hide in boxes or take up every wall. When you're a child of an immigrant, you are a living piece of someone else's legacy and the creator of your own. Growing up as a Cambodian-American, one of the most consequential memories of my childhood was when I waited to learn about my Mother's heritage in school, and the day never came. I developed a desire for representation that began to influence how I moved through the world as an artist. I realized that I could create the change I wanted to see by starting small: by photographing my community here, in Rhode Island. Asians have been an integral part of Rhode Island and American history since the 1800s, but I've noticed that our stories have been underrepresented, erased, and falsified to the point where I can't make photographs without the thought of honoring our complex histories in mind. I feel an incredible amount of privilege to be first generation, and have access to a medium as powerful and fraught as large format photography. This is a medium that carries an extensive legacy that I can reclaim, visualize, and allow my people to present themselves with sincerity. When you're a person of color in America, your existence is inherently politicized, and while honoring my community in pictures can't solve these conflicts, I can create a space to celebrate each other, unify in our diversity, and reflect upon the past to envision our future.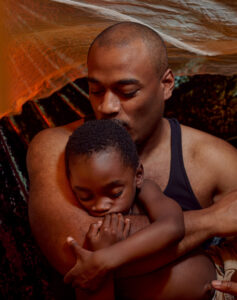 Raheem and Ruel
2020     
Awarded Artist: Eli De Faria 
Artist Bio: Eli De Faria, 31, is a photographer based out of Pawtucket, RI. Eli grew up in Central Falls, RI, where he was first introduced to photography at Central Falls High School. He pursued his interest further in photography after school programs at Progresso Latino. Several years later, he opened up his own photography and styling studio in Hopkinton, with business part, Hannah Wert, working on local and national brands. When not working, Eli loves being outside or in the company of his best friends and family.                                                                                                                                                                          
Artist Statement: After such a wild couple of years, where police violence was documented and shared more than ever before, we were very tired, numb, and constantly retraumatized by what was being shared. It was paramount for the world to see what was going on, but at the same time, what about the other side of that? The joy? The tenderness? The vibrance of Black lives? I took these portraits in collaboration with each person to share the message they wanted to send out, not what the media portrayed.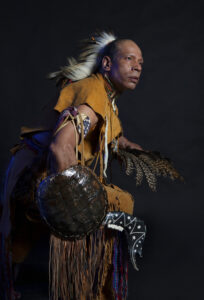 Running Deer 
2022                                                                                                                                                                                     
Awarded Artist: Jeny Hernandez-Watson                                                                                                       
Artist Bio: Documenting through photography has always been a very important part of my life. Since my early teen years, I gravitated toward capturing my environment through the lens of a camera. As I learned the medium, I realized that event documentation was a niche of mine. Capturing the creative process, individuals involved & materials used; the meeting of the minds; the process and the unexpected changes; all ending with final production coming alive is an experience that I enjoy capturing. I love allowing viewers to relive or connect more deeply through the images I produce. Being an indigenous woman, this wonderful gift of creative vision coupled with the amazing medium of photography has taught me the importance of capturing our world; the milestones of loved ones (and self); the gatherings of cultural and social events; and most importantly, the process of it all.
Artist Statement:  Here in Rhode Island we have many different cultures that thrive together; especially in Providence. We live it… we experience it… it is what has been passed down to us and what we will pass down. It is who we are. This image highlights the original people, the original culture of the woodlands we call Rhode Island.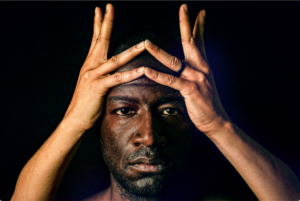 Crown of Thunder
2019                                                                                                                                                                                     
Awarded Artist: Jonathan Pitts-Wiley                                                                                                               
Artist Bio: Jonathan Pitts-Wiley is a father, husband, storyteller, and educator. A native of the Ocean State and graduate of Yale, he has been the creative director at Curiosity Store in Jamestown, RI since November 2021. Prior to this role, Jonathan taught History in the upper school at Moses Brown in Providence, RI and has, since 2010, been the Artistic Director of Pawtucket, RI's Mixed Magic Theatre. An avid photographer, Jonathan is drawn to portrait work–particularly on film–and has been fortunate to provide photography for Mixed Magic Theatre, The Rhode Island Black Storytellers, the marketing and communication firm Rustle and Spark, Locus magazine and Brown University. In the spring of 2020, Jonathan co-founded The Vanta Guild, a collective of Black photographers based in and around Rhode Island that held its first exhibition, The Let-Out, at the Waterfire Arts Center Visitor's Gallery in December of that same year. In the summer of 2021, Jonathan collaborated with renowned photographer Mary Beth Meehan to produce Annye Raye Pitts: Witness, a multimedia exhibit that explores and celebrates both the life of his late grandmother and the experiences and realities of the Great Migration. Jonathan is married to Mixed Magic's music director, Kim Morrison Pitts-Wiley, and the couple lives in North Providence with their two children.
Artist Statement: Like so many others, Rhode Islanders are in the midst of a reckoning. We are caught up in a moment of realization, confrontation, and reflection whether we care to embrace that fact or not. Reckonings are rarely, if ever, concerned with the new or novel; reckonings are about old things, unresolved things, unrequited things. When considering the question of "who are we now?" I can't help but think that we are who we have always been and we are being confronted, on various intersecting levels, with how much we actually understand about who we have been, who we want to be, and the type of world we want to exist in.
Still, this question resonates on a deeper level when reflecting on the last few years. When considering the upheaval and tumult, when considering this moment of reckoning, I can't help but interpret the question as "How did we survive? How do we continue to survive?" For those lucky enough to be present in this moment, I believe it was done by engaging in a mostly-but-not-totally benevolent resistance and rebellion that embraced this central truth that the catastrophes of the last few years have laid bare: People still need people. We still need community. We still need to love and argue and grieve and laugh and live with each other. We still need to raise and protect and educate and learn and change. These are imperatives as we each grapple with the great paradox of our species: we are a collective of individuals who are inclined to both perpetuate and destroy ourselves. How, again, did we survive? I survived by discovering a passion for photography. I survived by pointing my camera at subjects I love; at people, places, and self-evident truths that matter to me. I continue to do so because doing so gives me an essential hope that is critical to my survival and which I hope is reflected in this body of work.
The arc of history, for good or for ill, is still largely bent by people. For those who have survived, we are collectively grappling with the reality that the future is not–nor has it ever been–merely an abstract concept untrammeled by the choices we allow and make. The future is an opportunity – if we have the courage to shape it and ourselves.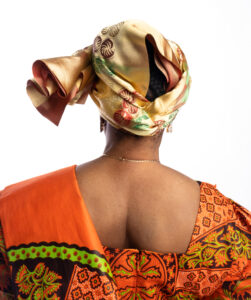 Frances Queweah 
From the series "Our Lappa"
2022                                                                                                                                                                                     
Awarded Artist: Abenda Sohn                                                                                                                             
Artist Bio: Abenda Sohn (1999) is a multidisciplinary Liberian artist currently based in Providence, Rhode Island. He is a Seth Macfarlane fellow and received his Bachelor of Fine Arts from Rhode Island School of Design. His artwork varies from drawings and paintings to installations and stage photography. He explores the intersections and intimacy of memory, Liberian identity, and archives pertaining to  Liberia's history and his family's immigration experiences. He has been in numerous local group shows in Rhode Island and recently had his first solo exhibitions: Dream Country at the Brown Art Institute (2021) and Life Is Land at AS220 (2022). He was also one of the lead artists who was recruited by the state to design the Black Lives Matter mural in downtown Providence in 2021.
Artist Statement: For the past five years, I have been investigating my Liberian and Liberian-American identities, as well as Liberian history. This search involves uncovering forgotten Liberian accounts as it connects to me here in Providence. In doing so, I portray Liberian immigration narratives along with my own life and family narratives through stage photography, painting, and installation. This trans-media approach enables me to explore how Liberians view themselves and one another, as opposed to how those from other cultures view Liberians.
Within this photography series, Our Lappa, I am exploring my generational connection to Liberian fabrics called Lappa through the eyes of my grandmother and how she wears it daily. Her narrative is attached to her clothing, and these fabrics in a way help to represent her. This project and these images are a way of understanding my culture in further depth, collaborating with my grandmother in participating in a generational memory, and exploring the power of narrative passed down. The dress and head wrap style my grandmother wears becomes this cultural reminder and a symbol for not only her, but other cultures around her; it's a way of highlighting Liberian history moving through Providence given Liberian history is shared with America's history. Meanwhile, it gives local and diasporic Liberians humanity, space to be visible, and these images help instill cultural pride.