NPAI 2018, Latinos In Heritage Conference + City Hall Celebrations
neighborhood performing arts initiative + eat, play, learn
ACT is thrilled to partner with the Mayor's Office, Providence Healthy Communities, Providence Parks, Providence Recreation, and Providence Public Schools to bring enhanced cultural programming to the Eat, Play, Learn initiative this summer. Our Neighborhood Performing Arts Initiative for performances in the parks will support creative engagement as part of the free summer meals program, which also connects to summer camps, the passport to learning summer reading programs, and other activities in the parks and at the rec centers. To find out more, go to the Eat, Play, Learn website.
If you have a performance project that you'd like us to consider as part of the Eat, Play, Learn Neighborhood Performing Arts Initiative, please download our NPAI application in English or Spanish, fill it out, and email it back to Lizzie Araujo at laraujo@providenceri.gov. Hard copies of the application can also be brought to our offices at 444 Westminster St. Third Floor.
A National Conference on Latino Heritage and Historic Preservation
ACT has partnered with The 3rd Convening of Latinos in Heritage Conservation and the 33rd Annual Rhode Island Statewide Historic Preservation Conference on Encuentro 2018.
For the first time, Latinos in Heritage Conservation is bringing a national conversation about Latino historic preservation to New England. Featuring guest speakers from across the country and opportunities to meet and exchange ideas with fellow practitioners and advocates for Latino historic preservation, this is a not to be missed opportunity. Rhode Island Latino Arts, RIHPHC, and local partners have planned an engaging program of tours and special events to round out the schedule.
We hope that you will join us for this landmark gathering that will bring together preservationists, scholars, students, design professionals, and community advocates for an unprecedented discussion of the value and future of heritage conservation in New England's Latino communities and beyond.
Registration ends April 17, so don't wait!
$30 Thursday – Friday | $50 Saturday ($80 for Thursday – Saturday)
$15 Thursday – Friday | $25 Saturday for students with i.d. ($40 for Thursday – Saturday)
For more information and registration, go to the Encuentro 2018 website.
cultural celebrations at city hall
On Friday, March 16, 2018 at 12:30 PM, Mayor Jorge O. Elorza invites all city residents to a St. Patrick's Day Celebration at City Hall.
Come enjoy a pipes and drum performance, corn beef and turkey sandwiches, and a brief program with leaders in the City's Irish Community.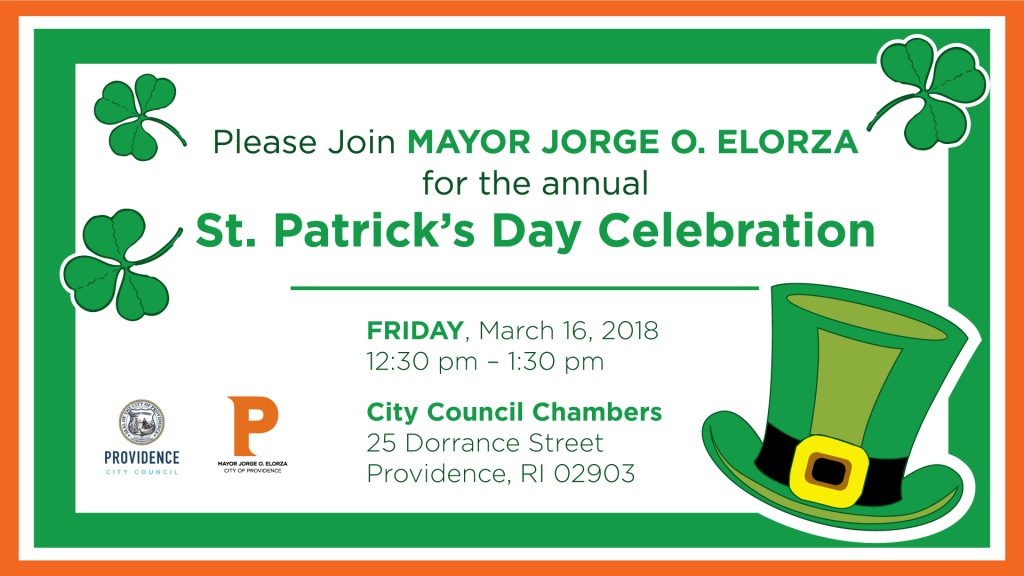 Then on Monday, March 19th, at 12:00 PM, join the Mayor and members of the City Council for the annual St. Joseph's Day Celebration. Don't worry friends, there will be traditional zeppole!