Neighborhood Tours, Armory Updates, Shakespeare Meets Hip Hop, and Sites and Stories Explored

Rhode Island Latino Arts (RILA) is hosting a series of Barrio Tours. Featured are tours of Upper & Lower Broad Streets and also Cranston Street. All are FREE and open to the public, but registration is strongly advised here:  http://nuestrasraicesri.org/BarrioToursRI.html
Este Es Mi Barrio (This is My Neighborhood)
Cranston Street | West End
Sat. May 4, 2019 | 10:30AM – 12PM
Joann Ayuso, resident of the West End of Providence and Marta V. Martínez of RILA will take you on a personal tour of this neighborhood. You will get to see the diversity of the area as we visit a local Hmong Temple, an Asian Market, Central American and Dominican bodegas and learn about one of the largest and most active African-American congregations in the city. The tour will end with a dinner or lunch at a local Latino eatery. Meet at Dexter Park [Training Ground] on Parade and Dexter Streets, 15 minutes prior to listed time. Ample street parking around the park. The tour runs approximately 1.5 hours with time to eat at the end. Wear comfortable shoes and bring money to pay for your meal.
Broad Street | South Providence
Sun. May 5, 2019 | 12 – 2PM
Teresa Guaba and Candelaria Danicher will take you on a personal tour of Upper Broad Street. These two residents, who grew up in the neighborhood, will discuss the history of Broad Street from a social activists point of view.
The May 5th tour begins at the Southside Cultural Center (SCC) 393 Broad St. Providence, RI 02907 and upon return, ends with a Mariachi Festival and Cultural Celebration of Cinco de Mayo, hosted by RILA. Ample parking at the SCC.
Meet 15 minutes before listed time. Each tour runs approximately 2 hours, with time to eat at the end. Wear comfortable shoes and bring money to pay for your meal.
---

From Shakespeare to Hip Hop Presents: A Special Shakespeare's Birthday Celebration
Bishop McVinney Auditorium
43 Dave Gavitt Way
Providence, 02903
April 23, 2019
10:00am and 12:00pmScheduled school groups only.
For more information, see the artists' website.
The Shakespeare Time-Traveling Speakeasy is a 45-55 minute presentation that provides an excellent introduction to the life and works of William Shakespeare (think: Shakespeare meets "Hamilton"). The presentations include multimedia (slideshows, videos, etc.) and feature a live band. Students are engaged and inspired by lively original songs in a variety of American music styles including jazz blues, rock, hip hop, and country, that provide information about Shakespeare's life and his influence on our culture. The Speakeasy is an engaging and entertaining presentation that is brimming with educational information and facts about the Bard.
RI poet and teaching artist Marlon Carey has been an educator and performer in Providence for over 15 years. He has been active in festivals such as Sound Session and the PVDFest as well as a member of the Providence Poetry Slam Team. Carey has also curated performances for the RISD Museum and the Providence Fringe festival. In 2016, Carey was nominated for Rhode Island State Poet. He has published three books and recorded four albums of hip hop and spoken word material. He is a RI homeowner and a father of three.
Regie Gibson is an internationally lauded poet who has been prominent in the Boston arts and literary scene for many years. He has performed with numerous awards and notable performances. Gibson has performed at Jeff Bezo's exclusive Campfires meeting alongside Alicia Keys, Oprah Winfrey and Keegan Michael Key and is has been the National Poetry Slam Individual Champion and the International Poetry Slam winner at the 2018 World poetry slam. Together, Regie and Marlon are Shakespeare to Hiphop, a literary performance arts group that travels to schools all around the New England area giving auditorium presentations and conducting writing and performance workshops for students in grades k-12. The group has been featured on NPR's Radio Boston program and performed at the Rhode Island Public Radio's 20th anniversary.
Scheduled school groups only.
---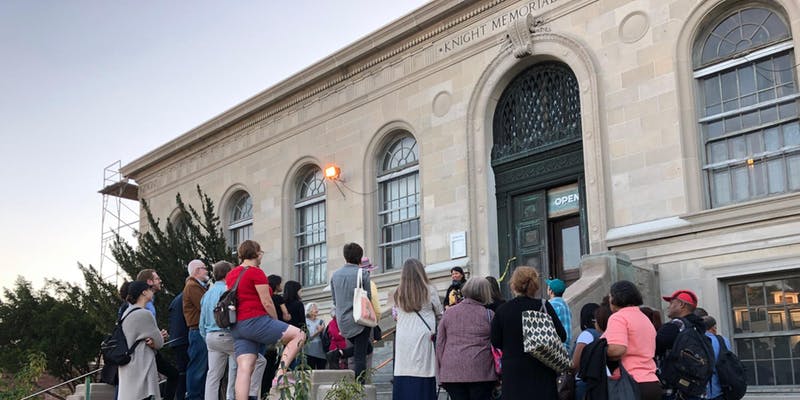 Sites and Stories Explored
In 2019, as a part of the Providence Preservation Society's Sites and Stories Explored Through Scholarship, Art and Community Engagement project, PPS will unveil five original artistic works that explore hidden and layered narratives of several endangered historic sites in Providence. The organization selected five artists and artist teams to create new works related to four sites that are featured on our 2018 Most Endangered Properties list. Each artist began their process through discussion with a local scholar and a walking tour that has worked to engage the community. The works they create will provoke conversations about the meaning of place, what happens when a site tells more than one story, and what kind of reparative work can ensue when a site erases some of its narratives in favor of others.
April 25, 2019
5:00pm
Broad Street Synagogue
688 Broad St.
Providence, RI 02909
Artist Presentations at Knight Memorial Library, 275 Elmwood Avenue.  Participants will first meet at the Broad Street Synagogue (688 Broad Street), then proceed to  Knight Memorial Library.  David Wells, Walker Mettling, and Megan and Murray McMillan present their interpretive projects on the Broad Street Synagogue, Knight Memorial Library and Paragon Mills, respectively.  This event is free and open to the public, with advance registration required.
For event info registration follow this link: April Artist Presentations
For more information about the Sites and Stories Explored project, follow this link.
---