Mayor Jorge Elorza and Superintendent Christopher Maher welcomed Valerie June, the Memphis, TN-born singer songwriter, at Roger Williams Middle School on October 16, 2017 as a part of Turnaround Arts: Providence, a collaborative partnership among Providence Public Schools, the City of Providence Department of Art, Culture + Tourism and Turnaround Arts: National. June is known for her unique combination of folks, blues and gospel and recently released "The Order of Time," her follow-up CD to 2013's "Pushin' Against a Stone."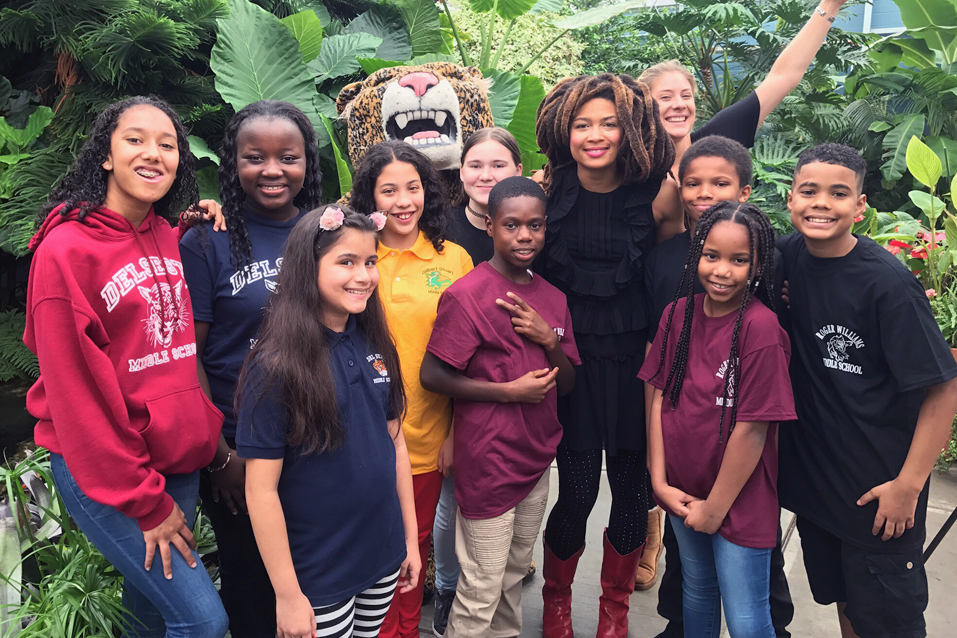 June, one of three Turnaround Arts teaching artists working with Providence middle school students this year, spent the morning meeting students and touring classrooms where arts are integrated into the curriculum. The students themselves welcomed her with a multi-media performance that included dance, musical performance and a personalized video. June returned the favor with impromptu performances on the banjo and guitar.
Turnaround Arts works with local program partners that provide intensive arts education resources to struggling school across the country, leading to increased attendance, academic achievement, student and community engagement.  The initiative focuses on strategic approaches to school improvement by building a whole school vision and leveraging community resources for maximum impact. The program is led by the Kennedy Center for the Performing Arts and the President's Committee on the Arts and the Humanities in partnership with the U.S. Department of Education.
"Providence is the Creative Capital and we believe the arts are a powerful tool to address complex social issues," said Mayor Elorza. "Turnaround Arts: Providence will teach our students to use the arts to improve our neighborhoods and make the world a better place."