Parkists in Residence 2020-2021
Header image of BLM Street Mural PVD Working Group site visit by Nafis M. White
Winter Solstice 2020 – Winter (Walking) Meditations
ACT supported the work of Anthony "AM" Andrade, along with collaborators from the Haus of Glitter including Parkist Matt Garza and Parkist funmi aileru/blackearth lab, to create a series of weekly Winter (Walking) Meditations. See the embedded Soundcloud links below to stream the mixes. These are a culmination of work that Andrade developed in partnership with the South Providence branch of the Providence Community Library as a Creative Community Healthworker Fellow.
---
Viewing a Rhode Island Native Through Today's Len: Esek Hopkins
Parkist Matt Garza participated in a panel discussion about the legacy of Esek Hopkins produced by the Providence Community Library. For more information on the panelists and content, see PCL's YouTube page.
---
Fall 2020 Parkist in Residence Annual Reports
funmilayo aileru
transdisciplinary artist, craftsperson, and designer
www.kfunmilayoaileru.art
www.blackearthlab.org
pronouns: xi, xem, xyr(z)
"My 1st year as an inaugural Parkist in Residence for the City of Providence has been one of pause, reflection, and action. Like my creative colleagues and comrades, my creative life and practice was suddenly taking place against the backdrop of a  global pandemic. Although this has presented both unforeseen and compounded challenges and difficulties within and throughout the development of my municipal agency-artist partnership, it too has presented guidance, support, and opportunity that has been pivotal to the expansion and evolution of my creative career. I have been able to reconsider and refocus my practice and praxis in ways I may not have been able to under different circumstances and arrangements.
Within a construct and context of social distancing and sheltering in place, and an invigorating moment of unrest and uprising, I have had a crucial moment of pause to reimagine what community engagement and my studio practice look and feel like. Having an Indigenous approach to creative and cultural production has been a critical element of developing and employing creative solutions to land-based, narrative, relational, and experiential making.  Through online collaboration and experimentation, I have been able to broaden and deepen my relationships to and with various local, intersectional communities in Providence and Rhode Island.
Because of this, I have been honored and privileged to participate in a few on-going and multifaceted projects that not only uplift Black and Indigenous creativity in the City of Providence, but also Black and Indigenous history, experience, and futures in the City and the state through cultural art, craft, and design. Community-based projects and curatorial works include: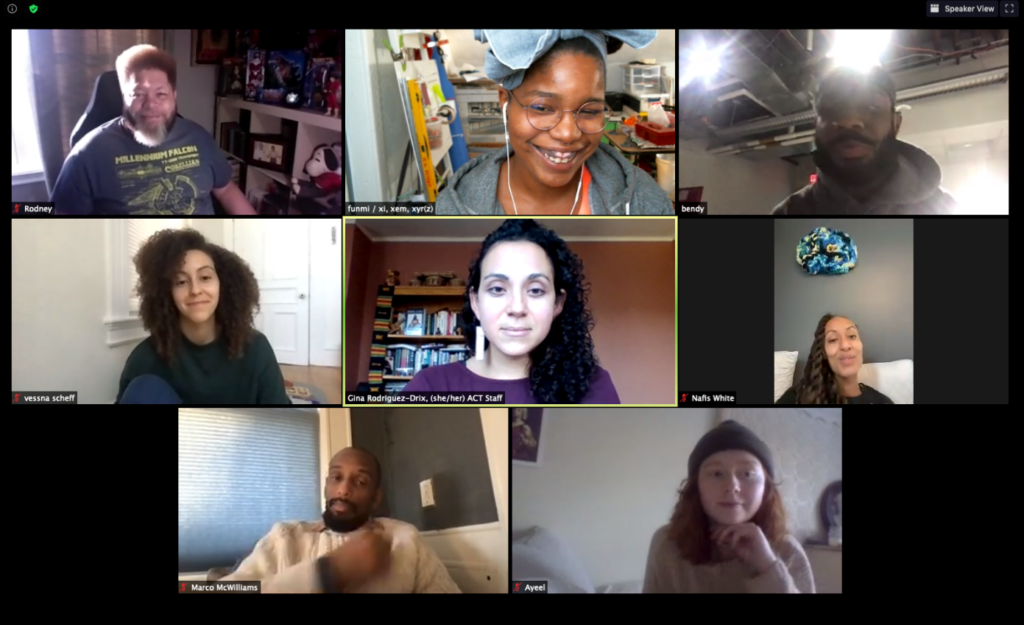 The Black Lives Matter Mural Project, which is steered by a committee of Providence-based artists, organizers, and educators formed to develop and design a large-scale street mural intended to honor the histories, experiences, communities, identities, and aesthetics of Black people in Providence, Rhode Island. Current committee and project members, participants, and partners include Zuli Vidal, Lizzie Araujo, Rodney Davis, Nafis White, Keith Stokes, Soni Stokes, Wanda Brown, Sage Morgan-Hubbard, Nicole Scott, Abenda Sohn, Vessna Scheff, Ayeel Schofield, Sarah Samways, Marco Mcwilliams, and  Matthew Garza.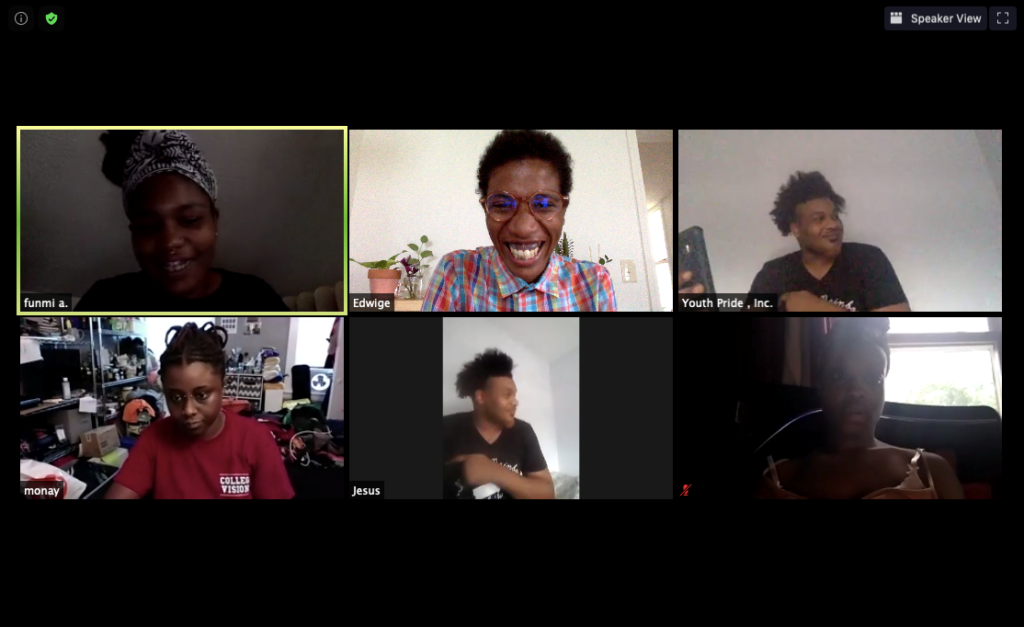 blackearth collective + lab is an emergent coalition of Black and Indigenous, Queer and Trans creatives, educators, and organizers who center Black and Indigenous art, design, and craft.  blackearth collective envisions a thriving creative economy, on the South Side of Providence, sustained by its community members through access to education and advocacy. Informed by our vision, our mission is to facilitate intergenerational, culturally-specific, and gender-inclusive creative production and economic justice. Founding members of blackearth collective + lab are k. Funmilayo aileru (myself), Kou T. Nyan, Monay McNeil, Jesus Holguin, Justice Gaines, and Edwige Charlot.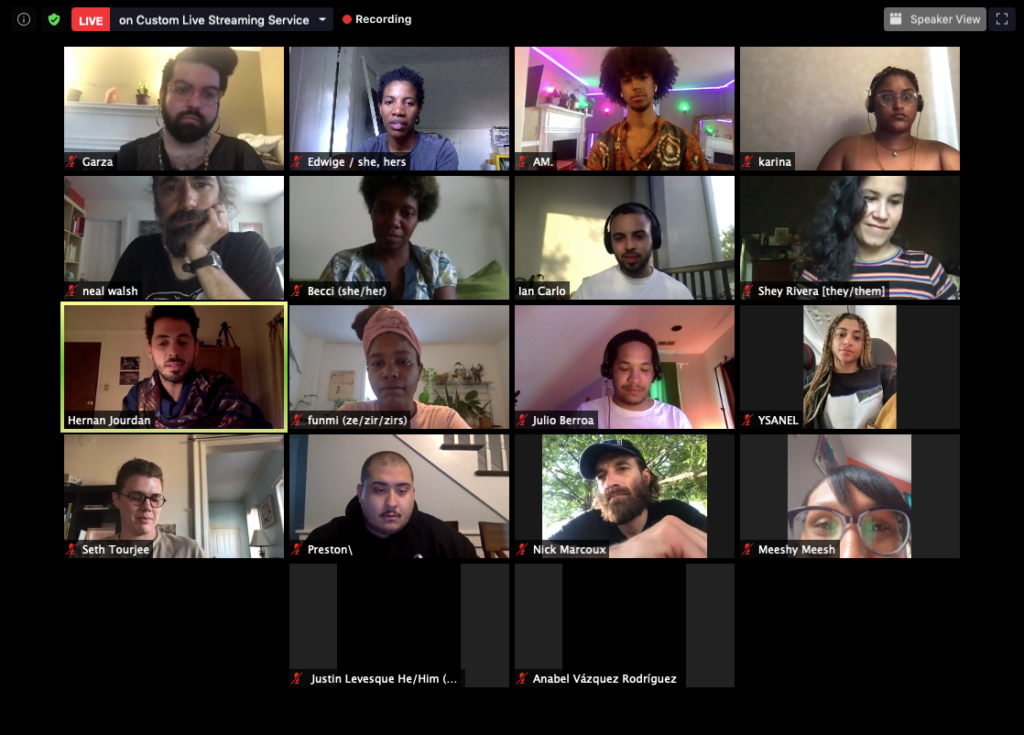 OPEN SCREEN is a Rhode Island-based platform and network of Queer and Trans, Black, Indigenous, artists, designers, and makers of Color who work with digital and/or new media. OPEN SCREEN is curated by myself, on behalf blackearth collective + lab, and AM. Andrade of The Haus of Glitter Performance Lab & Haus of Glitter Dance Company."


---
Matthew Garza
they/them/theirs + he/him/his
@garzasmash
Glitter Goddess Collective YouTube Channel
Glitter Goddess Collective Facebook Page
Glitter Goddess Collective on Instagram
Glitter Goddess Collective Website
#TheGlitterGoddessCollective
#HausofGlitterDanceCompany
BLACK + BROWN FRIDAY (NOV 2020)
For un-thanksgiving, the Haus of Glitter Performance Lab (PARKISTS In RESIDENCE at the Historic Esek Hopkins Homestead fasted. We rested. We prayed. We meditated in silence. We had difficult conversations – bringing the social justice work to the people living under one roof together. Because decolonization pushes us to look at land, institutions, culture, community and relationships (with "self" and others).
This year, our glitter fam created our own holiday: BLACK + BROWN FRIDAY: a day of justice + family + feasting + artistic practice to pray for ancestral intervention. We spent the day making this visual meditation piece and poem to share our breathe, movement and voice.
View the piece + read the poem HERE!
CLEANSING + PROTECTION (DEC – JAN 2020)
---
Spring 2020
When ACT and the Parks Department launched the inaugural Parkist in Residence program this spring with artists Matthew Garza and k. funmilayo aileru, neither artists nor administrators knew how asking artists to inhabit and steward historic properties with their families during the COVID-19 outbreak would necessitate changing our many priorities and practices.
Garza lives in the historic Esek Hopkins House at Admiral Street Park with his partner Anthony AM Andrade (also an ACT artist in residence through our Creative Community Health Worker initiative) and their Godson and collaborator, Trent Lee. They have shifted from an ambitious plan to offer on-site programming, including a suite of house gallery openings, performances, and celebratory convenings, to a series of daily digital engagements and art offerings, including 10am yoga by donation which is supporting a fund for folks in need (see social media below for more info.)
Garza and his collaborators are also working with the Parks Department to develop a new vision for the site's landscape: "Our ideal garden vision includes several key landscaping elements. These include the construction of raised beds for plants intended for ingestion, planning a perennial floral border for the home itself and incorporating educational BIPoC-centered garden plots as living, interactive, and de-colonized ethno-botanical mini-museums. Looking beyond the pandemic at ways to invite and incorporate the community into this historic park space, we have also included an outdoor performance space/stage area in our ideal design."
aileru, Parkist in Wanskuck Park, is also collaborating with AM. Both artists were curious about how they might connect to and find other people of color in media arts, and specifically time-based media, who aren't directly linked to colleges and universities. aielru says he and ze "know that BIPoC are making time-based media and recognize that they may not resonate with the language we are using regarding media arts. How do we all connect without relying on institutions? Maybe if we build it they will come and we will know who they are." Open Screen will be a platform that isn't hosted or mediated by an institution, a pathway that might create other routes for opportunity.
The Open Screen program concept not only came out of that desire for connection, but also curiosity about the work people are making around racial justice and shared interest in cooperative economics. AM and aileru imagine it as a matinee of time-based media elevating the experience and craft of Queer and Trans BIPoC (Black, Indigenous, People of Color). As ze puts it, "the intention of Open Screen is to offer a space for local QT BIPoC to connect, share, and commune." aileru adds that ze thinks of Open Screen as, "a means of sharing oral histories of Black and Indigenous People of Color using new technologies."
aileru is also using zir residency time and space to develop "blackearth," an innovative new project to be launched in the coming years:  "blackearth is an inter-generational, community-owned lab for digital media and fabrication on the South Side of Providence, Rhode Island. We envision a thriving creative economy on the South Side  sustained by its community members through access to media and technology. Informed by our vision, our mission is to facilitate inter-generational education and creative workforce training. Our intention is to develop education and programming that elevates and centers cultural art and craft that reflects the communities of the South Side of Providence."
The first Open Screen is tentatively scheduled to coincide with the summer solstice on Saturday, June 20th at 6:00pm EST. See here for the call for entry.