Public Art at PVDFest 2020
Three temporary art installations have been commissioned to activate public space in the 2020  festival footprint. The three artists were selected through a competitive process, and their work will engage audiences and transformed the landscape of Downtown. Installations will be on view throughout the entire duration of the festival and remained through fall 2020.
Artist: Jerold Ehrlich
Title: "Head in the Clouds, Feet on the Ground"
Saunderstown, Rhode Island
A wine merchant and a construction consultant specializing in historic rehabs, Jerold Ehrlich now spends most of his time thinking and building sculpture. Ehrlich has pieces in the collections of universities, corporations, hotels, and private individuals. He has held solo shows in galleries and museums, and pieces in outdoor sculpture parks.
Artist: Allison Newsome and Deborah Spears Moorehead
Title: "Three Sisters"
Warren, Rhode Island
Allison Newsome is functional sculptor dedicated to the pursuit of sustainability. She wants to help the Earth to heal with unabashed beautifully designed passive utility/sculpture.  With 'Three Sisters', Newsome reprises her collaboration with the Anne Meyer's lab at Rochester University by incorporating its groundbreaking man-made nacre 'Mother of Pearl.'
Newsome partnered with Seaconke Pokanoket Wampanoag artist Deborah Spears Moorehead for the creation of "Three Sisters."

Artist: Karin Giusti
Title: "Dream Weave"
Saunderstown, Rhode Island
Karin F Giusti holds masters in sculpture from Yale University and a Bachelors of Fine Art from University of Massachusetts in Amherst MA. She has lectured widely and her work has been written about in magazines and newspapers including ArtForum, and The New York Times.
For more information about each of the artists and their process, go to the individual posts linked to their work. For more information on this initiative see the PVDFest Public Art subsite.

---
Public Art at PVDFest History
Public art has always been a part of the festival.
2015 – Partnerships and $1000 Mini Grant Awards for Public Art
Proposed projects animated public space along the Washington Street Cultural Corridor from Empire Street to the river. Installations made the Festival-goer experience a more social, walkable, beautiful, and vibrant along Washington Street, creating the feeling of a "grand boulevard" along the northern edge of the DownCity Arts & Entertainment District.
Providence International Arts Festival (now PVDFest) partnered with The Avenue Concept on the installation of two large-scale arts murals: Natalia Rak's "Adventure Time" and Bezt's "She Never Came."
ACT commissioned photographer Mary Beth Meehan to install, Seen/Unseen, eight temporary, large-scale portraits of Providence residents on buildings downtown.
Kate Schapira's  "Climate Anxiety Counseling Booth" built, through art and conversation, a shared language around climate change to increase Rhode Islander's awareness of ecosystems we inhabit and imagine possibilities for local climate adaptation and mutual aid.
Ashley Schwebel's  "Smile Signs" used traditional traffic signs to communicate with drivers, directing them to 'Have a Nice Day.'
Heather Guidero's "Pipe Cleaner City"  investigated the concepts of visual and spatial momentum in a playful and relatable way with a large three dimensional mass of circles.
Andy Russ and Ali Kenner Brodsky curated "Ten Tiny Dances," presenting and fostering inventive dance/performances art while providing an accessible creative experience for a diverse audience.
Headmaster curated "AV Club," a public presentation of non-narrative film and video projects created by local and non-local artists.
Topher Gent's "Momentum Bench" was a 3D piece/sculpture interpreting the meaning of momentum and inspired by ideas of artist, makers, and thinkers who create the culture of Providence.
Chroma Council's "Razzle Dazzle Camouflage Parklet" was a temporary recreation space/sculptural installation that engaged festival participants while making a powerful connection between abstract and pragmatic thinking.
Philippe Lejeune's "Seeing Outside of The Box" was a performance space that acted as closed gallery where artist executed his or her act while audience watched from outside.
Allison LeMay and Leah Miller's "Providence Trash Talk" engaged viewers in a conversation about the global impact of the trash crisis and offered opportunities to learn about communities and their trash habits.
Standard Film's "Analog Camera Bar" taught five hundred curious participants to shoot with a 1971 Polaroid Big shot camera.
Alicia Uth's "Las Criaturas" encouraged audience of all ages to go back to happy childhood memories with bright, whimsical, animal-like characters and provided a canvas for members of the public to draw their own creatures.
Daniel O'Neil and Jimi Pantalon's "Bodies Take To Light" was a portrait a dreamlike world that echoed the festival, where characters morph into one another as they jump, dance, and wrestle.
Kurt Snell – "Prism"
Laurencia Strauss' "Lemonade Exchange: collecting unexpected lessons of shared city spaces" investigated the city as a site of learning in which individuals exchange thoughts that are dispersed in the public realm via messages on cups.
2016 – Mini Grants for Public Humanities and Art Projects

Ambo Studios – "Oasis"
Kara Komprathoum and Madalyn Ciampi – "Dear Past Self: Stories of Self-Reflection" (Co-presented with RICH)
Alex Braunstein and Kristin Moe – "Storyography" (Co-presented with RICH)
Mid-Ocean Studio – "An Eclipse of Moths"
Mark Maher and James Rachels (Overspray Studios) – Live Painting
Keri King – "Spectacles & Spectators"
Grace Ludmer – Untitled Mural
The Steel Yard – Mobile Blacksmithing
Allison LeMay & Leah Miller – "Trash Talk"
Friends of Adrian Hall Way – Providence Skateboard Shorts
Sara Dager – "Art Cabinet"
AS220 – Dreyfus Building Window Display
NOTE: One result of the PIAF/PVDFest public art installations was an increased interest in public art. In response, Mayor Elorza established the Art in City Life Commission in 2016.
2017 – Mini Grants and Large Commissions
2018 – ACT adopts emerging recommendations from the Art in City Life Plan
Bigger budgets of $2500 and up to week-long exhibition periods.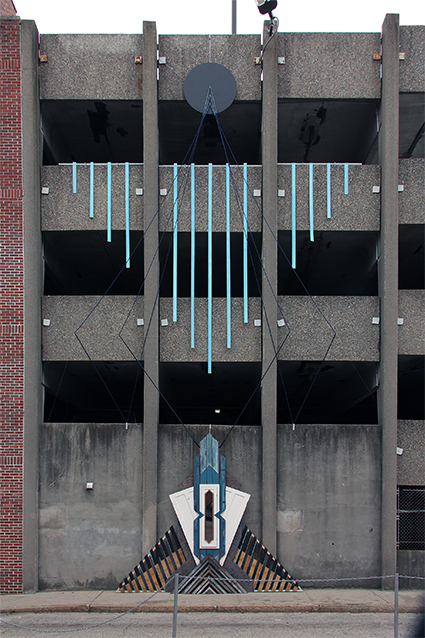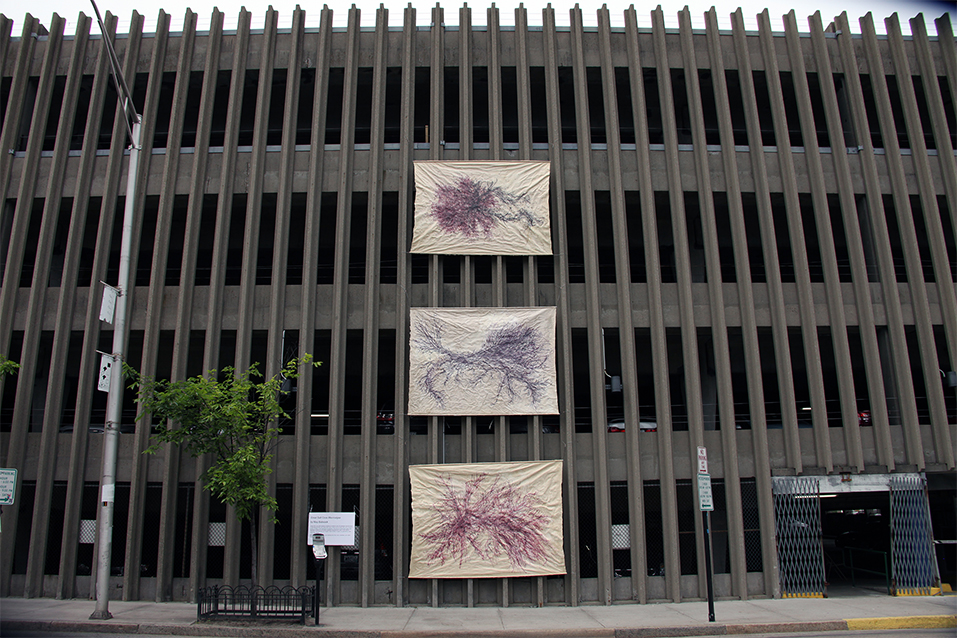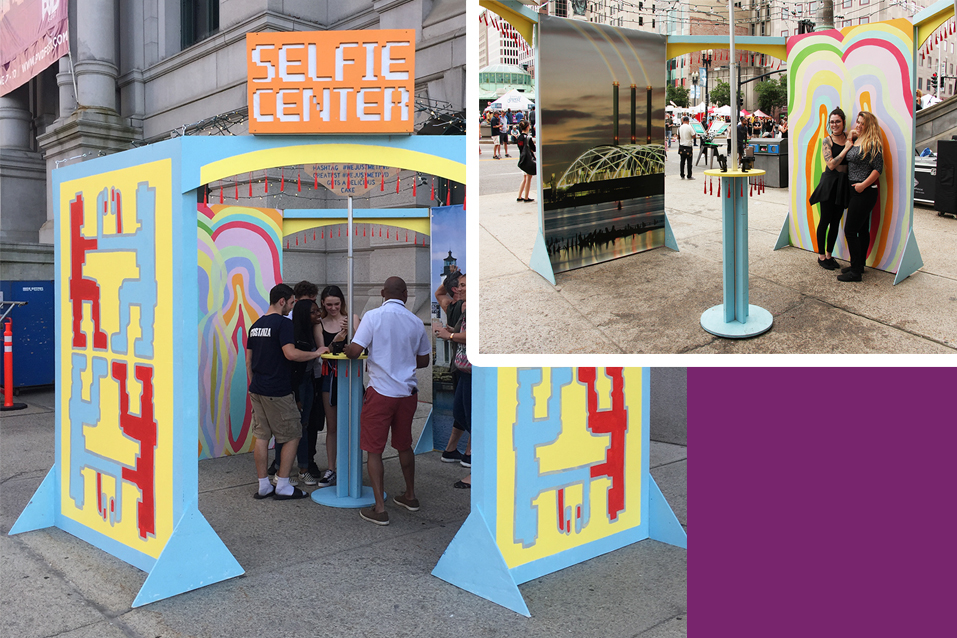 2019 – ACT moves to $10,000 budgets and June – November installations