Public Art Residency at Rogers Rec
ACT and Rogers Recreation Center awarded Providence artist Ysanel Torres the City's first Public Art Residency in a City Agency.
Torres began her arts career as a painter/muralist in her hometown of Providence, Rhode Island. One of her most known local public art projects is a series of utility box murals created to inspire women for a female empowerment project. She studied at the Pennsylvania Academy of The Fine Arts where she spent most of her time creating installations conceptually driven by the materials that she used. Torres' most recent work has been in response to what she calls the "crucial status of American politics and systemic oppression." She aspires to continue to carry her activism through her work individually and as an instructor as well.
Torres began her residency at Rogers Recreation Center in April 2019. She designed and installed a mural on the exterior wall in collaboration with children and youth. See below for her blog update from during the residency:
---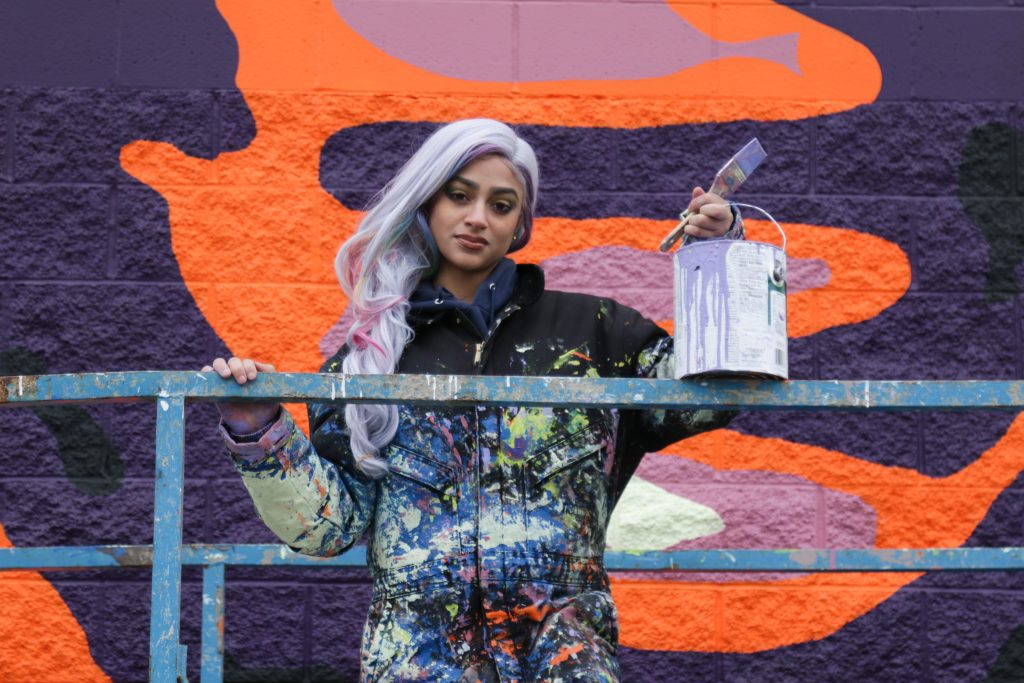 July 2019 update from the artist:
"I have spent the last few months at Madeline Selim- Rogers Recreation Center curating conversation about what public art means, what it means to be a maker of public art and the kinds of public art that we need or are lacking in our community of Smith Hill. The students and staff of Rogers Rec including myself have been very careful with this process, honoring all of the deserving people who have invested time and love into this place and respecting the exterior of the structure through thoughtful design and planning. We want to be contemporary in our vision, using clean and modern aesthetic to counteract our old city vibe. The mural should serve as a constant reminder of the extraordinary things that happen inside of this building on an everyday basis. 
A lot of the community's feedback about the Rec was about how hard of a time they had finding the building. The Rec is sort of hidden behind Harry Kizirian Elementary School so a lot of people don't know that it's there! Not only is Rogers Rec a great place for kids to play sports inside of their huge gymnasium, they also have an activity and crafts room, a massive pool equipped with lifeguards and vests, alongside a very well taken-care-of community garden and park. Acknowledging how far the building is from the street, we'll be sure to use bright colors and patterns to help the building stand out more. The design will be simple enough to see from a distance, yet exciting enough to invite someone inside. With the help of Smith Hill leaders like Ms. Althea Graves and Rec Center members, we have narrowed down a strong list of people to portray positive figures on the mural. Although there will only be a few faces on the design, we will invite all of the community to participate in the unveiling and future fun events at the Rec! 
The ultimate goal is to transform the space and make it feel more welcoming to all community members. There are always exciting programs happening here and through this new and creative exposure from our mural we're hoping to see many new faces this summer and the next! Rogers Rec has been a staple to its Smith Hill community for more years than it has been acknowledged. This mural is a loud thank you to the space, to the people, and to Madeline and her colleagues. 
In the last few months I have discovered that there are many talents and acts within our student roster and they truly deserve a spotlight. The kids of Rogers Rec are magnificent sport players, singers and songwriters, dancers and performers. This center wouldn't be without the incredible students and families that walk in and participate so this is a special act of gratitude for them.  I am a strong believer that you can achieve anything you put your mind to as long as you have confidence and unconditional support from the people around you. This summer we will provide the students with a platform to shine— talent shows and events, while documenting a short film about this experience to share with the world after the unveiling. 
The unveiling of the mural will be announced on the city's website and in the Smith Hill City Council monthly meeting for those of you that want to join us at the end of October. We hope to see you all there!"