City of Providence Department of Art, Culture + Tourism: 2020 Annual Report
Featured photo courtesy of Lanre Ajakaiye
Looking Back at 2020
Despite the challenges that our City faced, ACT accomplished a great many feats in the 2020 calendar year. The ACT team, in partnership with other City departments, launched a ten-year cultural planning process; expanded the ACT Public Art program with new residencies and temporary commissions; advanced its first landmark call for art through the City's percent for art allocation; launched a Special Committee for Commemorative Works; and supported an emergency Artist Relief Fund and COVID-safe street expansions for small businesses, including holiday public programs across the City, all while staff was working remotely and on partial furlough.
---
Key Programs and Initiatives:
Animating Civic Spaces through Programming, Partnerships, and Public Art
Creative Placemaking
Healthcare workers and the essential workforce in Rhode Island represent a wide variety of cultures and ethnicities. And Latinx people are a big part of this essential workforce. Tony Méndez of radio station Poder 1110, artist Shey Rivera Ríos, poet Sussy Santana, and the City of Providence invited Latinx visual artists to celebrate and recognize the Latinx healthcare workers in Rhode Island, who have helped to manage the COVID-19 crisis.
"Mi Gente Siempre Responde" ran an open call for seven visual pieces by local Latinx artists to be turned into large public art banners. These banners were installed in designated Providence neighborhoods at venues that are important to Providnece's Latinx communities. Each selected artist received a stipend of $350 for their participation in the project. Works and short video documentaries were also included in a virtual exhibition and a bilingual community coloring book (Spanish + English) and Poder 1110 radio interviewed the artists and the health workers who were featured in the project.
Sowing Place Creative Community Health Worker Fellowship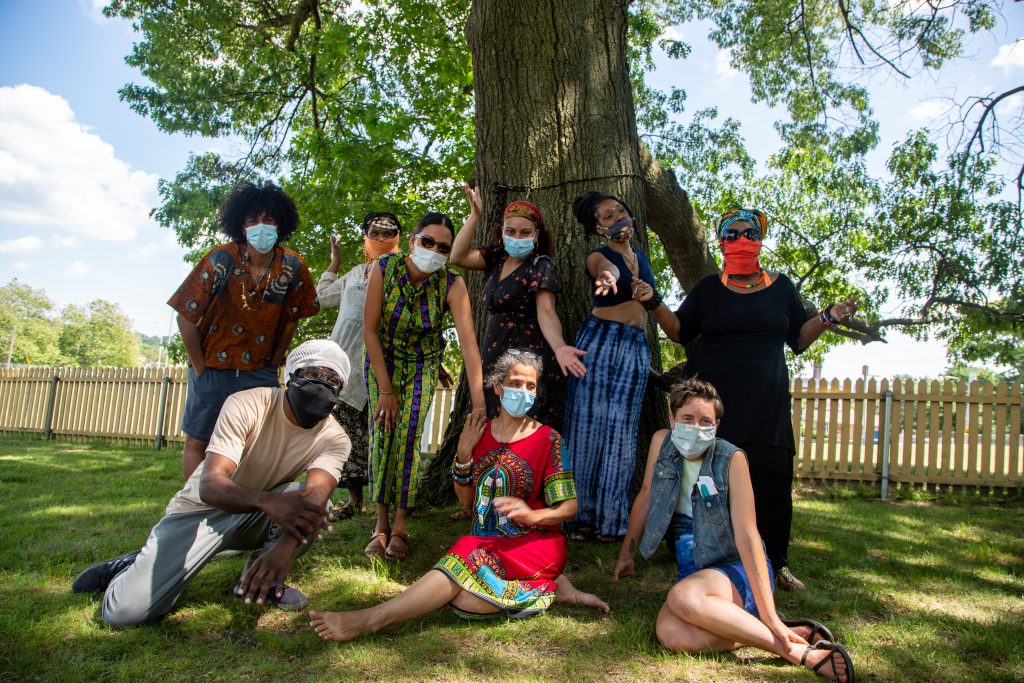 In early 2020, ACT awarded five artists to participate in a new pilot training in Artist Facilitation and Community Health Work followed by a three-month residency in a community based organization:
Anthony "AM" Andrade
Magnolia Perez
Raffini
Satta Jallah
Sussy Santana
Artists received seventy hours of training under Dr. Dannie Ritchie, Director of Community Health Innovations of Rhode Island and three Artist-Facilitators, Laura Brown-Lavoie, Vatic Kuumba and Valerie Tutson.
The Creative Community Health Worker Fellowship, an extension of the City's Sowing Place Initiative, generously funded by the Kresge Foundation, was designed to expand the City's direct reach to neighborhood residents and test a new pathway towards employment in both creative and community health worker fields. In this spirit:
Fellows received training in core competencies of community health work along with applicable strategies for using the arts (across disciplines) to address social determinants of health in community settings;
Fellows received mentorship in developing their portfolios towards CHW Certification;
Fellows were provided a paid opportunity to implement newly learned skills and gain field hours necessary for CHW certification;
Artist Facilitators and CHI-RI expanded their training modules and pedagogical strategies; and
The City gained insights as to how and whether to further develop a pipeline for artist facilitators and community health workers as a method of creative workforce development.
Parks
PopArt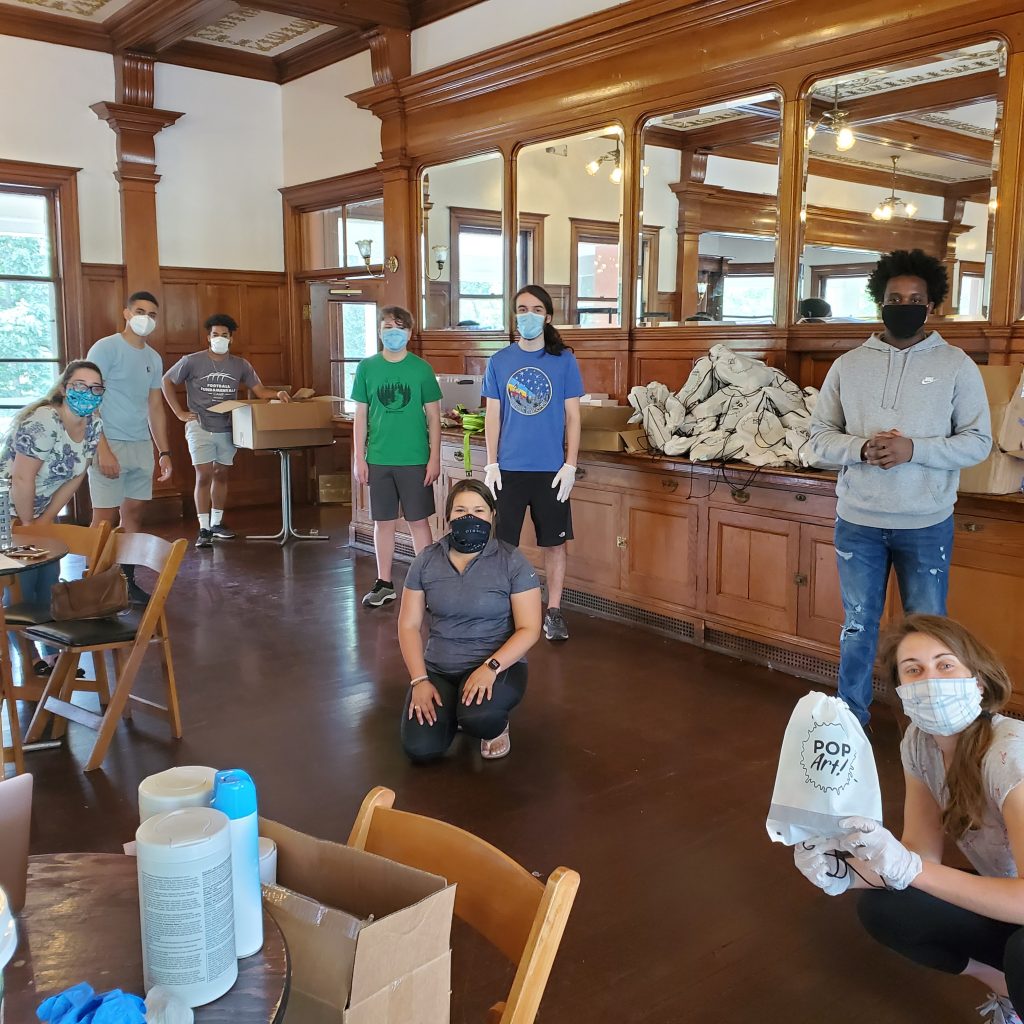 PopArt! is facilitated by young adults who are passionate about the process of creating and living with art, and is supervised by the Department of Art, Culture + Tourism. In summer 2020 City introduced PopArt! Kits, a "grab and go" resource appropriate for creativity in the age of social distancing. Designed for youth 18-years of age and under, the kits included art materials and instructions for creating DIY art projects. These kits, designed in collaboration with local artists and art educators, were distributed monthly at meal distribution sites. In this way, they built upon POPArt!'s previous projects in parks and public spaces throughout PVD.
Parkists in Residence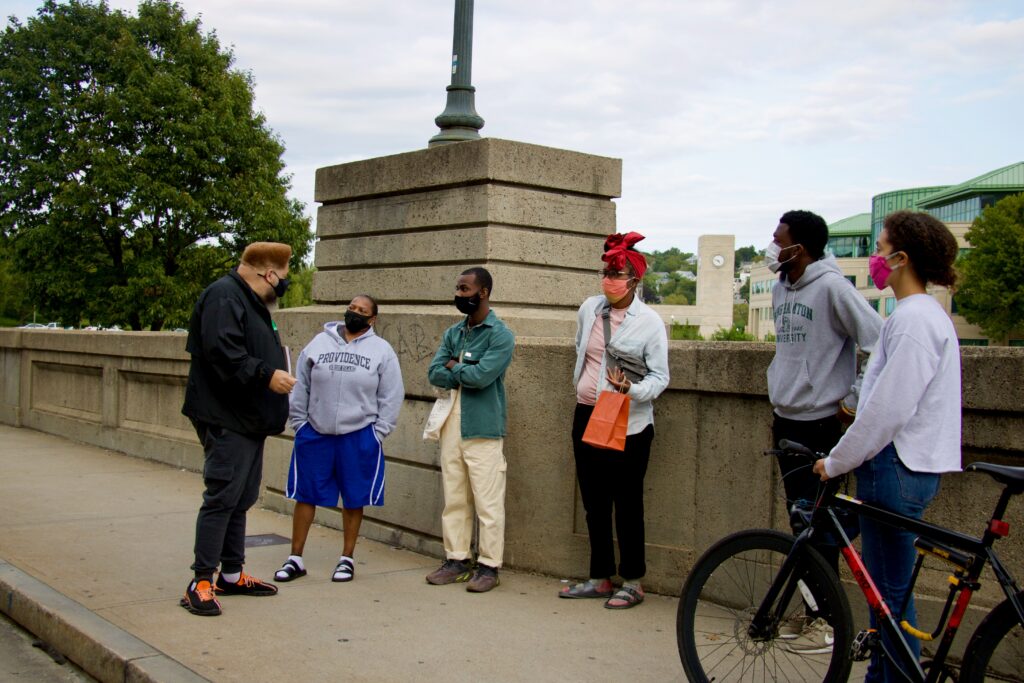 When ACT and the Parks Department launched the inaugural Parkist in Residence program this spring with artists Matthew Garza and k. funmilayo aileru, neither artists nor administrators knew how asking artists to inhabit and steward historic properties with their families during the COVID-19 outbreak would necessitate changing our many priorities and practices.
Wanskuck Parkist aileru continues to work on the following projects begun during calendar year 2020:
The Black Lives Matter Mural Project, which is steered by a committee of Providence-based artists, organizers, and educators formed to develop and design a large-scale street mural intended to honor the histories, experiences, communities, identities, and aesthetics of Black people in Providence, Rhode Island. Current committee and project members, participants, and partners include Zuli Vidal, Lizzie Araujo, Rodney Davis, Nafis White, Keith Stokes, Soni Stokes, Wanda Brown, Sage Morgan-Hubbard, Nicole Scott, Abenda Sohn, Vessna Scheff, Ayeel Schofield, Sarah Samways, Marco Mcwilliams, and Matthew Garza.
blackearth collective + lab is an emergent coalition of Black and Indigenous, Queer and Trans creatives, educators, and organizers who center Black and Indigenous art, design, and craft.  blackearth collective envisions a thriving creative economy, on the South Side of Providence, sustained by its community members through access to education and advocacy. Informed by our vision, our mission is to facilitate intergenerational, culturally-specific, and gender-inclusive creative production and economic justice. Founding members of blackearth collective + lab are k. Funmilayo aileru, Kou T. Nyan, Monay McNeil, Jesus Holguin, Justice Gaines, and Edwige Charlot.
OPEN SCREEN is a Rhode Island-based platform and network of Queer and Trans, Black, Indigenous, artists, designers, and makers of Color who work with digital and/or new media. OPEN SCREEN is curated by myself, on behalf blackearth collective + lab, and AM. Andrade of The Haus of Glitter Performance Lab & Haus of Glitter Dance Company.
Esek Hopkins/Admiral Street Parkist Matthew Garza has worked on the following projects in calendar year 2020:
Libraries
PVD Young Makers (PVDYM)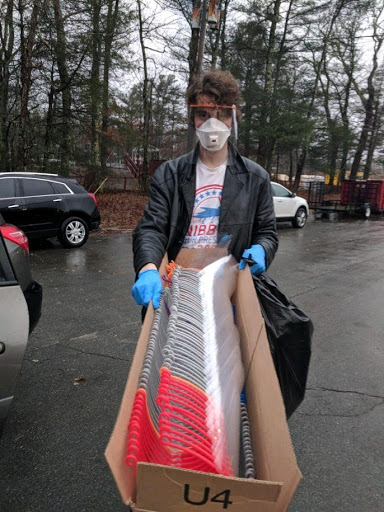 The City launched the PVD Young Maker initiative in partnership with the FabNewport, the Providence Community Libraries (PCL), the Providence Public Library (PPL), Rhode Island Museum of Science and Art (RIMOSA) and Young Voices in 2017 to increase youth access to local Maker experts, spaces and tools in an equitable way. In addition to exposing young people to exciting technologies, this initiative seeks to bolster STEAM (Science, Technology, Engineering, Arts, and Math) learning, promote creativity and positive youth development, and prepare young people for the 21st century global creative workforce.
PVDYM supports a culture of making through student-centered teaching and learning at ten public spaces and libraries across the city. Students are welcome to explore different machines and devices that "make" their unique ideas come to life. Access to these cutting edge technologies and opportunities not only helps youth practice essential skills – like critical thinking and problem solving – it helps them activate a maker mindset so that they are better able to understand problems as solvable.
Winter 2020Program Updates:
Interns can now receive .5 school credit through RIDE's All Course Network.
Over 80% attendance with 14 high-school aged interns since going fully virtual in spring 2020.
Added take-home kits for middle school students in origami, film, baking and art therapy.
Piloting online homework help and special interest clubs.
PCL introducing two new key positions: Digital Skills and Makerspace Workshop instructor positions (for library clerks) and Spanish Translator Positions (for bi-lingual staff).
Marranitos Mexican Gingerbread Decorating Kits was a collaboration between Smith Hill, Wanskuck, and Olneyville staff, interns and volunteers with La Poblanita to bring 4 dozen gingerbread decorating kits to PVD students and families.
Winter 2020 Funding Updates:
PCL received $6,750 from Nordson Foundation.
FabNewport received $6,500 through PVD student sponsorships.
FabNewport received 30K through Commerce RI to support maker equipment purchases for Inside-Out summer kit program and support new hardware purchases for libraries.
In-kind support and donated computers and other technology through Social Enterprise Greenhouse.
Participation Statistics as of August 2020:
Registered users: 3,097 (+14.63% from 2,644 in Feb 2020)
Total visits: 12,799 (+7.72% from Feb 2020 )
Registered super users: 696 (+4.02% from Feb 2020)
Super User (SU) Rate: 22.47% (-2.79% from Feb 2020)
NOTE: Feb-Aug statistics do not account for bag-kit users or web users.
Additional Summer 2020 Stats:
19 student interns / 2,217 work-hours
66 badges earned /16 students earned RIDE credit
6 collaborating non-profits
Distributed 53 pieces of equipment
10K grant with PCL / 5K of consumables distributed to patrons
Office of Sustainabilty Artist in Residence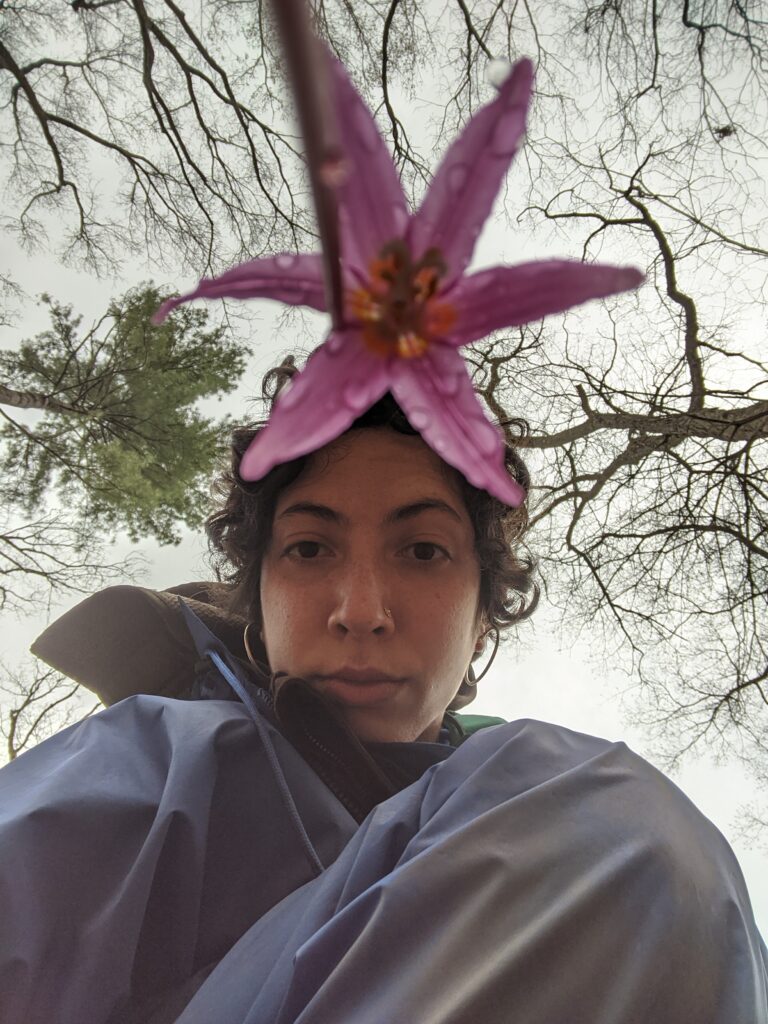 ACT and The City of Providence Office of Sustainability named Fatema Maswood Artist in Residence in the Office of Sustainability.
Fatema Maswood (they/them, she/her) is an ecological designer, builder, gardener, and educator of Tunisian and Bangladeshi descent. Their work addresses decentralized water infrastructure, disaster resilience, soil remediation, and land justice. Their projects include explorations of traditional North African water harvesting technologies, designing future cities with youth, interactive disaster preparedness games, and graphic introductions to zoning documents and cooperative land ownership. Informed by being raised in a Sufi tradition, Fatema works to embody spiritual practices of recollection, remembrance, and revolution within their artistic practice.
Maswood is developing a variety of collaborative projects such as the Providence Seed Library with the Providence Community Libraries.
Schools
Turnaround Arts: Providence
Co-managed by ACT in collaboration with the Providence Public School District and the Kennedy Center for the Performing Arts, Turnaround Arts: Providence (TA:P) launched in 2017 at DelSesto, Gilbert Stuart and Roger Williams Middle Schools. Turnaround Arts schools use the arts to invigorate student learning, serve as a lever for transforming school culture, and energize and equip the greater Providence community to support its youth.
The work of engaging young people through arts-based strategies was more important in 2020 than ever, and more difficult. Despite the challenges, dozens of TA:P teachers at Gilbert Stuart Middle School, Roger Williams Middle School, and Del Sesto Middle School have been trained in Visual Thinking Strategies throughout the year. To comply with COVID restrictions and capacity, small groups started every few weeks in each school, followed by intensive workshops. The training is non-discipline specific and supports critical thinking, communication, collaboration and other skills. Students observe a visual and discuss their different impressions, and the teacher synthesizes their ideas and shares them back for affirmation and discussion. A key skill that many young people learn through the integration of visual thinking is how to abbreviate, paraphrase and summarize their ideas.
Del Sesto had full-school training using UCLArts and Health's Beat The Odds program, which is based in drumming and integrates social and emotional learning. TA:P artist in residence, steel drum player and singer Becky Bass, received the full training and participated and supported the school training. TA:P is working with Bass to figure out implementation in the coming year. Gilbert Stuart will do Beat The Odds in 2021. The schools get drums purchased for them to support the work they do in the training.
While it has been challenging to get our TA:P artists into schools this year, we have made good progress with them in terms of developing relationships and plans for 2021. Storyteller Val Tutson is doing story-making work with Gilbert Stuart. Filmmaker Gabriella Gonzalez is supporting schools that didn't get to complete their school musicals as they create montage films.In spring 2021 TA:P schools are all getting musical kits through Turnaround Arts National this year to support activities in preparation for musicals that will be produced in the coming year.
In 2020 TA:P provided students with art supplies. Some teachers, like Antonia Lara-Sanchez at Roger Williams, integrated these supplies with student-led design projects. Lara-Sanchez hopes to work with students to complete several new and updated murals in 2021.
Recreation Centers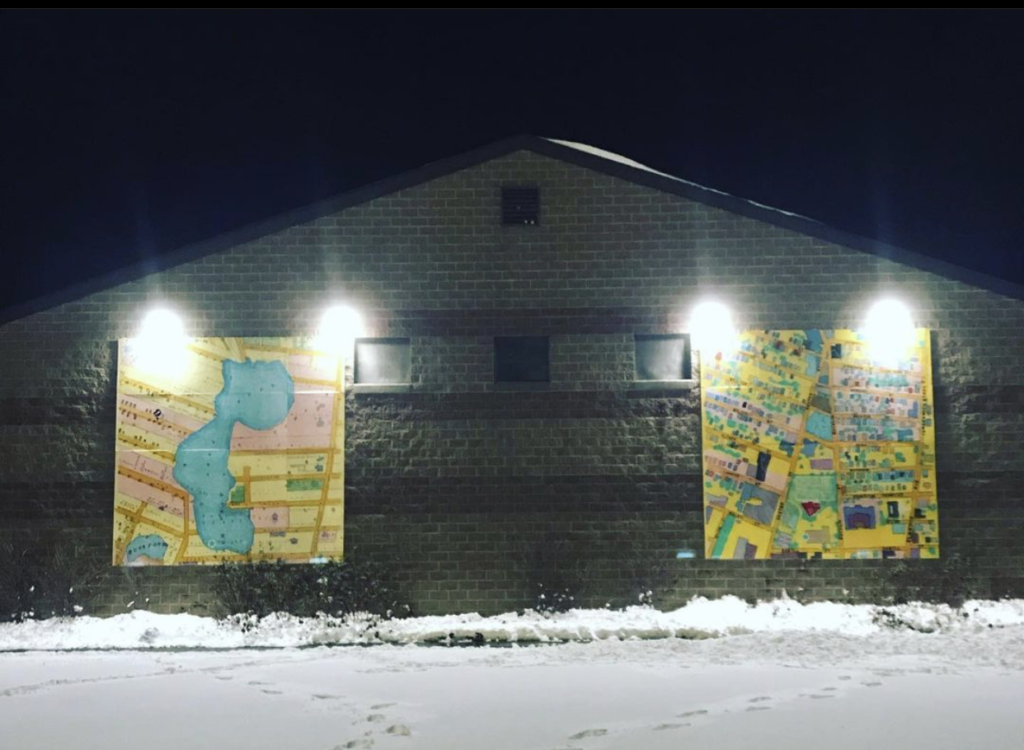 Walker Mettling – "Where Long Pond Used To Be"
West End Recreation Center, 109 Bucklin Street
Print-maker and comic book publisher Walker Mettling created an historical map of Elmwood featuring the gone but not forgotten histories of Long Pond as well as a billboard mural depicting the pond on the West End Rec Center's west-facing facade. Mettling originally envisioned a tri-part project: the map, the billboard, and a public screen-printing party to celebrate the research and final products. To follow his process, check out #wherelongpondusedtobe.
City Hall
The Gallery at City Hall
Offering space to artists and organizations that might not have a permanent gallery, the Main Gallery at City Hall exhibits an eclectic array of work that highlights the artistic and cultural diversity of Providence.
The Gallery postponed two exhibitions in early 2020 but re-booted with two small exhibitions in August 2020.
In Between The Hawk and The Buzzard: New Sculptural Works by Nafis M. White in Collaboration with the Rhode Island State Archives, White activates the Rhode Island State Archives to create work that honors the centennial by discovering powerful women activists.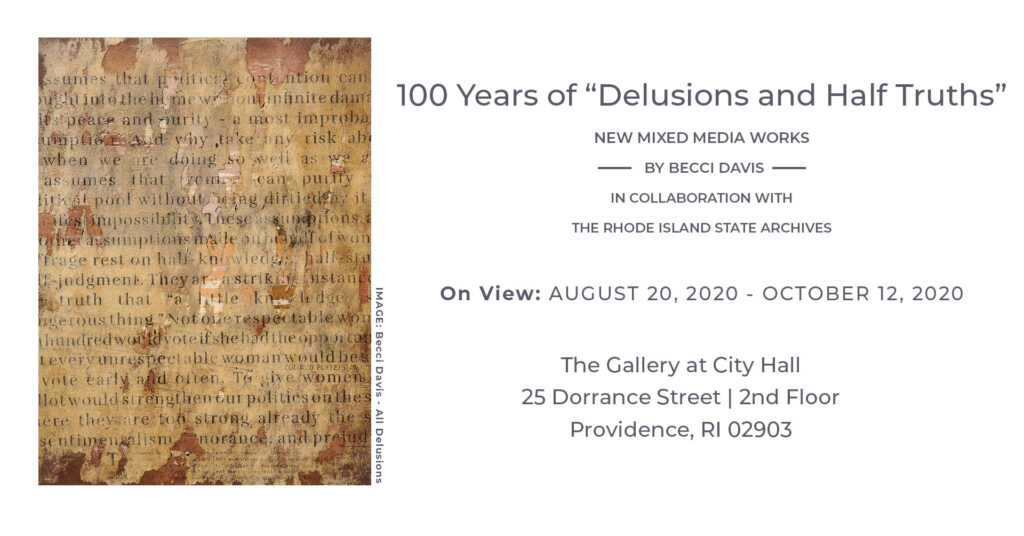 In 100 Years of "Delusions and Half Truths": New Mixed Media Works by Becci Davis in Collaboration with the Rhode Island State Archives Davis creates topographical palimpsests question widely-circulated narratives about women's suffrage, exposing the complex questions of race often left out of them.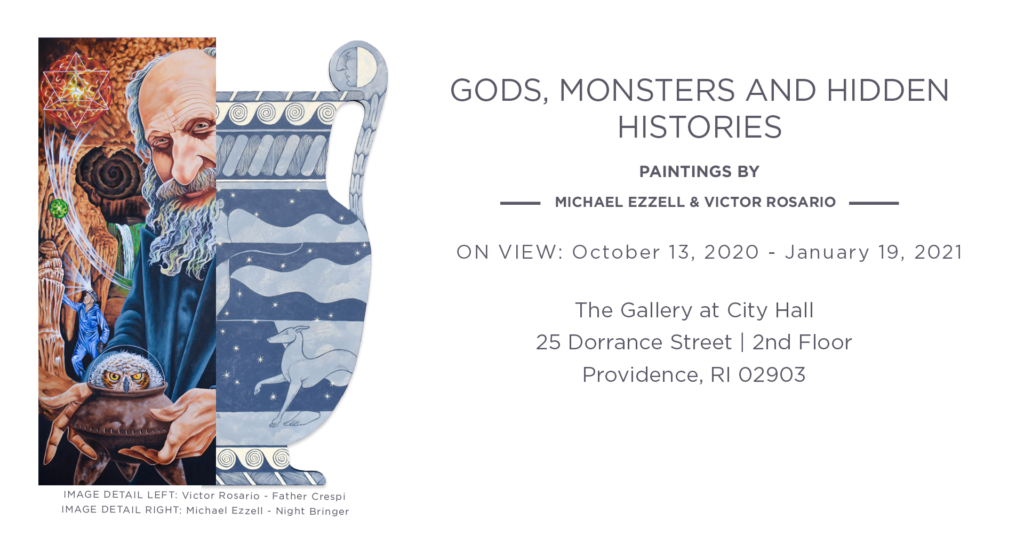 In October 2020, the Gallery hosted Gods, Monsters and Hidden Histories: Paintings by Michael Ezzell and Victor Rosario. Both painters explore the contours of human myth-making by looking backwards and forwards. Each work is a portal to another world, framed by ancient symbols derived from Greco-Roman sources, archaeological digs and eye-witness accounts.
Tax Collector's Gallery and Conference Room 305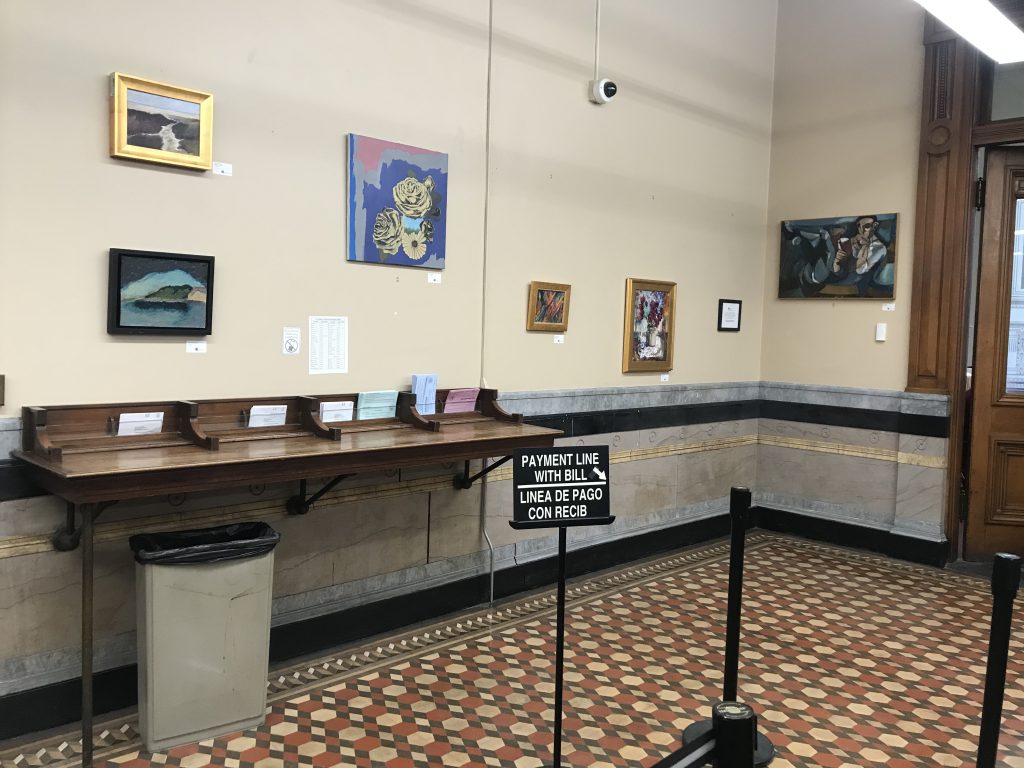 Mayor Elorza's Community Galleries, in the Tax Collector's Office (Room 203) and Conference Room 305 are spaces within City Hall dedicated to showcasing art. Both galleries are currently showcasing work from the Art Connection Rhode Island, a non profit organization that seeks to enrich under-served communities by expanding public access to original works of art. Their art donation and placement program is like a "museum without borders" as it places the work of donor artists on the walls of community service organizations. In their new environments, the works of art stimulate dialogue, creativity, learning and healing.
Mayor's Pocket Gallery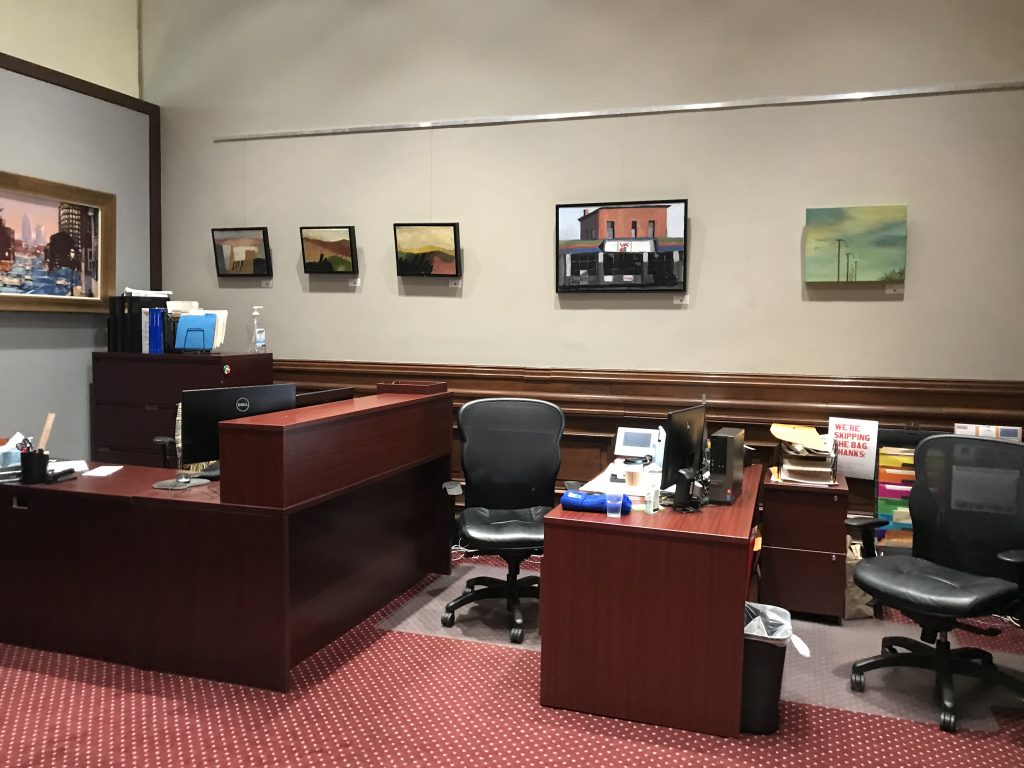 Part of AC-RI's mission is to connect artists and donors to community service organizations and other sites where the public may not have access to art. The organization places original artworks in unexpected public places to enrich the lives of non-profit and municipal staff as well as the diverse publics that they serve. The works for the Mayor's Pocket Gallery were chosen by members of the Mayor's staff and the ACT team to create a sense of brightness and light.
Providence Public Housing
Providence Housing Authority Artist in Residence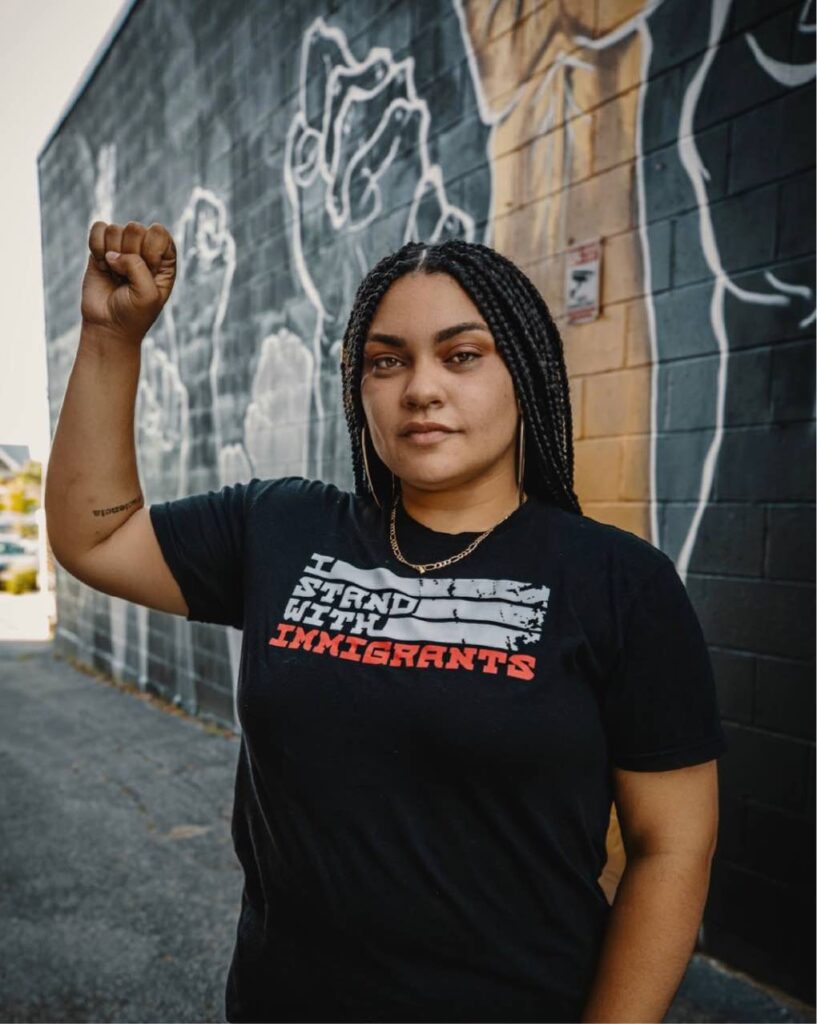 ACT and the Providence Housing Authority named Angela "AGONZA" Gonzalez artist in residence with the Providence Housing Authority (PHA).
AGONZA, a renowned muralist and painter, has been a social worker since 2014 and has served on the board of directors at The Avenue Concept since 2019. She continues to use her skills as a social worker and her life experiences to connect with her community. AGONZA says that, "the best feeling is having viewers of all ages and all ethnic backgrounds be able to sit together in front of your painting, relate, smile and get lost in their gaze. When viewers immerse themselves within my art, and my vision, I hope they appreciate the ways they are included in my community."
AGONZA is working alongside PHA residents during her residency at Providence Housing Authority's Hartford Park houses to create a new mural for the site.
Temporary Public Art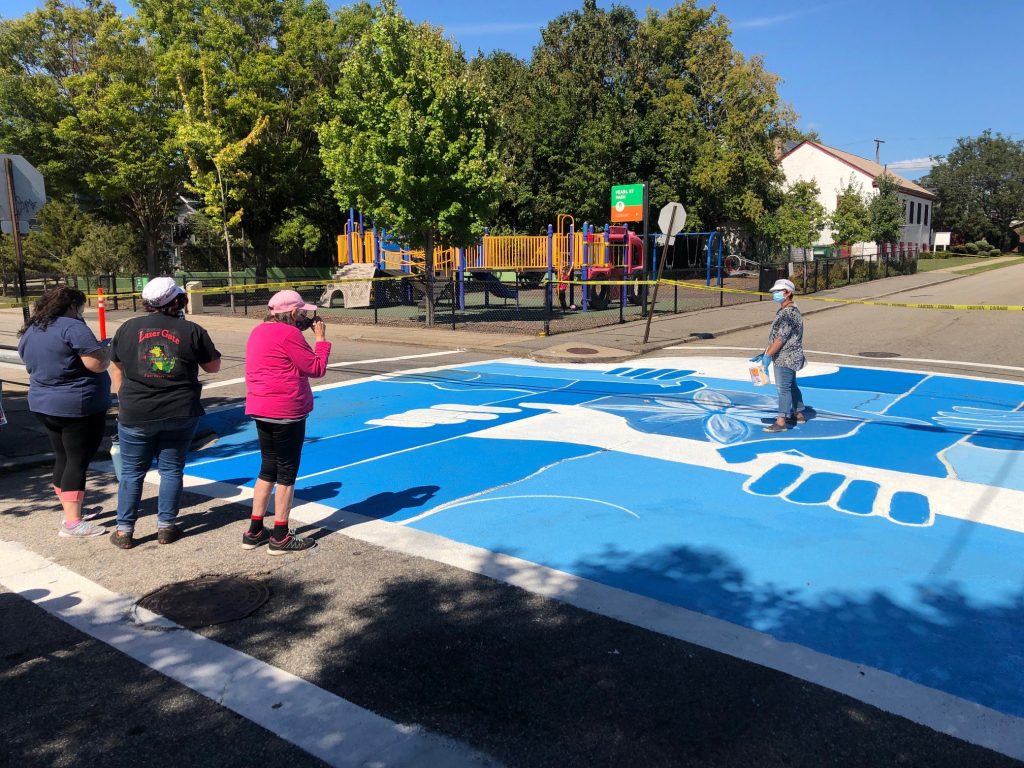 Tracy Silva Barbosa (Duende Glass) – "CrossRoadsPVD"
Intersection of Providence and Pearl Streets
On Saturday September 12th, 2020, commissioned artist Tracy Silva Barbosa and a group of volunteers worked together to complete a ground mural in the intersection where Pearl and Providnece Streets cross on the Southside. The concept for the mural, which was workshopped in the spring with neighborhood residents through digital community engagement, represents "unity" through a motif of interlocking hands and arms. Using the blue color palette from her signature "Azulejos Project," Barbosa and a dozen or so volunteers made quick work, filling in her carefully-measured chalk sketch with stunning shades of sky, azure, and cerulean.
PVDFest Public Art
ACT commissioned three new large-scale installations for PVDFest that remained on the festival's downtown footprint through October 2020 and beyond: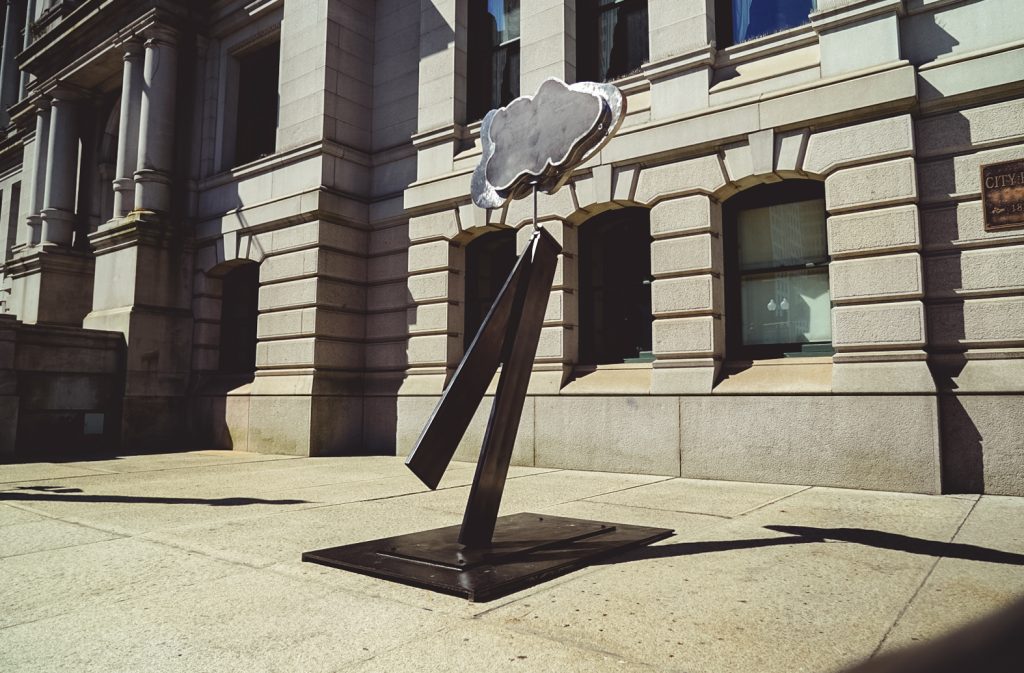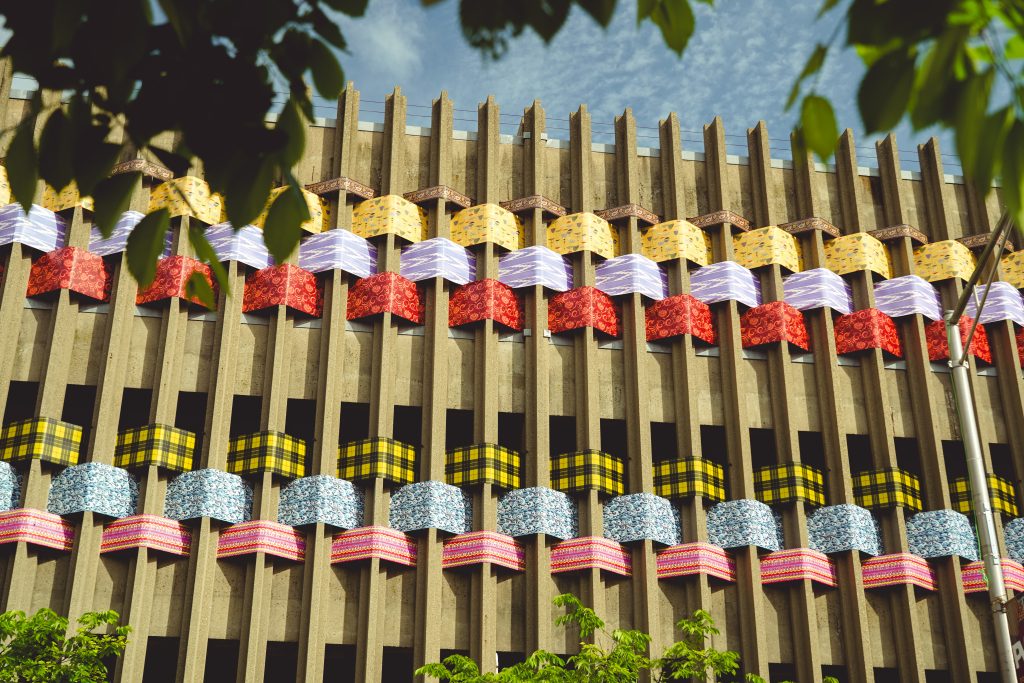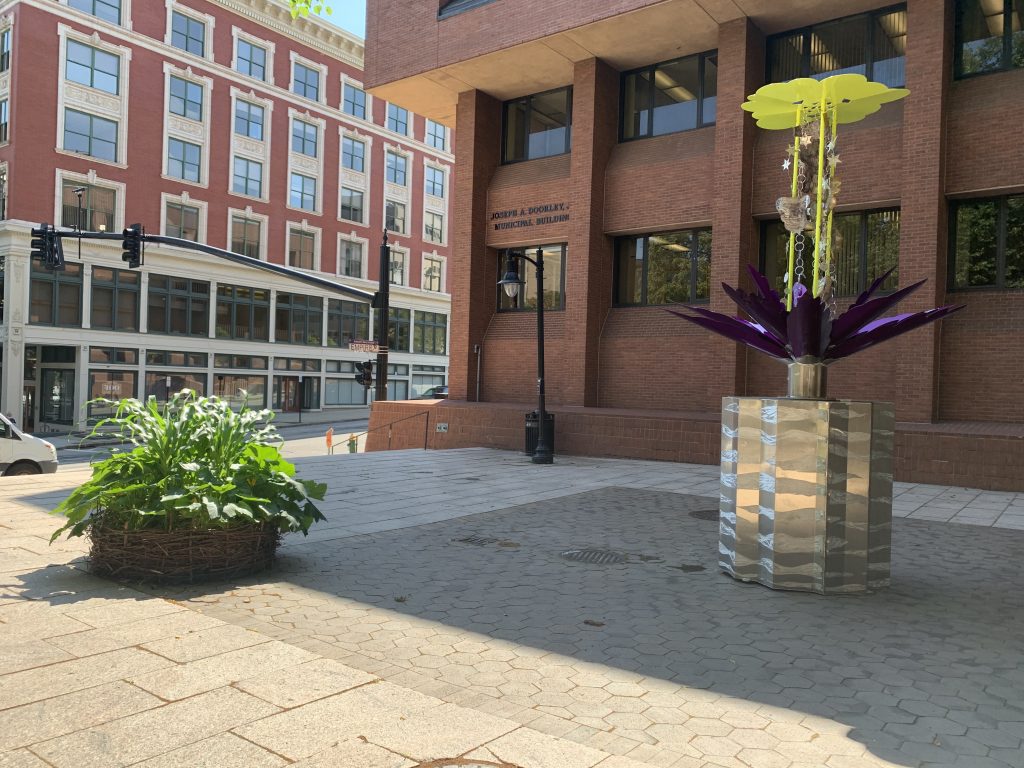 ---
Delivering City Services
Special Events
In 2020 The City of Providence's interdepartmental team of event reviewers processed 158 special events, despite public health restrictions and pandemic conditions.
In summer 2020 Mayor Jorge Elorza spearheaded an effort to provide critical relief to Providence's hard-hit hospitality industry. From offering free 2-hr parking in business corridors to waiving city fees associated with special events (e.g, street closures, police and fire details, outdoor dining accommodations etc.) it is estimated that Providence businesses received over $370,000 in financial support as a result of these offerings. To provide additional relief in 2021, the City of Providence will continue to waive special event City Service fees and has also streamlined the special event permitting process to help event coordinators produce safe and secure events and community celebrations.
In 2020 the City's Special Event and Use Permits allowed event producers the opportunity to utilize outdoor public spaces like streets, parks, and plazas for public gatherings like pop-up programs, community block parties, concerts, festivals, food truck events, outdoor markets — and now also create. opportunities for brick and mortar businesses to bring their work outside. The City allowed accommodations for individual restaurants to expand outdoor dining into the public spaces around them. These events are so important to the Creative Capital's cultural vitality and the regional metropolitan economy.
Small Business Support
RI Commerce Take It Outside funding supported the creation of 30 artist-fabricated parklets that helped restaurants increase their outdoor dining capacity.
Film & TV Permits
Providence ranks 6th best place in the US for small cities hosting film and television shoots by Moviemaker Magazine! The film industry in the state was one of the first to come back online after lockdown and as a result Providence hosted 21 registered commercials and small-budget films. To encourage filmmakers to use Providence locations in their next productions, ACT's recommendation that the City waive City Service fees for film and approved media productions under $14M was approved by the Mayor for the 2020 budget.
---
Policy Making
Special Committee for Commemorative Work
The Special Committee for the Review of Commemorative Works is a new public body staffed by the Department of Art, Culture + Tourism (ACT). Per the recommendation of the Art in City Life Master Plan and City Council, the Committee shall be comprised of individuals who are scholars in the fields of history or commemoration or have a background in local history, culture, or community building. The Committee began meeting in early 2021. For more information about the Committee, see our FAQ.
Creative Providence 2021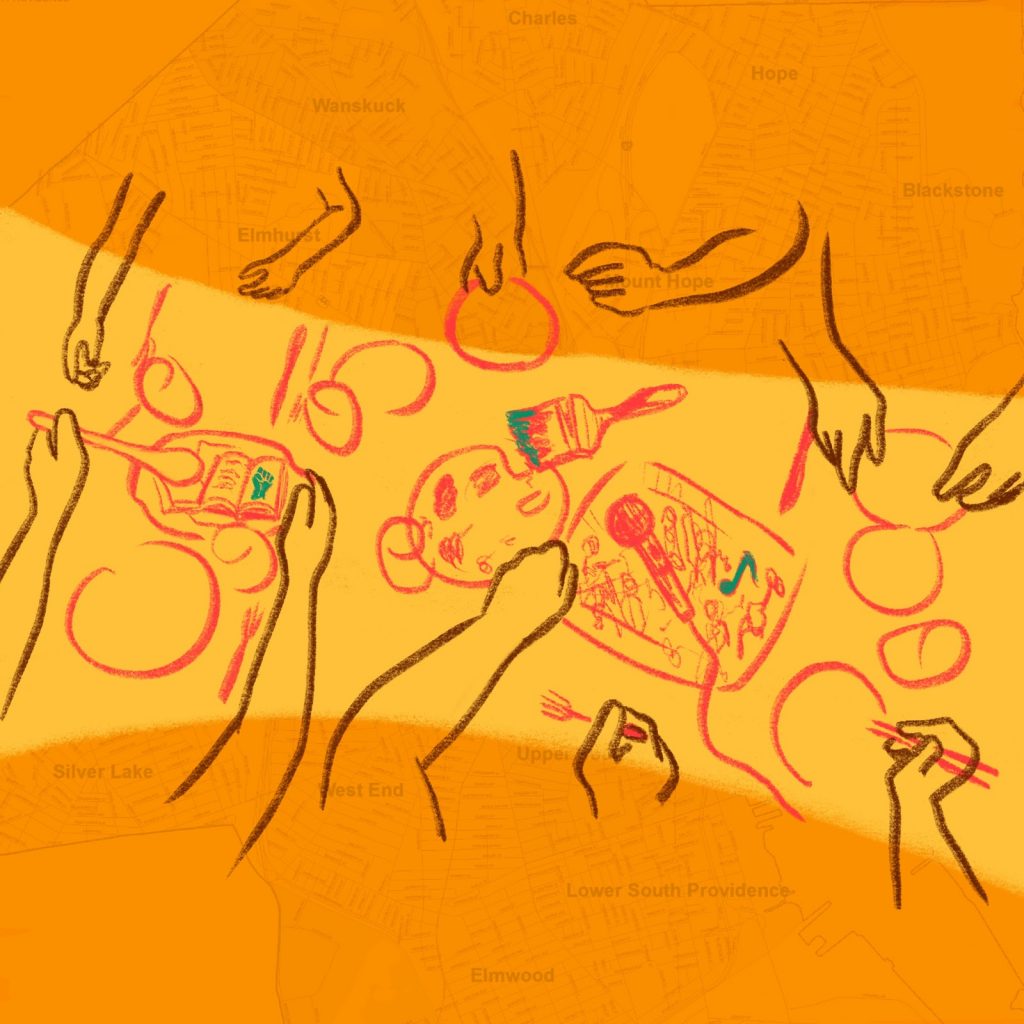 In 2019 National Endowment for the Arts awarded $40,000 to ACT to steward the Creative Providence cultural planning process. Over the last eighteen months, ACT has engaged arts and culture nonprofits, individual artists, arts educators, culture producers, investors and other interested community members to help shape the 2021 cultural plan. In the summer of 2020 Artist Facilitators Tracy Jonsson, MJ Robinson and Shey Rivera Rios worked with ACT staff and our Creative Providence Sector Alchemists (The Steel Yard, AS220, Providence Youth Arts Collaborative, Providence Cultural Equity Initiative, Rhode Island Black Storytellers, and Grantmakers Council of Rhode Island) to lead seven virtual planning studios. These planning studios engaged participants in discussion and vision setting with respect to Art in Public Places, the Creative Economy, the Future of Arts Teaching and Learning, the Creative Workforce, Public Awareness, Tourism and Advocacy, Art and Well-being, and Resilient Nonprofits. Over three hundred people registered to participate in studios, nearly 200 residents participated in self-directed focus groups, and a diverse body of arts and culture leaders now serve on the plan's Steering Committee. In spring 2021 ACT and its artist facilitators will distill learnings, and will release a draft of the plan as part of PVDFest Ideas 2021.
Social Justice Policy Initiatives
In addition to supporting Parkist in Residence funmi aileru and collaborators on the All Black Lives Matter mural, ACT has stewarded conversations and policy-recommendations around public safety through the Moral Docs initiative. The department has also convened the African American Ambassadors arts and culture subgroup. These initiatives continue into 2021.
---
Grantmaking
Between spring 2020/spring 2021 ACT made nearly 40 grants to organizations and individual artists, providing approximately ⅘ requested grant funds to and distributing nearly $100,000 during a challenging fiscal year for the City. Grants supported: Joel Tapia's Areito Taino virtual convening, FRINGEPVD's virtual convening, PSU's "Finding My Public Narrative" program, pre-festival planning for Flickers Arts Collaborative, Oasis International Print Fest, DownCity Design's summer youth design studios, Southside Community Landtrust's virtual program with K Rashid Nuri, Open Doors Providence 2021 planning, The Puerto Rican Institute for Arts and Advocacy's "Celebration of Ancestral Traditions," the African Alliance of RI's Summer 2021 arts and culture pop-ups, Jason Panman Roseman's "Holiday Steel Drums" program, Gallery Night Providence's planning for accessible trolley and bike tours and virtual programming, Manton Avenue Project's walking tour audio plays, Roger Williams Park Conservancy's outdoor socially distant cultural programs, Mr. Orange Live's "Tell Your Truth" program for young poets, Providence Community Library's Feria del Libro planning, Haus of Glitter's living room concert planning, Queer.Archive.Work's riso residencies, Everett's Brain Cafes on Bliss, Community MusicWorks' planning for Songs of Refuge, UPP Arts' "Unpolished Legacies" online, Teatro ECAS' English translations and supertitles, Southside Cultural Center of RI's community art gallery, Rhode Island State House Restoration Society's "My State House" initiative, the Women's Fund of RI's planning for 2021 cocktails and conversations series, the Langston Hughes Community Poetry Reading, RI Center for the Book's "Read Across RI" initiative, the PVD Pageant planning, Juneteenth 2020 and 2021, and Providence Fashion Revolution Week 2021.
---
Destination Development Through Signature Events
Neighborhood Holiday Tree Lightings and Virtual Holiday Celebrations
Using RI Commerce Take it Outside funding, ACT supported eleven tree lightings across the City in addition to the customary lightings at City Hall and the Bank Newport Skating Rink. ACT also supported virtual Hanukkah candle lightnings, solstice walking tours, Three Kings Day, and Kwanzaa programs. These virtual celebrations enhanced access for faith-based communities to participate in the City's winter festivities.
---
Mission:
The City of Providence Department of Art, Culture + Tourism (ACT) ensures the continued development of a vibrant and creative city by integrating arts and culture into community life while showcasing Providence as an international cultural destination.
Vision:
ACT envisions a Providence that is a global destination for arts, humanities, and design, where neighbors celebrate diverse cultural and artistic experiences, and where all residents and visitors feel that a relationship to arts practice, making, and culture is a part of their everyday lives.
Values:
Belonging – An inclusive sense of place makes Providence special. We value intergenerational, participatory, and collaborative work that strengthens intercultural connections. We celebrate new rituals and time-honored traditions that acknowledge our unique historic and present-day contexts. We recognize that identities are complex and value the ways that race, sexuality, gender identity, ability, and class, among other differences, influence the unique perspectives of our communities.
Experimentation – Our work is a nimble, curiosity-driven conversation with artists and creative practitioners who often take risks. We stay flexible as we learn with our thought partners and this helps us grow at our edges.
Transparent Processes – We create scalable, transparent, responsive, and reliable processes that facilitate cultural participation. We strive to communicate clearly, share resources equitably, and act as an accessible entry point to the City.
Anti-Racism – Racism and anti-Blackness are antithetical to our work. We value our team's diversity, and strive to achieve cultural equity in all we do by amplifying the voices of Black and Indigenous folks, and people of color.
Radical Joy – Love, kindness, empathy, optimism, and acceptance are central to our process. We practice radical joy by elevating work that shamelessly sustains communal pleasure.
Grant-making and Programmatic Priorities:
Access:  Art and culture are a part of everyone's lives regardless of whether they have a disability or do not speak English.
Cultural Equity: Art and culture are relevant to the people of Providence; they foster relationships and conversations among the City's diverse residents. For more on the City's population, see here.
Change and Transformation: Artists and culture-brokers learn to take on new challenges, building capacity through planning and professional development.
Responsiveness: Art and culture are informed by significant engagements with specific cultural and/or neighborhood-based communities.
Impact: Art and culture support the livelihoods and creative pursuits of artists and culture-brokers and are engaged with by significant numbers of audience members.
ACT Staff:
Stephanie Fortunato, Director
Lizzie Araujo-Haller, Deputy Director
Gina Rodríguez-Drix, Cultural Affairs Manager
Micah Salkind, Special Projects Manager
Lael Tucker, Director of Turnaround Arts: Providence
Division of Planning and Development Communications: Katherine Hypolite & Alexis Kievning
---
Support for the City of Providence Department of Art, Culture + Tourism is provided by the City of Providence, Providence Tourism Council, Rhode Island State Council for the Arts, additional funders, community partners.