Finalists for Mural at RFK Elementary School
The City of Providence Department of Art, Culture + Tourism (ACT), Providence Art in City Life Commission, Councilman Salvatore, and RFK Elementary School invited muralists to design and install an original mural on the exterior of RFK Elementary School. The mural is intended for an exhibition of five years, contingent on funding available.  To read the original call to artists, click here.
Three Finalists have been invited to develop a site-specific Concept Design for the project. For this method of selection, each finalist will be paid a proposal fee to develop and present a physical representation of the work (a rendering or three-dimensional model), a written project description, a description of materials and fabrication techniques, expectations regarding site preparation and infrastructure needs, and a detailed budget and timeline.
Congratulations to our Finalists Fu'una, Gabriel Rojas, and Sav Hazard-Chaney!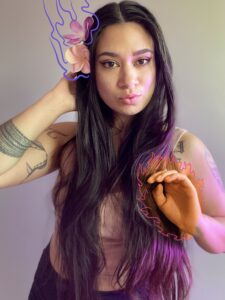 Fu'una is a muralist whose pop-realism style draws upon Fauvism, street art, and tattoo culture. Humans and animals are her primary subjects, with botanicals and natural elements often appearing. Her work alternates between playful and profound, and is most recognizable by her distinctive use of color. She has won an award for her portrait work, an award for her mural work, and three awards for her community contributions. Her training includes courses at Academy of Art College, Cornish College of the Arts, Rhode Island College, and Rhode Island School of Design. She has produced public art in five states and has collaborated with schools, businesses, and individuals. In her career as an arts administrator, Fu'una has a lengthy history of developing community-based arts programming, and a demonstrable commitment to advancing racial equity in the arts.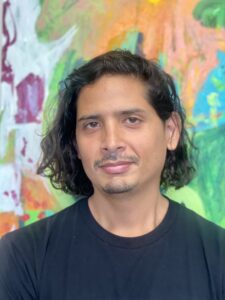 Gabriel Rojas was born in Buenos Aires, Argentina and grew up in Tulsa, Oklahoma. He currently lives and works in Providence, RI and is pursuing his MFA in Painting at Rhode Island School of Design. Rojas has a background in large-scale murals, and creates large-scale works characterized by their bold colors, fluid gestures, and universal shapes. He has worked as an artist/curator and been involved in multiple Latinx events that promote diversity in his hometown. He is now involved with the local community in partnership with Rhode Island Latino Arts, and multiple clubs at RISD.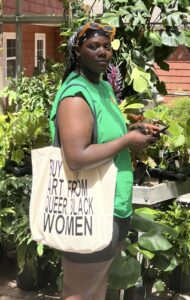 Sav Hazard-Chaney (She/Her) is a Rhode Island based self-taught artist, originally from Central Massachusetts. She began painting as an outlet to express identity and fell in love with the journey of understanding herself. Her unique and modern style inspires her community to explore different versions of themselves and get excited about sharing and building together. Sav hopes her strong sense of acceptance and togetherness will help cultivate more spaces and opportunities for black queer artist. Sav hopes to continue exploring and connecting her community through art.