2018 TunesDay Concert Series
PLEASE NOTE: DUE TO FREQUENT WEATHER ISSUES THE SEPTEMBER CONCERTS WERE CANCELLED.
Mayor Jorge Elorza, the Department of Art, Culture + Tourism and Providence Parks are pleased to announce TunesDay, an after-work acoustic series.  These 4 free concerts will take place on August 21 & 28, 2018 at Waterplace Park with a start time of 5pm.  All performances are free and open to the public.
"The newest addition to our summer programming is an opportunity to present local acoustic artists in one of the City's most splendid parks," said Stephanie Fortunato, Director of the City of Providence's Department of Art, Culture + Tourism. "Summer is a great time to invite people to explore our city' public spaces through high quality arts programming."
Head on down to Waterplace Park after-work and enjoy some beautiful scenery, amazing local music and great food. The TunesDay series will feature a local acoustic artist against the backdrop of the Waterplace basin. Spectators are encouraged to stick around after the show to explore dinner options at local restaurants.
LINE UP: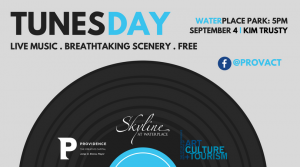 On August 21, singer/songwriter Steve Volkman performs.  Originally a rock bassist in the New England music scene, Steve moved to NYC in 2005 and was quickly inspired by the urban landscape and its culture. This led to a new creative endeavor as Steve began to write songs based on his observations and experiences. Steve recently relocated to Providence's thriving music scene and can be heard live at various venues, coffee shops, and festivals.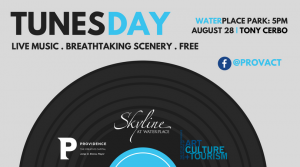 On August 28, singer/entertainer/soloist Tony Cerbo performs.  Breaking into the music scene in 2008, Tony's extraordinary number of performances over the past 10 years is an indication of his phenomenal talent and the respect he has earned. Beyond local gigs, Tony has performed in venues from NYC to Las Vegas. His ever-present natural spontaneity make his delivery exhilarating, and his audiences engaged and energized.
SPONSORS:
The TunesDay Concert Series is produced by Mayor Jorge Elorza and the City of Providence's Department of Art, Culture + Tourism with support from Providence Parks and Skyline at Waterplace.  For more information, please visit artculturetourism.com or @provact on Facebook.
In addition to the TunesDay Series, the Department of Art, Culture + Tourism presents the Eat Play Learn Neighborhood Performing Arts Series in public parks throughout the City from July through September. A full schedule of these events is available at http://eatplaylearnpvd.com/.