Community Flavors, Teen View Call for Photographers, West Side Thursdays, Juneteenth RI, and Mashpaug Park Ribbon Cutting
Sowing Place Season Begins
ACT and its partners at the Southside Cultural Center of Rhode Island (SCCRI), West Elmwood Housing Development Corporation's (WEHDC) Sankofa Initiative, and the African Alliance of RI (AARI) are pleased to announce the kickoff the summer market season. This year the Sowing Place collaborative (a partnership between the aforementioned orgs, ACT, and the City's Healthy Communities Office) will be bringing back Rhode Island Black Storytellers' Community Flavors project each month throughout the summer in partnership with SCCRI. Community Flavors features a free dinner made from locally grown and/or provided by a culturally relevant food business from the Southside or West End along with cultural performances and participatory storytelling. The first edition takes place Sunday June 16 at 4:30pm – 6:30pm. Follow the link for more information about Community Flavors.
Sankofa Market at Knight Memorial Library opens for weekly markets begining Wednesday June 19 at 2:00pm – 6:00pm. Follow the link for more information about Sankofa Market.
AARI opens its season of pop-up markets on Monday July 1 at 3:30pm – 6:00pm in Columbus Square (Reservoir Triangle). Follow the link for more information about AARI.

Calling All Teen Photographers!
From project organizer Mary Beth Meehan (Seen/Unseen): "The most wonderful young photographer approached me for help putting a team of photogs together over the summer and having a show of their work in the fall … at Providence City Hall Gallery, Oct '19-Jan '20!
IF YOU KNOW A TEENAGER WHO LOVES PHOTOGRAPHY, or photo teachers in the area, please have them email us at TeenViewProject@gmail.com for more information and to apply. It will be very fun and cool and a great way for young people to get to know one other and grow their work (and get a few tips from an old horse like me).

West Side Thursdays Begin June 20 at Dexter Training Ground (Armory Park)
Salsa Night with Roberto Arias y su Alebreke + Salsa instructor/dancer Mori Granot Sanchez
3:30-7pm | Armory Farmers Market
5pm | Featured Performance by Roberto Arias y su Alebreke + free Salsa dancing instruction with Mori Granot Sanchez
5-7pm | Armory Market Beer Garden by Troop and Revival Brewing Co
This summer, Dexter Training Ground is made more vibrant by West Side Thursdays, WBNA's free performance series in partnership with the City of Providence, now in its 16th year!
Set against the backdrop of the Armory Farmer's Market, West Side Thursdays adds live music, Shakespeare in the park, kids activities, the Armory Market Beer Garden by Troop and Revival Brewing Company, rentable bocce balls and chess sets, and more! Always fun, always family-friendly, these monthly events are a great way to let off a little summer steam.
For more information see WBNA's blog.

Mashapaug Park Ribbon-Cutting
Friday June 21 at 5:00pm – 6:30pm
Mashpaug Park (375 Adelaide Ave) 
Join Councilman James Taylor, the Providence Parks Department, the Triangle Neighborhood Association, and UPP Arts for the ribbon-cutting of Mashapaug Park.  There will be family-friendly activities like exploring the wildflower garden, dance to the beat of ERB, frisbee, kites, popcorn and more.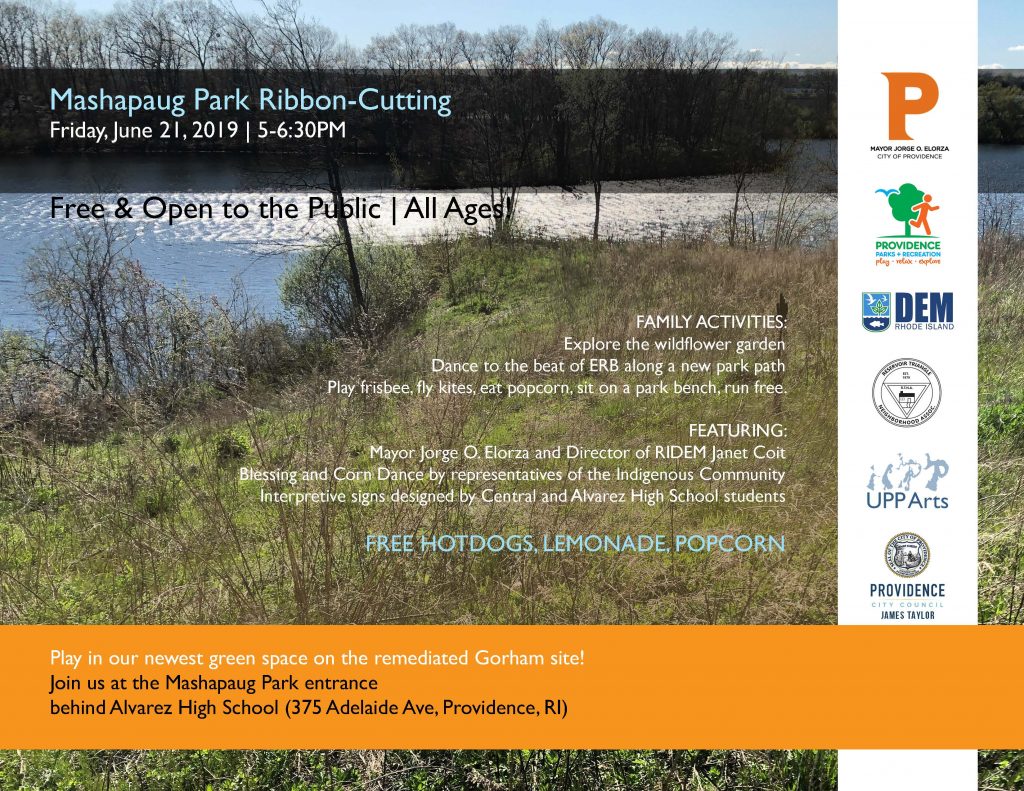 Creative Workforce Development Applications Open
This fall, RISCA is piloting a semester long workforce development program. Modeled as a three credit college course, 9 participants in three arts disciplines (fashion, visual art, and music) will spend the fall semester learning together. This program will culminate in an art event created from top to bottom by the participants. The goal of this program is to equip young artists with the business and professional skills they need to have a career in the arts. This program is being developed in partnership with New Urban Arts, AS220, Providence Arts Culture and Tourism, The Steel Yard, and Roger Williams University. Follow the link for more information.

Juneteenth at Roger Williams Park
Hosted by the Mount Hope Neighborhood Association
Roger Williams Park Temple to Music
Providence, RI
12:00PM – 6:00PM
For more info call 401-288-7864 or go to Facebook.
Vending space available at juneteenthri@gmail.com.