Creative Workforce and Arts Education: Gilbert Stuart Guitar Students Perform for the Holidays
Students at Gilbert Stuart spent the holiday season learning to play music on guitars with Arts Leadership Team (ALT) lead educator Suzanne Doiron. In addition to performing at their school assembly, young artists also performed at Amica Insurance during the corporations holiday programming. Guitars were purchased through the Turnaround Arts: Providence program fund in the previous school year and will be used in various classes going forward.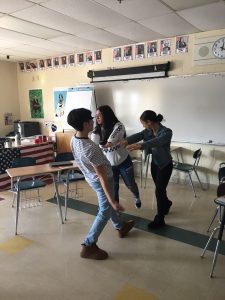 Natalie Dreyer from Trinity Repertory Company, Del Sesto Middle School resident teaching artist, has been working with students to develop vocabulary skills using Tableau, an arts-based strategy brought to the school by Turnaround Arts. The idea behind Tableau is that students use their bodies to create a living picture portraying a concept or idea. In Dreyer's class, students used Tableau to create a visual depiction of the word or concept while others guessed what it was. They discussed how some concepts could be interpreted in different ways. Depending on each person's personal experiences, the intent of the "actors" would land differently, having different kinds of impacts.