Public Art Master Plan Meeting, PVDFest Portal Live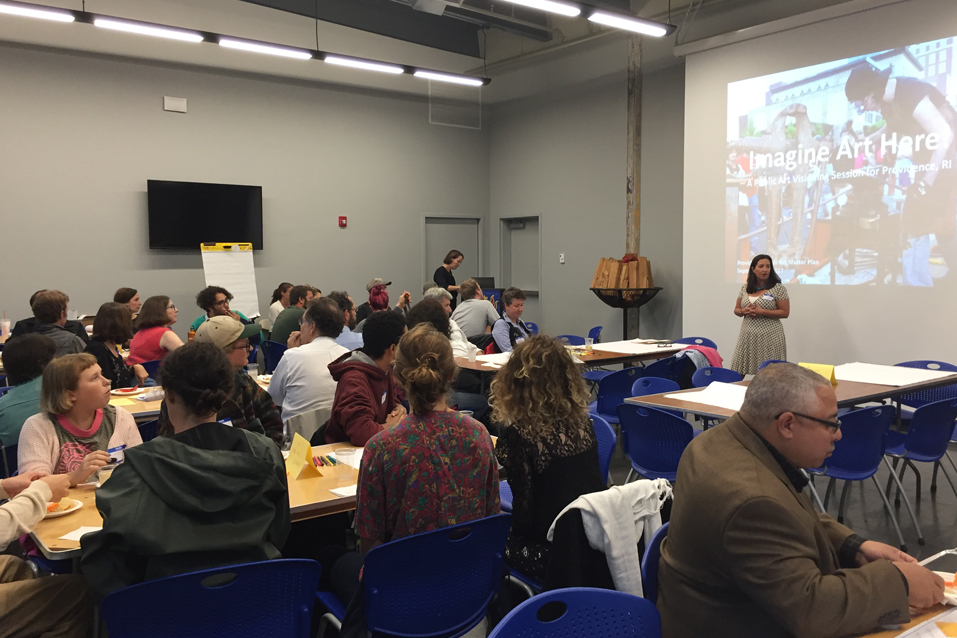 We are excited to share that our Public Art Master Planning process continues to unfold. Thank you to all 300 + respondents who completed our online survey, the 65 participants who attended our September Imagine Art Here! workshop, and the many folks on our various committees and focus groups who have provided ideas, energy and insight on the plan. You all have helped us build a vision for public art in Providence that is energizing and responsive.
Last week, our consultants at Via Partnership met with our Master Plan stakeholder advisory committee, internal city-service working group, and members of the Art in City Life Commission to share draft recommendations of the Plan. We are excited about the emerging possibilities to grow ACT's role in commissioning and supporting public art works across the City. Keep close attention to ACT's social media for our Public Art Master Plan's unveiling coming later this winter.  And, SURPRISE! We will have a major commission to announce then as well!
Speaking of commissions, our PVDFest portal is LIVE. See PublicArt@PVDFest  for our call for qualifications for public artists interested in submitting proposals work to be installed at PVDFest this June. The deadline to submit qualifications is December 18th 2017. Eight finalists will then be invited to submit full proposals, and four artists will be commissioned for $2500 works. This is a highly competitive process, so bring your A game.  We look forward to reviewing your submissions!
As always feel free to contact Gina Rodriguez, Cultural Affairs Manager with any questions or concerns: grodriguez@providenceri.gov.