Impact Story – DelSesto Middle School
Turnaround Arts: Providence is moving full speed ahead! The first quarter has ended, schools are preparing for Parent/Teacher conferences and Winter/Holiday celebrations. The Arts Leadership Teams are writing their strategic arts plans, DelSesto has created a "student" Arts Leadership Team because as on person put it "teachers should not do everything." Community Partnerships are growing; Roger Williams Middle School featured a dance workshop with Everett Dance Company featuring Sokeo Ros, the director of Case Closed.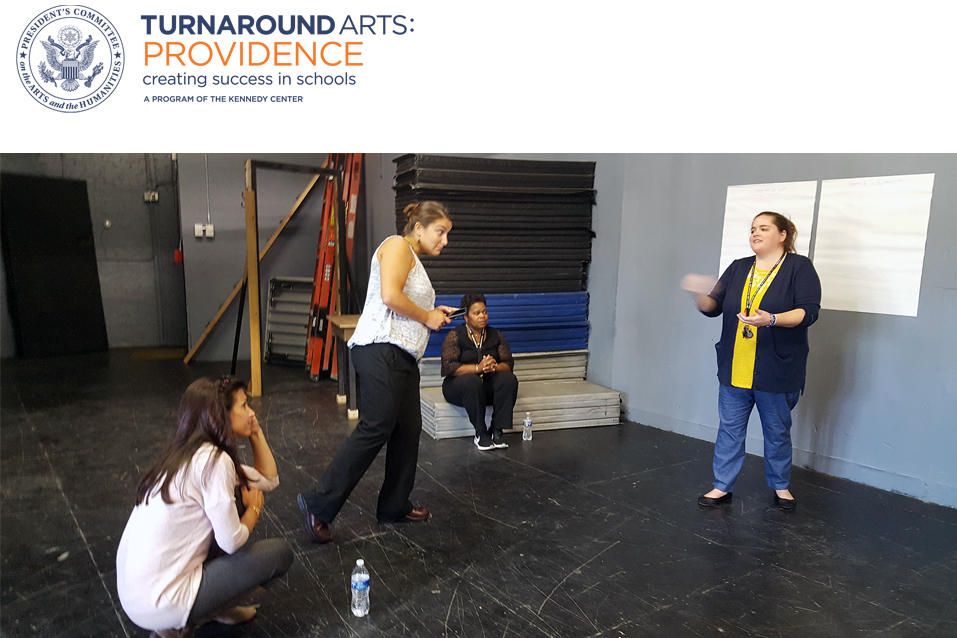 Below is an impact story from Gilbert Stuart Middle School:
The students in Mrs. Sprague's library class were studying Wonder by R.J. Palacio. To accompany the themes in the book, the teacher wanted the students to consider the types of masks people wear to help students understand the different and difficult hidden emotions or problems people may face. We started with introducing students to commedia dell'arte masks and allowed them to wear these and talk about how they felt wearing them. This concrete piece complemented Mrs. Sprague's earlier work with the students as they talked about different emotions. We took some time to work on facial expressions to demonstrate emotions. After this, students further embodied some struggles and life events using the tableau strategy. A few successful presentations over 2 class periods led to further text investigation through tableau practice.
The teacher noted that students were particularly interested between similarities and differences between the masks themselves. In discussion on the days I was there, they asked me for information about some of the commedia dell'arte stock characters who wear the masks.
After the tableau activity, I heard the student response:  "That was fun. Can we do it again?"
The teacher remarked on a notable change: A student who had been up to that point unengaged and unfocused in class, had marked positive engagement during this activity. When the masks came out and the tableau strategy introduced, Mrs. Sprague said she was surprised that this student had worn the mask and posed for a picture quite seriously, and that she was engaged in the tableau activity. Having worked with the student during the strategy implementation, I can attest to the teacher's remarks regarding the student's positive engagement during the various phases of the activity.