Celebrate Providence! 2017
Mayor Jorge O. Elorza, the Department of Art, Culture + Tourism, the Department of Parks & Recreation and the Partnership for Providence Parks are pleased to announce the 2017 Celebrate Providence! Neighborhood Performing Arts Initiative.
Mayor Jorge O. Elorza's Neighborhood Performing Arts Initiative celebrates the culture and creativity rooted in Providence neighborhoods through performances in local parks. Organizations receiving a grant to participate in the initiative this year include Opera Providence, Partnership with Providence Parks, Providence Children's Film Festival, Fargnoli Park, Stages of Freedom/Jazz is a Rainbow, the West Broadway Neighborhood Association, Family Service of Rhode Island and Project 401/Alleppo Street Park. All events are located in public parks and are free and open to the public.
---
ALEPPO PARK  |  JULY 8, JULY 22, August 5, August 19 |  1PM  |  PROJECT 401
Project 401 will be hosting their 7th Anniversary Park Jams at Riverside Park on July 8, July 22, August 5 and August 19. Project 401 is a collective of Hip Hop artists based in Rhode Island who use Hip Hop culture to engage with communities and relay positive social messages to youth. It was founded in 2010 by Jose "FaCca" Maldonado with the focus on serving Providence's underprivileged communities. The organization is consistently producing: social gatherings, performances, educational workshops, and collaborations with all aspects of the community.  By connecting with various organizations and people through the Arts, Project 401 has been able to work with teams here to bring positive outlets that in turn uplift and inspire the larger community.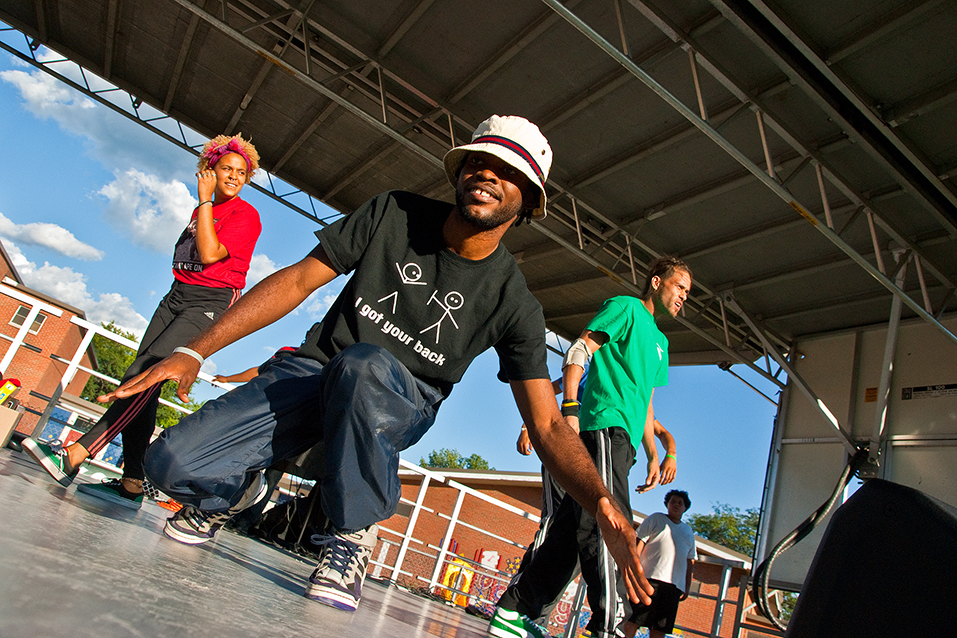 Performance by Project 401 at Harriet & Sayles | Photograph by Michael Christofaro
---
HOPKINS SQUARE  |  JULY 9, JULY 16, JULY 23 + JULY 30  |  5PM  |  OPERA PROVIDENCE
Hopkins Square hosts performances produced by Opera Providence at 5pm on July 9, July 16, July 23 and July 30. After curating the successful "Opera on the Hill" series, Opera Providence brings entertaining and family friendly favorites from their operatic repertoire to Charles Street. The weekly themes and selections will showcase music from Latin America, Italy and America while providing a festive and welcoming atmosphere to Opera fans and those experiencing the genre for the first time.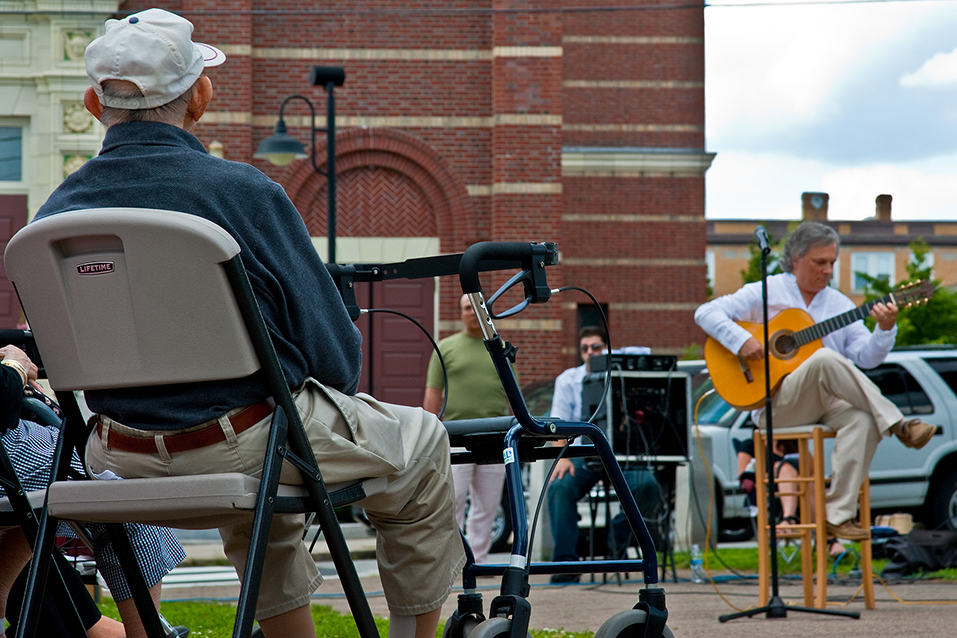 Performance by Opera Providence at Hopkins Square | Photograph by Michael Christofaro
---
Harriet & Sayles Park  | JULY 11 + july 25  |  5PM  |  family service of rhode island
Harriet & Sayles Park will host performances produced by Family Service of Rhode Island at 5pm on July 11 and July 25. Artists and performers from the community who empower audiences of all ages are slated to perform during the series, allowing audiences to experience and celebrate the artistic talents that reside in the neighborhood.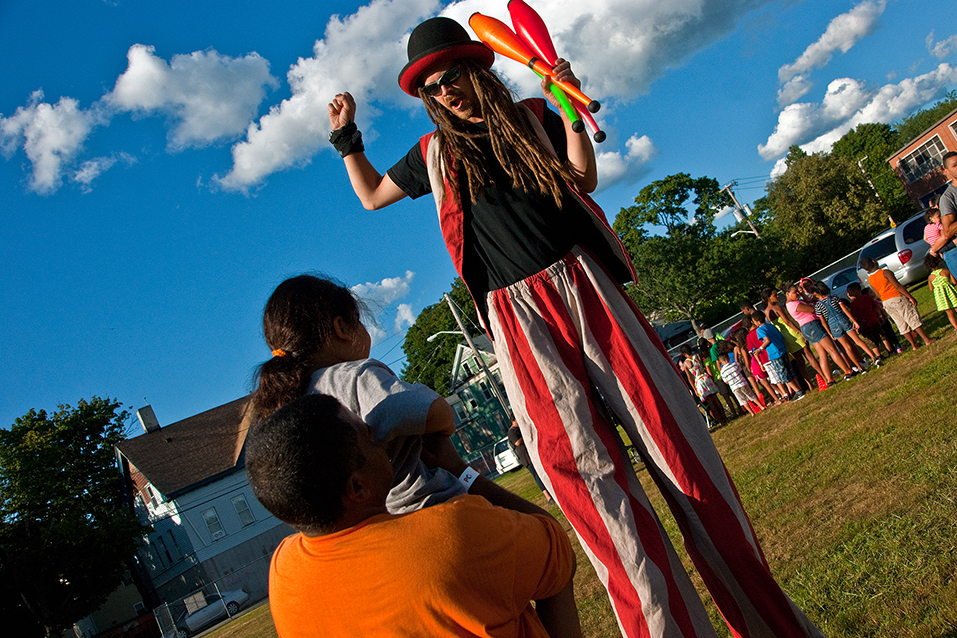 Performance at Harriet & Sayles Park | Photograph by Michael Christofaro
---
Fargnoli Park  |  JULY 11, july 18, july 25, august 22 + august 29  |  5pm  |  partnership for providence parks
Fargnoli Park hosts performances produced by The Partnership for Providence Parks at 5pm on July 11, July 18, July 25, August 22 and August 29. Each event will feature live performances from local artists, activities and a family film being screened to close out the evening.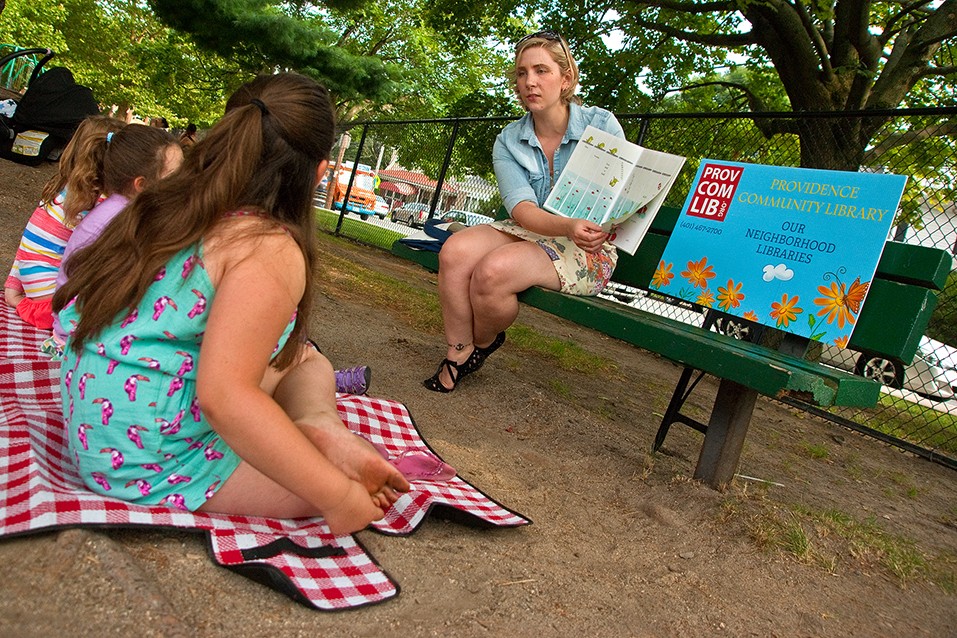 Activities at Fargnoli Park | Photograph by Michael Christofaro
---
Dexter Park  |  JULY 13, july 20 + july 27  |  5PM  |  west broadway neighborhood association
Dexter Park hosts performances produced by the West Broadway Neighborhood Association (WBNA) at 5pm on July 13, July 20 and July 27.  Partnering with Farm Fresh Rhode Island, each performance will have a farmer's market from 3:30pm to dusk while Laughing Gorilla will set up a beer garden.
On July 13, a ribbon cutting ceremony will take place at 4pm with Mayor Elorza to welcome two new additions to the park; a bocce court and chess table.  Children's chess games and prizes will follow the ceremony before Karma Band takes the stage at 5:30pm.
On July 20, Lindsay Meehan will delight the crowd performing children's music followed by KC Moaners.
At the July 27 event, the Cranston Street Armory Animated by Art project hosts a Masquerade Party beginning at 5pm. At 5:30pm, a bilingual English-Spanish adaptation of Romeo & Juliet will be performed, directed by Trinity Repertory Company's Tyler Dobrowsky.  AC+T is sponsoring this creative collaboration between Trinity Rep, Rhode Island Latino Arts, The Steel Yard, and neighborhood residents with funds from the National Endowment for the Arts.
WBNA will be selling popcorn and water on-site at all events with proceeds to benefit their organization.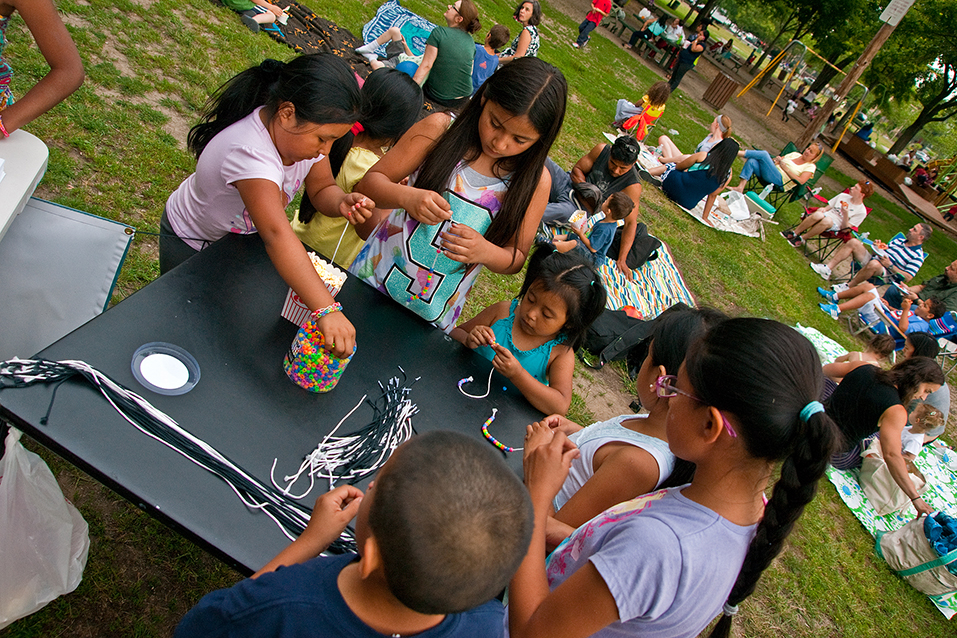 Activities at Dexter Park | Photograph by Michael Christofaro
---
Richardson Park  | JULY 29  |  1PM  | oasis international
Richardson Park hosts a performance produced by Oasis International at 1pm on July 29. The African Summer Bash will have something for everyone including food, live music, dance, games, fashion and much more!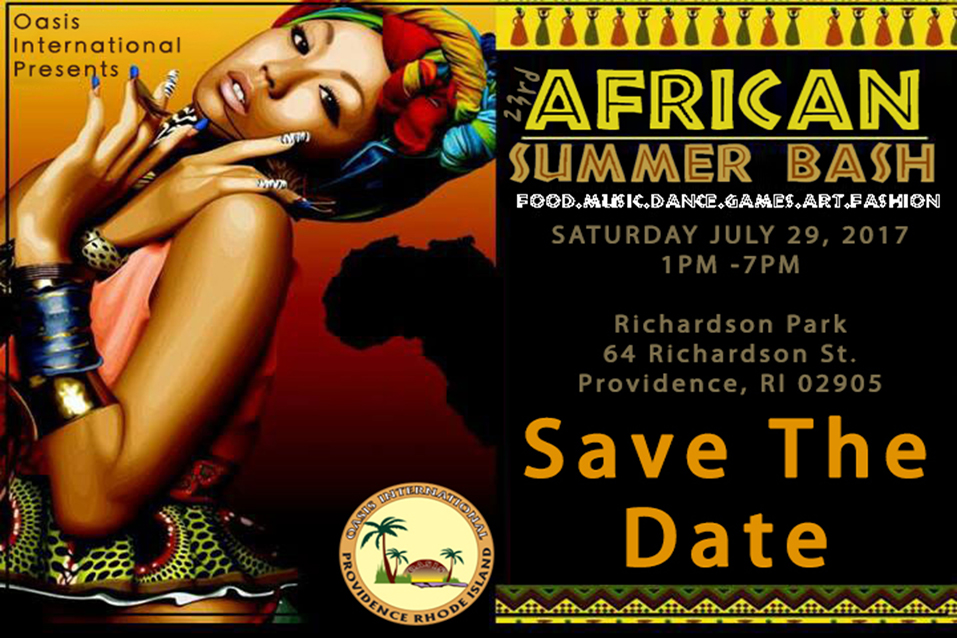 Flyer for African Summer Bash
---
various parks  |  WEDNESDAYS IN AUGUST |  7:30PM  |  providence children's film festival
The Providence Children's Film Festival (PCFF) will bring the Festival to five Providence parks every Wednesday this August at 7:30pm  in select locations. Bring your own blanket or chairs to enjoy family-friendly movies under the stars. Local youth musicians/artists will warm up the crowd with performances before the screen lights up at dusk with a special curated reel of international short films originally shown at past Festivals.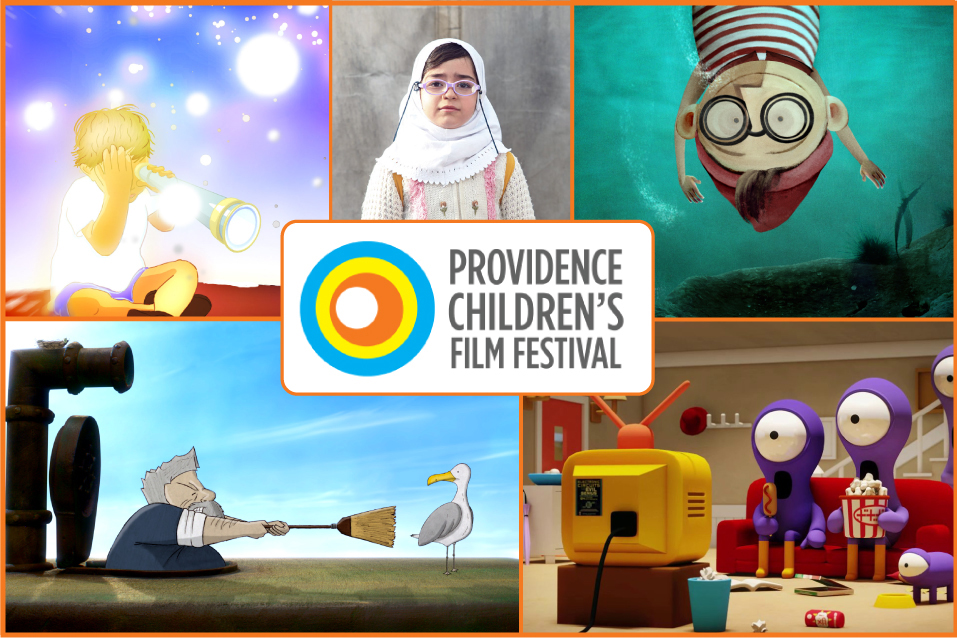 Films From Providence Children's Film Festival
---
prospect Park  |  august 10 + august 11  |  5:30PM  |  jazz is a rainbow & stages of freedom
Prospect Park hosts performances produced by Stages of Freedom & Jazz is a Rainbow at 5:30pm on August 10 & 11.  Sixteen inner-city teens from Providence schools, under the direction of Jazz is a Rainbow, will create an original musical tribute to Sammy Davis Jr. which will be showcased during the performances.  The series not only makes for an entertaining evening but also helps the Providence teens develop skills such as singing, dancing, acting and teamwork.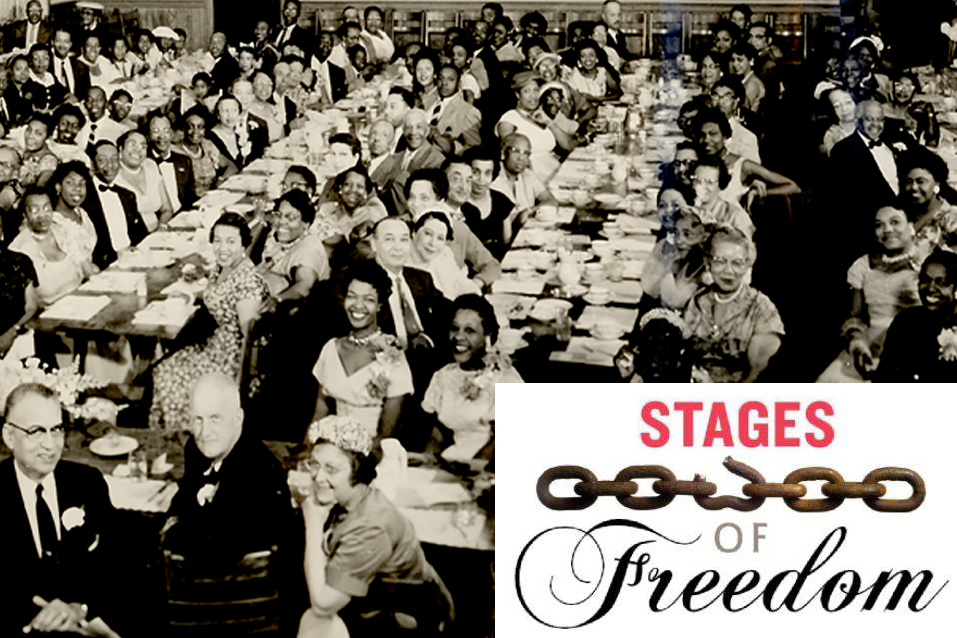 Background of Stages of Freedom Website | Photograph by Unknown
---
various parks | dates tba | the providence children's museum
The Providence Children's Museum lends imagination to the Celebrate Providence! events this summer, bringing joy and play to the neighborhoods!  Keep on the lookout for them at select events all summer.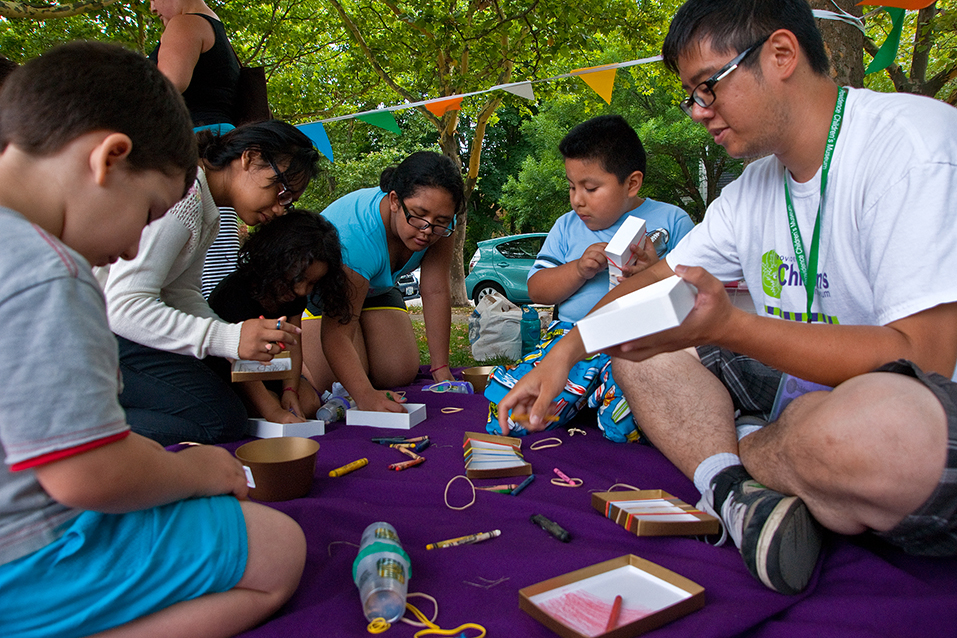 Providence Children's Museum at Dexter Park | Photograph by Michael Christofaro
---
SPONSORS
Each event we produce requires a tremendous amount of support from our partners and sponsors, without them these amazing events could not happen. Thank you for everything you do!