cranston street armory: animated by art
AC+T and cultural cartographer Christopher Johnson are wrapping up the final month of cultural asset mapping in the neighborhoods surrounding the Cranston Street Armory. The NEA Our Town Cranston Street Armory Animated by Art Project has had a quiet phase this summer wherein artists from the AC+T team (including our brilliant Public Art Fellow Ysanel Torres) have been pounding the pavement of Broad, Elmwood, Cranston, Westminster and Broadway, hearing from business owners, residents, and others about what they hope to see happen in and around the iconic "castle for the people" in years to come. We have found that many people hope to see the facility used for culture, recreation , food production and distribution, or housing. In September Johnson and AC+T will pass the torch to the State of RI's consulting group, Utile, who will be convening a small working group of stakeholders to ensure that the Armory's neighbors are part of the ongoing work on a comprehensive re-use plan.
For more on Animated by Art, check out our community page: http://artculturetourism.com/cranston-street-armory-animated-by-art/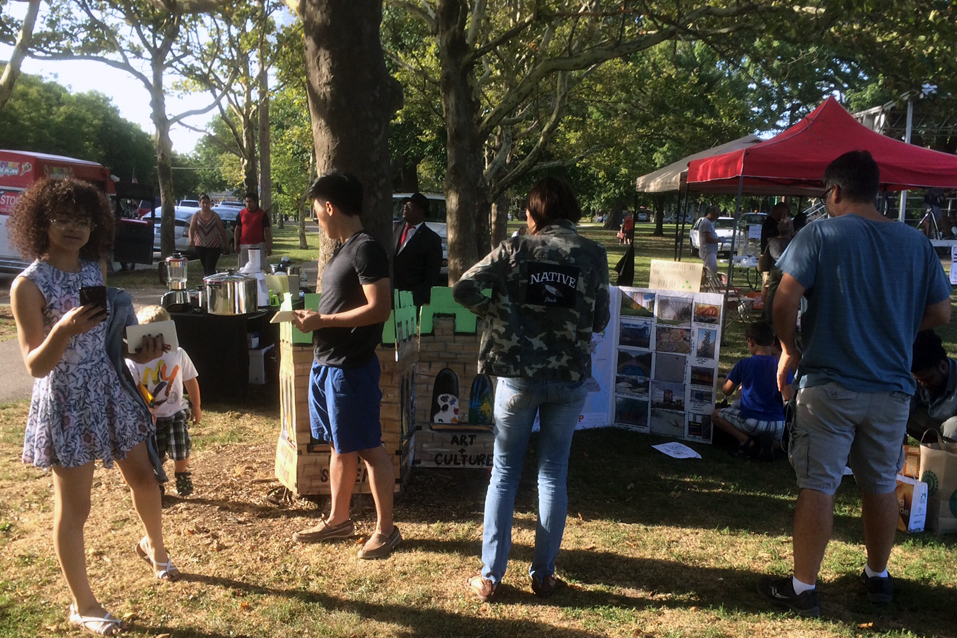 Picture caption (cultural asset mapping): Public Art Fellow Ysanel Torres and iProv intern Kevin Do discussing the Armory reuse project with neighbors at FarmFreshRI's weekly farmer's market. Cultural cartographer Christopher Johnson pictured in the background.
---
neighborhood artist-in-residence program
A new community mural is being installed on Cypress Street under the walking bridge at Billy Taylor Park through a collaboration between Community Health Innovations of Rhode Island's (CHI-RI) Mt. Hope Empowerment Dialogue for Community Action program, the Mt. Hope Young Women's Group, and local artists. The mural is part of a larger oral history project led by CHI-RI, highlighting the stories and recollections of life-long Mt. Hope residents and intended to reflect the neighborhood's history in order to inform the present and inspire the future.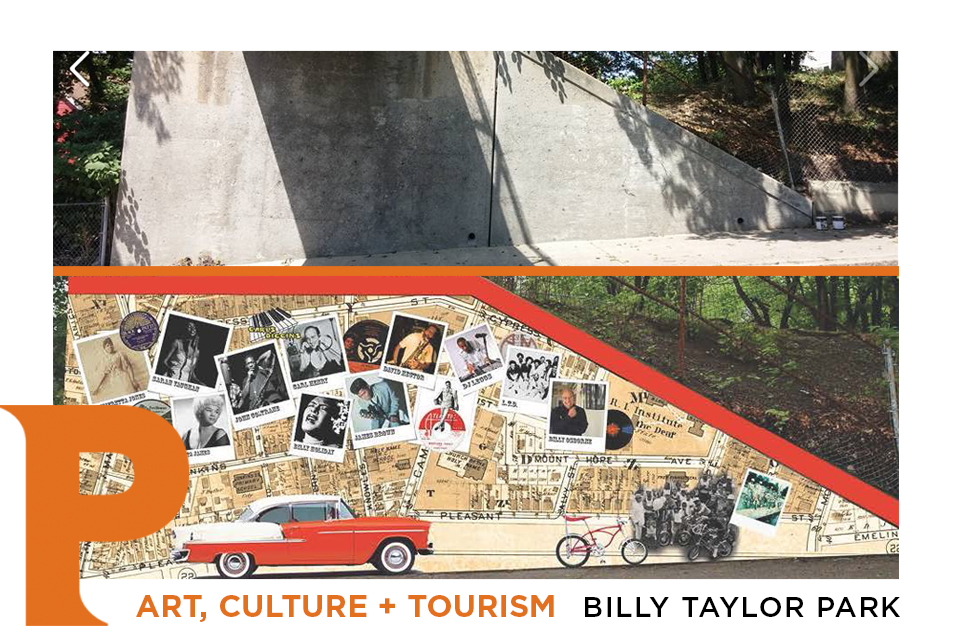 The original concept of the mural (mock up pictures above) came from spoken word artist and muralist Hannah Resseger, who is also the Program Director at Mount Hope Learning Center. Hannah is joined by Cathren Housley, a community artist, and Elijah Faris, a graduate of Hope High and now a student at RISD. The mural design was informed by a survey and interviews of community members. The final design selection was chosen by many who contributed to the concept design and others in the community.
You can follow the progress of the mural on the Stories of Mt Hope/East Side Facebook page .
The mural will be unveiled at an event on September 16th at 4pm at Billy Taylor Park. Come for oral histories and storytelling performances from actress Sylvia Soares and others.  The event is free and all are welcome!
Funding for this project came in part from the City of Providence Department of Art, Culture and Tourism's pilot Neighborhood Artist-In-Residence Program, a new initiative designed to support community-based organizations to pair with an artist to address community driven projects.