The Main Gallery at Providence City Hall was created to showcase the work of local artists. It is open to the public during City Hall business hours: Monday to Thursday, 8:30am to 4:30pm and is located on the second floor.
Offering space to artists and organizations that might not have a permanent gallery, the Main Gallery at City Hall exhibits an eclectic array of work that highlights the artistic and cultural diversity found in the Providence community.
---
Now On View:
PLURAL: Recent Paintings and Digital Images by Willa Van Nostrand and Ben Sisto

May 18, 2023 – August 15, 2023
Opening Reception May 18, 2023 – 4:30pm – 6:30pm
EXHIBITION STATEMENT:
The word plural , rooted in the Latin pluralis , refers to a person or thing's status as belonging to more than one; belonging to many. We also describe the fractional as plural—between zero and one, there exists an undefined, potentially infinite many. Willa Van Nostrand and Ben Sisto are each artists who, in different ways, are investigating this space—the meanings of authenticity and belonging within the context of infinity. Less about what plural is exactly; more what it feels like.
Willa Van Nostrand's recent paintings evoke the visceral plurality of brushstroke, gesture and the associative meanings of each work. Is it a praying mantis? A butterfly? A palm tree? Or perhaps, a mental scan of everything you've ever experienced. The answers, she prefers to leave up to the viewer.
Ben Sisto's September, Rhode Island uses generative AI tools to produce images from text-based prompts, drawing on the technical language of photography, natural science, and with loose reference to science fiction. Over the course of a year, a total of 576 images are being created and dedicated as public domain.
ARTIST BIOS/STATEMENTS:
Willa Van Nostrand (b. 1987) Willa Van Nostrand is an interdisciplinary artist, curator and mixologist working in Providence, Rhode Island. She works across painting, sculpture, performance and taste to engage the associative realm of the viewer's mind. Willa has a BA in Theatre and Visual Art from Sarah Lawrence College and studied intaglio etching at Il Bisonte Printmaking Studio in Florence, Italy. Willa has worked with RISD Museum, Peabody Essex Museum and Light Space Studios in New York. She founded World's Fair Gallery and Little Bitte Artisanal Cocktails, a garden-to-glass cocktail company in 2010. Willa's projects have been featured in Vogue, Victoria Magazine, Art New England, CherryBombe, The Boston Globe and Salad for President. She is a staff writer for edible Rhody and Serious Eats. She lives and works on the Westside of Providence and can be reached at willavannostrand@gmail.com.
Ben Sisto (b.1980) is an artist and dad living in Providence. He is curator of the Permanent Collection series at Paper Nautilus Books, received a Rhode Island Council for the Humanities grant in 2022, and his Rhode Island QSL Archive was acquired by the Providence Public Library after being exhibited at AS220 earlier this year. In 2019, a documentary recapping his research on the origins of the song Who Let the Dogs Out premiered at SXSW. His personal and work-related projects have been covered by The New York Times, Boston Globe, Fast Company, Vice, Variety, and others. You can email him at ben.sisto@gmail.com.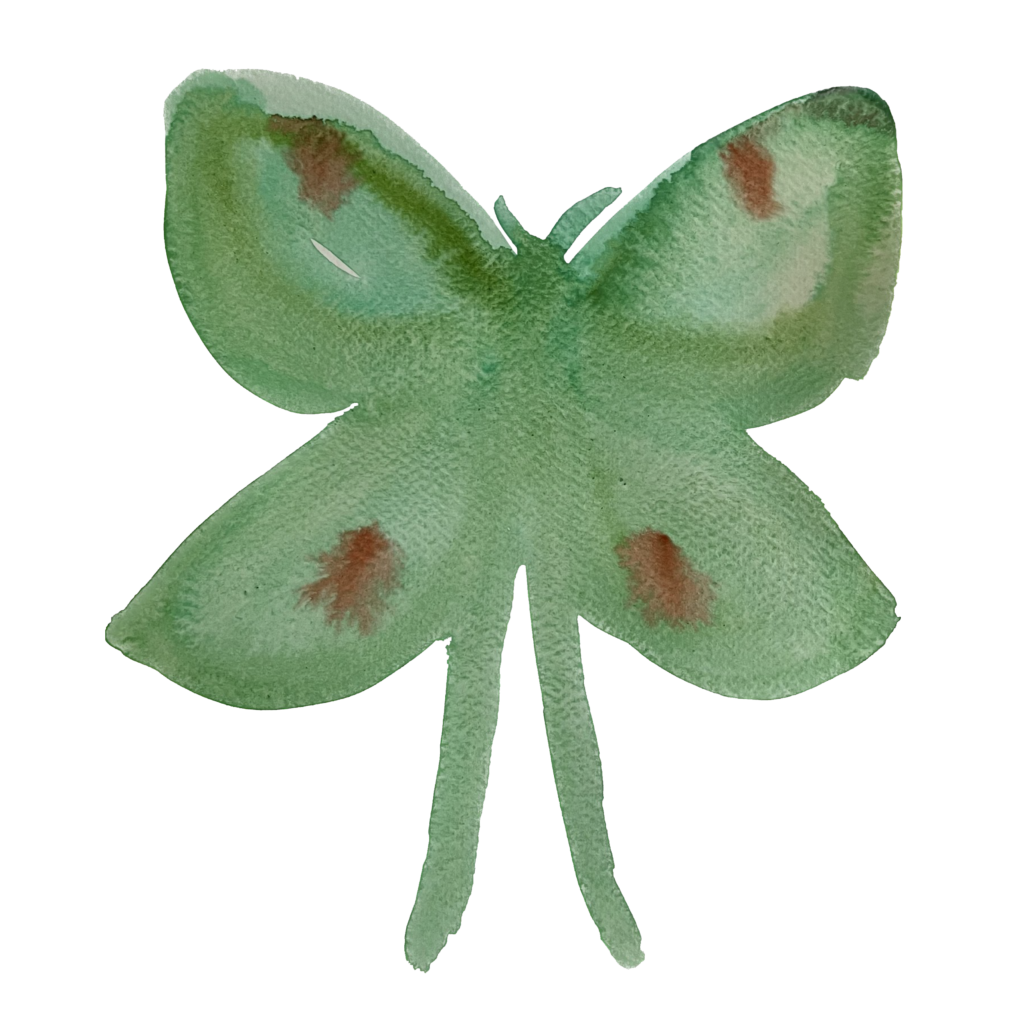 ---
Previously On View:
Infinite Spring: New Works by Ryan Dean and Lara Henderson

March 13, 2023 – May 17, 2023
Opening Reception March 20 – 4:30pm – 6:30pm
EXHIBITION STATEMENT:
The concept of "eternal spring" ties together Ryan Dean and Lara Henderson's work for their two
person show at The Gallery at City Hall in Providence. Colorful and playful, both artists explore the
cyclical nature of transition. In this show, we see the change of day to night, water to earth, and
explosions of color.
Henderson's fabric pieces are silkscreen-printed on denim. The three main tapestries are in a
transitory state; after this show each panel will be constructed into a different garment. Also on
display is a drawing of a new piece at a larger scale as well as a repeating pattern printed with
relief blocks.
Ryan Dean's compositions activate and explode the world of his brand, LUMUKU. In his paintings
he investigates the characters in scenes that break out of spot colors and into expressionism. With
these images, he aims to spread joy, whimsy, and nostalgia.
Artist Statements/
ARTIST BIOS/STATEMENTS:
Lara Henderson is a book artist, printmaker and designer based in Providence, R.I. She is a
member of faculty at UMass Dartmouth and Stonehill College. Her work consists of prints both on
paper and fabric as well as digital art.
Lara has a BFA in Graphic Design from UMass Dartmouth and an MFA in Book Arts/Printmaking
from the University of the Arts. She managed the AS220 Printshop in Providence, R.I., from 2011 to
2014 and is a current keyholder member of the AS220 Community Studios.
Ryan Dean is the entrepreneur of LUMUKU, a series of language learning games. In addition to
creating cute designs for games, he is a teacher by day, artist by night, and world-explorer for life.
He is a polyglot, printmaker, ceramicist, and prolific curator who has brought multitudes of people
together through exhibitions and projects.
Ryan is a graduate of Bates College with a BA in Visual Art and German Studies and received a
masters in Holistic Counseling from Salve Regina University. He is currently a resident of AS220
and a key holder of the AS220 Community Studios.
Ryan and Lara have been making work alongside each other for thirteen years as key members of
the AS220 Printshop, where they also met.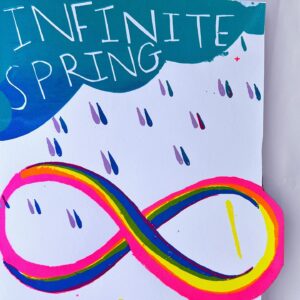 ---
The George Stinney Project

October 20, 2022 – March 16, 2023
Opening Reception October 20, 2022 – 4:30pm – 6:30pm
This exhibition has been extended to a March closing
EXHIBITION STATEMENT:
This exhibition of prints explores the 13th Amendment, convict leasing, and the radical push to disrupt the silence of anti-Black history.
ARTIST BIOS/STATEMENTS:
Baub (pronounced Bawb) Bidon is a Haitian/African American poet, actor, writer, playwright and sometimes comedian. Inspired by Ngoma, Gil Scott Heron, Saul Williams, and several well-known poets from the Harlem Renaissance era such as, but not limited to, Langston Hughes, James Weldon Johnson and Paul Lawrence Dunbar. Bidon fuses hip hop, jazz and blues into performance poems and short stories producing a unique flair. Among his achievements are participating in the Blackout Arts Collective and the Connecticut Slam Team in 2012 in addition to serving as a member of the National Association for Campus Activities (NACA). Above all, Baub is the founder of Free 2 Spit, an open mic venue in New Haven, CT est. 2004, a venue that many artists over the past eighteen years have been grateful to call a home and performance hub. Bidon has featured in numerous music videos, films, plays and publications over the course of his career, most recently staring Jesus and other significant characters for a slew of plays produced by Incarn Live Virtual Theatre, written by Kenya Cagle and directed by Michele Hawkins Jones. Further relevant credits include Another Earth, Home Coming, Men in Black II, King Lear, and Jesus Hops the A Train.
Jacques Bidon is a commercial printer who left the world of cutthroat deadlines to work with artists and designers. Sharing his love of offset and letterpress printing is a blessing; he believes in the power of printing to change just about anything. If you have a print project you would like to work on, you can contact him at ​Jacque.Bidon@gmail.com
Marco A. McWilliams is an educator and public scholar of African-American history. He is the founding instructor of a community-based Black Studies Freedom School in Providence. This free political education project focuses on providing theoretically grounded and engaged historical instruction for members of Providence's diverse communities.
WORKS ON DISPLAY:
Jacques Bidon and Marco McWilliams – Lamentation from Below (letterpress and offset lithography)
Jacques Bidon and Marco McWilliams – Dark (letterpress and offset lithography)
Jacques Bidon – Fingerprints (offset lithography)
Jacques Bidon – Untitled (offset lithography)
Jacques Bidon and Baub Bidon – Run Away (letterpress)
Jacques Bidon and Baub Bidon – Alone (letterpress)
Jacques Bidon – Corm Nobis (letterpress)
Jacques Bidon – We Are Our History (letterpress and offset lithography)
Jacques Bidon – No Man-made Chains (letterpress)
Jacques Bidon – Black Consciousness (letterpress and offset lithography)
Jacques Bidon and Marco McWilliams – Convict Leasing 1 (letterpress and offset lithography)
Jacques Bidon and Marco McWilliams – Pain Unseen (letterpress and offset lithography)
Marco McWilliams – The Silence of Anti-Black History (historic timeline with reproductions of archival documents)
---
New Wine in Old Wine Skins: Quilts, Samplers, and Other Experiments by Ian Cozzens and John Chamberlin
August 18, 2022 – October 19, 2022
Opening Reception August 18, 2022 – 4:30pm – 6:30pm
EXHIBITION STATEMENT:
Patching, mending and re-imagining old forms anew comes naturally to Ian Cozzens and John Chamberlin. In "New Wine in Old Wineskins," the artists use quilted fabric to re-tool well-loved patterns and explore newly discovered visual motifs. In developing the exhibition's title, Cozzens and Chamberlin were interested in the Christian parable in which Jesus, instructing his followers not to try and adapt their old pre-Christian ways to his new teachings, tells them not to put old wine in new wineskins. The artists disagree, suggesting with this exhibition that "of course it's a good idea to patch old clothes, combine old and new fabrics, try putting new ideas into old forms … go ahead, explode it!"
JOHN CHAMBERLIN ARTIST BIO/STATEMENT:
John Chamberlin has been inspired by the many makers in his family. He received a BA in Crafts (ceramics + textiles) at California State University, Los Angeles (CSULA) 1971 and taught at the elementary level for ten years in Hawaiian Gardens, CA, until retiring from public school teaching June 1982. He then returned to CSLUA to earn an MA in Art Education before heading to the University of Arizona (UA), Tucson for a doctoral program in Art Education.  In the summer of 1987 Chamberlin accepted a full-time faculty position at the Rhode Island School of Design (RISD).  After thirty-one years in RISD's Department of Teaching and Learning in Art + Design,  he retired in June 2019.
Upon moving to Rhode Island, Chamberlin began working in clay, making ceramic tiles during off hours, and his work in tiles was influenced by the geometry of historic quilt patterns. Around 2014 he began taking lessons and have since made over 120 quilts, most of which he donates to Rhode Island Child Family Services to be given to foster children. Since retiring and devoting more of his time to quilting, Chamberlin has established and directs the Quilt Ministry at Grace Episcopal Church. "The quilt making process has filled me with a renewed purpose. The pieces on display demonstrate a different direction for me.  I am currently working with photography, altering the image with software, digital printing on fabric, then using traditional quilt block patterns for a new look. The content is all about Downcity Providence."  To view a partial archive of Chamberlin's quilts, visit his website: johnchamberlinquilts.com.
IAN COZZENS ARTIST BIO/STATEMENT:
Ian Cozzens is an artist and educator from Providence, Rhode Island. He has made quilts, shelves, gardens, wallpaper, spaces, sculptures, and many drawings and prints… and he's currently fixing up a non-zero number of sailboats. He works as the Resident Artist Mentor in Printmaking at New Urban Arts, a drop-in art studio for high schoolers. Ian is a queer man, a sailor, and a Scorpio.
You can probably find Ian thinking or talking about cities and buildings, perceptions of gender, sharing power, letterforms, perspective drawing, non-hierarchical projects, urban coastline access, getting your hands on the material world, beauty, and the malleable and/or arbitrary nature of reality.
Ian rides a bike everywhere, and feels most connected to his own existence when at the tiller of a small boat under sail.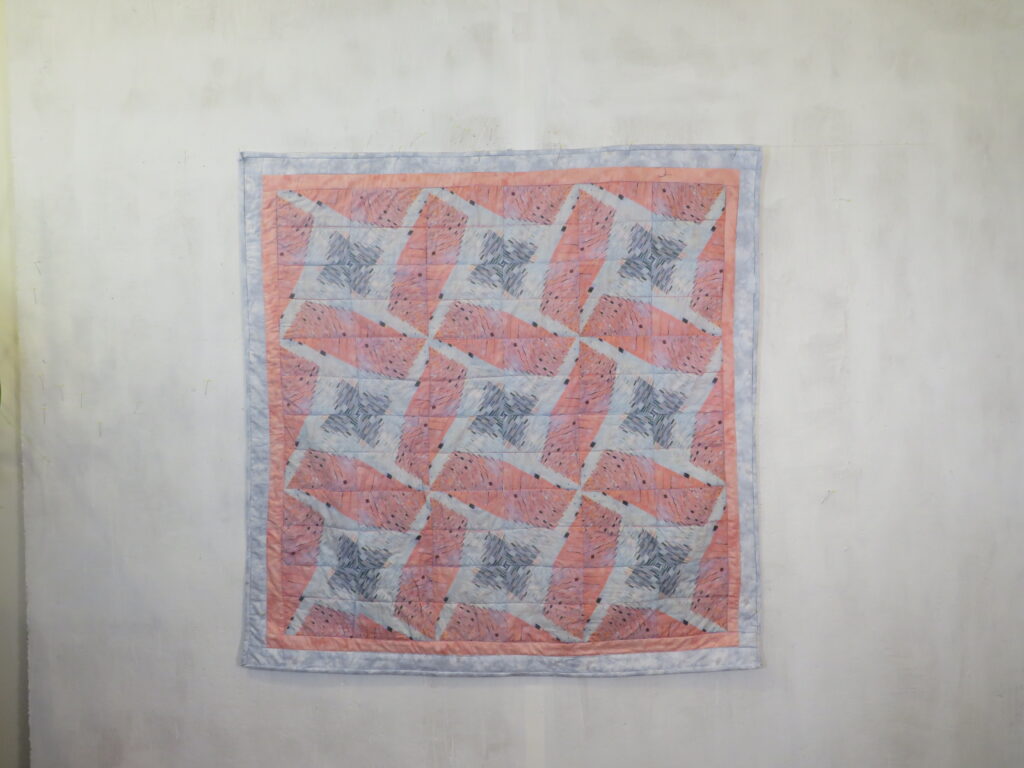 New Wine in Old Wineskins_Gallery Guide
---
Off The Court – Footwear Design, Style, and Cultural Expression at Providence Recreation Centers
October 21, 2021 – January 19, 2022
Opening Reception October 21, 2021 – 4:30pm – 6:30pm
EXHIBITION STATEMENT:
Providence Recreation Centers are celebrated for their fantastic sports programs. Youth of all ages, 5-18, participate in basketball, football, dodgeball, and boxing, but sports aren't the only activities taking place at the Recs. Rec youth are always exploring design, art-making, and other creative pursuits right alongside the court. This exhibition showcases work made during the summer of 2021 at seven different Rec Centers in the City. In collaboration with the staff at the Partnership for Providence Parks, RISD Museum artist/educators visited the Centers and worked with young artists to design shoes that represent their personal style. While some artists took their work home, others shared one shoe with RISD and one with the Rec Center where it was created. You might say these match pairs straddle the entire City. Our display of RISD's collection at City Hall celebrates the creativity and artistry of young people in Providence and highlights the excellence of our Rec Center staff and their collaborators.
For the opening of the exhibition, the Partnership has curated interactive stenciling by Levi G. Kase outside of City Hall.
P3 ARTIST BIO: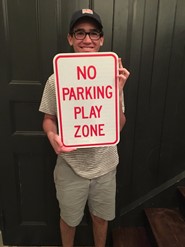 Levi Kase grew up biking and walking on the streets of Providence. As he navigated childhood, he thought about how cool it would be to turn the city's streets into a board game. "I thought it would be so much more fun to hop, skip, jump, spin, and run to and from school and afterschool activities!"Stenciled, painted sneakers leading the public from the street to the gallery show "Off The Court-Footwear Design, Style and Cultural Expression at Providence Recreation Centers" at City Hall, is but one example of Levi's continued use of imagination and creativity to invite the people of Providence to experience and participate in art.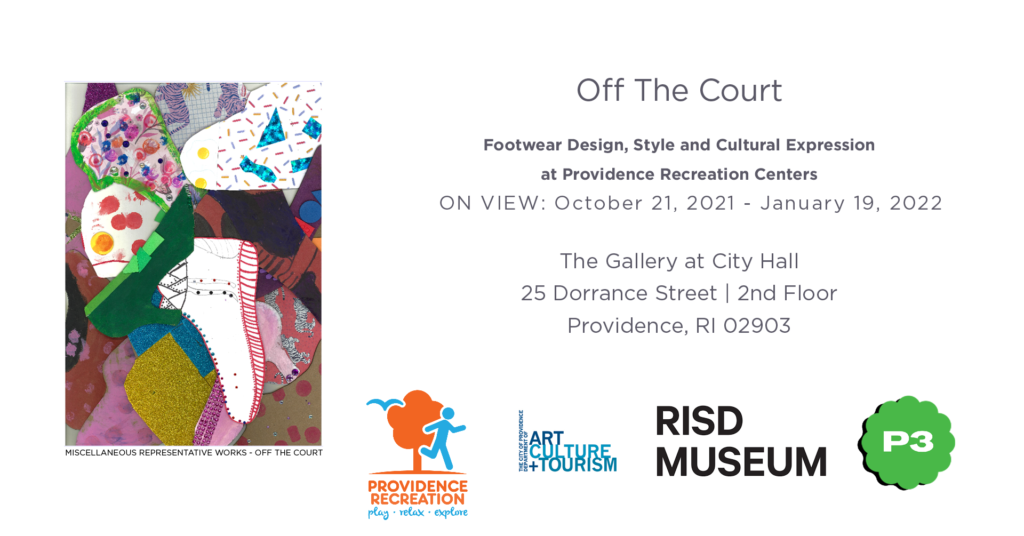 ---

After Times – Photographic and Mixed Media Works by Nathan Gomes and Peter Fortin
August 19, 2021 – October 20, 2021
Opening Reception August 19, 2021 – 4:30pm – 6:30pm
CURATORIAL STATEMENT:
What does it mean to be in the moments when the thing ends? Whether it is the club, the show, the sunset – and hopefully the pandemic – how we visualize hope and also despair and regret that we feel as the seasons shift will carry us in ways that the ecstasy or fear of being in the time before will not.
ARTIST STATEMENTS/BIOS:
"It was about five years ago when I became interested in photography, and it all started with cotton candy skies. The way the sky would change colors during sunsets is what really caught my attention. I began to photograph the pink, purple, yellow, and orange skies and later expanded my focus and photography on other subjects. My love for sunsets will never fade away, and for that reason, my photos are usually very vibrant. Through a majority of these photographs, I tried my best to showcase our state's capital, the beautiful city of Providence. I also tried to capture the everlasting memories of pre-pandemic trips, including New York, Tobago, and Colombia. As a photographer, I attempt to travel and see the beauty in all things and places. In this series of photographs, your eyes will go on a visual experience of the lovely city of Providence and other destinations I've had the pleasure of visiting." – Nathan Gomes
Peter Fortin is a Providence-based art director and graphic designer. During the pandemic he used his free time to start creating significant personal works of art for the first time in years. Through wheat paste, vinyl and ink he uses his knowledge of composure and color theory to actualize the creative experiments he sees in his mind. "I just like to make things I think I've always liked to make things whether it be food or gin or art or photographs. I've always liked having my hand in the way things look, taste and feel. There's not much more in life that gets me more excited than that." You can see more of Fortin's artwork via @peterfortin on Instagram.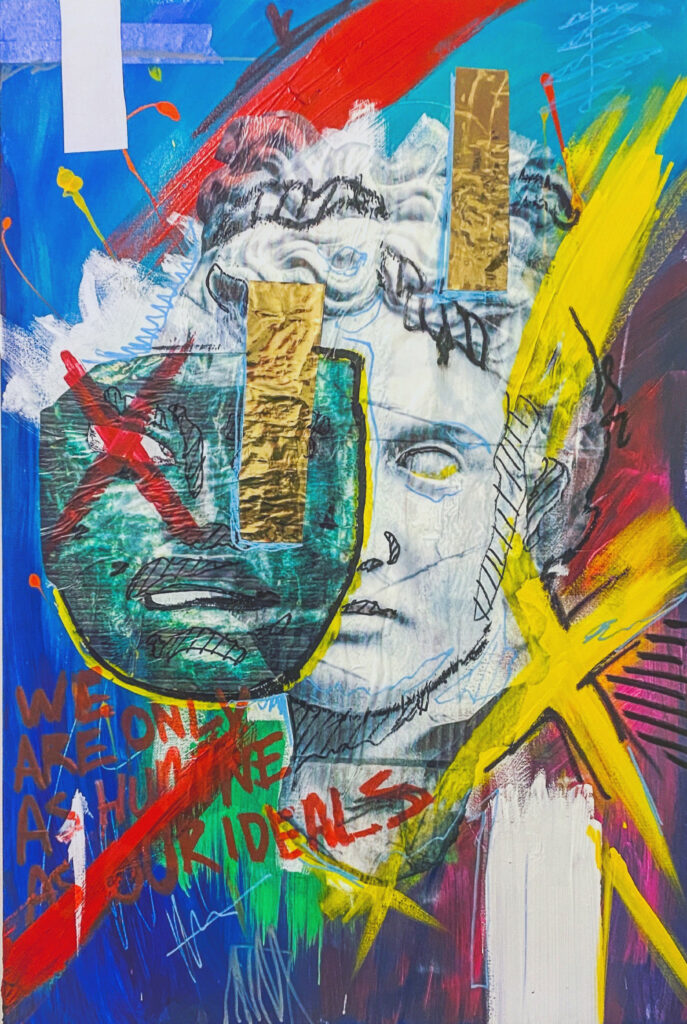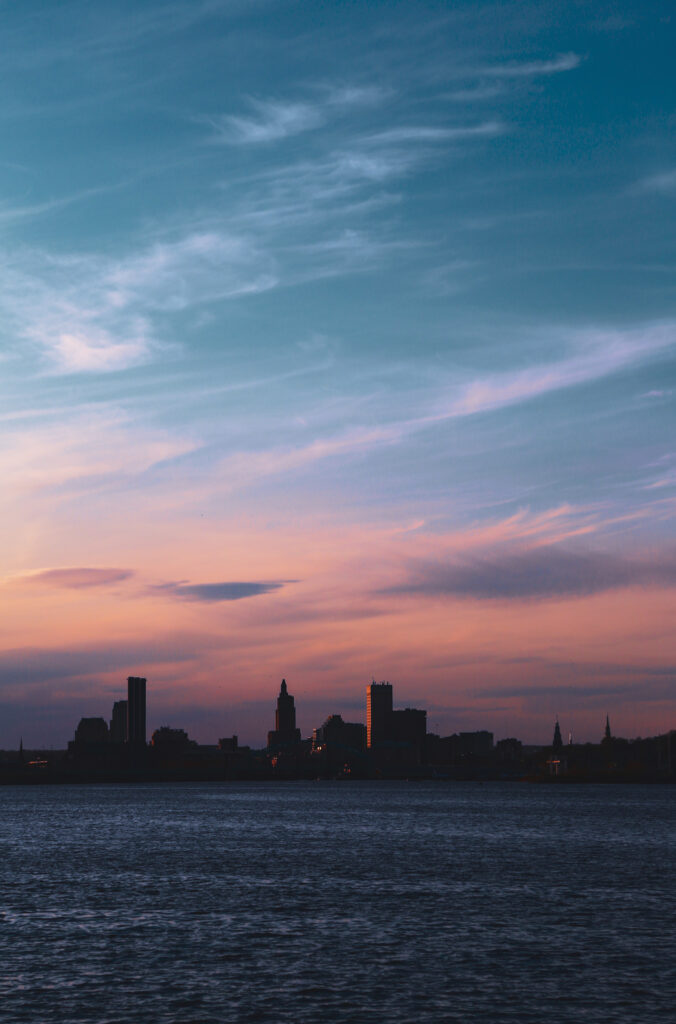 ---
$10 Dreams: Multimedia Works by Paris, Blue Gregor, Brian Denzel, N0notnothing, Will James, Nigel Mackenzie
May 20, 2021 – August 18, 2021
Opening Reception Cancelled due to COVID-19 Emergency
EXHIBITION STATEMENT:
This exhibition is a debut snapshot of the $10 collective's overall artistic direction. Artworks included represent the ideology and creative universe in which the $10 collective finds itself exploring. Most artworks collaborations between multiple members of the collective and are created during time spans as short as a single night and as long as three years.
CURATORIAL STATEMENT:
$10 is a collective of multi-disciplinary Rhode Island artists whose works spotlight contemporary modes of research like independent citizen journalism and curation and expressive media like photography, couture apparel design, painting and more. The $10 collective is focused on cultivating new ways to engage in grassroots activism, community engagement, and fine art.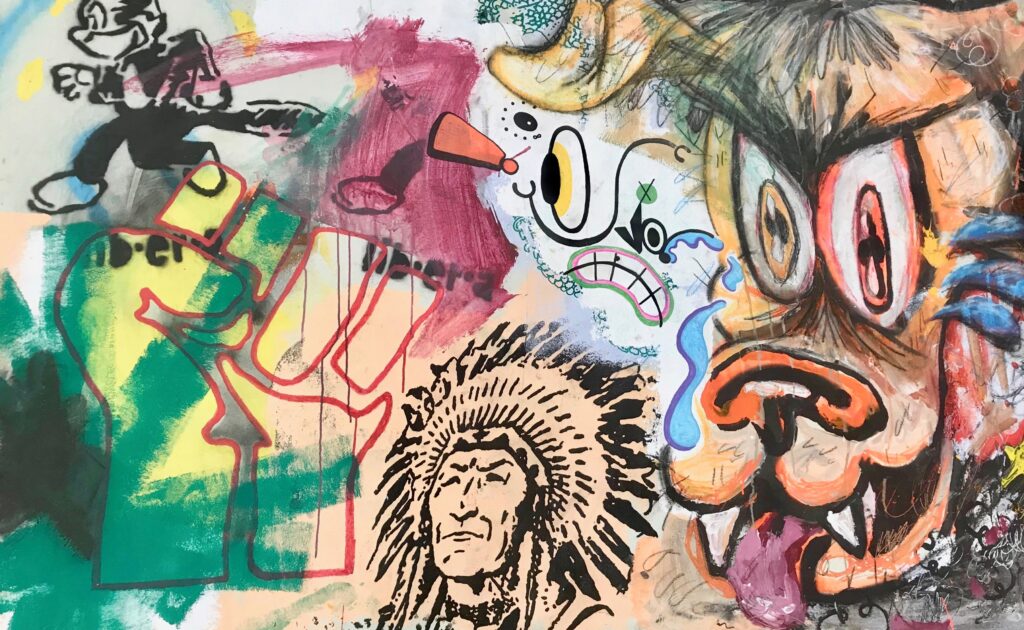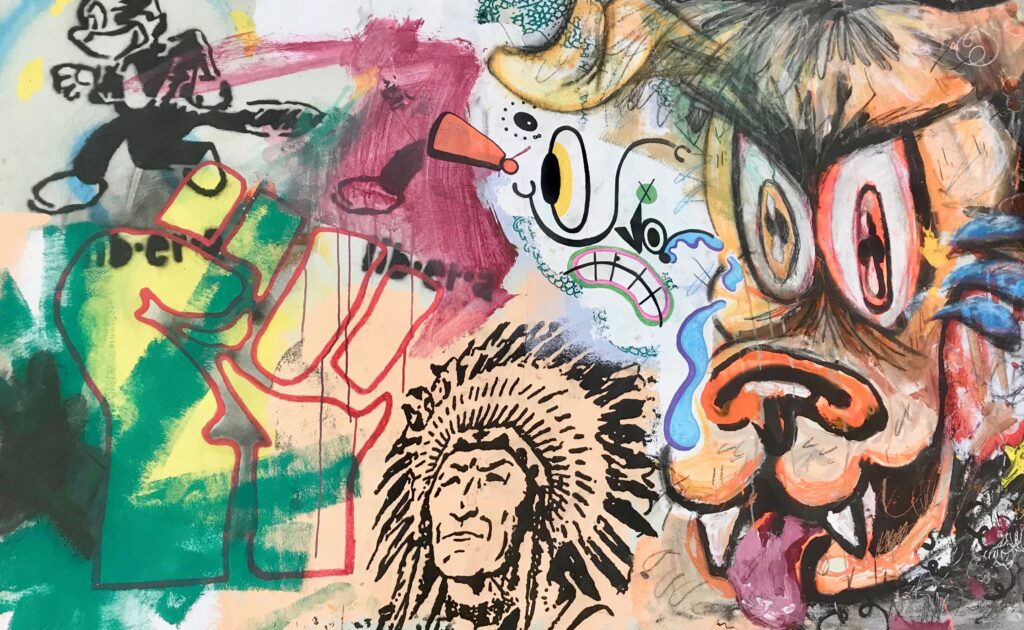 ---
Livable RI Poster Campaign
Presented by the Civic Alliance for a Cooler Rhode Island and the City of Providence Department of Art, Culture + Tourism
March 18, 2021 – May 20, 2021
Opening Reception Cancelled due to COVID-19 Emergency
EXHIBITION STATEMENT:
These posters call out for a civic alliance to reverse global warming. They echo the art that built community around wartime efforts, especially those produced by the United States Food Administration during World War I. The substitution of Secretary of the Future is Kurt Vonnegut's idea that government must better account for long-term interests of future generations. The Livable RI seal indicates the place of origin with cattails representing local flora at the edge of our coastline in this vulnerable state.
The art work was generously donated by local artists and professionals eager to be part of a transformative civic response to the ominous threat of a changing climate. The artists include Irene Allen, Jim Bush, Bob Chatham, Lucy Handy, Mimo Gordon Riley, Janet Downing Taylor, and Edith Vonnegut. The project manager was Paul A. Roselli and the artistic director was Janet Downing Taylor. The concept was developed by Seth Handy with valuable contributions by many volunteers.
CURATORIAL STATEMENT:
The Civic Alliance for a Cooler Rhode Island is a Rhode Island grassroots volunteer organization which assesses, informs, and activates efforts to reduce greenhouse gas emissions in or attributable to Rhode Island. CACRI is philanthropic and includes promoting social learning about climate change, including especially the need to reduce greenhouse gas emissions, improving the commonweal, and protecting the environment and the functioning of the ecosystem. We continue to look for volunteers and donors for many of our position papers and projects. For more information, visit livableri.org/about.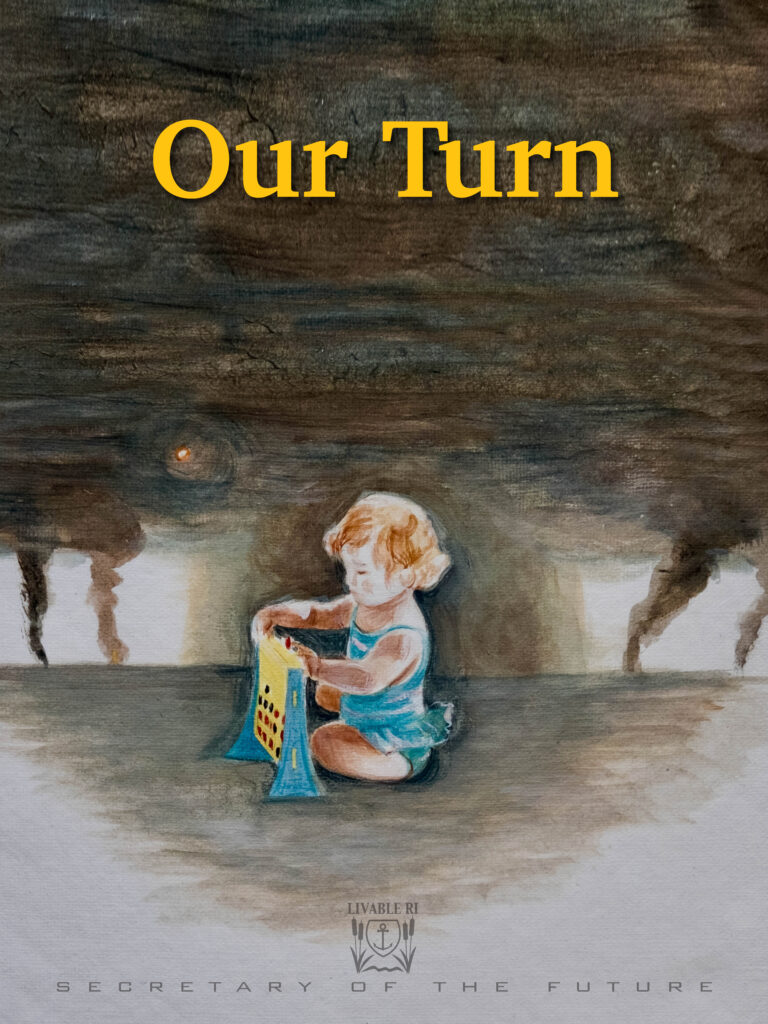 ---
Natural Wonders: Works by Deborah Spears Moorehead and Matt Tracy

January 21, 2021 – March 17, 2021
Opening Reception Cancelled due to COVID-19 Emergency
EXHIBITION STATEMENT:
Humans and animals, humans and rocks, humans and city streets – they all have the potential to be in more right relation to each other. Human actors might learn to get in these right relationships by practicing care in new ways. Deborah Spears Moorehead and Matt Tracy practice just such care. Their care is evident in the landscapes they depict—in the places where the impressions made by humans are illuminated and analyzed—but also in the places where non-humans leave their marks. The idea of the natural in the title "Natural Wonders" challenges audiences to think about blurring the boundary between the "natural world" and everything else. The exhibition celebrates the wonderment of an expanded nature that harmonizes the built environment, and all products of human ingenuity, without sacrificing animals, plants, waterways, mountains, and other non-human actors.
DEBORAH SPEARS MOOREHEAD ARTIST BIO:
Deborah Spears Moorehead owns and directs Painted Arrow Studio Talking Water Productions where she teaches, exhibits art, and creates prints, greeting cards music CDs, fragrances, soaps, and Native American clothing. She also owns Good Energy Coffee roasters. Spears Moorehead is honored to be the 2020 recipient of the Princess Redwing Arts and Culture Honor from the Tomaquag Museum in Exeter, RI. For over thirty years she has educated diverse publics on Native American subject matters through art, literature, lectures, and music. She holds a Bachelors of Fine Arts from Swain School of Design and a Masters in Arts in Cultural Sustainability from Goucher College.
Spears Moorehead is Seaconke, Pokanoket, Wampanoag, and descends from Chief Sachem Massasoit, who befriended the Pilgrims in Plymouth, Massachusetts in 1620, and saved their lives through their first winter. Spears Moorehead authored the book Finding Balance: The Genealogy of Massasoit's People and Oral and Written History of the Seaconke Pokanoket Wampanoag Tribal Nation, published by Blue Hand books and available through Amazon. This narrative dispels many negative biases and stereotypes regarding Native American culture and history and offers a Wampanoag perspective on America's history.
Spears Moorehead's art can be viewed at codaworx.com, deborahspearsmooreheadwampanoagartist.com and on her Painted Arrow Studio Talking Water Productions Facebook page. Her work is available for purchase in the form of originals, prints, greeting cards or tee shirts. Call Painted Arrow Studio Talking Water Productions at 401-301-3691 for a quote, e-mail dspearsmoorehead@gmail.com or paintedarrow2@yahoo.com
MATT TRACY ARTIST BIO:
Matt Tracy is a Providence-based visual artist engaged in painting, map-making and mixed media 3D installation art, with a parallel career in the world of plants, farms, community organizing, and building things. In Tracy's recent work, he has focused on psychohistorical cityscapes that might serve to map the collision of local ecosystems and human history. Tracy can be contacted with purchase inquiries at marsfarmer75@gmail.com and his work can be viewed at matttracyart.com and on Instagram: @matttttttrrrracy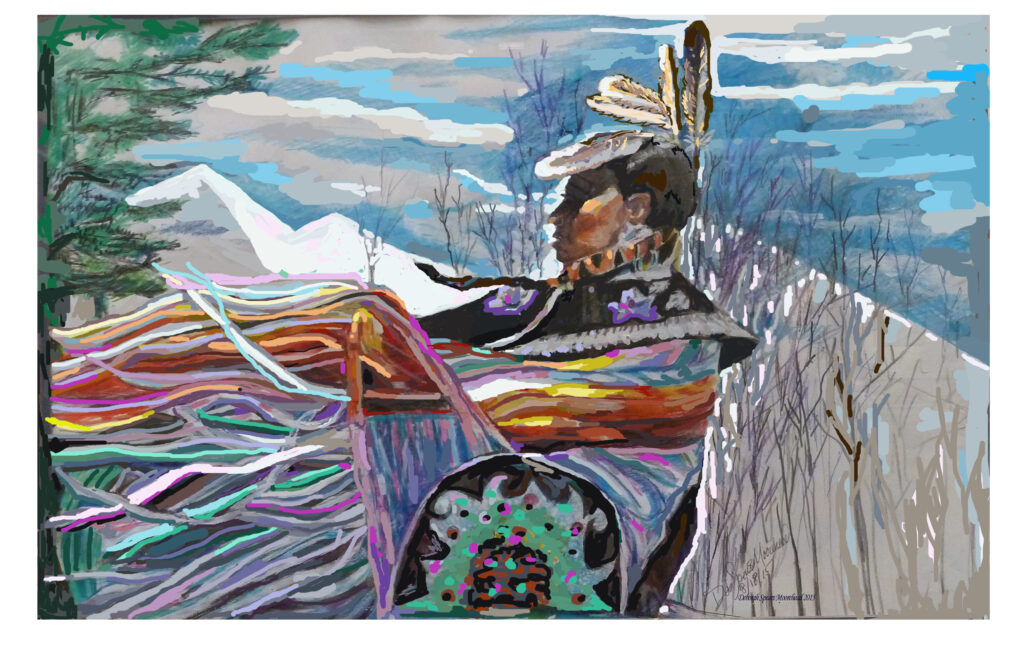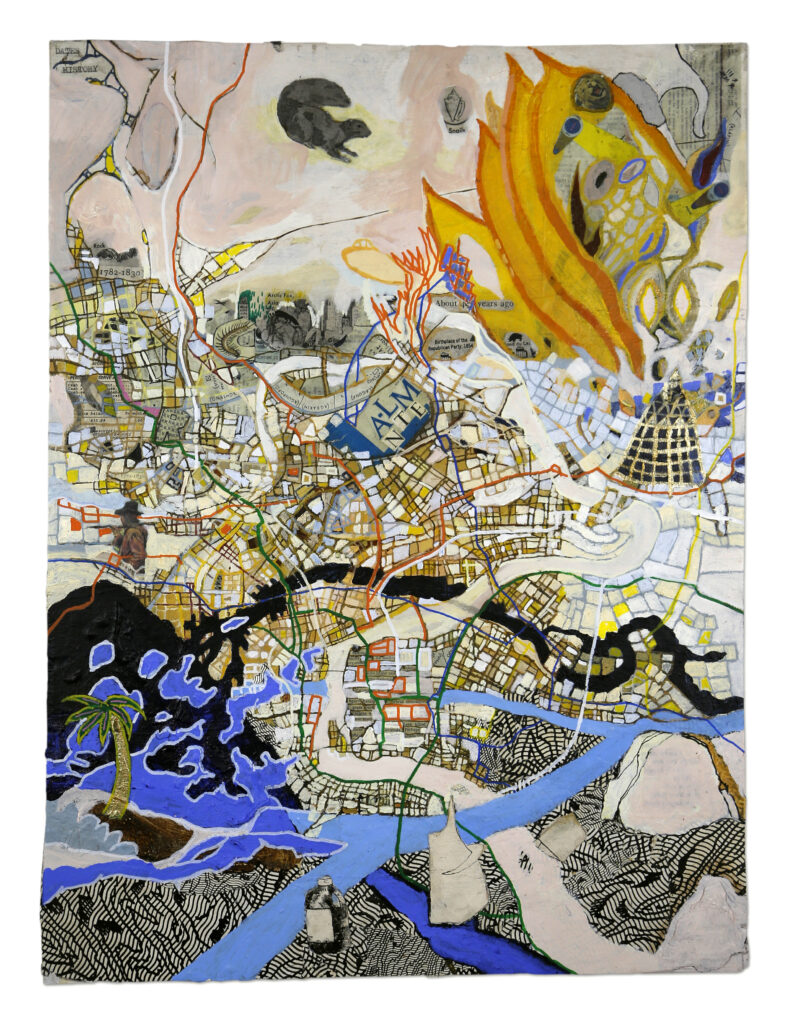 ---
Gods, Monsters and Hidden Histories: Paintings by Michael Ezzell and Victor Rosario
October 13, 2020 – January 19, 2021
Opening Reception Cancelled due to COVID-19 Emergency
EXHIBITION STATEMENT:
Our stories about who we are and where we come from are as old as our species – but how old is our species? Whether you believe we sprang fully formed from an all-knowing deity, crawled century-by-century from the primordial ooze to two feet, or that we are the fruit of seeds planted by extra-terrestrial travelers, you are not alone in being fascinated by human origins and destiny. We never cease to be amazed with ourselves, never content with accepted science or storytelling that might help us understand where we come from or where we are going. Painters Michael Ezzell and Victor Rosario explore the contours of human myth-making by looking backwards and forwards. Each work is a portal to another world, framed by ancient symbols derived from Greco-Roman sources, archaeological digs and eye-witness accounts. These seductive tableau explore the outer reaches of ancient as well as future time and space, inviting audiences to confront what and how they think they know about what it means to be human. Are our gods monsters? Are we their children? How many of our histories remain hidden?
MICHAEL EZZELL ARTIST STATEMENT:
I am heavily influenced by the esoteric symbolism and mysticism of Greek and Roman mythology. Through figurative narrative, I tell familiar stories as well as those that have yet to be told. In my work, the world we inhabit is not the only world in existence, and time is a construct of human perception. I strive to eschew time and reality as I create a world of my own, influenced but not identical to  the world I already inhabit. I use repetition and pattern to convey a sense of kept time, as only can be done in the realm we live.
Translating the dimensionality of a 3D vase into a flattened plane keeps its motifs from evolving in a circular time and space, forcing them to keep to a linear one. When a three dimensional object is turned, the narrative is repeated endlessly, but when it is flattened, that narrative is forced to accommodate a beginning and an end. Time is the story in front of you laid out in a frame, measured by the passing of imagery and repetition of pattern. Reality is the skewed nature of that imagery: what you see is not what is real, but what is what I want you to see as real. Our minds are portals to other worlds and my work seeks to bridge them.
MICHAEL EZZELL BIO:
Michael Ezzell uses a range of media to create his illustrations. In the stories he tells with his printmaking and painting he explores esoteric symbolism and mysticism, weaving characters and icons reminiscent of Greek and Roman myths into new narratives and worlds. Ezzell's work presents a window through time and reality; an escape into realms of fantasy and wonder. In addition to his fine arts practice, Ezzell is the founder of Paper Shuttle, a line of well-imagined goods, that includes pins, patches, hand-printed bandanas and totes. Each piece is rich with symbolism and evokes its own mythology. Ezzell works and lives in Providence, RI. He holds a degree in Illustration from the Savannah College of Art & Design. https://mezzell.com/
VICTOR ROSARIO ARTIST STATEMENT:
Art chose me as an avatar to inspire and motivate. I am art and when I'm in my space creating I am truly being, truly serving my purpose in this incarnation. Staying open and receptive while building off of my extensive research is key to the development of my work, as my subjects are from times long forgotten but still within us and all around us.
I base my art on archaeological artifacts, megaliths, ancient mythic stories and recorded anomalies that point to the existence of life as we don't know it. I depict times when the gods walked the Earth, and when men were wiser and intertwined closely with nature. When I say gods, I mean celestial beings with advanced technologies whose works may have seemed like magic to our ancestors. Humans from all around the world spoke about the gods, telling stories about how they were creators, destroyers, protectors, or giants. Ancient myths tell of how these beings flew around on fiery chariots; how they were reptilian, or fish-like, or avian, or humanoid. Some appeared to be no different from the humans over which they wielded so much power. l feel my abilities as an artist have been gifted to me for this purpose; for this moment. I bring my art to the world not to present facts, but to share pieces to the puzzle that have been neglected and ignored. Maybe someday in the near future, we can together put the pieces together and figure these stories fit into the creation of our world.
VICTOR ROSARIO BIO:
Providence sculptor and painter Victor Rosario is self-taught, and has been making art his whole life. Born and raised in the Creative Capital, for years he never really knew what to do with his artistic abilities; a bit of a loner in his youth and adolescence, he would question his reality and how he fit into it. A drawing pad and pencil became his best friends and a means of escape. He would sketch out things that would pop into his head, like strange creatures from other worlds. In his adult life, Rosario found his purpose, and harnessed the application of his talents with the support of various  guides and teachers. The worlds he makes now are not so different from those he made as a kid, and yet, they are more than just fantasies. Rosario depicts ancient histories, artifacts, megaliths, and religions. His images weave together clues that connect viewers to our mysterious human origins, surprising them with truths that are stranger than fiction.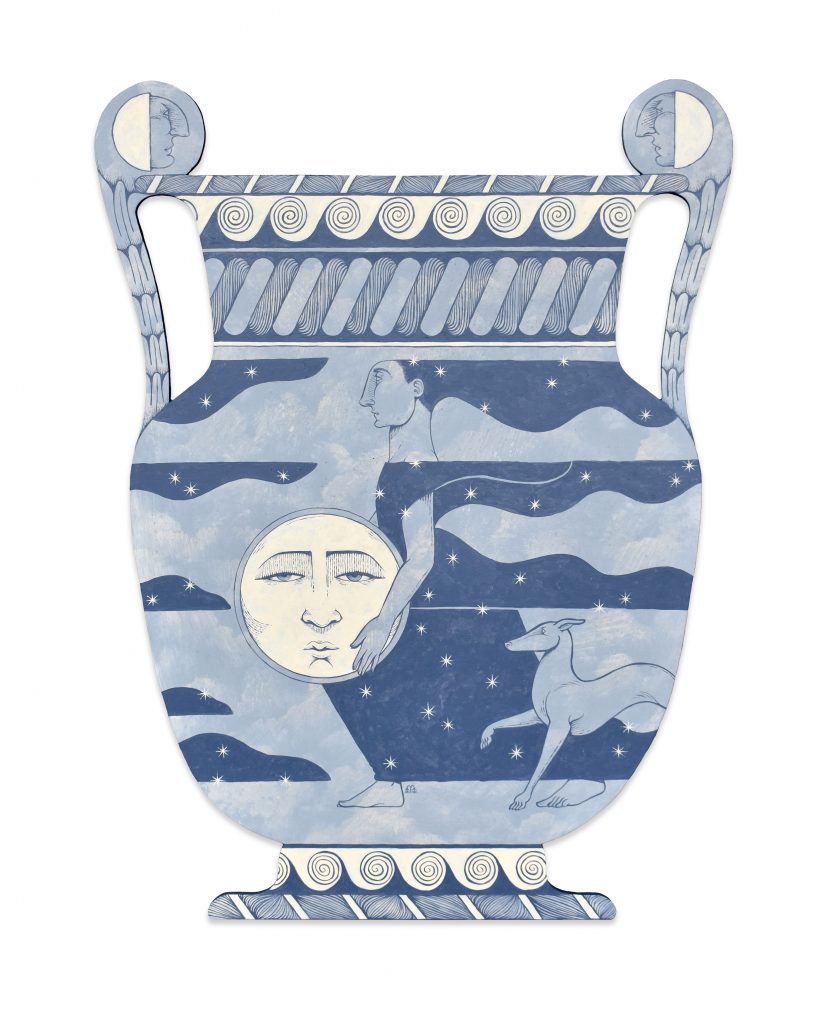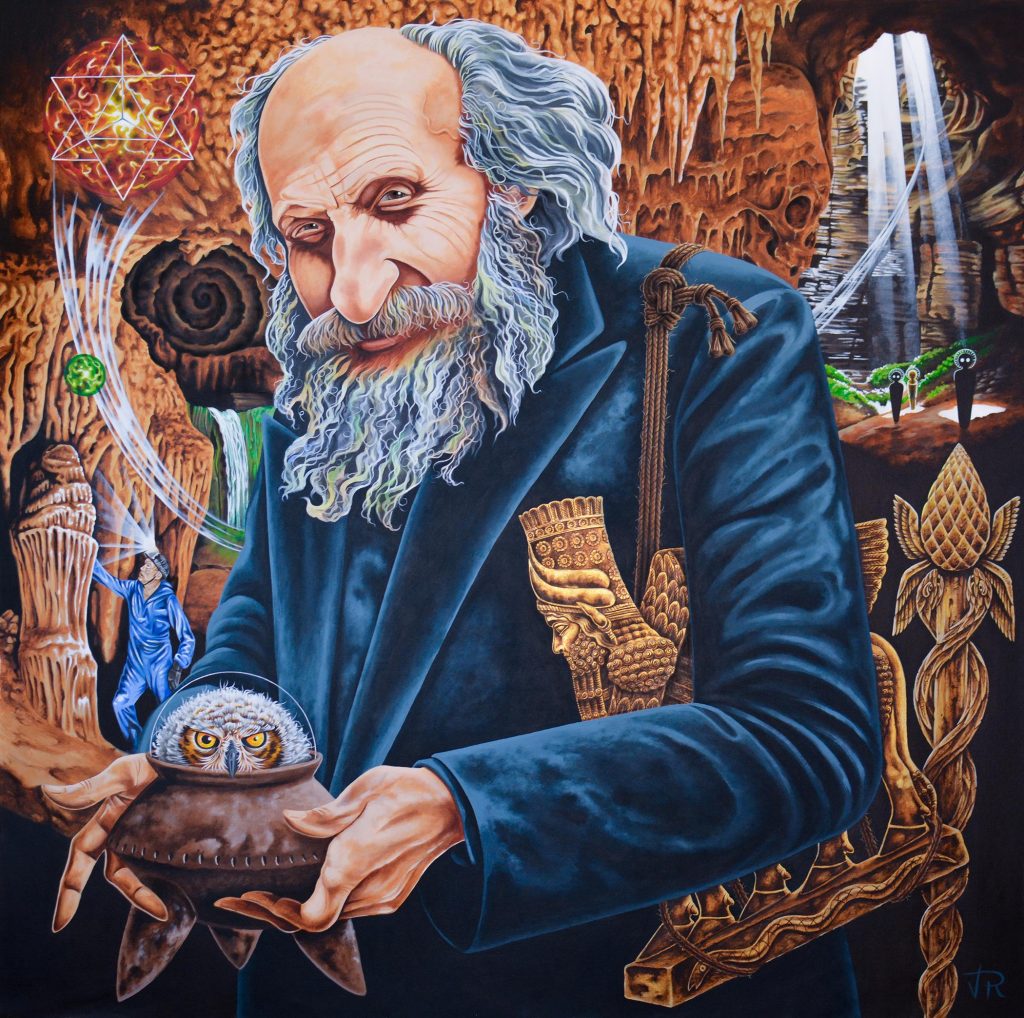 Gods, Monsters, and Hidden Histories Gallery Guide
---
100 Years of "Delusions and Half Truths": New Mixed Media Works by Becci Davis in Collaboration with the Rhode Island State Archives
August 20, 2020 – October 13, 2020
Opening Reception Cancelled due to COVID-19 Emergency
EXHIBITION STATEMENT:
Using resonant artifacts from the Rhode Island State Archives, Becci Davis' topographical palimpsests question widely-circulated narratives about women's suffrage, exposing the complex questions of race often left out of them. Her mixed media sculptures are not only rooted in intersectional feminism and attend to the many ways Black women experienced structural and ideological barriers to suffrage differently than white women, they also interrogate the specifics of place, and the power of locality. Mapping a series of charged spaces that are as important as the people whose activism took shape in them, Davis' speculative cartographies offer new paths through the 100-year-old story of women's suffrage in Rhode Island.
ARTIST STATEMENT:
"One of the great lessons of 2020 has been to question what we think we know. Before engaging in the research for this body of work, all I knew about the suffrage movement was centered around the experiences of white women with class privilege. Many of the images we hold in our collective memory of the suffrage movement support this narrative. Creating this new work has opened my eyes to the activism of Bertha G. Higgins, a Southern-born Black woman who founded the RI Union of Colored Women's Clubs and labored tirelessly to support the suffrage movement as well as the many other needs of Rhode Island's Black community. Bertha's story is emblematic of the difficulties Black women faced as they sought solidarity within the mainstream suffrage movement. Similar difficulties were faced decades later by women who walked in Bertha's footsteps, at the vanguard of the civil rights and feminist movements. Audre Lorde describes poetry as the 'revelation or distillation of experience.' These seven works are visual poems that attempt to distill the experience of Bertha G. Higgins and the RI Union of Colored Women's Clubs, the importance of place to their story and their intersecting work with the mainstream suffrage movement."
ARTIST BIO:
Becci Davis' creative practice explores the politics of representation, commemoration and monuments, both structural and cultural. It questions how to engage with an archive whose source and steward has historically been the oppressive culture that ignored, suppressed, and erased the contributions of her forebearers. Working across disciplines, she collects still and moving images, documents, sound, and oral narratives. Using this collection of evidence, combined with her own interpretation and response, Becci constructs what Pierre Nora would call realms of memory, devices for remembering people, places, and events. These devices create a new history and personal geography, bring visibility to hidden histories and merge collective memory and popular culture with documentation. This work explores the reciprocal relationship between environment and inhabitant by constructing spaces that serve as monuments of duality: past and present, interiority and the exterior environment, strength and oppression, obsolescence and relevance, memory and recorded history, evidence and critique. Her work can be found at: beccidavis.com
100 Years of Delusions and Half Truths_Gallery Guide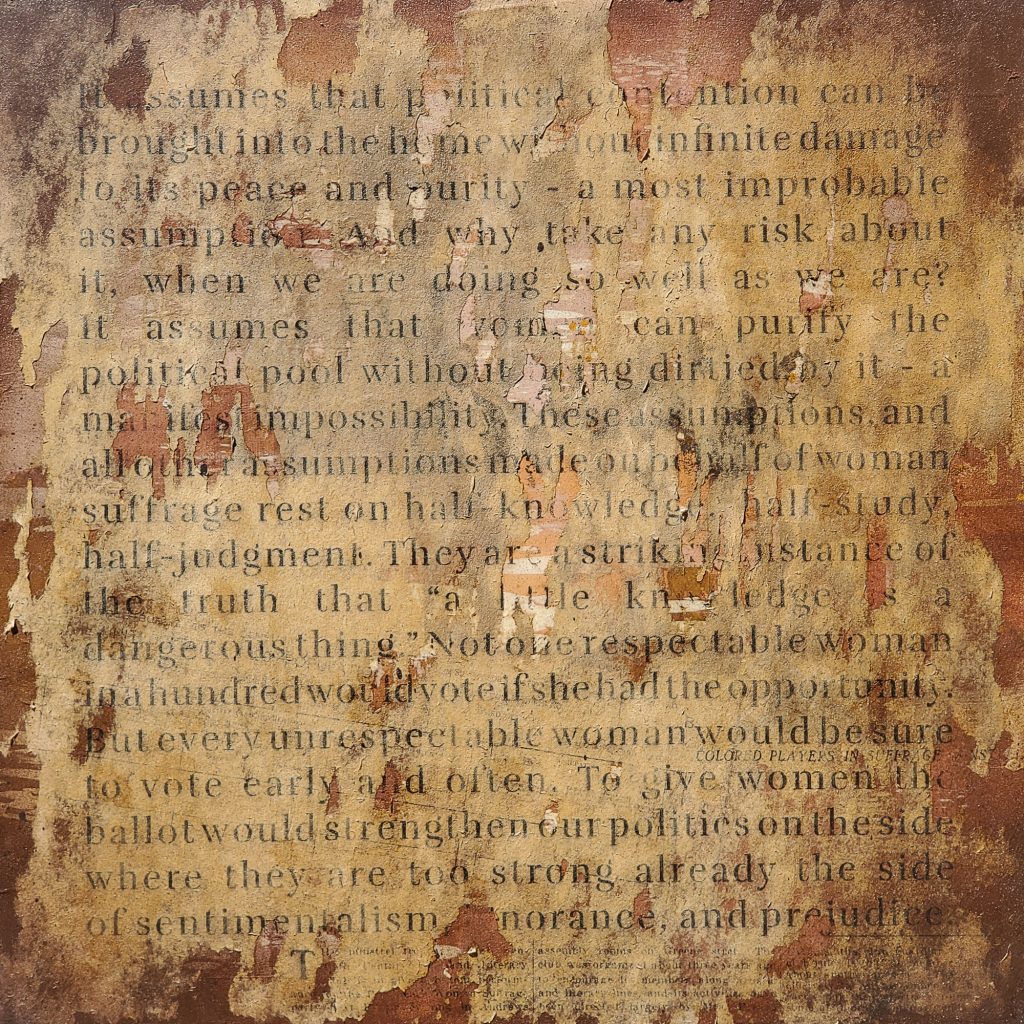 ---
Previously On View:
Between The Hawk and The Buzzard: New Sculptural Works by Nafis M. White in Collaboration with the Rhode Island State Archives
August 20, 2020 – October 13, 2020
Opening Reception Cancelled due to COVID-19 Emergency
EXHIBITION STATEMENT:
In her "Ain't I A Woman" speech published by Marius Robinson on June 21, 1851 in the Salem Anti-Slavery Bugle, Sojourner Truth said that, "the women are coming up, blessed be God, and a few of the men are coming up with them." Truth spoke passionately about women's rights and advocated for Black women to be a vocal and visible part of the massive national movement for women's suffrage. She also had her words rewritten and sanitized by Francis Gage, a white suffragette invested in making Truth seem less intelligent and, thus, more palatable to whites. White women in the movement denigrated the contributions of Black suffragettes by demanding they go to the back of the 1913 Women's Suffrage Procession in Washington DC but prominent Black leaders like Ida B. Wells-Barnett refused to be segregated. In Rhode Island, suffragettes Mary E. Jackson and Bertha Higgins, like Wells-Barnett, championed the rights of Black women and challenged attempts to render their organizing efforts and bodies invisible in the struggle.
The 19th Amendment gave women the right to vote, but its passage did not confer equal access to African American, Latinx, Asian and Indigenous women – for all intents and purposes non-white women were still disenfranchised. The current COVID 19-era presidential election, perhaps the most consequential in a generation, is about to transpire and Black women, Black men and communities of color are still facing unprecedented voter suppression efforts. Honoring the centennial celebration of women's suffrage without attending to their stories risks leaving out immense troves of historical data. Nafis M. White activates the Rhode Island State Archives to create work that honors the centennial by discovering who these powerful women activists were, and are. In accessing and making public these records, her work empowers viewers to bear witness to a political process that has great significance for every resident of this state and country today.
ARTIST STATEMENT:
"My vision for this body of work is to deeply consider the past positionality of Black women in Rhode Island, as well as the current state of affairs, through abstraction. I link these actors and themes together through material investigation and components that tell the story of not only the state's politics, but also its people's histories, its landscape, and its commerce. Using the Rhode Island State Archive collection on Rhode Island women's suffrage as inspiration, my hope is that viewers will feel a connection to the deep histories here and be inspired to continue their own investigations."
ARTIST BIO:
Nafis M. White is an interdisciplinary, multihyphenate artist whose recent body of works are created from objects commonly found in beauty supply stores,  industrial sites and the seemingly limitless horizons of our global and political landscapes. Through weaving, hairdressing, sculpture and installation, White centers the uncanny audacity of self- affirmation and love by means of repetition as a form of change. Her work can be found at www.nafiswhite.com
Between The Hawk and The Buzzard_Gallery Guide
---
Previously On View:
All That You See Is(n't) Yours: New Work by Lynsea Montanari and Anna Snyder
January 23, 2020 – March 16, 2020 August 19, 2020
Reception on January 23, 2020 – 4:30pm – 6:30pm
EXHIBITION STATEMENT:
Providence has been a unique place since its founding in 1636. The first colony in the New World with a secular government, it was founded on the ideals of civil equality and religious liberty, and yet it sits atop land that was once shared foraging and hunting grounds of numerous indigenous tribes, all dispossessed and many slaughtered during the colonial era. This exhibition of new multi-media works explores the life of Providence's radical founder and documents that laid the City's foundation while interrogating the City's colonial legacies.
Lynsea Montanari, a Narragansett visual artist, used her art-making as a way into asking questions about the ideological clash of Narragansett spirituality and colonial religion: "What does it mean to 'Purchase land with love' from a community that does not have a concept of land ownership? Where do values lie?  What happens when these two different communities intersect?"
Anna Snyder, says that the exhibition "attempts to remind the viewer that the founding and development of this state and nation, though in some ways radical and inspiring, was facilitated by an unrelenting campaign of deceit, theft and violence, a violence which is to this day apparent in American policy, both foreign and domestic." Today, as we celebrate colonial Providence, we must also acknowledge this history and our complicity in its invisibilization.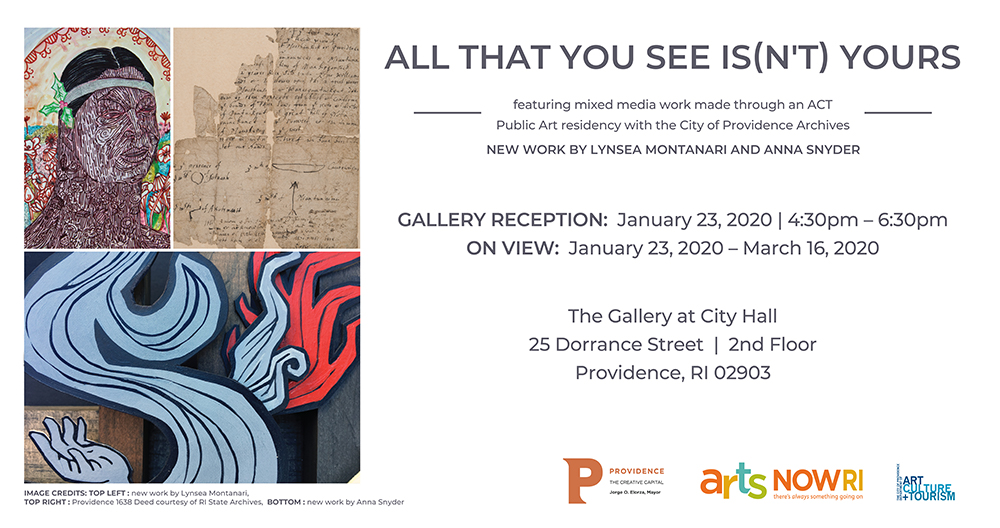 ---
TeenView: Our World Seen Through Young Eyes
October 17, 2019 – January 13, 2020
Reception on October 17, 2019 – 4:30pm – 6:30pm
EXHIBITION STATEMENT:
The vision for "TeenView," a youth arts program for Rhode Island high-school students, came into focus when George Adams, an aspiring photographer at Classical High School, decided to act on a desire to bring together community of young photographers from around the state. They would meet in person, learn from each other, and share ideas. With the help of Rhode Island-based photographers Mary Beth Meehan and Tina Tryforos, "TeenView" brought together a dedicated group of talented young people who met regularly over the summer, developing each of their individual artistic perspectives, working to articulate their concerns about the world they share, and becoming a tight-knit group of artistic colleagues.
TeenView the exhibition features new works that get to the heart of what young people care about today: their evolving identities; their friends, families and communities; and the politics, social inequities and precarious environment that adults have built for them.
George Adams is a Junior at Classical High School. An aspiring photographer, George is also a member of the baseball team and the ultimate Frisbee team.
Mary Beth Meehan is a Providence-based photographer and educator most widely known for her community-based photography and large-scale photographic installations.
Tina Tryforos is a photographer, bookmaker and educator, whose work delves poetically into the effects of human intervention on the natural world.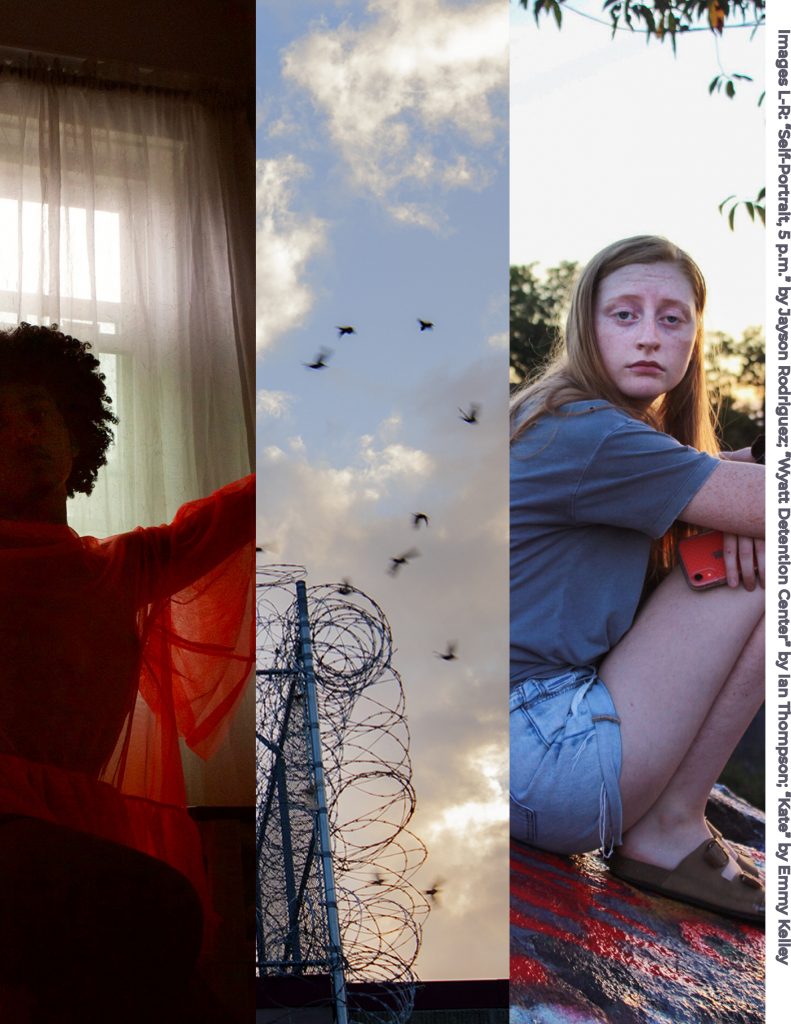 As Above, So Below: Visions of Transformation in Down City Providence by Carla Ricci and Roberta Kaufman
August 15, 2019 – October 14, 2019
Reception on August 15, 2019 – 4:30pm – 6:30pm
EXHIBITION STATEMENT:
The old aphorism, "As above, so below," has often been used in a secular context to mean that things experienced on a macroscopic scale find expression all the way down stream in the microcosm of everyday life. When it comes to the built environment, our federal policies, such as urban renewal, all have implications on the state and local levels. On an even more granular scale, policies and cultural shifts affecting the City of Providence express themselves boldly in our downtown, or as we sometimes call the dense network of streets bounded by the highway, the river, and the Jewelry District, "Down City."
The Down City neighborhood encapsulates the visions, aspirations, hopes and dreams of the Creative Capital's residents, in particular its artists. Photographer Roberta Kaufman recalls riding her bike around the old train tracks of the Providence-Worcester Rail line as Bill Warner's massive infrastructural plan began to take shape. Work born from her decades-long compulsion to document the changing people and places of the Westminster Mall, Union Station, and Capital Cove, attests not only to the shockingly abrupt infrastructural changes that transformed Down City's look, but also the ways these changes forever altered the neighborhood's feel. Documentary filmmaker and painter Carla Ricci, a recent transplant to Providence, observes the cultural shifts that have taken place in the City with a less retrospective gaze. Her figurative birds-eye-view paintings of busy commercial thoroughfares in the Down City neighborhood, as well as post-Warner sites of conviviality like the Providence Place Mall food court, attest to the ways that the infrastructural changes of the past half-century have given way to more robust ways of living in the Down City neighborhood. Together these visions, literally from above and below, give a robust, rounded, perspective on the moment we find ourselves in now. With cranes in the sky, and even more drastic infrastructural change on the horizon, we can continue to think critically about where we have been, and where we are, to better chart a path forward.
Carla Ricci ARTIST STATEMENT:
People in Providence are always on the move; going here, going there, going everywhere. Today in the Down City neighborhood there are roughly 5,000 people living, up from 1,000 twenty years ago. With more new buildings being built, the count may soon reach 6500. Because the area is dense, many people, like me, live in high rise buildings. Living above the street has changed my perspective as a painter. I love looking down from the 22nd floor and watching what happens below. From this new perspective I look at the tops of people's heads. I love the long shadows their bodies cast when the sun begins setting. My paintings, mostly on durable acrylic boards, are an effort to capture some of the good energy I get from the people in this City I have come to love so much, as they pass below me on the street or around the neighborhood.
www.carlaricci.com
http://vimeo.com/carlariccifilms
Roberta Kaufman ARTIST STATEMENT:
As a native of Providence, I have taken countless photographs of structures which were demolished as part of the urban redevelopment plan re-visioned in 1982 by Mayor Cianci, Jr., including Union Station and many buildings that predate the construction of the Citizen's Plaza, the Westin Hotel and the Convention Center. I have also taken many candid photos of the people who worked, shopped, and recreated in Downcity before it was a populated residential area. I captured these black and white images using my keen observation skills and diligence in the darkroom and I hope that they act as an archive of downtown for future generations.
---
Invasive Beauty: New Works by May Babcock and Rebecca Volynsky
May 16, 2019 – August 12, 2019
Reception on May 16, 2019 – 4:30pm – 6:30pm
Ecologists and wildlife experts often distinguish between "invasive" and "exotic" species when they talk about non-native plants. They might say invasive when they want to emphasize that an organism is likely to do irreparable harm; that it will unbalance the delicate system to which it has been introduced. What happens when artists interpret, and re-purpose imagery and materials from the natural world, inserting them into built environments, and other spaces, to which they are non-native? Can these works become invasive?
PVDFest public art alumna May Babcock and Rebecca Volynsky explore the concept of invasive beauty in distinct yet complimentary ways. Babcock harvests non-native plants from Rhode Island's eddies and and tide pools, pulping them into hand-made paper, or arranging them into painterly gelatinous forms. Her re-contextualization draws out the subtle patterns and delicate hues of oft-maligned flora. Volynsky's murals and other painted works appropriate the language of the still life, rending bouquets and tessellating natural motifs in abstracted vibrant colors that invite viewers to sit next to and among them, but also to consider how floral abundance can be simultaneously soothing and overwhelming. Both artists transformed their public and studio practices through PVDFest Public Art commissions; in this joint exhibition they draw with and pour paper pulp using Volynksy's motifs, as well as the material properties of Eurasian Milfoil pondweed found at Licoln Woods' Olney Pond as inspiration. By allowing the paper, which also includes dead man's fingers from South County's salt ponds, and water chestnut from Valley Falls Pond in Central Falls, to dry into multi-dimensional, layered forms, Babcock and Volynksy create works that are at once connected to their previous efforts, and yet wholly new.
MAY BABCOCK BIO AND ARTIST STATEMENT:
May Babcock is an interdisciplinary artist based in Providence, Rhode Island. Her studio techniques combine hand papermaking, printmaking, sculpture, historical photography process, and book-arts techniques, creating artwork that addresses place. She gathers sketches, materials, histories, and environmental information from sites to create works of paper, installations, public art, and community-based art.
She graduated summa cum laude from the University of Connecticut with a Bachelor of Fine Arts in painting and printmaking in 2008. Directly after, she joined the graduate printmaking program at the Louisiana State University in Baton Rouge, earning her Masters of Fine Arts degree in 2011.
Babcock exhibits nationally and internationally, and most recently has shown at The National Taiwan Craft Research and Development Institute, RISD Museum of Art, Brown University's Granoff Center for the Arts, and The Center for Book Arts. She has taught courses in printmaking, papermaking, drawing, and two-dimensional design across the country, including Rhode Island School of Design, Women's Studio Workshop, and Pyramid Atlantic Art Center.
Recently, Babcock was selected as a 2018 Creative Community Fellow, an initiative of National Arts Strategies. She was also awarded a RISCA Project Grant, a National Parks Artist Residency, and installed public artworks in Providence, Pawtucket, and the Illinois State Museum. Additionally, she is the founder of Paperslurry.com, a blog dedicated to sharing and expanding the art and craft of hand papermaking, and supporting its practitioners. She currently serves on the Board of Directors for Hand Papermaking Magazine.
"Landscapes are complex, full of botanical life, waterways, historical memory, built environments and more, all of which can offer clues to a culture.
I begin with specific sites, where I collect plant fibers, materials, and drawings to gain psychological impressions and witness poignant evidence of human activity. I am a curious artist, who researches and is fascinated by local hydrologies, plant ecologies, geological history, and human-created structures and histories.
As a hand papermaker informed by print processes, technical experimentation in the studio invigorates my practice. Adventurous hybrids explore a range of processes, chosen for their aesthetic value and contextual significance.
This broad range of influences coalesce with artist-made paper pulp, used to draw sculptural forms, realize large scale pulp paintings, cast carved woodcuts, develop textured sheets for cyanotype, and embed river muds and seaweeds.
Very often, I create public art, large-scale installations, and community-created works that are both inspired by and crafted for specific sites and peoples."
REBECCA VOLYNSKY BIO AND ARTIST STATEMENT:
Rebecca Volynsky is a mixed media artist from Providence, Rhode Island. She currently lives & works in Portland, Maine and is focused on various creative projects and further developing her Eastern European inspired food startup, "Ripka".
The themes and symbolic elements in her artwork revolve around the ideas of strength and personal growth. Volynsky is inspired by life experiences and relationships, Russian folk art, lively color, and organic shapes/color found in nature. Her creative practice has always centered on setting positive intentions through art making and cultivating what is in the present to create a better future for oneself.
In 2017, Rebecca Volynsky participated in PVDFest with the creation of large-scale, temporary public art pieces wheat-pasted at different locations in Providence, RI. Made possible by the City of Providence Department of Art, Culture, & Tourism, this installation titled "Cultivate, Then Bloom" drew from past memories and moments to inform new ones, acting as new landscapes in the artwork for viewers to explore. Volynsky's work is a form of visual storytelling that conveys fragmented memories and moments of interaction through the layering of mixed media. As experiences of joy and beauty often naturally fade but leave a positive impression – so do the intentions and physicality of these artworks within the spaces they inhabit.
You can see more of Rebecca Volynsky's artwork via www.rvolynsky.com, @rvolynsky on Instagram, and in person at Knead Doughnuts + Ninedot Creative Design Agency in Providence, RI; Pavement Coffeehouse in Boston, MA; and Piccolo in Portland, ME. For further inquiries regarding small and large scale mural commissions and any other questions/concerns – please email rebeccavol@gmail.com.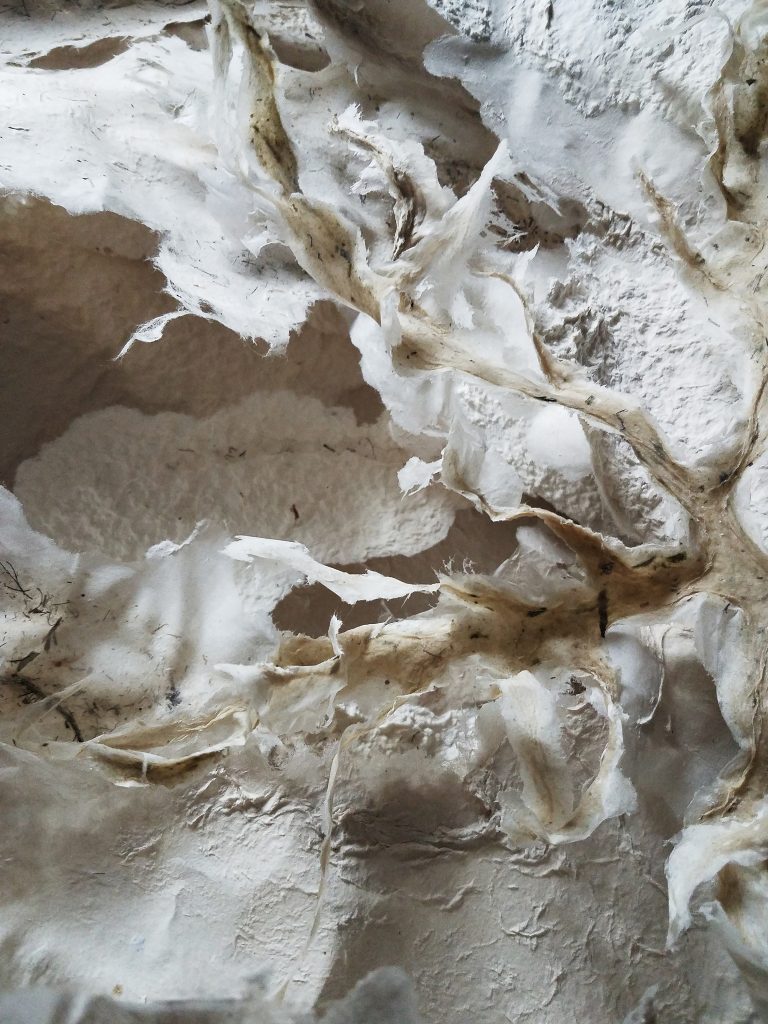 ---
Dear You: Intimate New Works By DeadZest, BRIANLY and Belinda "B" Phivilay
Curated by Paris Paris
March 21, 2019 – May 13, 2019
Reception on March 21, 2019 – 4:30pm – 6:30pm
Curated by Paris Paris, this exhibition showcases three Rhode Island artists who examine interior moments from their lives to open up conversations about happiness, sadness, love and tragedy. DeadZest, BRIANLY and Belinda Phivilay do not hide and isolate that which inspires them. Instead they create beauty from their feelings of vulnerability to foster dialogue with their audiences.
CURATOR BIO:
Paris Paris is an emerging Providence-based Latin American artist and curator. Paris has curated numerous festivals and pop up markets in that uplift the Providence artist community, specifically he works to support low-income backgrounds, people of color and unrepresented artists. Paris' first solo curatorial project in 2017 included work by BRIANLY; his most recent project "Paris! + Friends" featured work by DEADZEST and B. Paris hopes to foster relationships between artists and people of all kinds by spreading love through his curatorial work and art making.
DeadZest loves letters. Showcasing his passion for hand painted signs from a bygone era, he uses the medium of text to explore the space between silence and sound. In other words, he explores the possibilities of communication, or lack thereof. Influenced by graffiti, classic cinema and the silent symphony, DeadZest's letters whisper and shout.
BRIANLY depicts psychedelic voids that are safe enough for viewers to imagine themselves walking into. His recent paintings take the worlds he inhabits and mashes them into abstract shapes, leaving the bare essence of their identities alive. Some of these worlds dissolve in on themselves, offering a stark contrast to the realism of BRIANLY's photographic work, which celebrates differences of color, geometry, and scale.
Belinda "B" Phivilay BIO:
Belinda "B" Phivilay makes no secret that they have struggled with mental health disorders and been subjected to violence. The friends that caught Phivilay when they were at their lowest are the backbone of "face(s) of PVD." They designed their platform, grounded in photographic portraiture, to honestly represent their Black and brown community. Phivilay's work creates spaces and platforms of support to help the cities residents see the ways they are interconnected.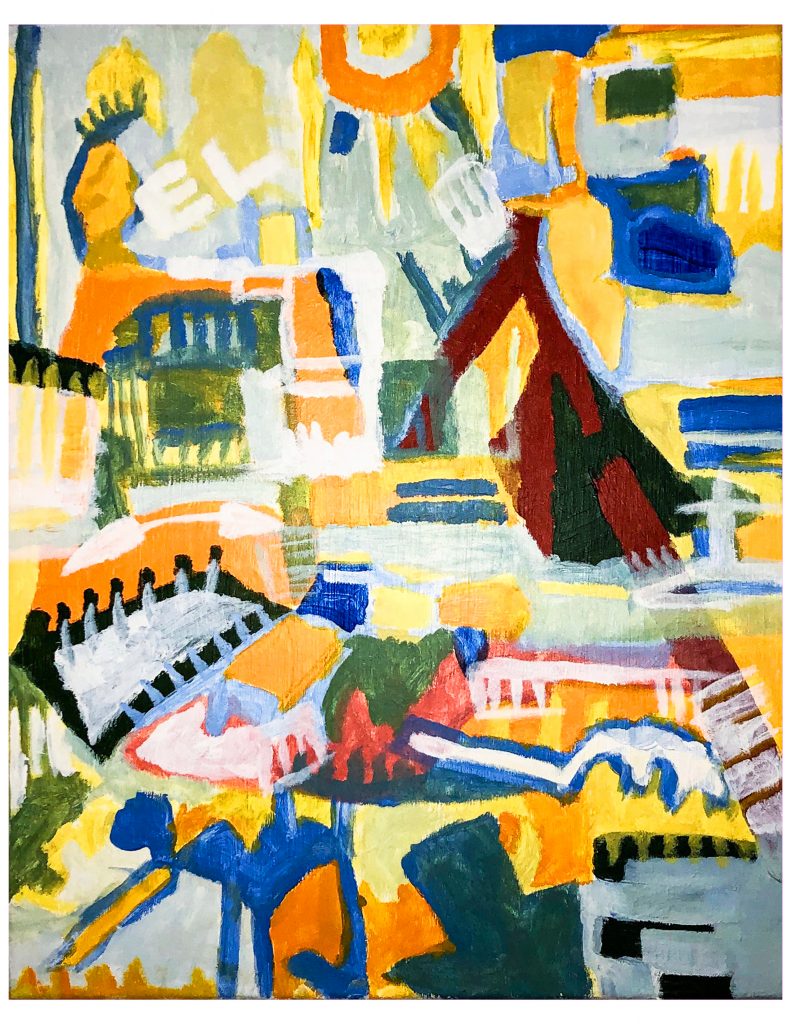 ---
Here and Now – Drawings and multi-media works by Beverly Robertson featuring Providence Public School students participating in Turnaround Arts Providence and Trinity Academy of the Performing Arts
January 17, 2019 – March 18, 2019
Reception on January 17, 2018 – 4:30pm – 6:30pm
A Note from the Gallery Manager:
If you've ever walked through downtown Providence on a beautiful summer day, chances are you've met Beverly Robertson. With her glowing smile, and trademark bag of art for sale, Beverly is one of our City's greatest creative entrepreneurs. She usually just walks right up to you and asks if you like art – you do? Well, then you should probably buy one of her postcard size prints. For Here and Now I asked Robertson to bring the biggest, boldest pieces she had to show. I wanted to make sure we were able to display the variety of materials and styles she uses. From lenticular frames over pen drawing, to oil painting, to colored pencil patterns and graphic text, Robertson's still lifes, portraits, and abstract works are a testament to a life lived in creative pursuit.
Because Robertson didn't have enough large works to fill the entire Gallery, I asked my colleague April Brown to reach out to the Providence Public School District art teachers she works with in her role as Program Director of Turnaround Arts: Providence. I also began a conversation with Trinity Academy of the Performing Arts about showing work by their students and faculty. Because TAPA has constraints on opening their space to the public, the Gallery at City Hall, just a few blocks away from the school, seemed like a great alternative.
During the year and a half that I have been curating the Gallery at City Hall I have never worked with a group of artists and educators as dedicated and hard-working as the teachers who helped bring this exhibition to fruition. That said, it is the astonishingly talented young people who truly shine. Students at Gilbert Stuart used the techniques of the old masters to bring attention to their friends, teachers, and under-sung school staff; Roger Williams students used digital tools to create graphic portraits of the artists and activists who inspire them; DelSesto students developed their own super heroes using mixed media. Collectively there are works in this show by over 60 young people.
Here and Now exemplifies the Department of Art, Culture + Tourism's commitment to cultivating our creative workforce. Whether you are a mid-career artist, or just beginning to explore, we hope you'll find ways to share your work, get feedback, and keep up the hustle. The Creative Capital is built on your broad shoulders.
Micah Salkind
Gallery Manager and Special Projects Manager
Department of Art, Culture + Tourism
---
Trinity Academy of the Performing Arts (TAPA): EXHIBITION STATEMENT
This collection of works is titled Ensemble. The word ensemble refers to all the parts of a thing taken together, so that each part is considered in relation to the whole, such as a group of performers in a production. The works shown here were created by Trinity Academy for the Performing Arts (TAPA) grade 7-12 students, their family members, and members of the staff- collectively referred to as the TAPA Ensemble. The TAPA Ensemble is informed by the diverse backgrounds and interests of its individual members, with each member contributing to the unique character of the Ensemble as a whole. The pieces shown here are born of varied inspirations, media, and creative impulses, but like the TAPA Ensemble itself, every individual piece vitally shapes the nature of the collective and adds to its power. The Trinity Academy for the Performing Arts places it's primary focus on the disciplines of music, film, theater, and dance. This exhibit reflects TAPA 's commitment to the celebration of artistic expression in all of its forms.
Art Teachers: Valerie Alvarado and Funmilayo Aileru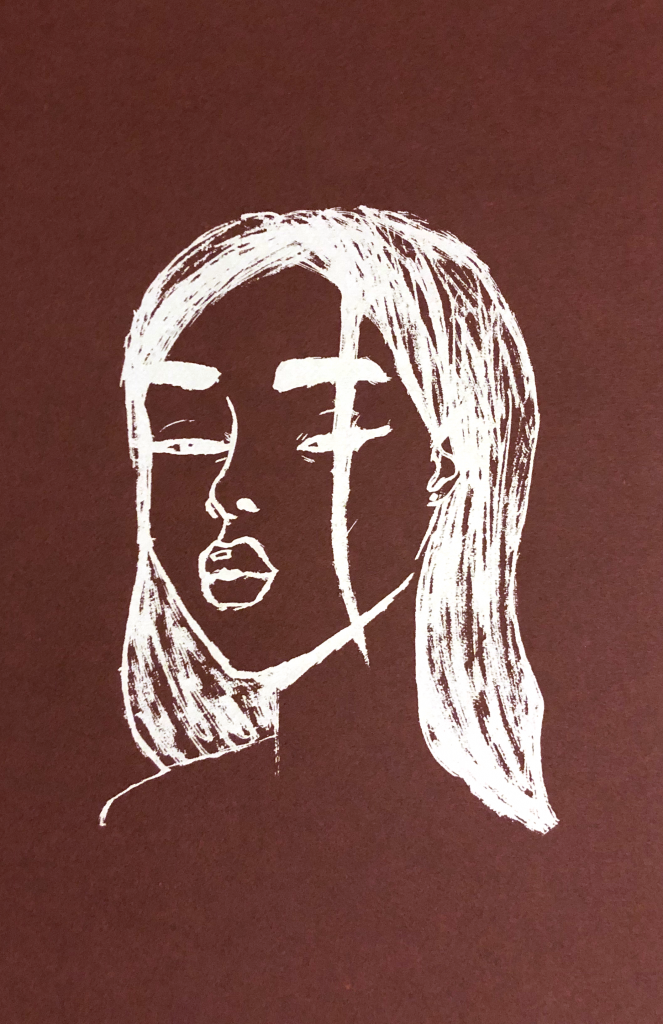 Gilbert Stuart Middle School EXHIBITION STATEMENT
These works on paper were created by a diverse group of eighth grade students at Gilbert Stuart Middle School. Inspired by the paintings of Kehinde Wiley, young artists explored the concept of identity politics in art. First, they learned about the canon of proportion, an ancient technique based on using the size of a human fist to estimate various bodily measurements. Then, they used the canon to draw a portrait of someone that they felt was undervalued, elevating their subject's status by placing them in a pose inspired by a famous work of art. The symbols behind each figure enhance the ways that the portraits elevate the people depicted. In Yolenny Nunez Parra's portrait of Dana, she depicts her classmate in the pose of the Mona Lisa by da Vinci. Nunez Parra felt that the Mona Lisa represented the ideal of femininity in da Vinci's era and that by putting a Dana in that same pose against the Fortnite logo (a game that often perceived to be male dominated) she could get audiences to consider whether and how societal expectations of women have changed over time. Students at Gilbert Stuart are excited to display their work in City Hall to bring attention to the people in their lives who might otherwise be underrepresented in art museums, galleries and the media.
Art Teacher: Nina Bachini Jarvis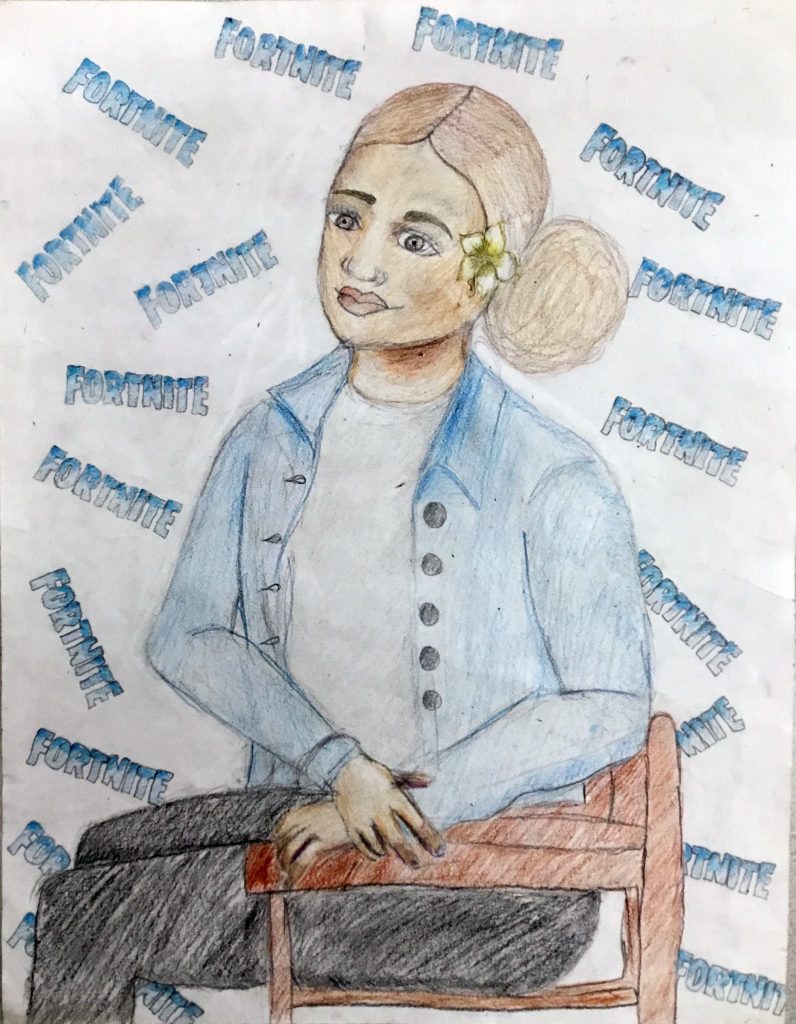 DelSesto Middle School EXHIBITION STATEMENT
These original superhero designs were created by students at DelSesto Middle School who were prompted to answer the following questions: What is my superhero's name? Does my superhero have a particular suit, and does this suit itself possess their powers? What are the goals of my superhero?  What powers does my superhero have that make them supernatural? Students began the process of developing their superhero designs by sketching them. During this process, they engaged each other in a peer review of their ideas. This gave them an opportunity to verbalize their intentions for their projects. After giving and receiving advice, students refined and completed their designs. They also crafted superhero artist statements. This gave them an opportunity to express, in writing, their storylines for these well-thought-out characters. Eighth grader Adela Espinal created a superhero named "Designa" whose super power, given to her by a magic necklace from her grandmother, allows her to save people time they would otherwise waste deciding what to wear: "Designa is here to help you decide, and design, what to wear for those special moments. She will not hesitate to help."
Art Teacher: Christine E. Prescott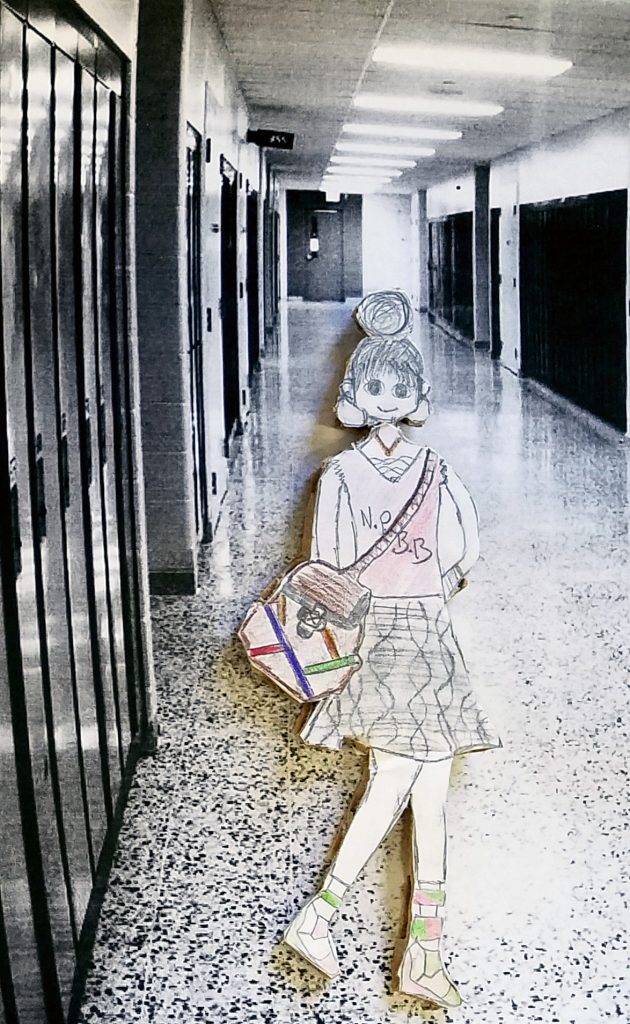 Roger Williams Middle School EXHIBITION STATEMENT
These digital illustrations were created by seventh and eighth graders from Roger Williams Middle School. Students began their project by collectively reading and analysing  the lyrics of "Changes" by Tupac and "Where is the Love" by the Black Eyed Peas. They were asked to consider the power of words and expression through music. Then, they were asked to explore other artists whose songs reflect on social justice and controversial topics, such as Michael Jackson, XXXtentation and Joyner Lucas. Students were also given the option to choose a public figure that is not a musician but who has taken a stand for underrepresented minorities. Finally, students used Adobe Illustrator to illustrate a portrait, adding a meaningful quote or lyric as the background of their artwork. In Brandon Pichardo's portrait, he depicts Tupac and extracts lyrics from the song Changes. Pichardo says that the song is, "basically saying 'should you go through all of this hard work for nothing?' It talks about everything that Black people go through and it's the same thing over and over again. Every single time the police see Black people they ask if they are carrying drugs and bad things." Seventh and eighth graders in Roger Williams' Media Arts classes have discussed their concerns regarding national and global social problems. They are grateful and very proud to showcase their work at City Hall.

Art Teacher: Antonia Lara Sanchez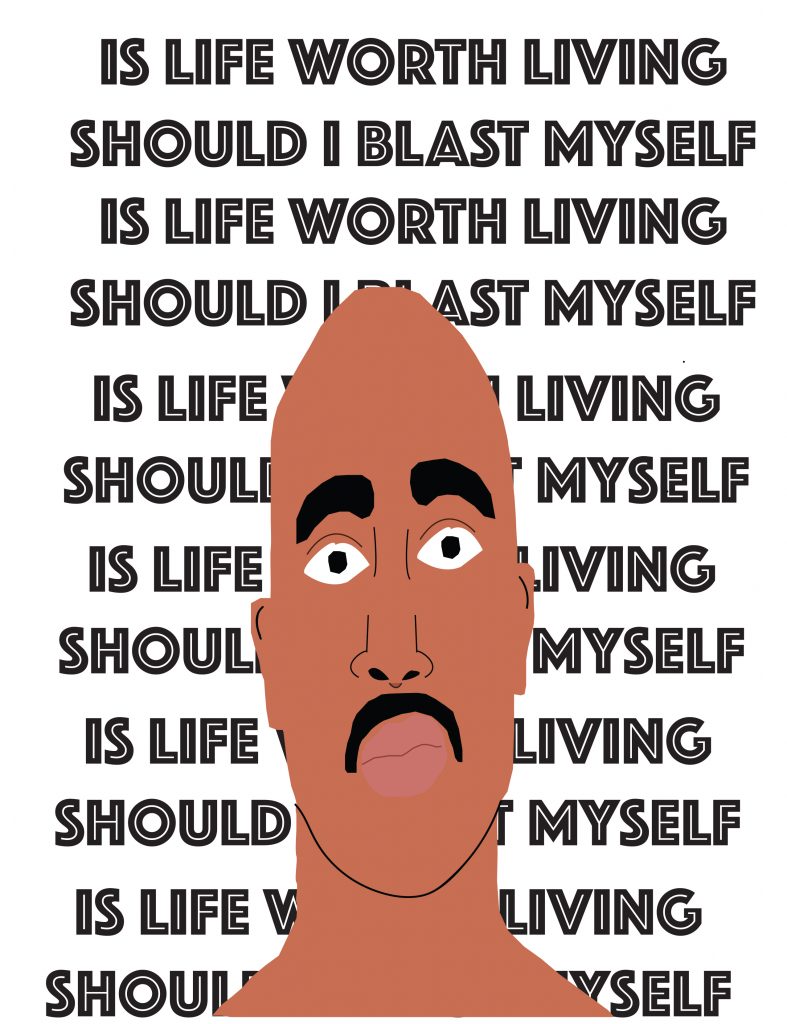 Beverly Robertson ARTIST BIO:
Art. A message, love, learning and sharing.
Beverly always likes Art, but her passion is design, and her poetry took her by surprise. As a child, inspiration came from the coloring books, and in her adolescence, her parents, teachers and mentors, encouraged her to develop her potential and talents, motivating her in the right direction to become an Artist, Poet and Designer.
Beverly's gift
As an artist it was not easy to draw but it was funny, because she couldn't always color inside the lines. Connecting the dots and following the right direction was part of her journey and the pathway to her art. Whether two-dimensional art is abstract, or draws on realism and perspective, an artist can create something spectacular. For example, you might not see all of a person's body, but you know that the figure is there. Using your imagination and your mind, art can help you understand the truth about human nature, because we are art.
Mistakes are sometimes happy accidents, and Beverly is finding all kinds of different ways to express her ideas about art. Making art challenges her to figure out what she wants to express and how she wants to express it in just the right ways. Art, like clothing, has to fit  – the ideas need to make sense to the artist and the viewer.Sometimes, like the Mona Lisa, the viewer is kept guessing. Often viewers have their own interpretations or meanings behind a piece of art, which helps to keep everything alive.
Beverly's outer lines, and her passion for art is, to her, like passion fruit – sweet and full of seeds – and motivate her to persevere and pursue all that leads  to make her inner dreams  come true! As it is written in Genesis, in the old testament, Adam and Eve experienced both Atonement and Redemption, Coming of age, coming of time, and coming of life.  They were ultimately capable of love, devotion and loyalty. Beverly knows that life is hard, and wants you to know that struggles are ground breaking roots! Never give up! Work hard, strive, plan and leave your mark.  Beverly wants her art work to leave its mark on you, the viewer.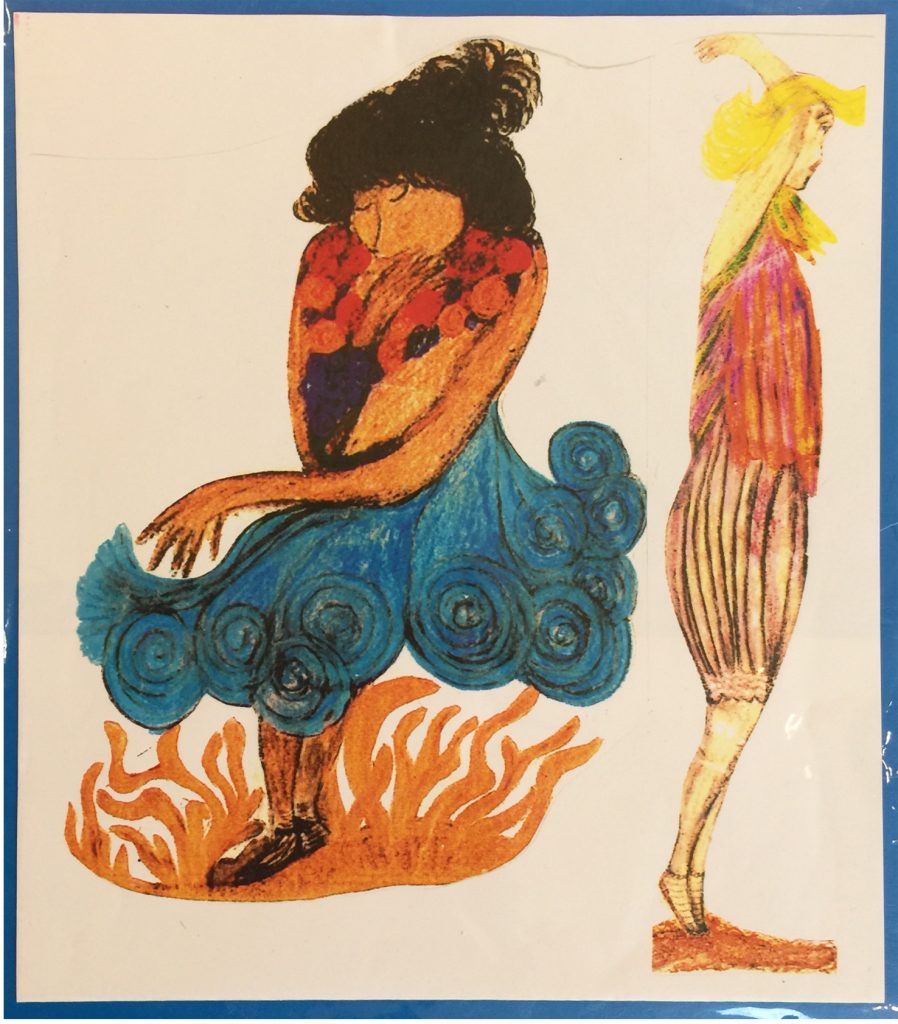 ---
Touching the Veil – Prints and Illustrations by Caitlin Cali and Samantha Ng
October 18, 2018 – January 14, 2019
Reception on October 18, 2018 – 4:30pm – 6:30pm
Caitlin Cali and Samantha Ng explore what it means to touch, and even peer, behind the veils separating worlds. Raised in Hong Kong, Ng portrays impish demons and fiery ghosts that writhe and cascade across rice paper surfaces. These printed works are emblematic of ancient Chinese and Japanese woodblock techniques, but they also showcase the artist's western cultural influences. In one untitled print, a snarling tiger emerges from swirling clouds; in another, pitchfork-wielding devils gesture to an enormous fish. While Ng mixes symbols to explore the feeling of living in between Asian and American cultures, Cali's gauche and watercolor vignettes touch the veil between the worlds of the living in the dead. The body of work she is showing at City Hall has helped her transform the intimate experience of her mother's transition from one of struggling to confront a fearsome monster, to that of living with everyday hauntings. In "Floating with a Ghost" a figure with a face in its chest perches on a sentient cloud; the moon and sun peer down as an ethereal specter rises up through a storm of tears. Cali says that working through her personal relationship to death has been scary, but also liberating; sharing it in her work helps her remain brave and eager as she faces the world.
Caitlin Cali's work is mostly a form of personal storytelling, but she hopes that there are elements of it that are universal as well. Having lived in Providence since 2009, she has worked as a teacher, mentor, and human services provider. She enjoys drawing, making comics, painting, feeling the biggest and most thrilling emotions, and trying to understand them, often through her art.
Caitlin Cali ARTIST STATEMENT:
"Making art is different from journaling in that it allows me to get out the feelings or thoughts or memories, or combo-packs of all those things, when I might not have any proper words to explain them. I make the art and then after a little while, I can step back and look at it all and see my struggles, or my grief, or my humor, or my hope or my desires more clearly; it's almost like a magic mirror. I want my work to express feelings that are cranked up higher than normal. Even if it is sad or dark, I want each feeling to be sensed at an ecstatic level. I like when something is more extreme. Extremely sad, happy, or silly. My hope is always to give people permission to identify with anything I make. I find it exhilarating to feel like I am not alone, and I would like to share that feeling with others."
Samantha Ng is an artist and printmaker from Hong Kong. Her recent work touches on complexities of third culture identity and cultural rootlessness. Growing up with various influences, Ng's prints reflect a globalized sense of living in between cultures. She weaves conflicting imagery and motifs together into an intricate tapestry of chaos. Ng is currently refining her practice at Rhode Island School of Design, exploring various artistic techniques through her work towards earning a BFA in printmaking.
Samantha Ng ARTIST STATEMENT:
"My recent work explores the idea that conflicting cultural images attract and repulse; it reflects my responses to the globalization and gentrification that overwhelmed the environment I grew up in and explores the personal repercussions and the cultural effects of these forces in terms of how they influenced my developing sense of self. Many of the tensions I explore in my art-making stem from cultural rootlessness. I often find myself feeling vulnerable as I try to explain where I'm from and why I don't seem 'foreign' enough to fit stereotypical representations of Asian women from China, yet I'm not seen as being local to the US either. I explore the complexity of third culture identity by mixing eastern and western art practices. This allows me to express not only the tensions of living in between, but also the vulnerability I feel as I continue seeking home and belonging. I hope through my practice to find empowerment while learning to embrace the ambiguous terms of belonging."
---
Portraits and Tributes: Drawings and Photography by Kalie Boyne and Justin Case
Through October 15, 2018
Kalie Boyne and Justin "Case" make work that shows love. Boyne's finely-tuned pencil, ink, and mixed media drawings are full of the subtle details she observes in her subjects. She often meets new and old friends for unstructured interviews and deep hangs before painstakingly committing their visages to paper in ways that showcase their inner beauty, power, and joy. Case's works similarly showcase the best features of his subject: the City of Providence. He portrays the downtown's skyline, neighborhood parks, and the City's super-saturated sunsets (punctured by the Manchester Street Power Station smoke stacks) in hyper-real tones. These images become glowing tributes to the place where the artist was raised and continues to work today as a commercial photographer.
Kalie Boyne is a multimedia artist based in Providence. Her work is centered around the complexities of representation and the role of art in actively identifying and unlearning media stereotypes. Through a combination of portraiture and oral history, Kalie seeks to challenge the pervasiveness of one-dimensional tropes in the media by creating a body of work that highlights and celebrates human depth. She also co-produces the zine Ripple Effect with KLynn Johnson and is currently working on Consumption, a visual book that focuses on the social repression of rage, grief, and disquiet experienced by women and femmes. Boyne works as a teacher and in various food service jobs, which provide her with free food and even more insight into the enigmas of human interaction.
Kaylie Boyne ARTIST STATEMENT:
"My ultimate goal is to create a space where people can be valued for the reasons they value themselves, treated with kindness and respect, and be represented on their own terms. I use portraiture and oral history to create this space, because I feel that intently focusing on someone's face and drawing it with care can visually communicate—to the interviewee, to myself, and to whoever views my work—the true complexity of each individual. I sit with each participant and we have a conversation about how we define ourselves and what important aspects of who we are often get overlooked or ignored. Once I've transcribed their words, they can edit the draft however they like, and I send them a copy of their portrait. The purpose of my work is not only to encourage others to consider how the warped lens of mainstream media has distorted, fractured and constricted our collective understanding of what it means to be human, but also to offer an example of what the unlearning process can look like. The collection of portraits and stories I have been working on gives viewers insight into the experiences, values, and thoughts of ninety people, but the work as a whole also shows my own progress in unlearning the subconscious beliefs that I, too, have absorbed. The evolution of what I'm able to express visually and the conversations I'm able to hold with others (sometimes friends, sometimes complete strangers) is evidence of the power that human connection has in replacing fake narratives with ones that show how everyone's life experience is incredibly unpredictable, complex, and valuable."
Justin Case BIO:
Justin Holland (aka Justin Case) was born in Brooklyn, New York but was raised primarily on the Southside of Providence. He grew up exposed to all kinds of talented people who were into music and art, but it was a DJ named Curty Kutt who helped him make the leap to finding his own artistic voice. Case hung out at Kutt's Broad Street vinyl emporium by day and practiced DJing in his bedroom by night before landing a number of club gigs around the City. In 2013, while working for The Avenue Concept, Case got a taste for using a sophisticated digital SLR camera. It wasn't long before he was taking pictures for friends at their club nights around the City. Today he shoots everything from birthdays and weddings, to site-specific landscapes and portraits.
Justin Case ARTIST STATEMENT:
"I just love showing off the City of Providence to the people who live here, especially those who don't seem to experience it the way I do. It has all kinds of textures and colors, flavors, smells, and sounds. There's tons of things to do, tons of things to see, and a lot of history, if you're not afraid to put down your inhibitions about the dark parts of it all. I think it's a beautiful underrated place. Lately I love looking at old pictures to see what things used to look like. I love shooting the shadows and angles on all the old buildings, using my lens to help me imagine what they once were. In my landscape photography, I showcase my Providence, which often feels like a new Providence. I want people to see how beautiful it can be."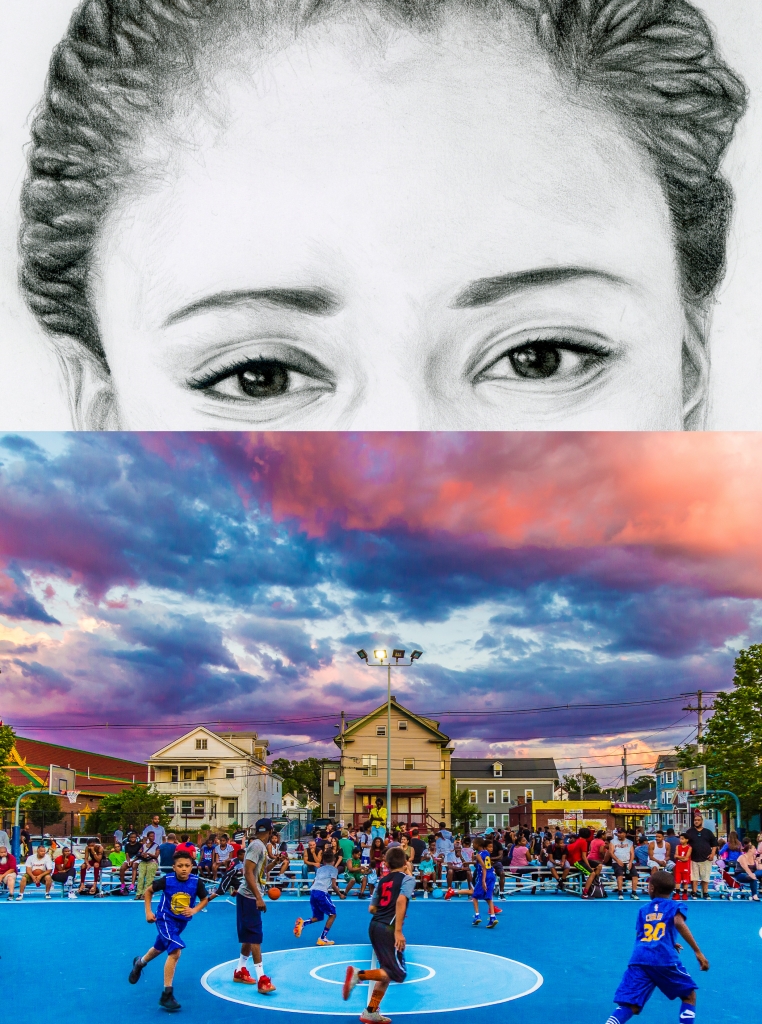 ---
PVDFest Public Art Alumni Show
Square Knots and Tightropes: collaborations and multi-genre work by Keri King and Michael Gabrielle
May 17, 2018 – August 13, 2018
Opening Reception Thursday, May 17, 2018, 4:30pm – 6:30pm
EXHIBITION STATEMENT:
Michael Gabrielle's macrame tapestries are optical illusions. Three-dimensional sculptures, they often feel like they exist in two-dimensions when they lay flat or mark a threshold. King's illustrations on paper, each lovingly extracted from an esoteric primary source, similarly conflate perceptions of depth; they are flattened by analogue and digital tools, but are enlivened when brought into conversation with an audience. Gabrielle and King say that PVDFest public art commissions enabled them to face new conceptual and formal challenges with their work. Indeed, the festival's multi-genre format invites a special kind of engagement from audiences, but so too do the walls of the Gallery at City Hall. With its staid mayoral portraits and elaborate gold filigrees, City Hall's second floor gallery becomes a stage for a series of magical encounters between Gabrielle and King, perhaps even a portal to another world. Square Knots and Tightropes is an occasion for both of them to look back at their experiences prior to, and during, PVDFest while pushing each other to reach for astounding new heights.
Michael Gabrielle BIO:
BIO: Michael Gabrielle is an artist based in Providence, Rhode Island. After studying visual arts and psychology at Brown University, he now works as the Program Director for PeaceLove, an expressive arts organization focused on mental health and wellness. Gabrielle helps people to use creative means to express themselves authentically and heal emotionally. In his personal art practice, he uses tools and techniques derived from macrame and fiber arts, drawing and illustration, woodworking, and painting.
Michael Gabrielle ARTIST STATEMENT:
Macrame is the art of knotting rope in detailed patterns to create elaborate designs. For me, making these designs is a meditative process, an exercise in patience and passion that can be seen in the hundreds of knots required to create a piece. In both the process and the product, this art is intricate and complex while also place of calmness and simplicity. My practice lives somewhere in between, using technical macrame skills to create gentle textures and delicate detailing. The resulting work is striking from afar yet draws viewers in; these pieces invite on-lookers to stand back to see them in their entirety but also to come close to appreciate their details. The hope is to make the viewing more than a passive experience; to create an opportunity for audiences to have active relationships with each piece. The longer you look, the more you are rewarded.
Keri King BIO:
Keri King is a cross-disciplinary artist based in Providence, Rhode Island. An adventurous and adaptable visual storyteller, King's work spans the worlds of public art, illustration, and design for theater. In the studio, King generates her imagery through an integrated process of collage, research, and drawing. In the community, King's recent projects have included work with Providence Public Library, the Pawtucket Arts Festival and the Wilbury Theatre Group. King teaches integrated arts to students K-8 at the Wolf School, where her lessons help students to build cognitive and sensory bridges between classroom curricula and the arts.
Keri King ARTIST STATEMENT:
When an illustration is presented in a book or a picture frame, it is a world encapsulated, as though trapped by a wonderful kind of magic. Through collage and drawing exploration, I incorporate the aesthetics of media from the past into my visual storytelling to create a sense of space, time, and humor that is simultaneously familiar and other. With public art, I give my characters license to step off the page out of their own imagined, fantastical world into ours. Suddenly, they are life-sized performers, thrust into conversation with people and a concrete environment. They are still paper, but they are animated through their experiences in our world. They endure the weather, pose for selfies, form relationships with passersby, are worn and torn, and then, one day, they are gone. Increasingly, my public art practice mirrors that of my classroom teaching, where I like to give space to each spectator to play and come to their own conclusions. I hope that interactions with my work will inspire fresh curiosity in audiences about their surroundings, turning walls into open doors, dead ends into invitations.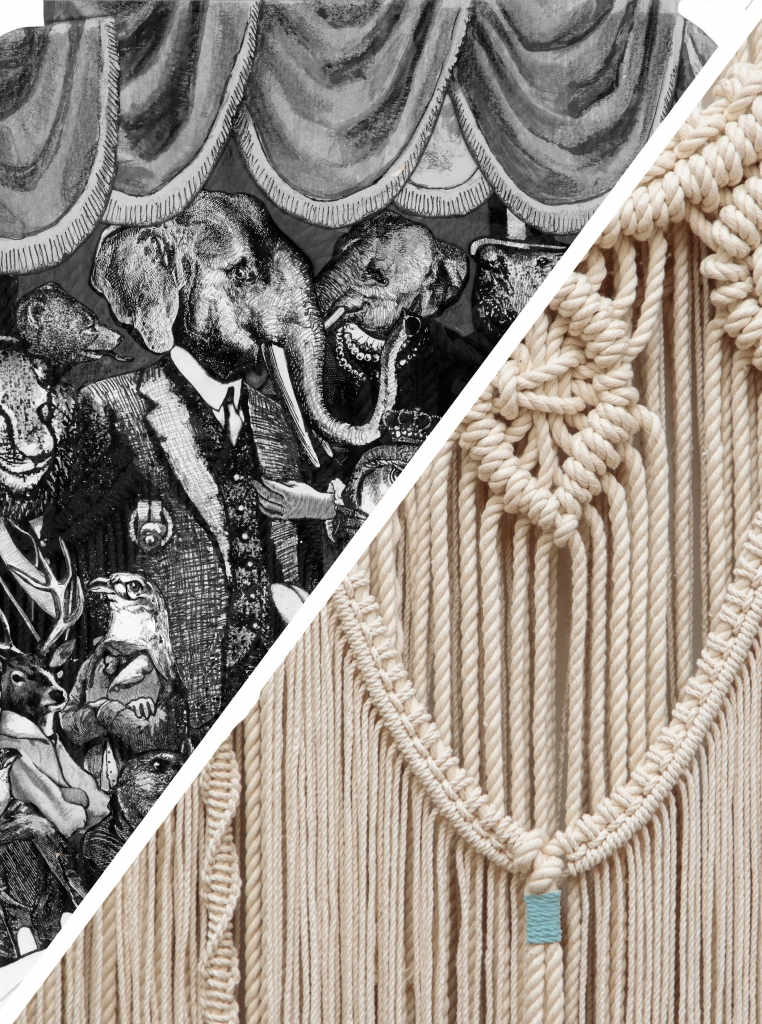 ---
'GLÁS' (GREEN): A contemporary view of the Emerald Isle
Siobhan Cox-Carlos
March 15, 2018 – May 14, 2018
Opening Reception Thursday, March 15, 2018, 4:30pm – 6:30pm
EXHIBITION STATEMENT:
"The word 'Glás' is the gaelic word for 'Green', a word I believe is symbolic of Ireland, often know as the Emerald Isle because of it's patchwork of green fields. A farmer's daughter, my love of the land is deep.I have been painting the Irish landscape for 30 years. Glás is a representative selection of the elements that I love most about Ireland – landscape, gardens, interiors … In recent years my attention has turned to the often abandoned barns and cottages dotted across the Irish countryside. My own studio, depicted in my painting, "Wild Rose Studio," was one such cottage. It measures 23' x 15' inside and would have been a two room home to a farmer. I am intrigued by the shapes that these buildings cut into the surrounding landscape. They represent a sadness, emigration, loss, of which there has been much in Irish history. I wanted, through colour and paint, to bring them back to life again, even if only on canvas, let them live, breathe and dance!"
ARTIST STATEMENT:
"I am a painter, known for my use of vibrant colour and love of texture and pattern. My work is an explosion of colourful and emotional responses to the world I live in, inspired by nature, fashion and indeed, life itself. I aim to interpret my subject matter by fusing my more figurative initial sketches in a looser but still structured method instilling the energy, emotion and freedom found through the painterly expressionist sentiment. My intention is that viewing my work should be an uplifting experience, providing the viewer, with a flight of fanciful imaginings…of escapism and pure joy, even for a moment. My work goes from a semi-abstract form right through to abstraction but is always based on the figurative elements that I am working from. I have a strong affinity with America as my formative artistic influences are from the American Abstract Expressionists movement, in particular Willem De Kooning and also Hans Hoffman, Wolf Kahn and Joan Mitchell. ( Also my great-grandfather came out to the Gold Rush in California in the early 20th century where he unfortunately died tragically.)"
ABOUT SIOBHAN COX-CARLOS:
Siobhan Cox-Carlos is a contemporary artist from the West of Ireland. She is an honours graduate in Fine Art from the Limerick College of Art & Design and a passionate painter. Inspired by the vibrancy and the energy of the abstract expressionists, her work has a 'joie de vivre' that she lives and wants to express through her colourful paintings, which vary from semi-abstract to abstract. She has exhibited nationally in Ireland and internationally in America in many selected group shows and has also had a number of solo exhibitions. She has had numerous residencies in Cill Riallaig, Co. Kerry and in the Tyrone Guthrie Centre in Monaghan. She has also exhibited in juried shows in Florida and had a 3 month residency in the Las Olas Art Centre, Fort Lauderdale in 2004. Her work is represented in private collections worldwide, including ones in Ireland, Europe, America, Bermuda, Mexico and Australia. It is also represented in the Office of Public Works State Art Collection, Roscommon County Council Civic Collection, National Cancer Screen Service (for which she was awarded a % for Art Scheme in 2010) Galway and Cork clinics, and the Department of Taoiseach. In her spare time Siobhan likes to salsa, hike, golf, read and enjoys a glass of wine and a chat with friends (though not all at the same time!)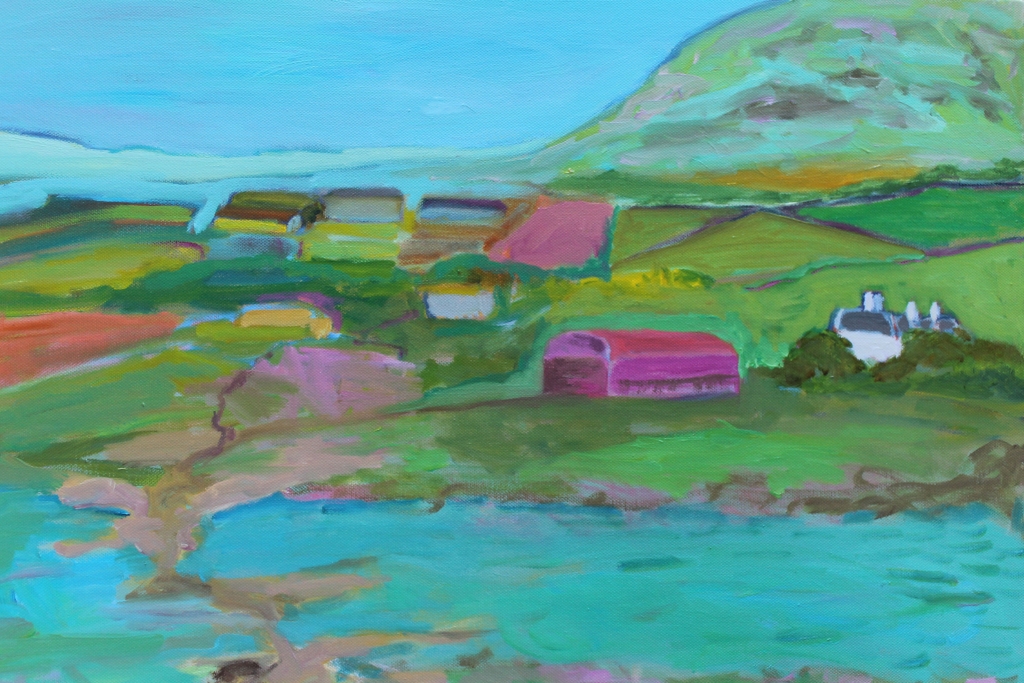 ---
Faces and Characters by Vera Leon
(a journey towards the freedom of immediacy)
January 12, 2018 – March 12, 2018
Opening Reception Thursday, February 15, 2018, 4:30pm – 6:30pm
EXHIBITION STATEMENT:
"Exhibition "Faces and Characters" represents my concentration on portraiture over an extended period of time. My work represents different phases and interpretations of my artistic journey. I endeavor to express the complexity of the human psyche through infinite
possibilities of visual interplay.
My background in psychology inspires my interest in portraiture. Facial expression as a reflection of the inner life fascinates me, especially when minor changes in drawing affect the expression of emotion it represents. We humans are very sensitive and are capable of perceiving many emotional variations of humankind. This ability contributes to our adequate response and to our survival.
The evolution of facial expressions in my drawings and paintings is more about the transformation of an idea of my own thought process then the elaborative and illustrative part of it. My goal is to become a deeper and freer authentic artist. My art becomes expression of my personal spiritual journey and any new approach mirrors my present inner state.
ARTIST STATEMENT:
"As an artist, I am constantly changing, using new forms, compositions, techniques, materials, and colors. Although my art reflects personal experiences, feelings, and perceptions, there is no conscious intention of maintaining continuity within the style or subject matter. The element that is the most persistent is the prevailing motif of the human figure. This motif expresses my interpretation of human existence through symbols that can be recognized as universal archetypes, free from cultural and societal limits.
Art is an endless journey, adventure. I try to discover new forms because I believe that dealing with the unknown brings forth true creativity. Inspiration comes from within the subconscious mind with its chaotic and unformed visual images. In the process of creation my paradigm evolves continually. Therefore the finished piece expands and affects my inner sensibility, thus revealing itself as expressive and also transformative. In the dialectical struggle between undefined form and empty space, I find images using a method of "scribbling" which allows me to discover order and meaning in chaos. I see something that intrigues me, I connect to it emotionally and intellectually, and then I give myself the freedom to go either in the direction of figuration or abstraction. This approach leads to the intentional ambiguity in my work, which offers many different interpretations.
I do not have answers. I am looking for them as much as the viewer is. During the creative process I enter an unknown world of images, forms, and colors where I go
beyond self to a larger less define realm of subconsciousness. This melting of boundaries allows new insights into my uniqueness and also into the connection that I have with other human beings and the world in general. My art enriches my life and becomes the means of fulfilling my potential."
ABOUT VERA LEON:
Vera Leon is an artist born in Yugoslavia. She graduated from the Academy of Applied Arts in Painting and Costume Design and pursued her carrier in apparel design before moving to America. She also holds a degree in Clinical Psychology from the Faculty of Philosophy in Belgrade, Serbia.
In the USA, after receiving an MFA degree in drawing at the University of North Dakota, she continued working in the field of visual arts. Vera's art ranges from figurative and abstract to costume illustration and theatre masks. Although her approach and expression are constantly changing, her passion for the human form remains. Her paintings and drawings are interpretations and expressions of her inner world. That's why her art reveals a dream-like quality, a feeling of mystery, of something unresolved. It conveys a continuous evolving complexity of the human experience.
Vera is very interested in creativity and the psychology of creativity. She is constantly looking for new approaches that alined with her personal life journey. Her most recent work is based on being present and surrendering to the Now during the creative process. This approach, where control of our analytical mind is minimized or suppressed, leads to new discoveries, unexpected creativity and further artistic growth.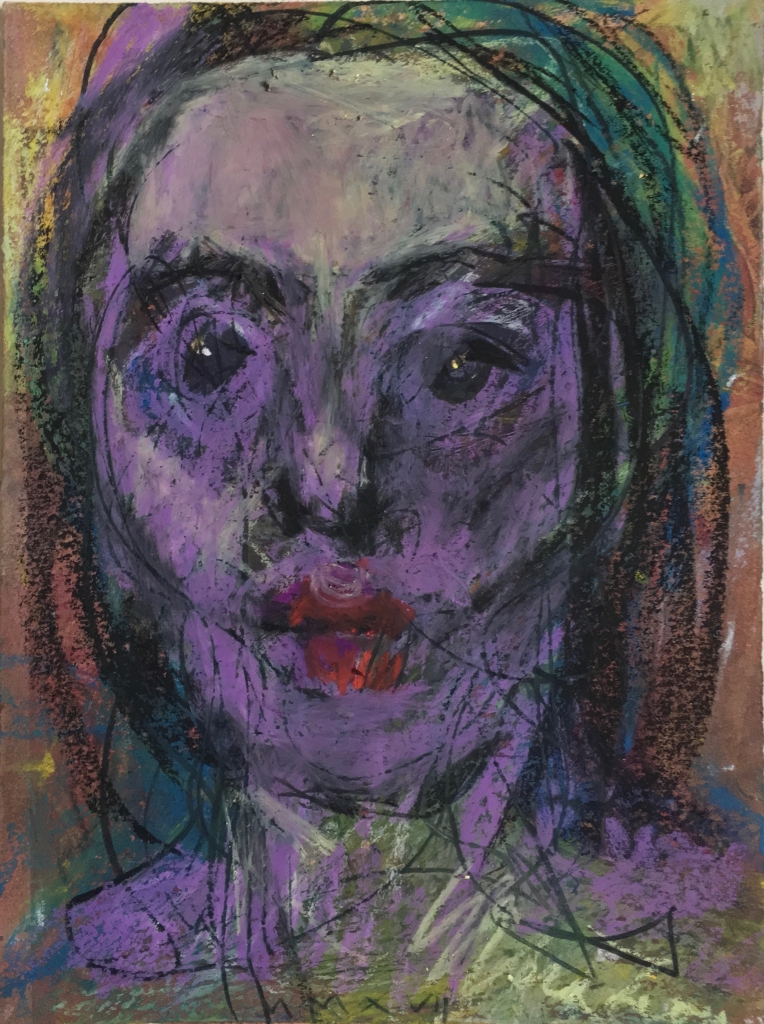 ---
The Illustrations of Gail Hampton
October 30, 2017 – January 12, 2018
The pieces on view are a compilation of Gail's illustrations from her imagination and for various commissions and themed projects. Gail often uses ball-point pen or permanent marker to create her images. She draws with quick, bold, confident strokes and the results have a pleasing, playful immediacy. Gail has provided illustrations for many Resources for Human Development-RI (RHD-RI) shows and events and is one of RHD's most popular, best-selling artists.
ABOUT GAIL:
Gail Hampton lives in Cranston, Rhode Island and attends RHD-RI in Pawtucket, an arts based day program for adults with disabilities. Her favorite subject matter includes babies, animals and beach goers. Gail will do word searches for hours on end and fill up the books with doodles and drawings. She also has a great fondness for red socks; she has an entire drawer full at home. Gail has shown her drawings and paintings widely in Rhode Island and has exhibited at the St. Louis and New York Outsider Art Fairs.
ABOUT RHD-RI:
Since 2004, Resources for Human Development-RI has helped adults with developmental disabilities reach their goals. With a strong focus on the arts, RHD works with our Participants to develop new skills, become more integrated in the local community and explore a variety of employment opportunities. RHD also contracts directly with a number of school departments around the state to provide supports for students too young for adult services.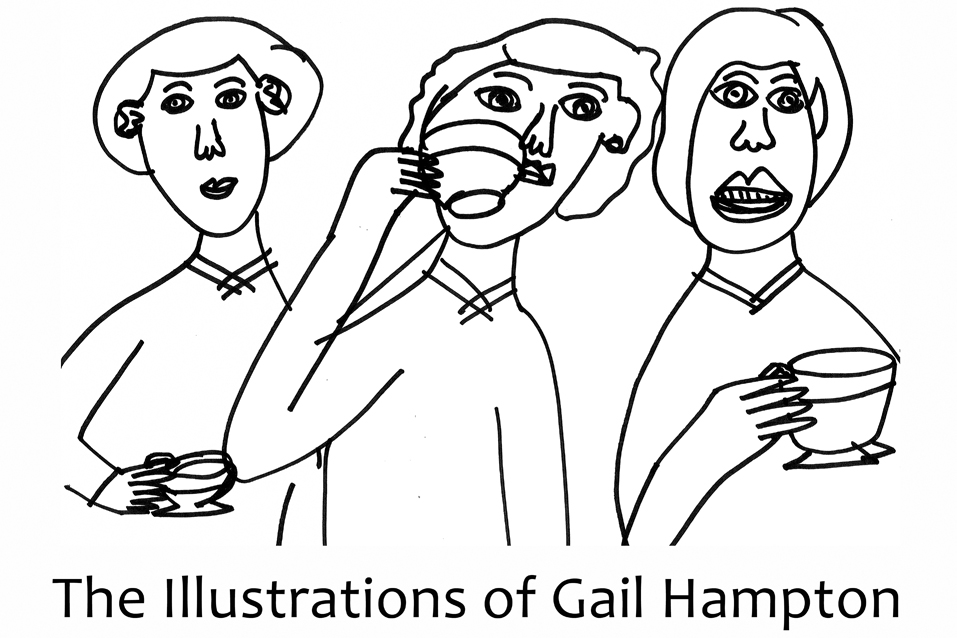 Illustration by Gail Hampton