On The Lawn 2019, Community Flavors, and America Too: It's Our Health
Through the dog days of August, organizations and grant funded projects continue to move along at a brisk pace. Saturday, August 17, Spocka and friends return to the Southside Cultural Center for On The Lawn 2019. Then on Sunday come back to SCCRI for a free, art-filled storytelling dinner prepared by local vendors during Community Flavors, produced by Rhode Island Black Storytellers. Next weekend Trinity Rep's America Too project returns with developmental workshops for community members to share their stories with professional playwrights and storytellers.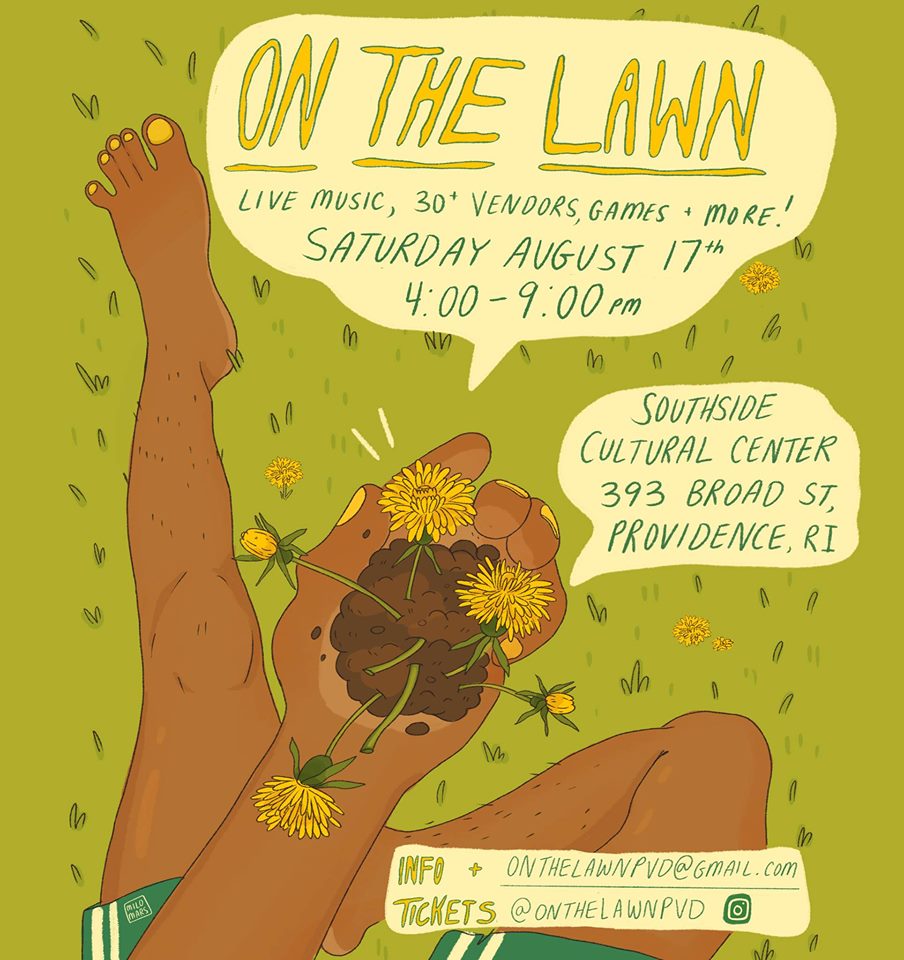 On The Lawn is an outdoor + indoor summer event that features a vendor market, live entertainment, delicious food, refreshing drinks, yard games, and activities for you to enjoy with friends and family. This event is centered around supporting art and creators in our community.
Rain date: Sunday, August 18th.
More Info:
FOOD + DRINKS
– Food provided by "Empanadas by Bebe" – meat + veggie options will be available.
– Baked Goods provided by "Blush Bakeshop."
– Beers provided by "Beer on Earth."
MUSIC
– DJ Atorr will be the house DJ!
– Tetcon will be doing a DJ set!
– Rich Joyce and Kris Jeezii are performing!
– Priscilla Montero will be singing!
– Blue Wave Poetics is a hip hop collective and will be performing!
– Ayasha will also be singing!
– Solar Witch will be rocking it!
– Bad Practice is an awesome band and will be playing!
– And Blackout Drum Squad is closing out the show!
VENDORS
– Pulp Prints
– Don't Trip
– RI Pallet Craft
– Trill Kings Clothing Brand
– Sealed Lips
– Alien Moss
– Kailey Barrows Illustrations & Fine Art
– Art from Joey
– Emily F Studio
– Rafreaks PVD
– Rhine Art
– Fresh Cash Studios
– Jared Winslow – Street Photographer
– The JJKel Collection
– Art by Asia
– The Black Leaf Tea & Culture Shop
– Esther's Handcrafted Products
– Lostweeds
– Whole Lotta Dank
– MEELZ
– Wallasauce
– Parched PVD
– Eric Galano – Photographer
– Endless Industries
– Iced Smile PVD – Tooth Gemming
– Henna Art by Calypso
– Pen in Hand Creations
– My Cultura
SPONSORS
– Vinnie Ray, the man who created the Good Luck Gateway on Empire street, will be creating a NEW gateway for OTL19!
– RIMOSA will be presenting an optical illusion used for stop motion animation from 6 – 9 PM.
– Impact Everything is saving the world! They'll be there to tell you about more ways you can make a positive impact!
– 2400 Kelvins is the official videographer and will be capturing the entire night for us!
Check out the event Facebook page for more info.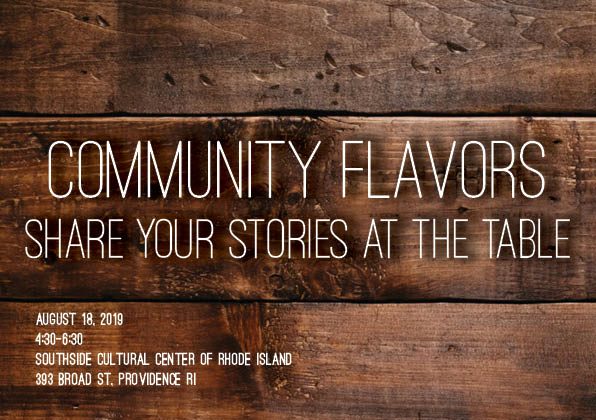 Join Rhode Island Black Storytellers and the Southside Cultural Center for, Community Flavors, a night of food and stories!
SUNDAY AUGUST 18, 2019
4:30-6:30 pm
Free! (Registration/RSVP requested via email at info@ribsfest.org)
Southside Cultural Center of Rhode Island 393 Broad St, Providence, RI 02907 (parking around the corner on Bridgham St)
Produced in partnership with West Elmwood Housing Development Corporation, City of Providence Art, Culture, + Tourism, City of Providence Healthy Communities Office, African Alliance of RI, Rhode Island Black
Check out the event Facebook page for more info.
For more info on Sowing Place, click here.
America Too: It's Our Health will begin with four Story Sharing Workshops on August 24 and 25 with, by, and for community members gathering to share their health and wellbeing experiences with professional playwrights and storytellers.
For more information, see Trinity Repertory Company's website.

SAVE THE DATE! Providence Community Library is collaborating with Providence College, Raising Readers, and other partners to present Feria del libro y las Artes de Providence 2019, a FREE one-day bilingual Latino festival of books and arts for the whole community! Along with Honorary Co-Chairs RI Secretary of State, Nellie Gorbea and Providence Mayor Jorge Elorza, this all-day event will take place at the Center at Moore Hall, Providence College on Saturday, November 9, 2019. Attractions will include Latino author readings, book signings, arts and storytelling workshops, and film screenings for children, teens, adults, and seniors! Speaker appearances will include Dominican storyteller and performer Josefina Baez and Cuban-American science fiction and fantasy graphic novel writer, Carlos Hernandez. Don't miss it!